Natural nails, with their subtle minimalism, have a certain charm.
When you say natural nail designs, you shouldn't think only about nudes and blushes. Nothing prevents adding cute little details, like rhinestones and glitter. If you are looking for some inspiration, browse through this natural nail designs gallery. We hope you'll find some cute manicures to try.
Inspiring Natural Nail Designs
#1: Coffin Nails in Nude
Coffin nails look pretty good if the length of your nails is medium. These natural ones are perfect for day-to-night wear. You can be sure that even though they are nude, they will be noticed.
#2: Short Blush Natural Nails
If you are a fan of short nails, we totally get you. These nails are great for doing all your daily business without ruining them.
#3: Natural Lilac Nails
Lilac shade is considered to be neutral and very minimalistic. When you're considering a natural nail design, you could try it alone or with subtle details like in this photo.
#4: Matte Neutral Nails
These lovely nails would be your favorites. They are matte, with minimalistic white details that are barely visible but pleasant looking. If you have short nails, then you should try nails like this.
#5: Metallic Foils
Pearl's white metallic shine looks more than beautiful. Still, these nails are very natural – short and not polished in some vivid nail color.
#6: Sand Almond Nails
For those who prefer classic, without any details, this almond-shaped manicure can be a great option to go with. Whether you like shorter or a bit longer nails, no matter – this manicure looks good on any length.
#7: Natural Nail Design with Glitter Details
Nude nails and glitter details will make your short nails unique and beautiful. You can always opt for a bit of glitter, whether your nails are short or long and neutral.
#8: Neutral Natural Nails
While your nails are nude and short, only ring fingernail is done with some interesting detail. Glass-like pieces on it will make your nails unique and stylish.
#9: Nude with Silver Glitter
Silver and nude make a lovely combination together. You don't need to overdo it – just add a few lines of your silver nail polish and enjoy.
#10: Subtle Pearl White Nail Design
A white nail design with a pearly base will make you stand out from the crowd. As you can see, even with neutral colors, with a bit of shimmer, you can make the same effect as with vivid colors.
#11: Neutral Ombre Nails
The ombre technique on your nails might sound strange, but trust us, it will make your nails look stunning. Even though it is made of neutral shades, your nails will still be eye-catching.
#12: White Coffin Nails
White and neutral – these coffin nails will suit everybody. They are great for all those girls who like minimalism and classic.
#13: Squared Matte Nails
There is nothing more natural than these lovely nude matte nails. They are medium length, squared shape, and look lovely!
#14: Delicate Golden Stars
Nude and neutral nails without any details can appear a bit dull. However, with small and subtle golden details like this, you can be sure your nails will look gorgeous.
#15: White Lines
These nails are natural and perfect for businesswomen who like to have their nails always in order. A simple white line will give them a chic vibe.
#16: Just a Bit of Glitter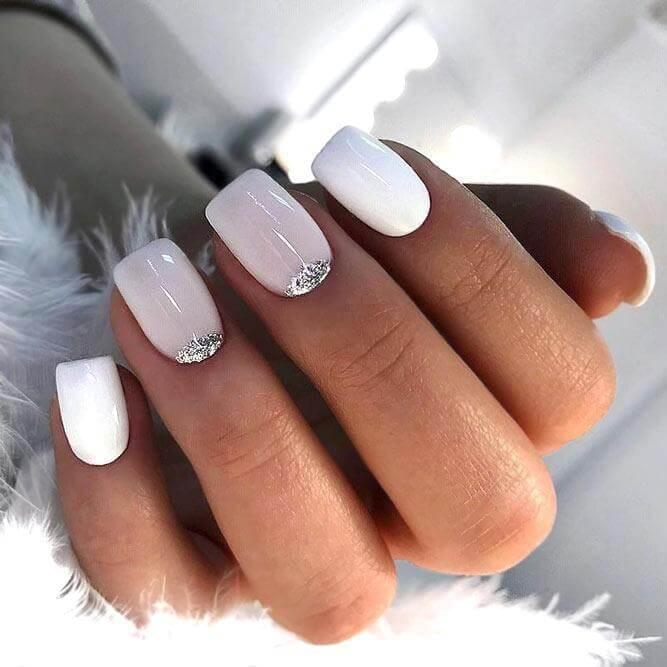 What a beautiful short nail design. Two shades of neutral colors look wonderful. You can only add a bit of silver glitter, just to make sure these nails can be worn from day to night events.
#17: Classy French Manicure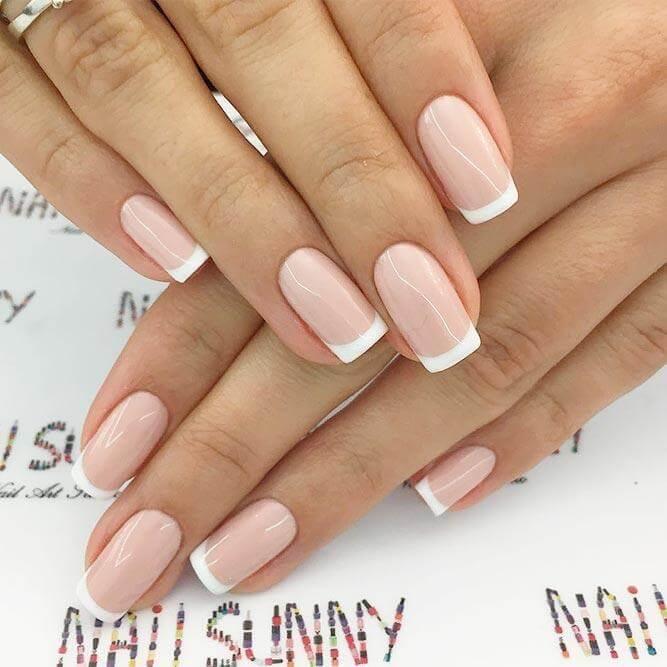 You say natural nails, and we say French manicure. They are simply timeless and appropriate for any possible occasion that comes to your mind.
#18: Gold and White
White natural nails should be decorated in some way. There is no better way to do it than with lovely gold foils. Just make them into thin lines, and don't overdo them on every nail.
#19: Earth-toned Natural Nails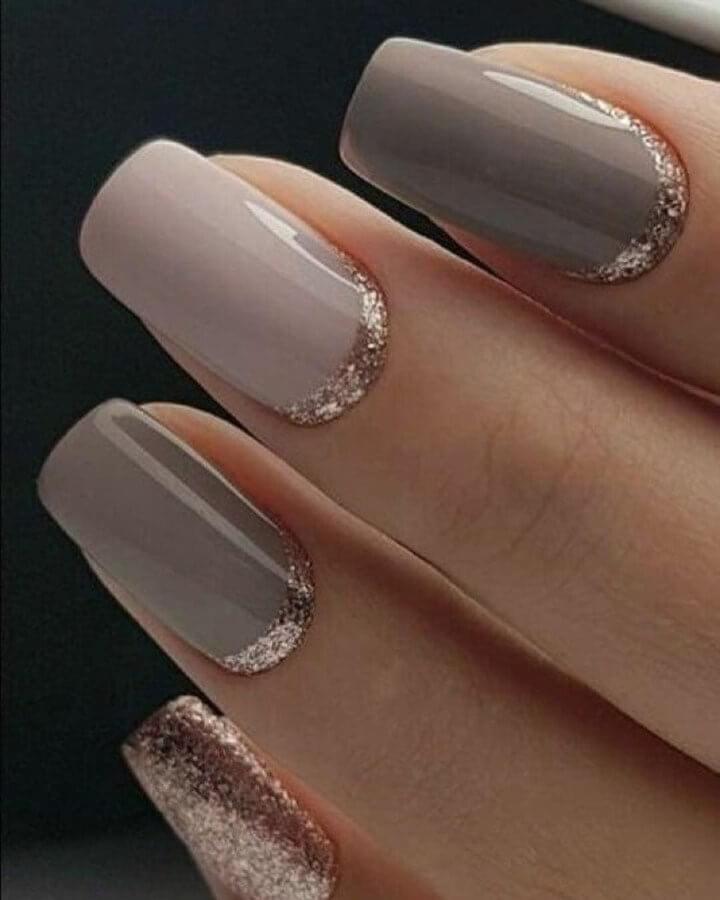 There is nothing better than natural and healthy nails. A bit of glitter never hurts, so don't hesitate to add it to make your nails appropriate for elegant occasions only.
#20: Natural and Bronze Nails
A combination of neutral nude nail polish and one with bronze shimmer is absolutely stunning. You can wear this manicure for all possible occasions.
#21: Baby Blue Nails
Baby blue is a pastel, neutral, and perfectly appropriate color for everyday wear. A white line on your nails will make them appear even more interesting.
#22: Minimalistic Nails
Imagine your nails without polish on. Hard, isn't it? Well, not impossible, though. You can only work with gold shimmery nail polish – a line across your nail will make a huge difference.
#23: Cute Red Detail
While all your nails are polished in nude, only your ring finger is done with interesting detail in red. These nails look youngish, cute, and great for everyday wear.
#24: Geometric Lines
A combination of nude shade and black lines will pay in the end, trust us. Geometric lines and asymmetric patterns will make you stand out from the crowd wherever you are.
#25: Blush Ombre
Blush pink is one of the prettiest nail polishes. It is completely natural, nude, and, most of all, very beautiful. The Ombre technique will make these nails appear more attractive.
#26: Grey Neutrals
Who said that natural nails need to be blush only? No one! You can absolutely rock these lovely grey shades without worries. Short nails and excellent shape will stand out from the crowd.
#27: Glitter Nails
Natural and healthy nails can be long without any problems. Glitter polish in some neutral earth shade will be the right choice for your work, meetings, or any other activity.
#28: Blush Lilac
Shades of lavender are perfect for casual everyday wear. And when we say it, we don't mean clothing. We mean your nails. These are the perfect example of short, natural nails that will work perfectly for you.
#29: Silver Foils
Silver foils on nude nails are always a good idea. You can wear this manicure for both casual and elegant occasions.
#30: Shiny Rhinestones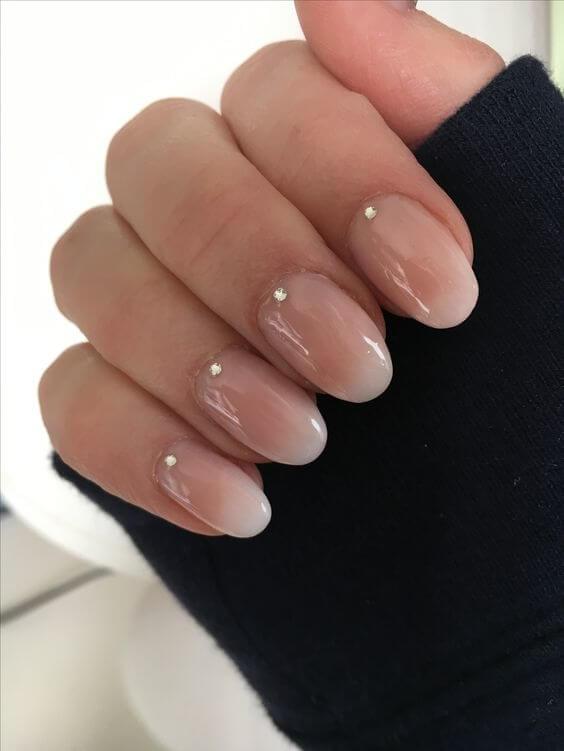 If you are looking for something minimalistic and shiny at the same time, this is one of the fresh natural manicures that you should consider. It looks fantastic for the upcoming summer days.
#31: Marble Nails
Marble is one of the most popular patterns in the nail industry. You can make it on a simple white base and with pretty short or medium-length nails.
#32: Short Beige Nails
If you are looking for something casual, look no further than these short beige nails. They look completely natural and always to the point.
#33: Nude Nails Gold Rhinestones
Nude nails match perfectly with gold details. So, if you have some elegant occasion to visit and you want your nails to look gorgeous, do a manicure like this.
#34: Silver Details on Natural Nails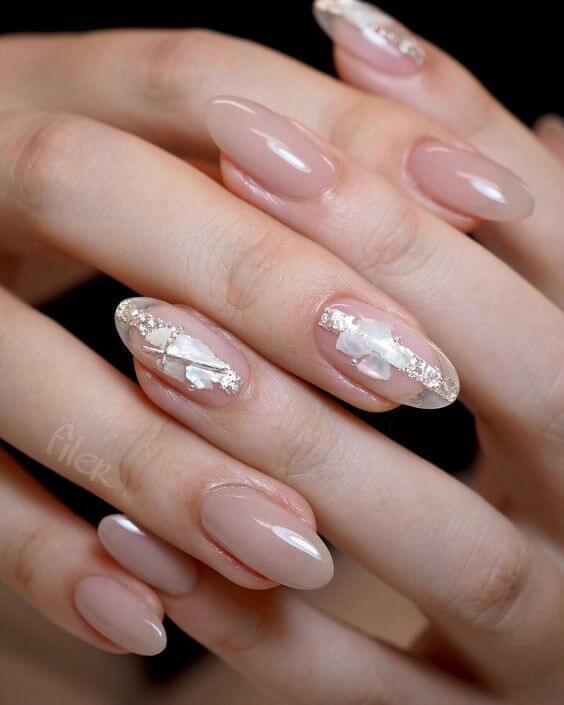 Even if your nails are all-naturelle, these details on your ring fingernails will definitely attract all the attention. They look surprisingly pretty and fascinating.
#35: Simple Floral Decor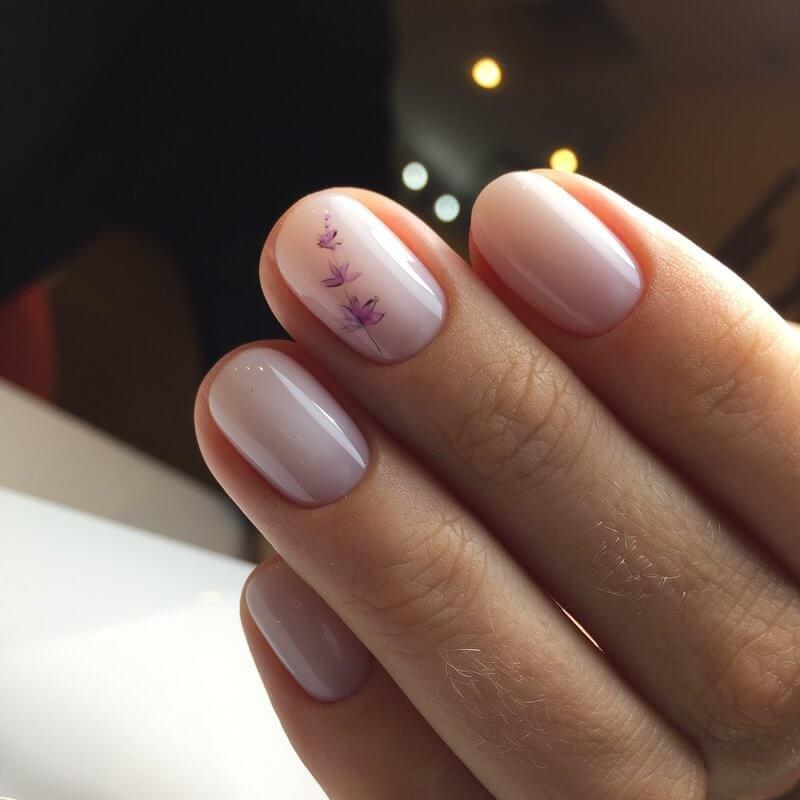 How can simple floral nail design make such a big difference? Even if your nails are short and pretty simple, you can be sure this lovely floral detail will be noticed.
#36: Shades of Pink
If you are tired of blush shades, no one said you couldn't use some more vivid ones. These are lovely shades of pink, purple, and beige. Short nails but lovely-looking colors will make this manicure eye-catching.
#37: White and Soft Pink Nails
Beautifully squared pink and white nails are great for everyday wear. If you add beautiful rhinestones on the middle and ring fingernails, your manicure will quickly transform from a daily to an elegant one.
#38: Nude with Floral Details
Delicate and utterly stylish – that is how we can describe this lovely manicure. Even though your nails are short and polished in a neutral nude shade, the floral detail on your ring finger will make them shine.
#39: Nude Nails with Stars
Brown nail polish might not be the one you see very often, but we have to admit it looks incredible. With the addition of white stars on some of your nails, you will highlight the appearance of your lovely natural nails.
#40: Ice Blue Nails
Neutral, yet still very eye-catching – this ice blue color will gain you a lot of comments. This shade is perfect for fall and winter conditions. Check also popular winter nail colors for more ideas.
#41: Glitter on Neutral Base
We can easily say that these nails are great for your wedding day. A bit of glitter on your natural nails will complement your wedding dress and make your whole attire looks extraordinary.
#42: Perfect for Spring
Daisies on your nails will instantly invoke the spring feeling. You will adore these nails, trust us! They are utterly chic and spring-ready.
About The Author