Many girls think nail polish should complement their outfits, and we can't agree more with them. Pink nails are one of the most seen and most done manicures, so it is not a surprise why everyone loves it so much.
From very basic pink nail polish and short nails to blush glitter and marble details – we have gathered around the best manicures that look beautiful but certainly not as you have overdone them.
For more inspiration, scroll down to see more lovely pink nails.
There can't be anything simpler than this. However, don't look at it as boring – this style is one of the best nail polishes in the world. There is no girl who hasn't tried and fell in love with this manicure.
You can style short nails as you wish. Besides, they are so practical.
This shade of pink is like a cotton candy and it is cute, fun, and very sophisticated. It is almost like a neutral one, but still with more statement.
Even if we talk about simple and lovely pink nails, you should definitely count on some glitter. Make it classy and casual by putting glitter nail polish on one finger only – it can be your ring finger or pinky toe.
When you want something classy yet fun, you combine matte nail polish and glitters.
You will secure your look as sophisticated, but at the same time not look too shiny. This look is perfect for special occasions such as birthday parties or proms.
While three fingernails are in pink, your ring and pinky finger are combined with silver glitter and white nail polish. It looks chic, yet eye-catching.
If you are a Barbie fan, this style is perfect for you. However, to avoid looking too posh, you can combine your pink shade with blush one. Adding tiny gold rivets will make this style even more interesting.
Take your inspiration from Minnie Mouse and do pink nails with white polka dots.
Don't overdo it though. Let two fingernails painted with dots, while the others are solid pink.
Soft pink is the color of fluffy tutu skirts, ballerinas and their lovely dancing shoes.
This color looks gorgeous on both short and long nails. You can be sure it will catch the attention, but keep you sophisticated as well.
You don't have to give up your glitter to make your nails look simple. Just match it with the color of your base.
Pink glitter with monochromatic vibe will make your nails look fantastic. This style is perfect for long evening dresses, cocktails, and upcoming New Year's Eve celebration.
For those girls who like nail polish but want to make it nude and minimal, this style is the one.
Pink is so bright that it almost turns into the nude. Even though you think it can be boring, this is one of the most wearable nail polishes in the world.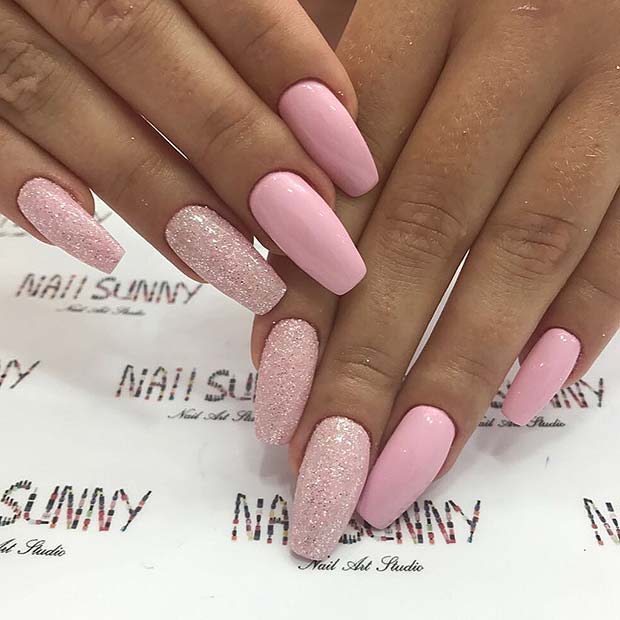 Girls with longer nails can wear this kind of style. Light pink is perfect for all occasions. By adding glitter you will get the more festive look, perfect for the incoming holidays.
Sometimes, choosing the right shade of pink is hard. When in dilemma, choose a few! As you can see, even different shades of pink can look beautiful and interesting. Use of these three shades creates a simple yet unique look.
Ombre technique is not popular only in the hairstyle industry. It is also one of the best nail polish techniques in the last few years. And here is how it looks with pink polish – wonderful, right?
Simple, yet powerful and unique – these are the words we can use to describe this look. If this is too much, just choose more subtle shades for your simple everyday nail polish look.
1: 1
2: Part 2