Nude nails are versatile, chic, and timeless. Of course, bright and bold nails are fabulous, but we sometimes need to bring our manicures back to the basics. Natural shades of pink, beige, and brown serve as a basis for any look you want, allowing your personality to shine through.
We want to prove you wrong if you think nude nails are dull! Nude manicures can be creative, interesting, and highly expressive. These 29 unique nude nail looks will show you that there is a nude mani perfect for you.
When To Wear Nude Nails?
Nude manicures are super popular because of their versatility. They are the perfect day-to-night look, allowing you to look smart at work yet party-ready.
One can wear nude nails all year round for any occasion! These nails go with any outfit and are perfect for weddings and other formal events. Plus, they are a long-lasting look. Because of their neutral shades, any chips or breaks won't be visible.
29 Cutest Nude Nail Designs
Let's look at the best nude manicures that inspire you to get your nude nails done right away!
1. French Tip Nude Nails
The classic French manicure gets even chicer when used with shades of pink and beige. The nail artist has kept the design simple here, with dramatic French tips and a range of nude colors.
This manicure is clean and sophisticated, with the long coffin shape enhancing the manicure.
2. Nude Nails With Sparkles
Glitter and diamonds are always welcome when it comes to manicures. If you want to go nude but love a bit of glitz and glam, this manicure is perfect for you.
The nail artist kept the base of the manicure nude and then added stars and sequins to create a stunning look.
3. Coffin Nude Nails With Decals
This manicure keeps it simple with a pink color on the nails. However, the decals add a fresh twist to the nude look. Super glamorous and fun!
4. Milk Bath Nails
Milk bath nails are all over social media right now. They refer to soft, hazy manicures that add decals under gel layers.
This manicure is a cute twist on the nude trend, using petal decals to create a dreamy look.
5. French Nails
This manicure incorporates French tips, a matte polish, and sparkles to create a pretty interesting nude look. The artist has created a fresh nude manicure that will turn heads by mixing and matching nail trends and techniques.
6. Love Hearts Nude Nails
The easiest way of mixing up the classic nude look is to add decals or nail stickers. This manicure plays with the French tip trend, using a modern angle for the tips. The addition of the hearts is cute, too!
7. Abstract Nude Nails
The abstract nail trend that made waves in 2022 is here to stay. Abstract nails take inspiration from the abstract art movement, where shapes and lines are used to create new and exciting art.
This nude nail art is also effortless to create at home if you are a DIY manicurist! All you need is some gel nail pens to add swirls and shapes to your nails.
8. Floral Nude Nails
Florals look fantastic in neutral colors, and this manicure is no different. You can create uplifting nude nail looks by opting for shades of beige and brown for your floral manicure.
Because of the colors, these nails are still versatile, allowing you to wear a floral design for many occasions.
9. Nude Almond Nails
These nude nails incorporate the abstract nail trend to create an exciting and fun design. Each nail is different, yet the shapes and shades create continuity over the manicure.
10. Stripe Nude Nail Idea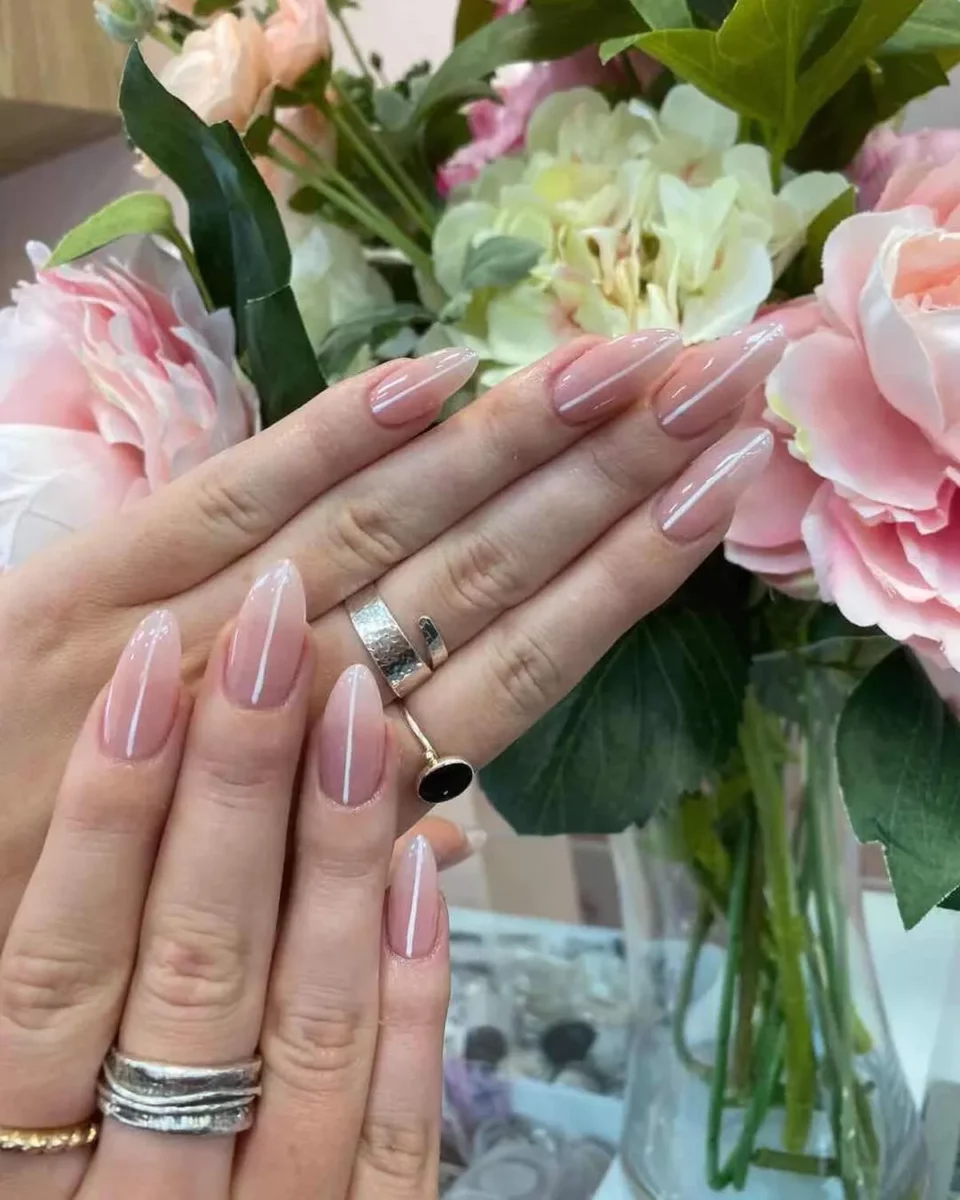 Nude nails allow you to keep things pretty simple! These plain nude nails look great, but adding a simple line to the manicure creates a chic and exciting design.
11. Nude Nails With Faces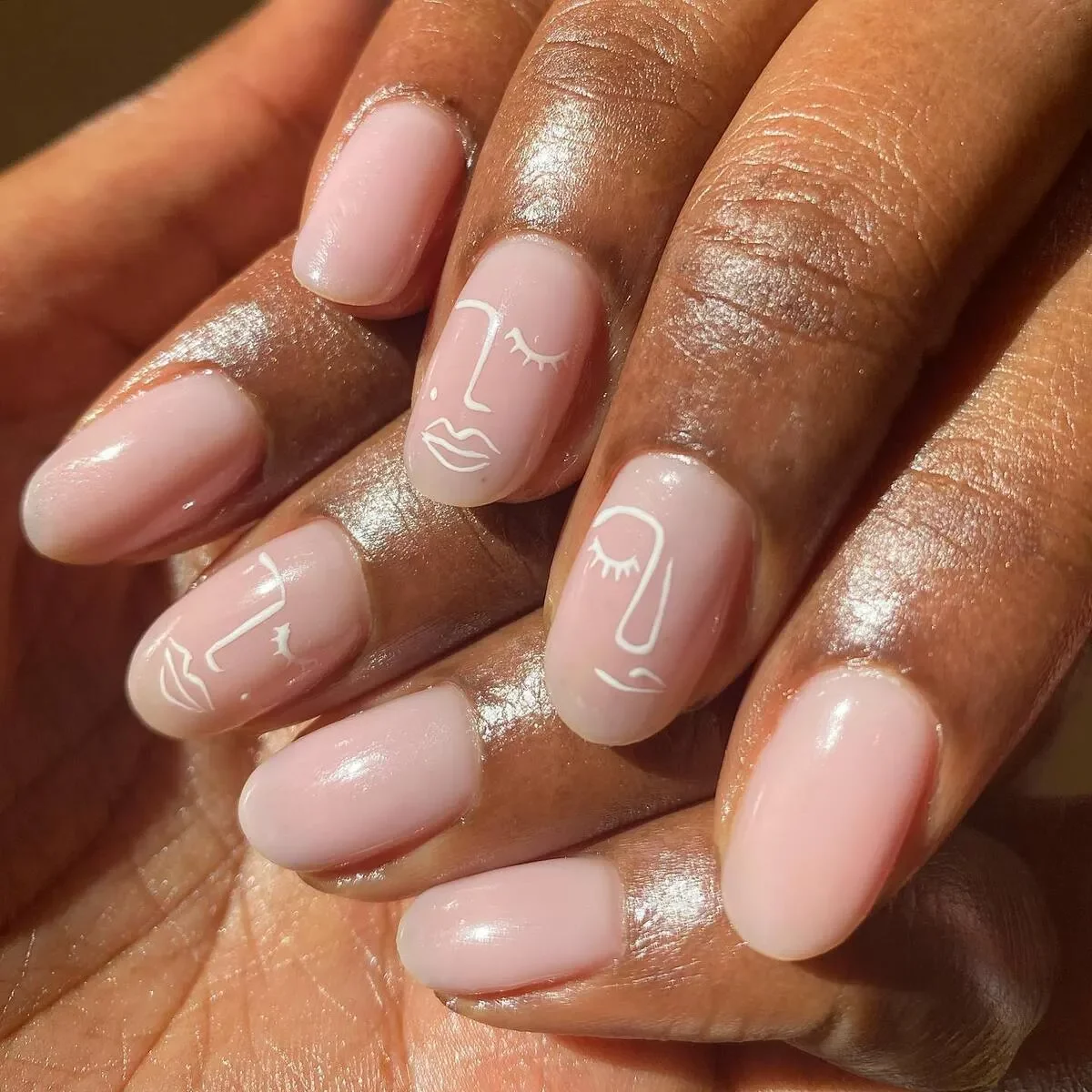 Another nod to abstract art, these delicate and intricate nude nails feel fresh and playful. The talented nail artist has hand painted the design onto the nails. However, you can also create this look with nail stickers. Apply a nude base coat, add abstract face stickers, and seal it with a top coat.
12. Flora and Fauna Nude Nails
This manicure is incredible! The nail artist has painted a range of flowers, animals, and decals onto a nude base to create a stunning design. They then added a matte top coat to the manicure.
The artwork makes the manicure unique, yet the shades are still earthy and natural. A fantastic look if you want to mix your nude nails up a bit.
13. Marble Nails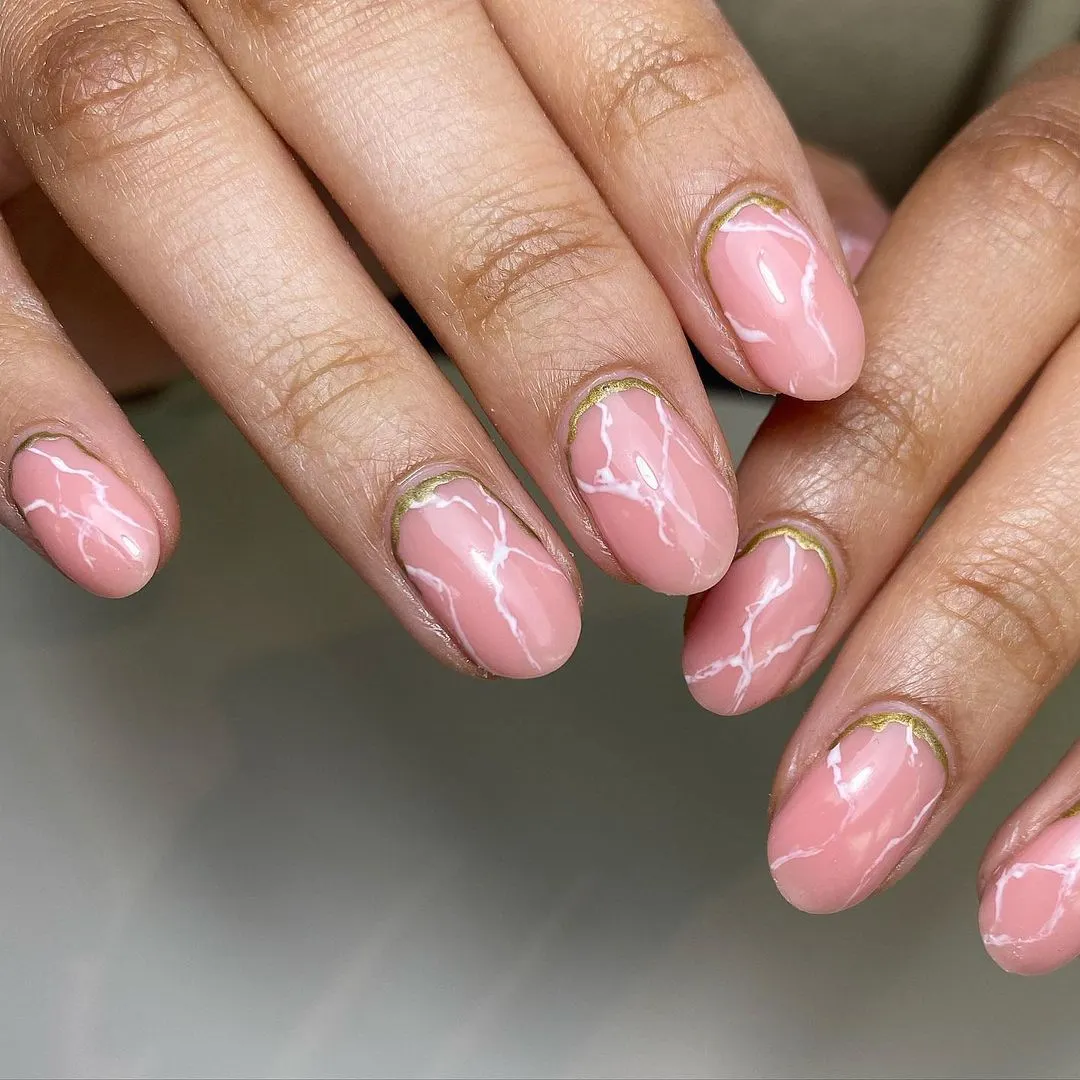 Marbling is big in the nail world right now, and this manicure pulls it off fabulously. The artist has created a nude marbling look and then added a line of gold glitter at the base of the nails to bring in some glam.
14. Nude Ombre Nails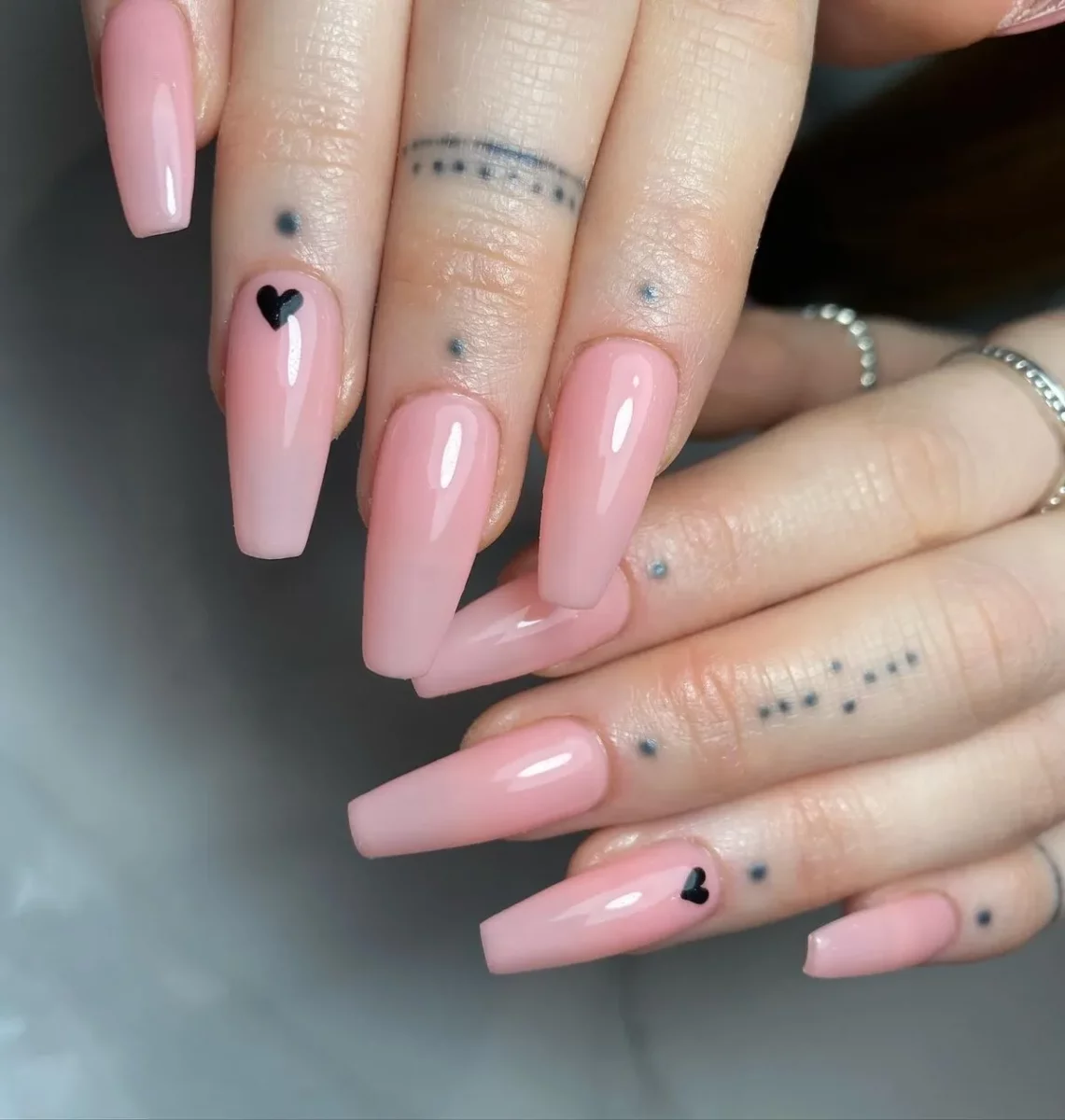 These nude nails have a slight ombre effect, with the colors going from peachy to pink across the nail. The love heart is a cute addition, too.
15. Gold Flakes Nude Nails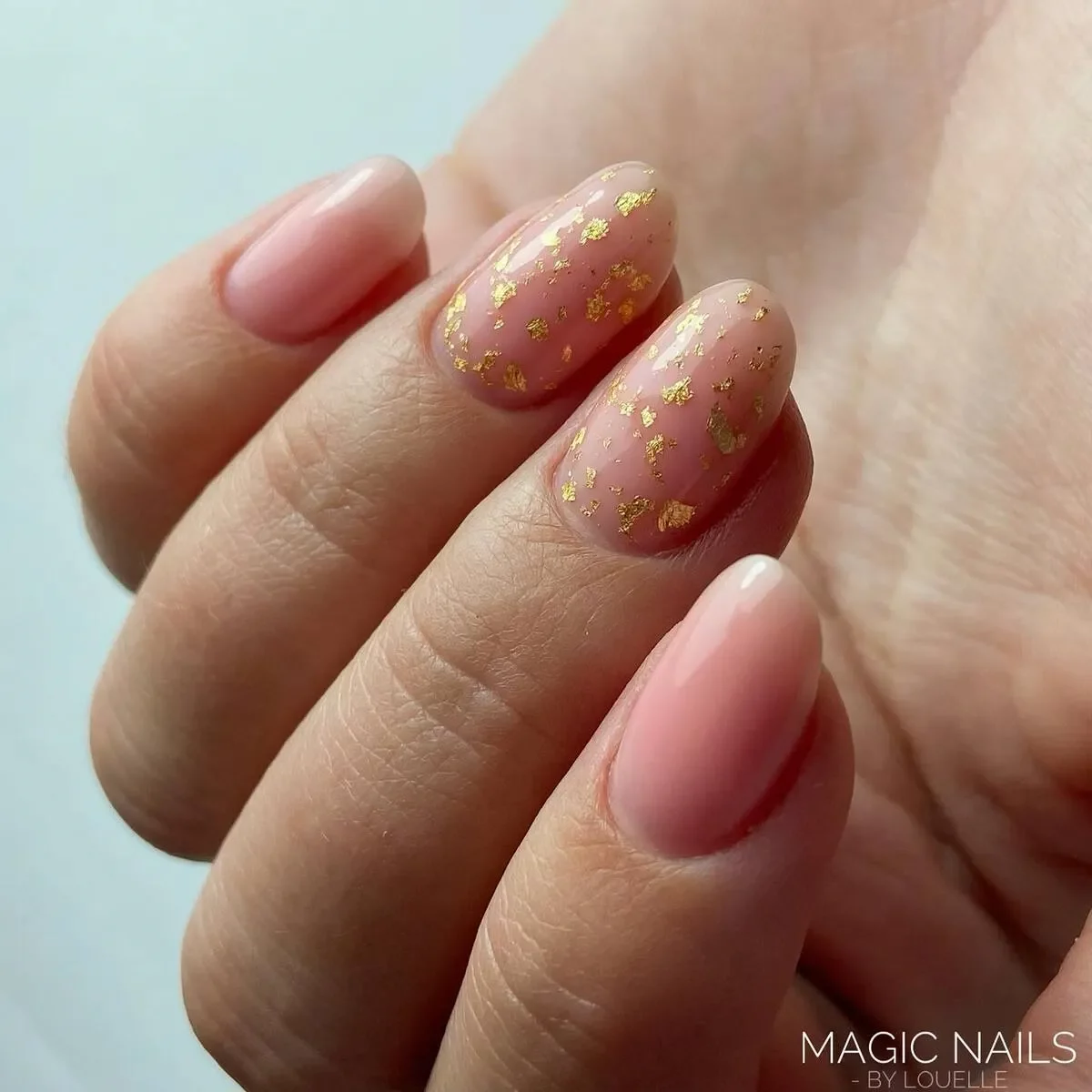 These simple nude nails are stunning, using gold flakes to add intrigue to the manicure. Gold flakes can be picked up pretty cheaply from online retailers if you want to create this manicure at home! They are straightforward to apply, and the results look fantastic.
16. Nude Nails With Rhinestones
Think nude nails can't be extra? Think again! To create this manicure, the nail artist used a nude base coat and added rhinestones. The stones add a pop of color to the manicure, yet the nails still feel neutral and sophisticated.
17. Animal Print Nude Nails
Animal print never goes out of style. These cheetah nails are very cool, keeping it nude and natural yet bringing some fun to the mani. The nail artist has opted for a matte top coat to create that chic look.
18. Simple Ombre Nails
These almond nails remind us of how classic the simple nude nail look is. It is effortlessly chic, using a milky ombre effect to create a manicure appropriate for any occasion.
19. Square French Tips
Keep it simple and classic with these nude French nails. The short square shape is the perfect choice if you aren't a fan of longer manicures but still want to create a clean look.
20. Short Almond Nude Nails
These nails are another fantastic choice if you like to keep your nails short. The beige nude shade goes with any outfit, and the love hearts are pretty cute. The nail artist has chosen to keep the love hearts to a minimum, which really works! Sometimes, less is more.
21. Polka Dot Nude Nails
Polka dots liven up any manicure, and we love the earthy tones on these nails. Plus, polka dots are pretty easy to do at home! All you need is a dotting nail tool and a few different gel colors, and you can create this look yourself.
22. Daisy Nude Nails
Another mani that proves that less is more sometimes, these daisy nails are versatile and charming.
23. Metallic Nude Nails
Metallic shades go fantastic with nude and natural tones. The nail artist has used a metallic nail gel pen to add French tips, dots, and artwork to this manicure. The eye is a nice addition, too.
24. Exaggerated French Nails
This exaggerated French nail trend takes the iconic manicure and updates it for the 21st Century. By opting for a long coffin shape, the artist has been able to enhance the French tips to create a dramatic look.
25. Matte Nude Nails
A matte top coat creates a chic, shineless finish that looks fantastic with nude colors. This beautiful shade of puce adds a little color, yet it still feels natural.
26. French Tip Gradient Nails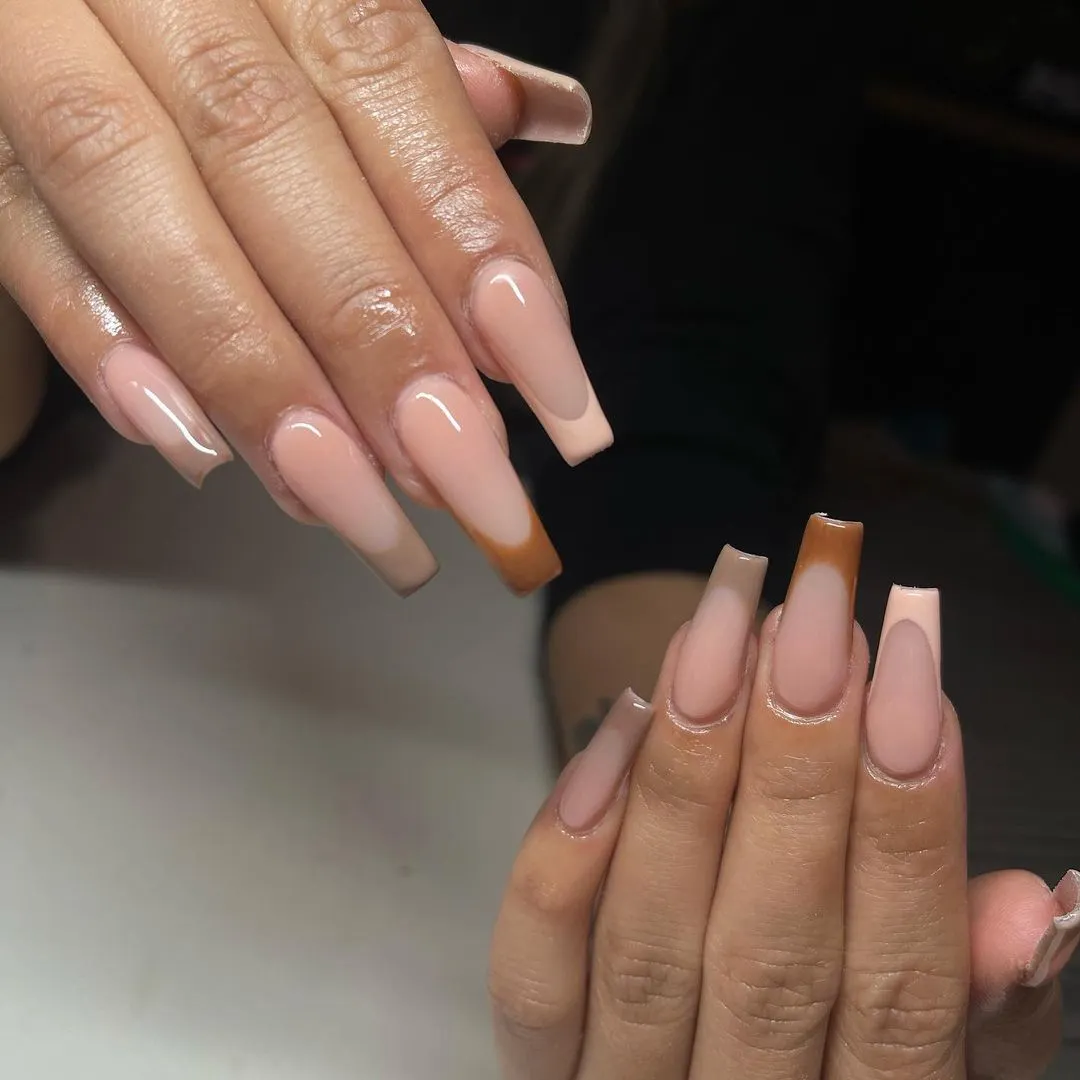 Nude colors go with anything, which means you can mix and match your shades to create the manicure of your dreams. This manicure uses a range of nude hues to create a gradient of colors over the nails. Again, we see the stylish long French tips making an appearance. Effortlessly chic!
27. Barely There Nude Nails
Sometimes, we want to go really nude with our nails. This shade of beige allows the nails to blend in with the hands, yet the shimmer gives it a polished look.
28. Shimmer Nude Nails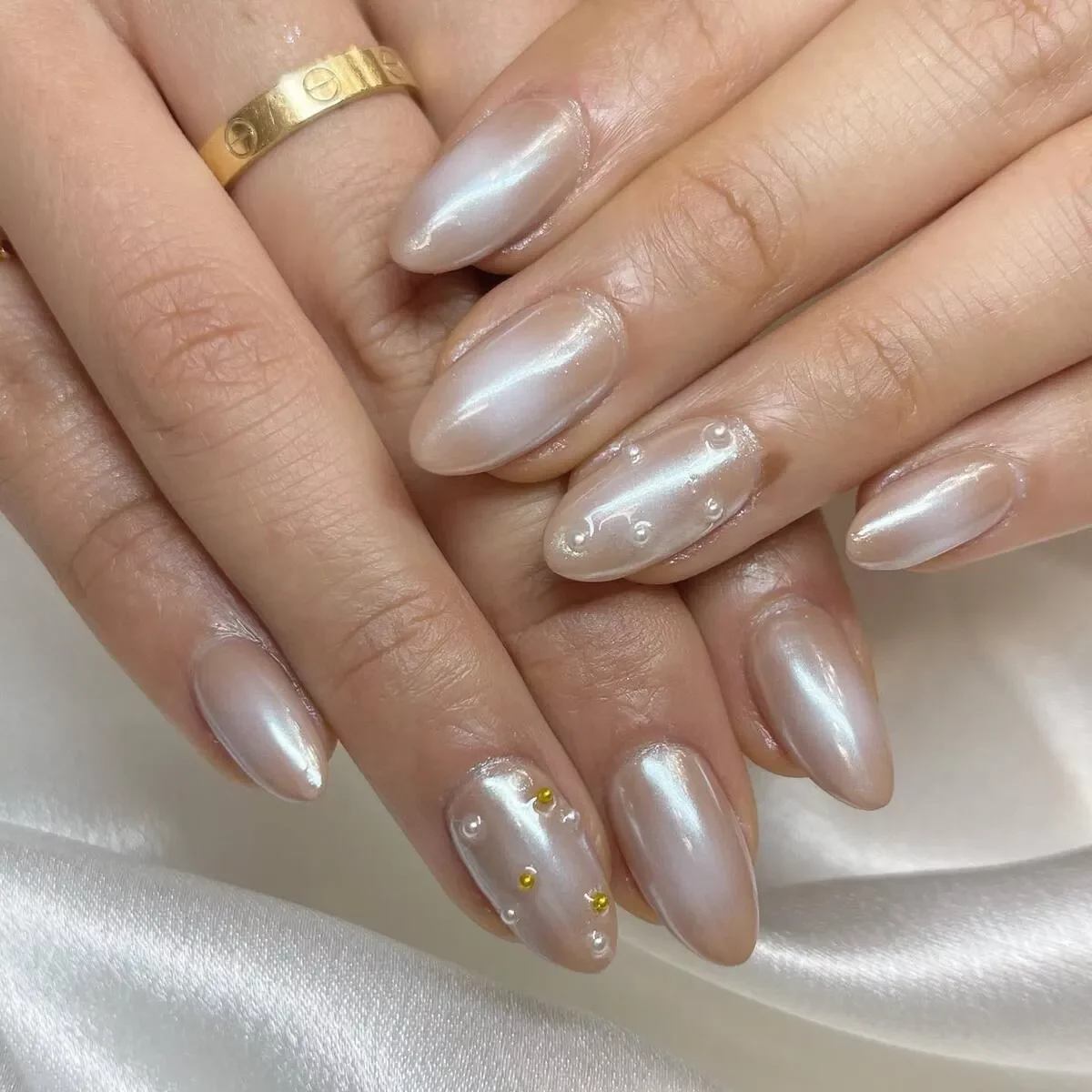 These shimmery nails add a layer of glamour to the nude manicure trend. The nail artist used an ombre effect across each nail and then added 3D artwork.
29. Confetti Nude Nails
Another way to get a bit of color into your nude nails is to add a burst of confetti. The nail artist has used glitter to create a fresh nude look but kept it pretty low-key. The hazy pink shimmer on the nails is stunning, too!
FAQ
How Do I Choose the Best Bare or Nude Shades of Nail Polish?
If you are looking for the perfect nude shade, go for a color similar to your skin tone. 
Any Recommendations for Nude Nail Polish Suitable for the Winter
Darker nude tones, such as browns, are an excellent choice for the winter months. 
Any Recommendations for Nude Nail Polish Suitable for the Summer
Keep your nude nails light in the summer, opting for peachy pink tones. 
What Are the Latest Trends in Nail Fashion for Nude Nails?
Long coffin shape nude nails are trending right now, with gemstones or decals added to the nails.
Related articles