Some women prefer wearing their nails really long. We can't find a reason why you shouldn't do that too.
However, shorter ones have their charms as well. Short nails have many advantages, are practical, and are less likely to be broken. You can always count on them.
Brides often opt for short nails to keep them good-looking and practical. They are great for working moms, busy women, and everyone who doesn't like to think about their nails that much.
RELATED: 4 Tips On How To Do A Perfect French Manicure On Short Nails
Short nails can be fascinating. From classy manicures to really complicated ones you can achieve them all even if your nails are pretty short. There are certain nail colors for short nails that look better than others. Some colors can even make your nails visually longer if you wish so.
We have collected the best short nail designs for you. They are simple and complicated – unique, and eccentric. It's on you to pick.
Most Capturing Short Nail Designs
Colorful and Interesting
Like it is not enough that this manicure is colorful, it is also patterned. Leopard print on your nails can look absolutely fabulous. Be careful though – don't overdo it. One nail is totally enough to make a statement.
Pastel Pink and Grey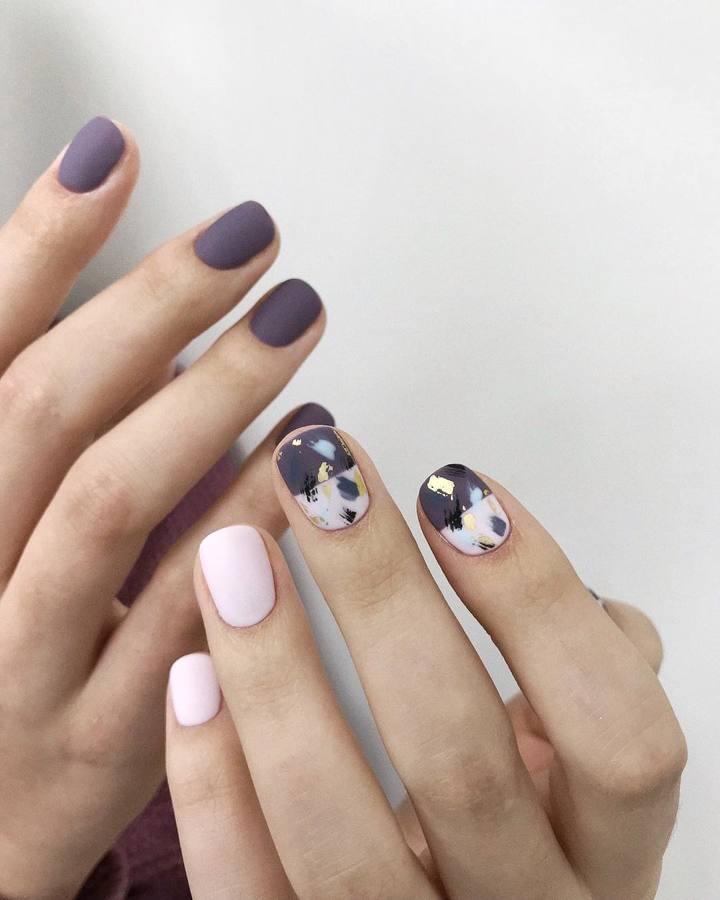 We were not aware of how good this paste-dark combination look like! Additional details on your middle and pointy finger look will only make this combination look better and great for everyday wear. You can have short nails, still, make them look fabulous.
Like a Night Sky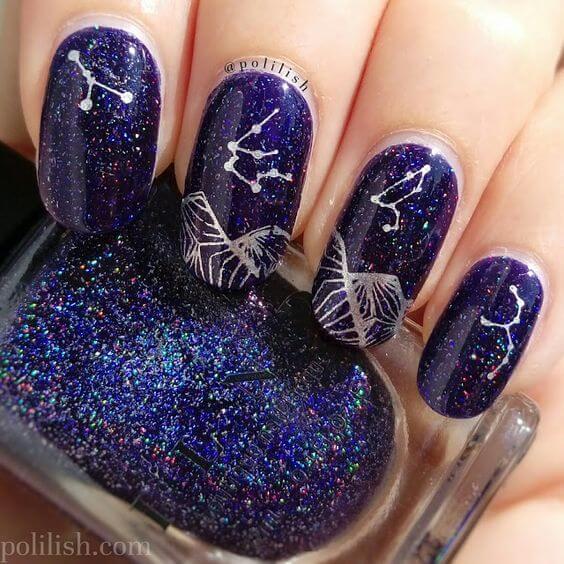 Dark glitter looks lovely on short nails. You can be sure that there geometric white lines in combination with glitter nail polish will make your nails look like a night sky. So, whether you wear short or medium nails, they will look gorgeous.
Black and White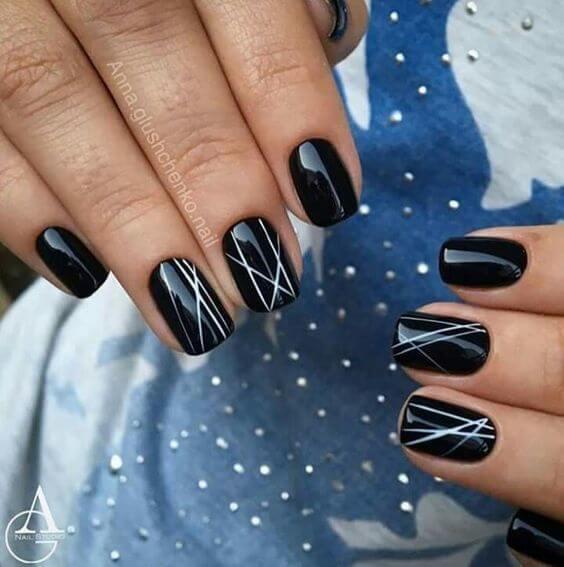 Black nails might seem too casual for you. That is why you need to add white lines to make them even nicer and more beautiful. If you don't want to overdo it, leave your two nails black and make them shine with a top coat.
Purple and Glitter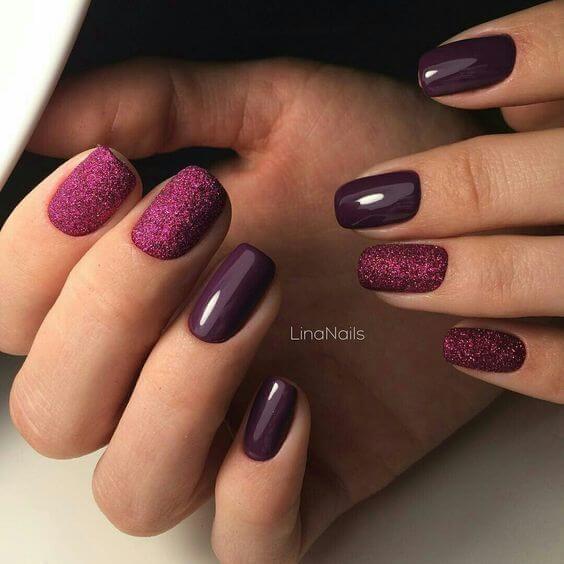 When looking for a proper fall nail design, opt for darker colors. Dark nails are good for fall and winter. That is an ideal time to switch from bright to more subtle tones in both wardrobe and manicure. So if you are wondering which shade to pick, we think you should go with burgundy and purple.
Blush with Floral Short Nails Design
If you are into some blush shades, look no further than this. With delicate flower design and small leaves, your short nails will look fantastic. Vibes from Chinese culture are apparent here. We absolutely love them.
RELATED: 5 Best Nail Colors for Short Nails
Minimal and White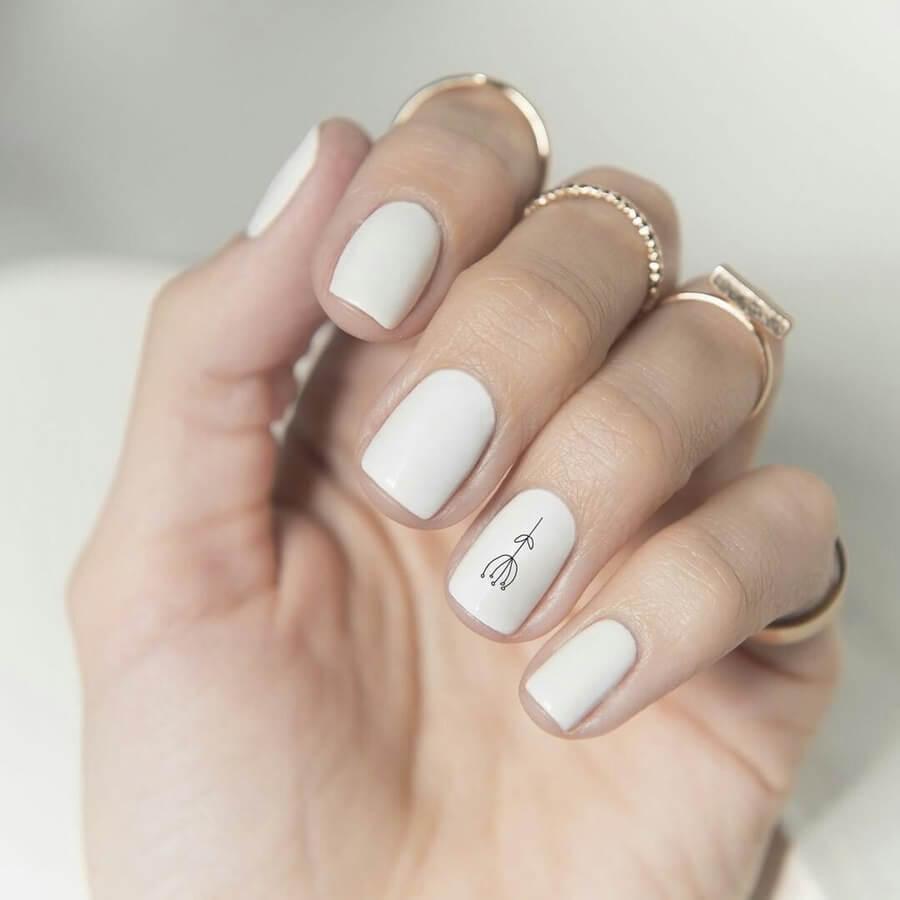 Long nails aren't necessary to make them stand out. Some short nail designs make them stand out by themselves.
Cream white polish and short nails make an excellent combination. A simple ink flower on the ring fingernail will make this otherwise quite simple and natural nail design very attractive.
Golden Flakes
Simple yet so chic – how else to explain these lovely nails? The golden flakes on the edges of your nails will provide you with an eye-catching vibe. The rest of your nails can easily be transparent or white. This is perfect for all women who like low-key manicures.
Metallic Foils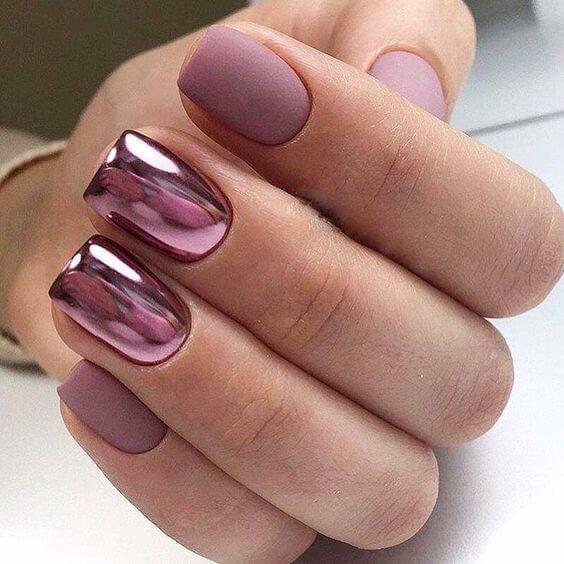 Metallic foils became very popular a few years ago. Since then, many girls have tried it and loved it. So can you. This manicure is great for fall and winter time if you opt for a shade like this. You will receive many positive comments.
White Nails with Glitter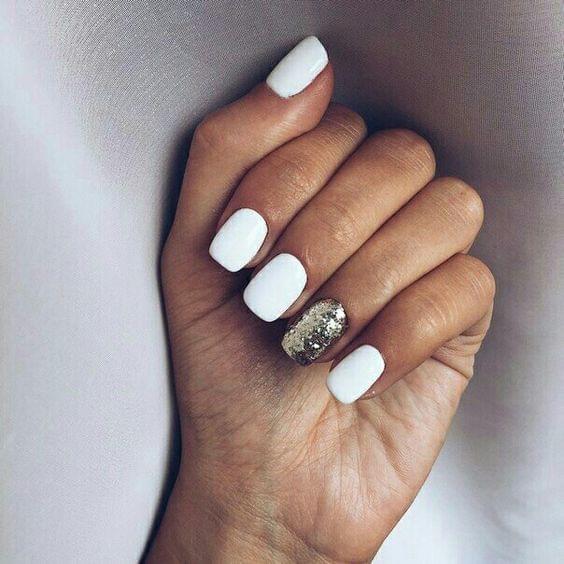 White nails are classy and timeless. However, to make them look a bit different and exciting add a bit of glitter. Precisely that – glitter polish on your ring fingernail only will make a big difference and make your nails super stylish.
Red for Summer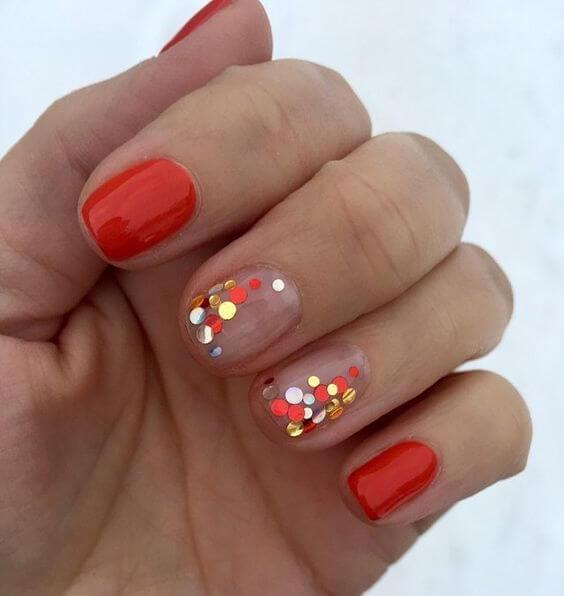 Red is considered to be one of the most popular colors for a manicure.
However, to avoid your nails looking too classic, add some glitter on. You can paint some of your nails in red and leave the others transparent with golden and red shiny flakes.
Green and White Pattern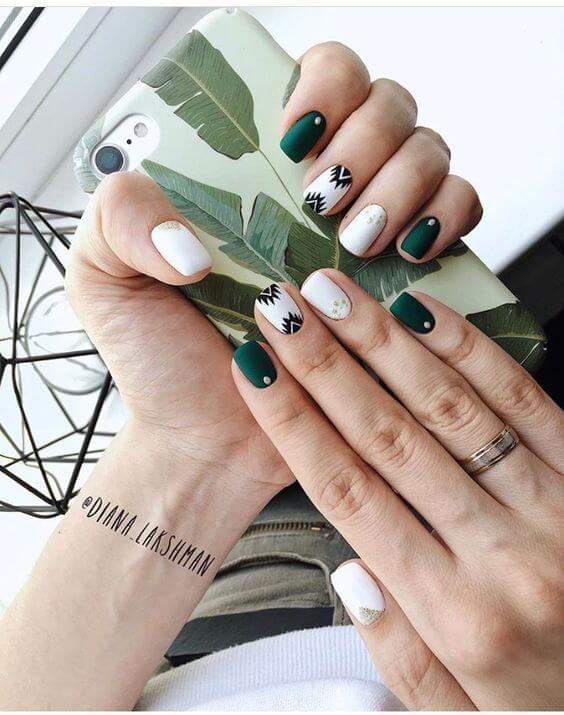 Green nails might sound strange to you. We get it – it's not the most used color for the manicure. However, dark and matte green in combination with white will make your nails look unique and very stylish. You can draw some patterns or just combine these two shades.
Red Star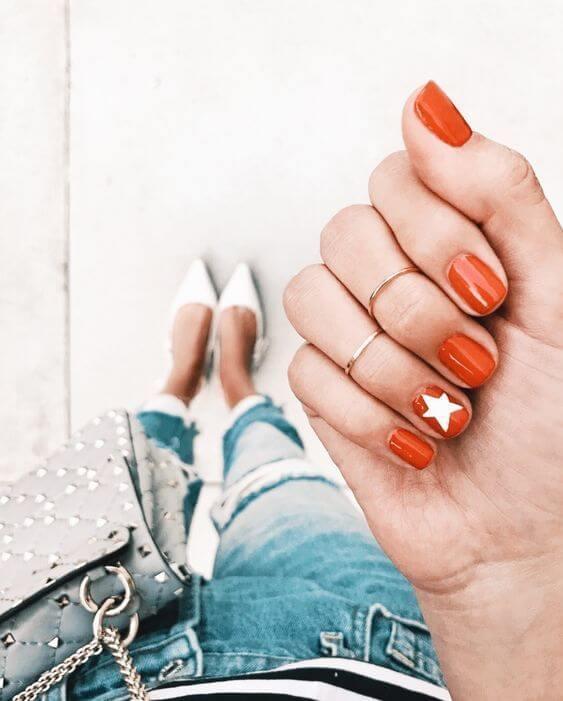 Red nails are timeless. You can wear them however you wish, but the shade will remain forever. If you are bored of classy red nails, drew a star on your ring fingernail. It will add a bit of rock 'n' roll vibe to your style, that is for sure.
Little Sparkly Stars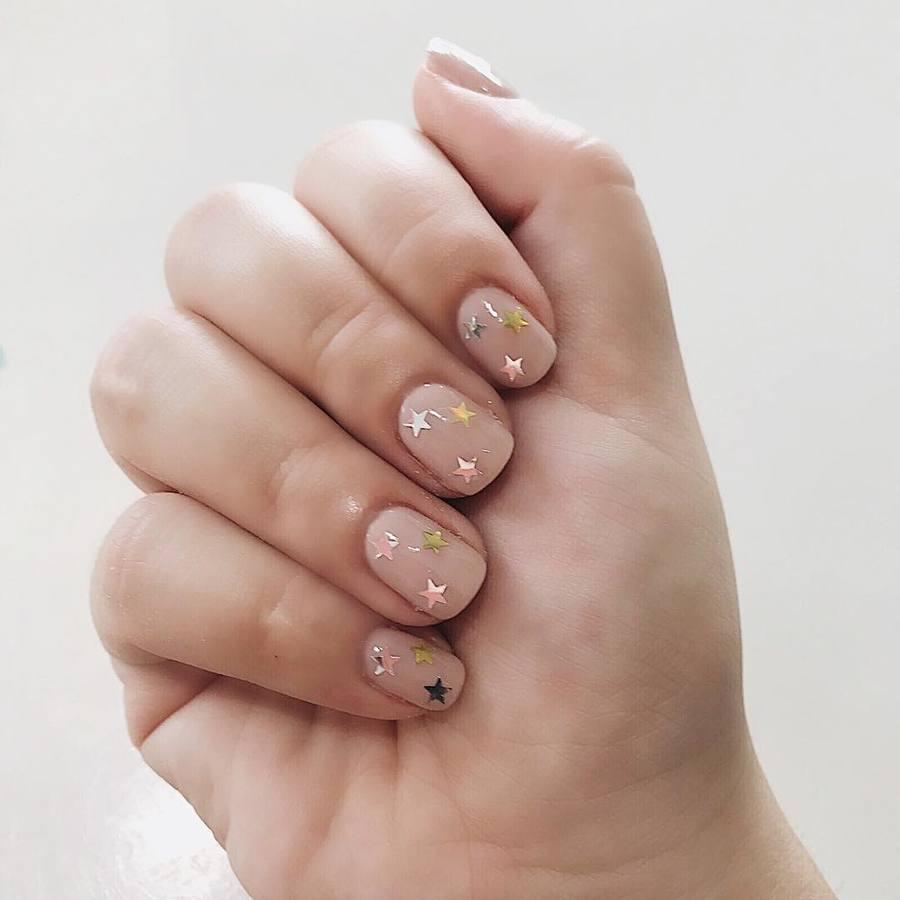 Nude nails are appropriate for all occasions. These with stars are great nails for the upcoming prom and graduation season. You can look appropriate, yet to be stylish and modern at the same time. You can do this manicure even on short nails.
Geometric Patterns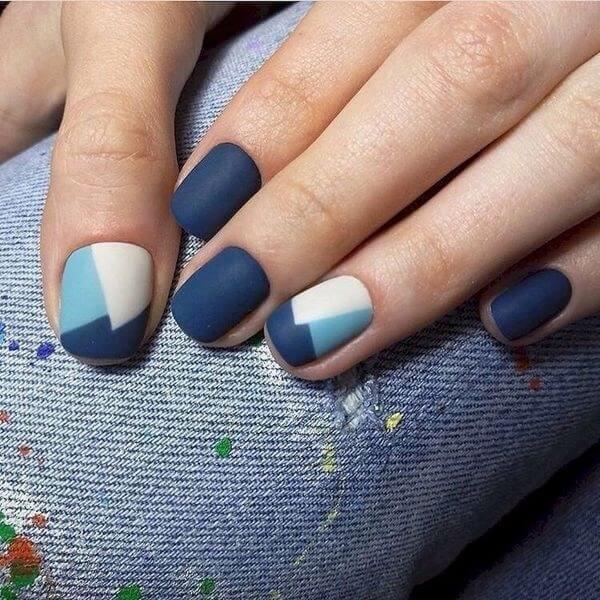 Geometric patterns look amazing, even on short nails like this. You should only pick the color you wish. Here, you can see how the combination of navy blue, white, and baby blue matte polish can make your nails look wonderful and very modern.
Modern and Chic
Depending on your style, you can choose your nails as well to be nude, black, or maybe glittery. These have it all – three color combinations, marble print and a bit of sparkly polish. You will love to wear them for all possible occasions.
Pastel Lilac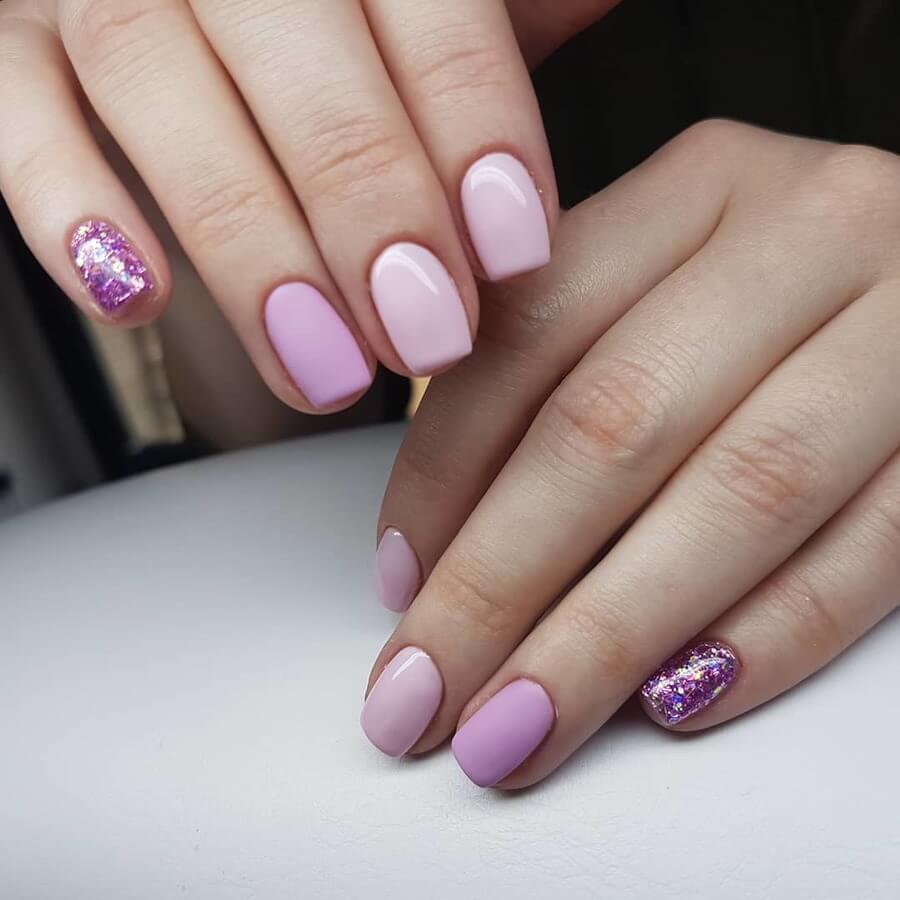 Lilac was and still is one of those colors of the season. With that status, it became trendy gel nail shade, so it's not a surprise that women love it so much. You can wear it matte, shiny or with a bit of glitter. Anyhow, your nails will look amazing no matter what you choose.
Blush Nails
Blush pink nails are great for all those women who like their nails classy and low-key. It is a perfect nude-blush shade that suits everyone. You can always play and be creative. Adding some shiny details on several fingernails is desirable!
Classy with Lines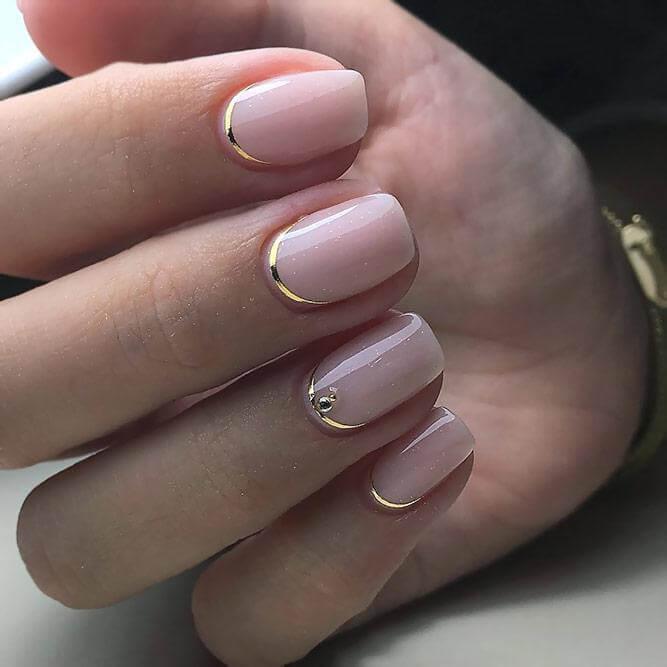 Instead of doing a classic French manicure, play with your nails and draw lines close to your skin, not the edge of your nails. Leave them in some neutral shade, while lines should be gold or silver.
Delicate and Silver
White nails are totally chic. When you add sparkly details even more. You can also do this kind of manicure on super short nails and round ones. This is one of those perfect manicures for everyday wear.
Matte and Glitter Combination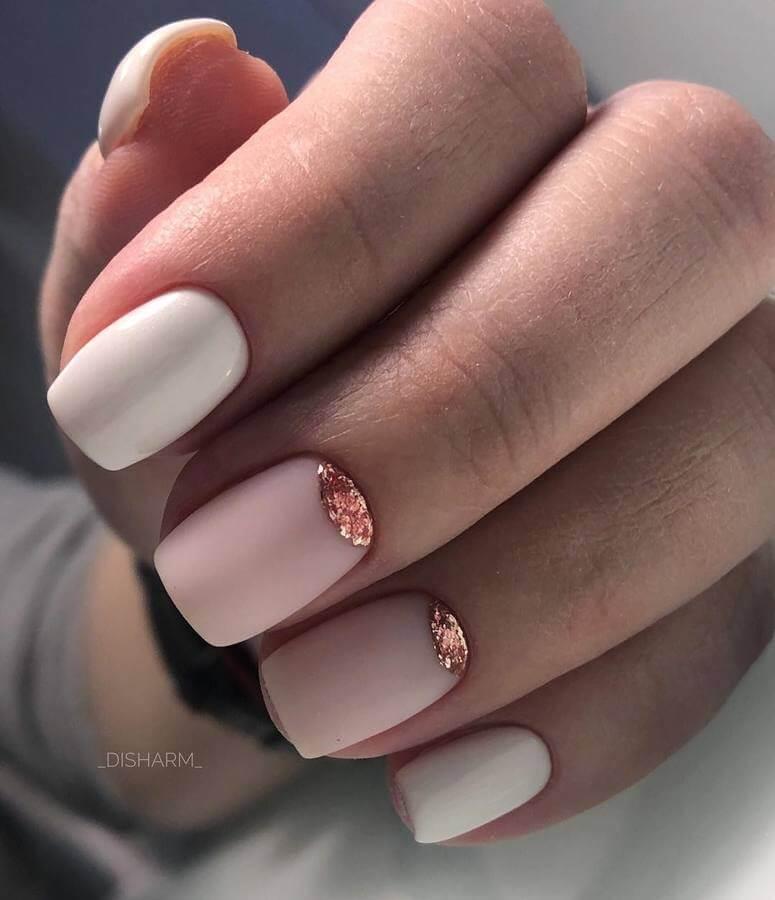 Sometimes, you don't need to polish your nails all in glitter to attract views. You can simply give your friends a little shiny detail, and they will all be amazed by it. That is the thing with this manicure. It is simple, yet very eye-catching combination.
Animal Print on Nails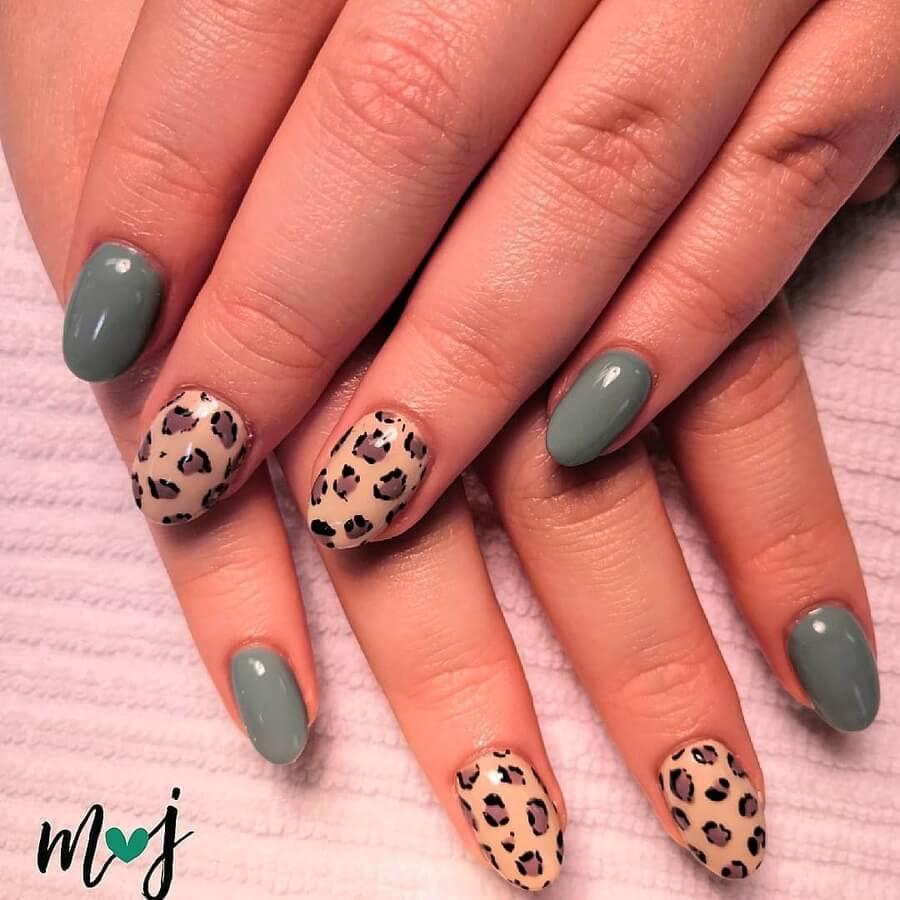 Animal print is one of the leading trends for the season spring/summer. You need to include it in your everyday wardrobe or style. If leopard skirt sounds too much for you, you should then opt for leopard nails. Combine this print with some other nail polish shade.
Yellow Nails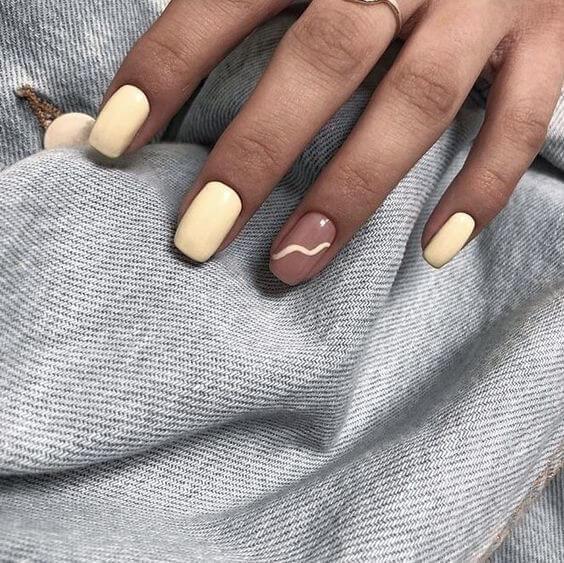 Yellow is a fantastic shade for summer. It is funny, chic, and great looking on your nails. Make your nails interesting by leaving your ring fingernail nude and draw a yellow line.
Orange is the New Black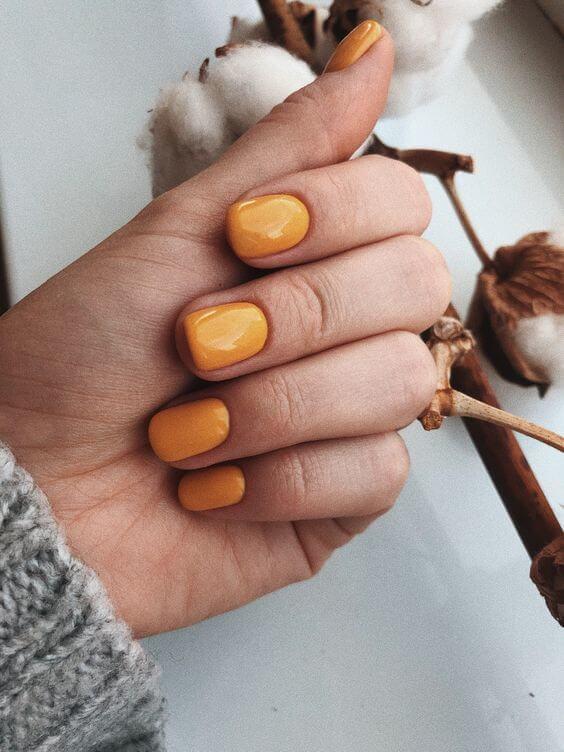 Orange is a color that might seem hard to combine, but it is stunning and versatile. Some say that orange is the new black. And we can't agree more. Especially in spring and summertime when you can wear bright colors more than ever.
Modern and Minimalistic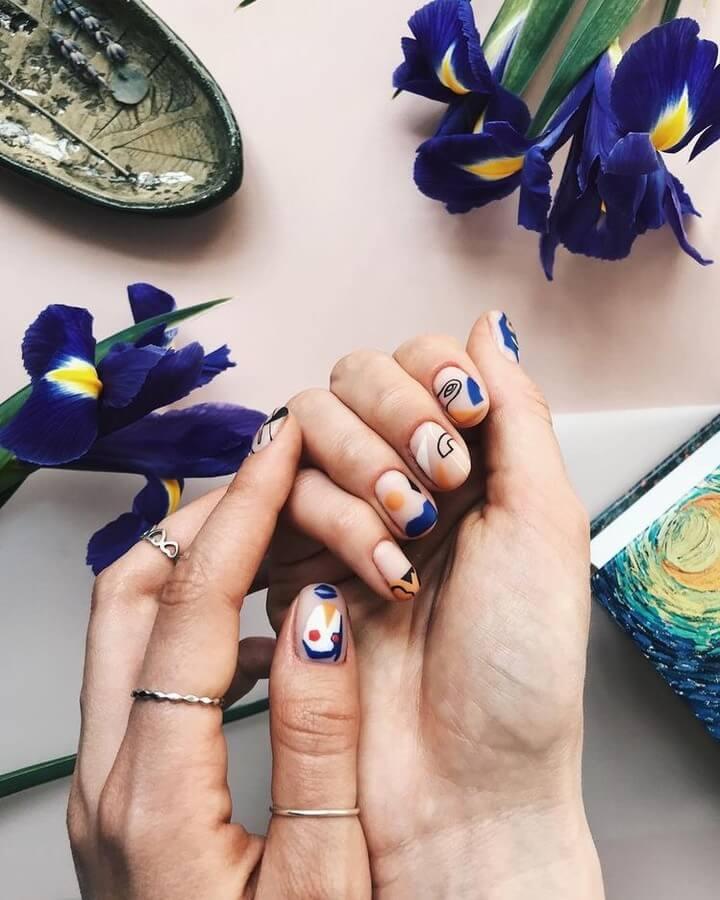 These kinds of prints are at the peak of their popularity right now. So, why don't you put them on your nails as well? The combination of colors is beautiful. Purple, dark lilac and orange make a fantastic mix on your nails.
Pears are Cool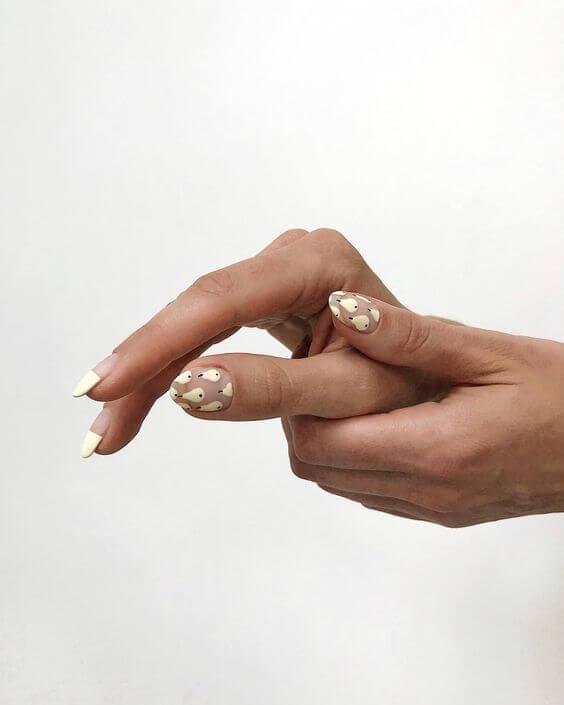 Pears might be your favorite fruit. Why don't you tell the world? You can draw small pears on your nails and make them tell your story. This is one of those funny and very eye-catching manicures that everybody will love.
Blush and Roses
Blush is beautiful and versatile. You can wear blush manicures all day, every day, for all possible occasions. That is the charm of this shade. Make your short nails interesting by adding roses on your ring fingernails.
Lilac Flowers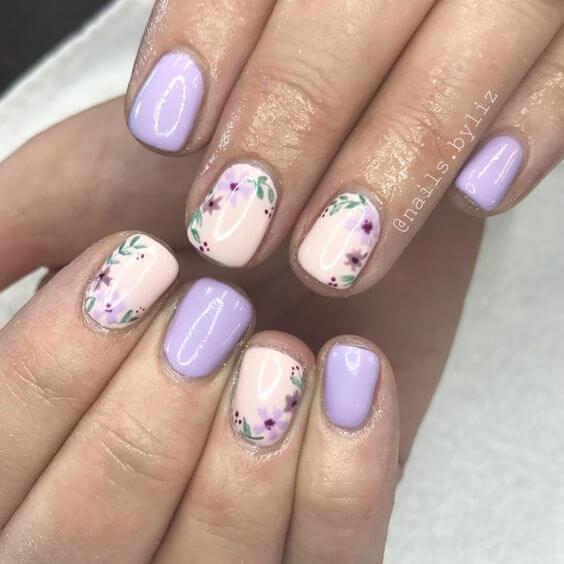 Since lilac is the color of the moment, it would be brilliant to try this shade on your nails as well. You can spice up your manicure by adding some floral design. Don't overdo it though. Your ringer and middle fingers are perfect for these details.
Sunshine
Summer is almost here, and now it is the right time to start thinking about new nails. Make them shine like a sun. Even add lines that will show off everybody how much you love sunny weather and sun-kissed skin.
Metallic French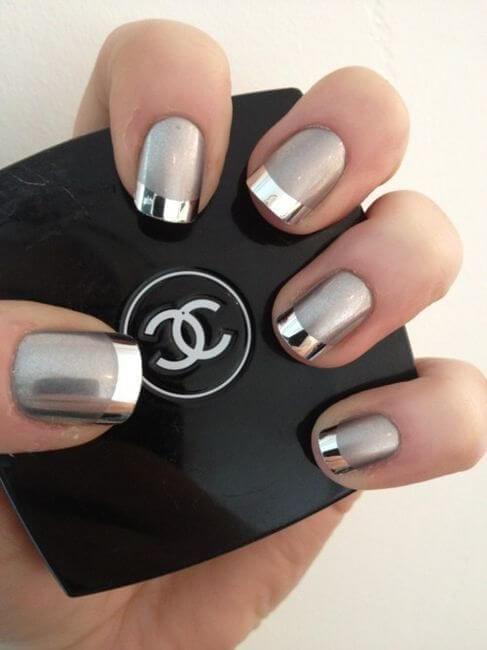 Looking for something elegant and bold? Look no further than this. This French manicure with metallic foils will blow your mind. It is great for those women who like to make a statement and to be noticed. You should try them as well.
Broken Glass Nails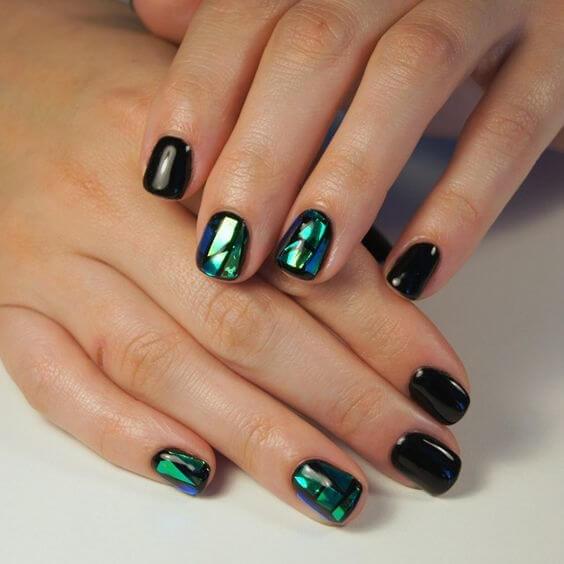 Broken glass nails look amazingly interesting. If you want to make your nails unexpectedly chic and modern, go to the professional and ask for broken glass nails. You can pick the shade you want. Our suggestion – go with dark green and black.
Golden Details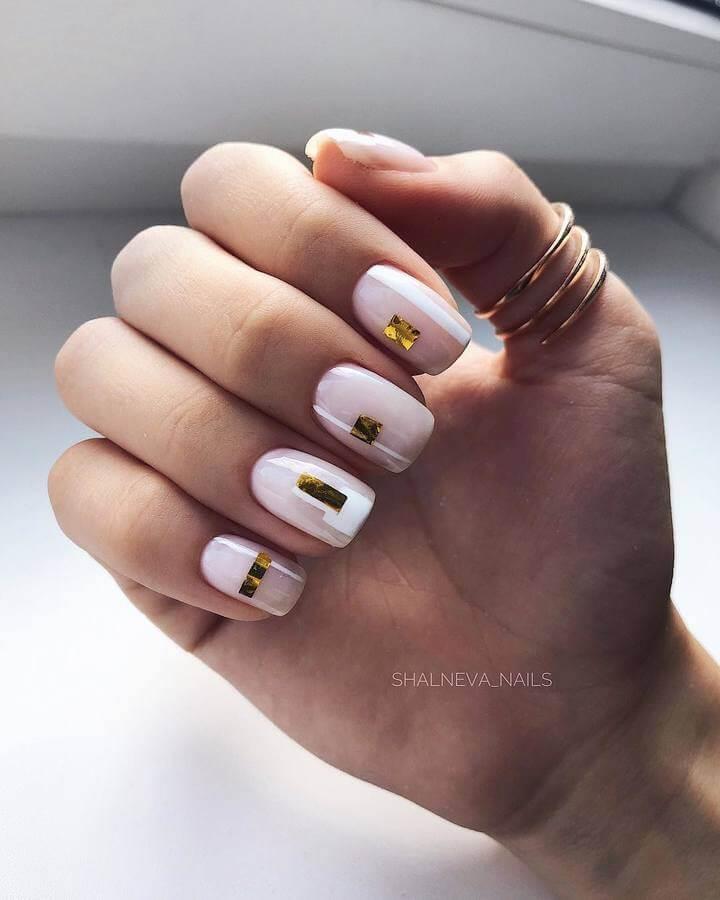 No matter which polish shade you choose golden details can make everything better. Square gold foils on your nails in combination with nail polish will make your nails shine and be perfectly eye-catching.
Little Hearts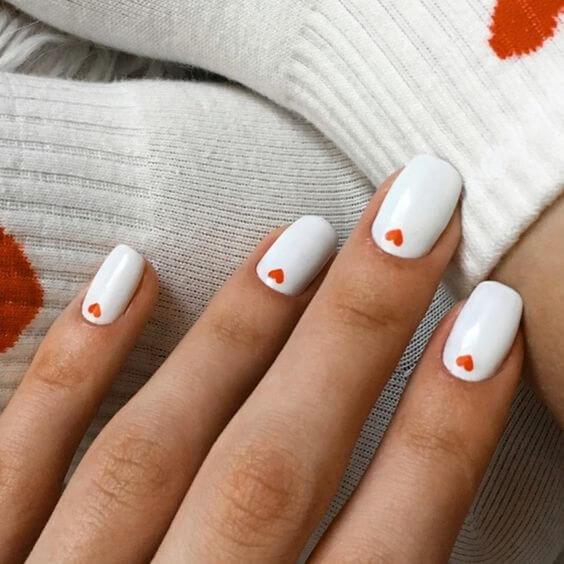 These nails can be perfect for Valentine's Day. Furthermore, you can continue wearing them even after that. They are pretty simple, yet will surely catch some attention. You can wear this heart mani on short nails.
Colorful and Fun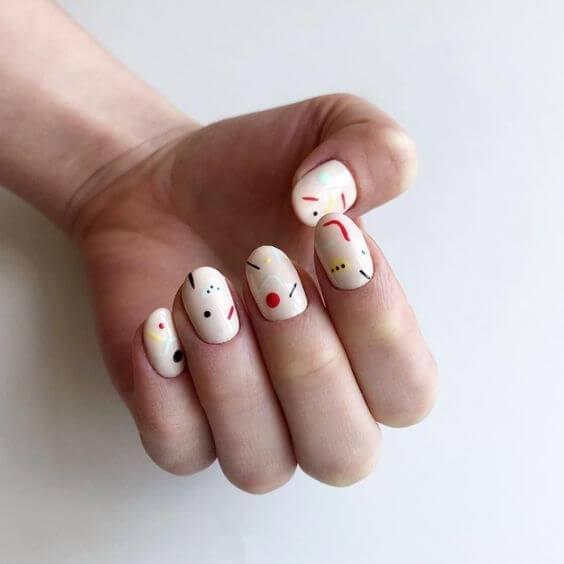 Colorful nails might be considered as the ones that are hard to style. However, if you add a few of your favorite colors and make a mani like this, you can't be wrong. Make sure to create different patterns with various colors, while the background is nude and matte.
Wedding Appropriate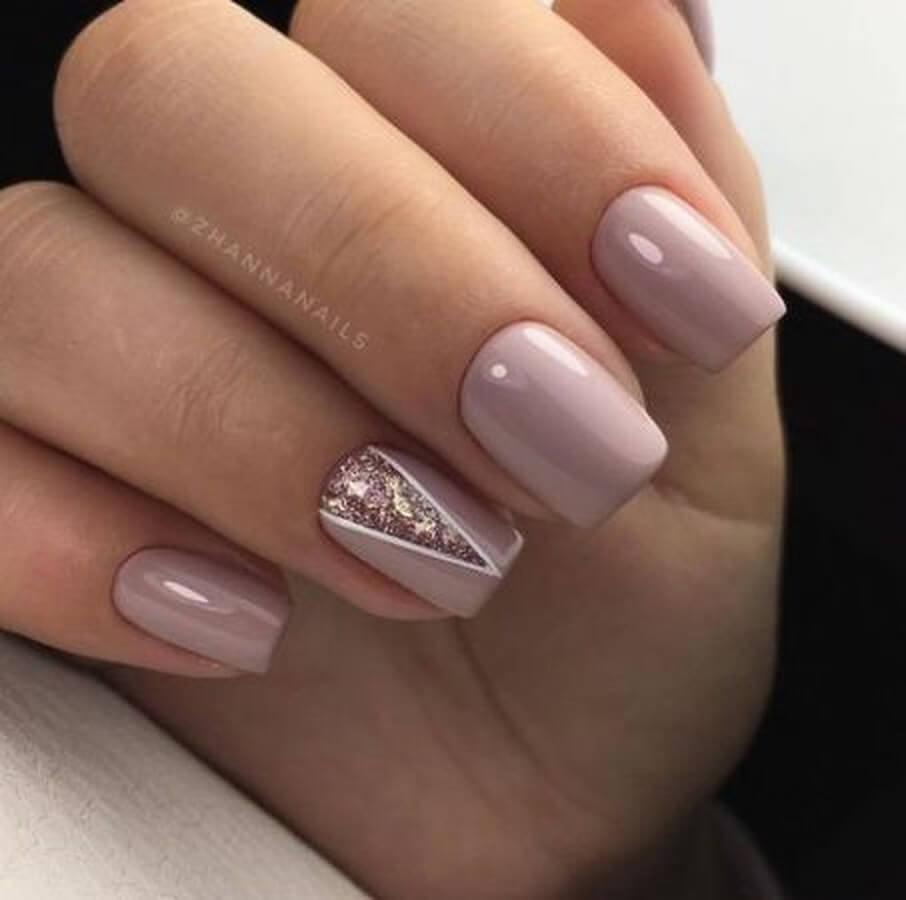 If you are looking for a wedding manicure, look no further. Here is the mani that has it all. Nude shades are simply beautiful for the big day, while the glitter is not a waste. You will enjoy your short nails and feel confident about your look.
Fun Black Pattern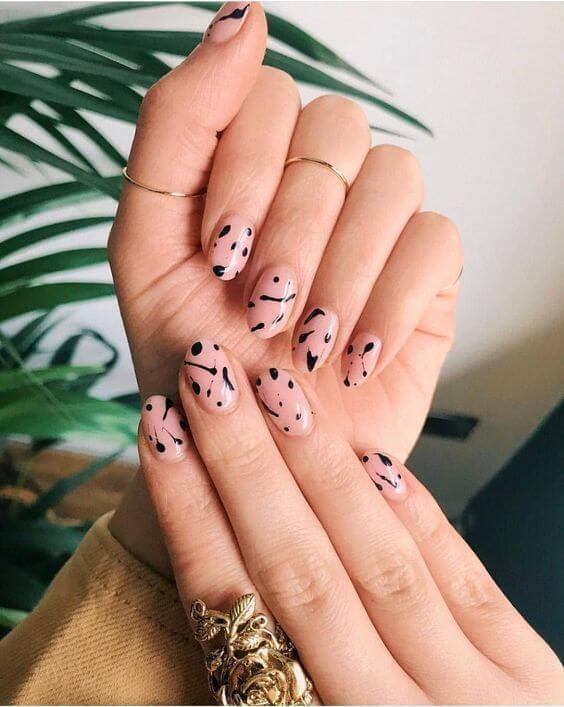 You can wear your nails nude and still make them look fun and interesting. Add these black details, dots, and patterns to make your nails amazing. You can wear them round or square, as you wish.
Glamorous Combination
If you were wondering which color combination makes you both elegant and charming, we have the answer for you. It is the navy-blue and gold combo. This mix of colors is excellent not only for special occasions but for everyday wear.
A Splash of Colors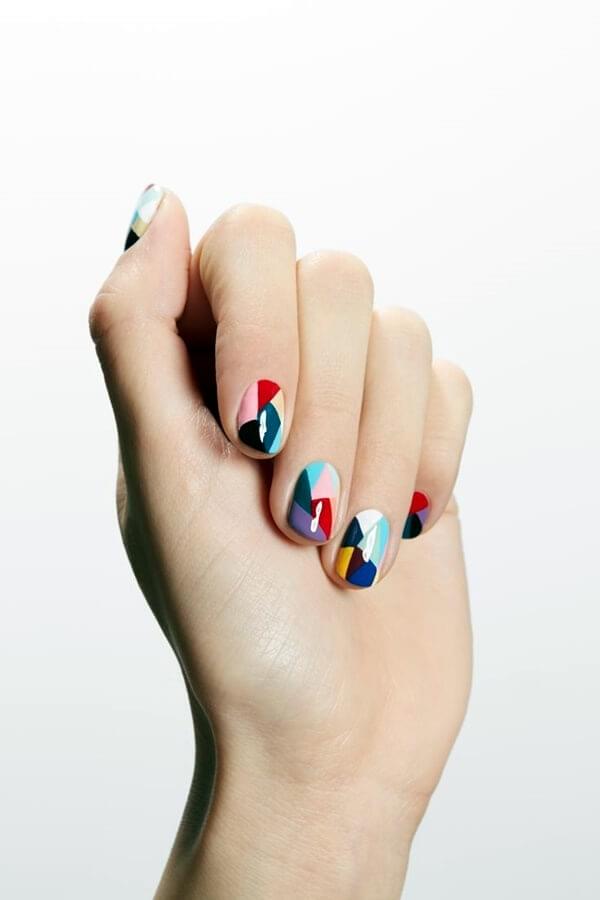 Nothing can make you feel better than a splash of colors on your nails or wardrobe. It can raise your mood instantly, even on a rainy day. This colorful manicure can help you. It looks impressive and so cheerful.
Colorful Stripes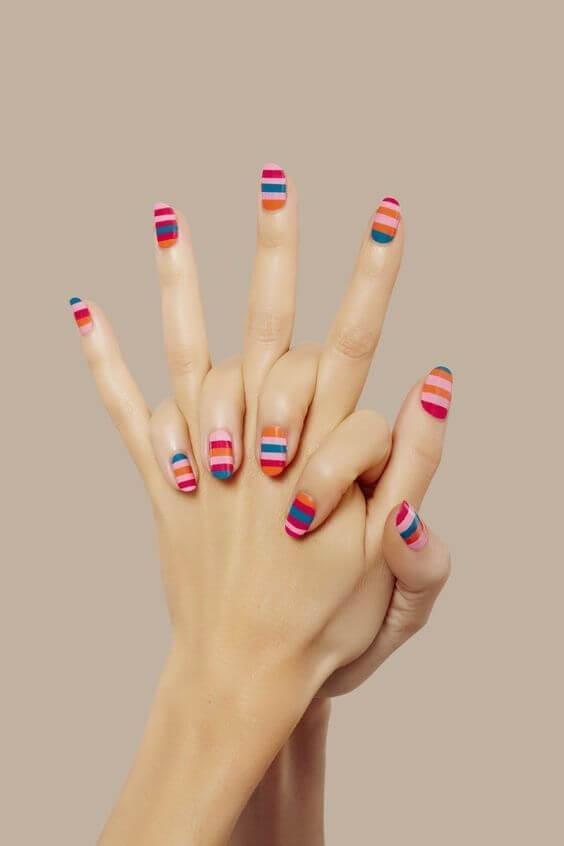 Make your nails look like a rainbow. You can even add some new colors that you like – orange, dark blue or pink. Your nails will catch some attention and be as attractive as possible. You can surely count on that.
Two-Toned Nudes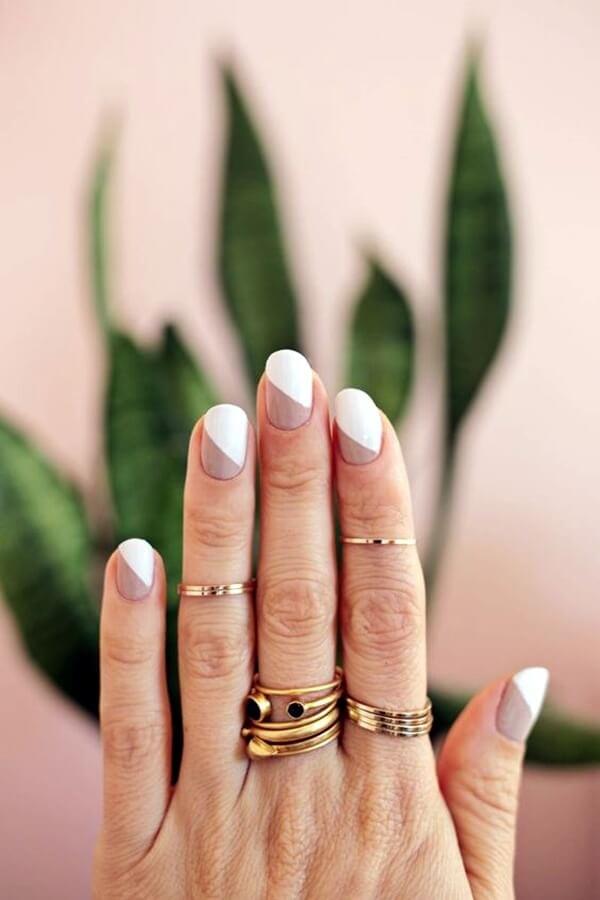 Two-toned nails can look equally nice as transparent ones. Combine these two shades, if you want your nails to look classy, chic, and utterly fashionable. This manicure is perfect for everyday wear, for businesswomen as well as for those who prefer minimalism.
Peachy Nails with Eyes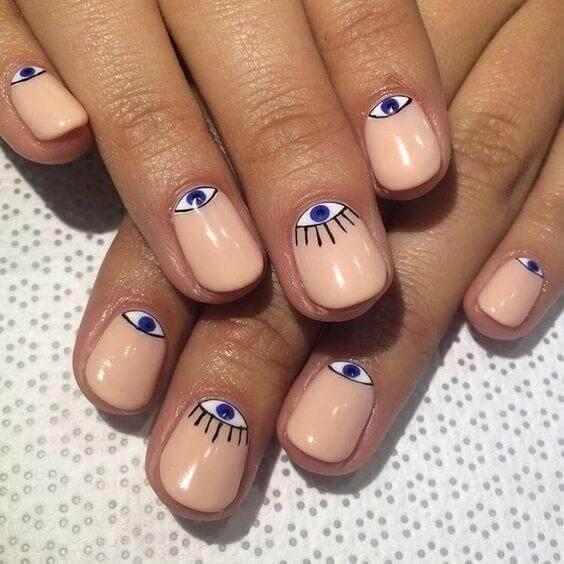 In Orient culture blue eye is considered to be a type of amulet. It is worn against evil forces on necklaces, bracelets, and other accessories. However, you can go a step further and put it on your nails. It will look not only interesting but also very modern.
Bananas and Pink Polish
Bananas are everyone's favorite fruit. That's a fact. If you want to show off everybody how much you love bananas, put them on your nails and combine this design with blush pink polish. The other nails should be yellow to compliment bananas.
Pastel Color Palette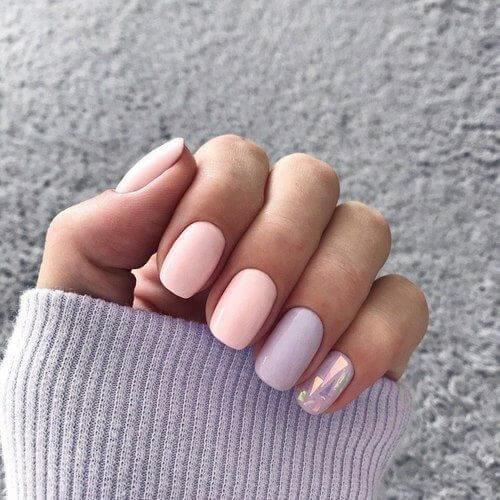 Pastels are at the peak of their popularity. Blush pink, mint green, lilac, and baby blue are just some of the pastel shades that everybody adores. You can use more than one color palette for your nail manicure. It will look great.
Baby Blue and Silver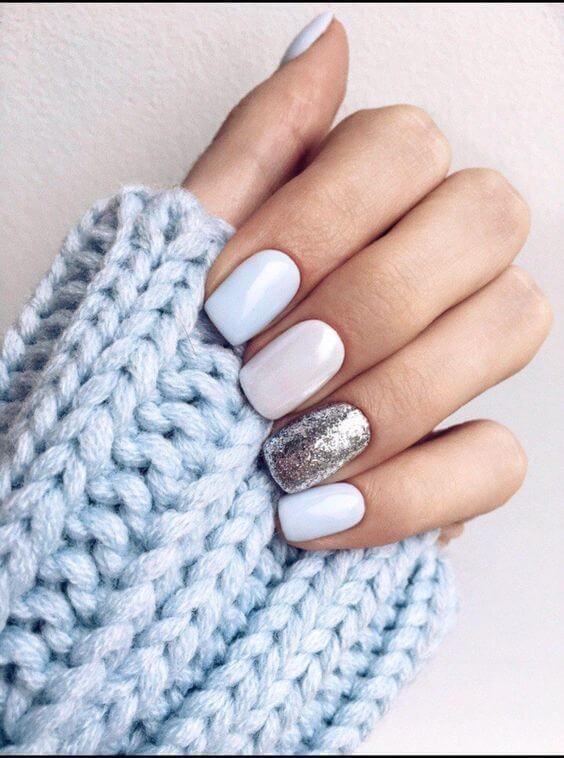 Baby blue is one of those beautiful shades, but sometimes you find it hard to combine them. However, baby blue nails tell another story. They can be styled with any other shade – white or glitter, for instance.
Easter Inspired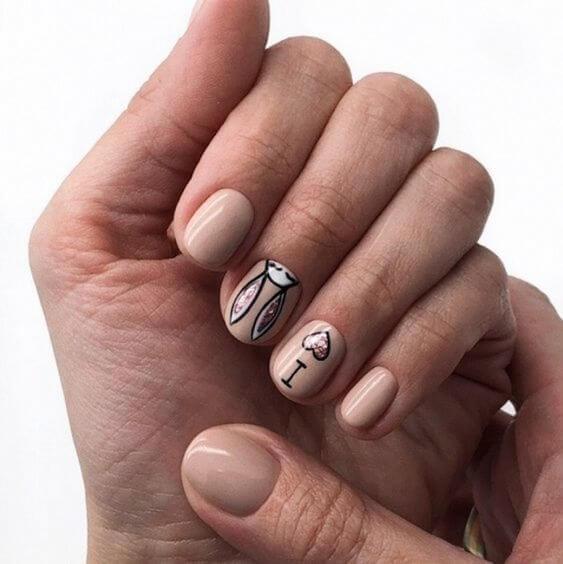 Easter-inspired nail art are usually centered around certain motives. You can opt for both short nails and nude shade, but you need to have something typical – a bunny. Decorate your nail bunny with glittery ears and black ink.
Unexpected Animal Print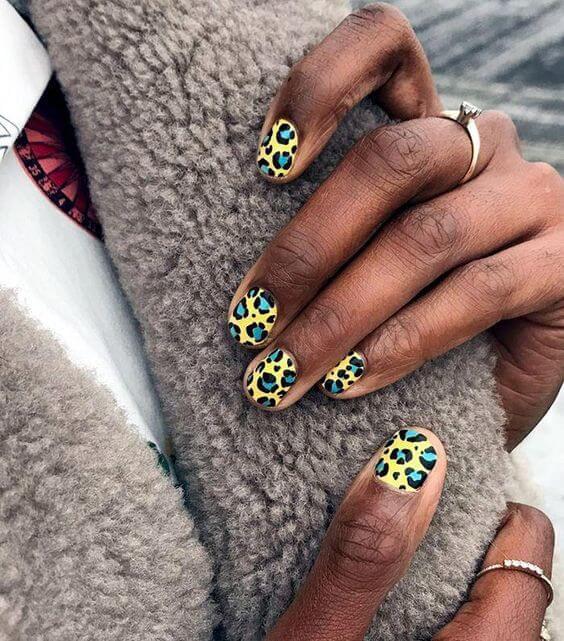 You can wear animal print on your nails, but make it look perfect. For the upcoming summer days pick some unexpected colors such as green and yellow. They will provide you with more vivid looks and upgrade your summer outfit combinations.
Classic is Timeless
Red is timeless shade. We already determined that. It is perfect for those women who like their nails short but chic. You can style red shade with any other piece and color. This classic manicure is great for business women.
Blue Metallics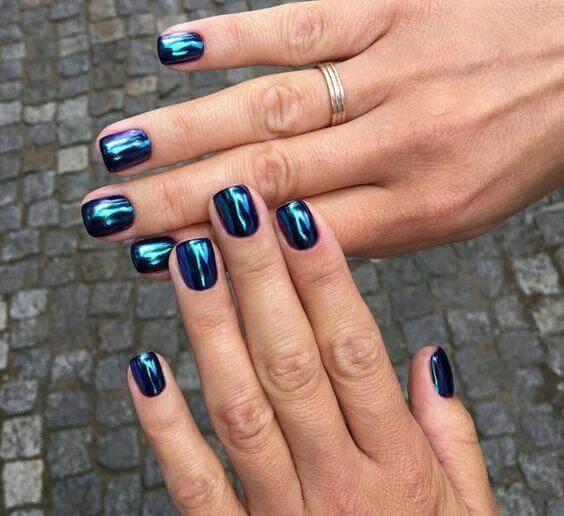 Metallic nails will catch all the attention, wherever you go. They look fantastic and like a mirror. You should go a step further and pick some unusual shade, such as this dark blue metallic one. This is perfect for prom nights and special occasions.
Dark and Bright Combo + Metallic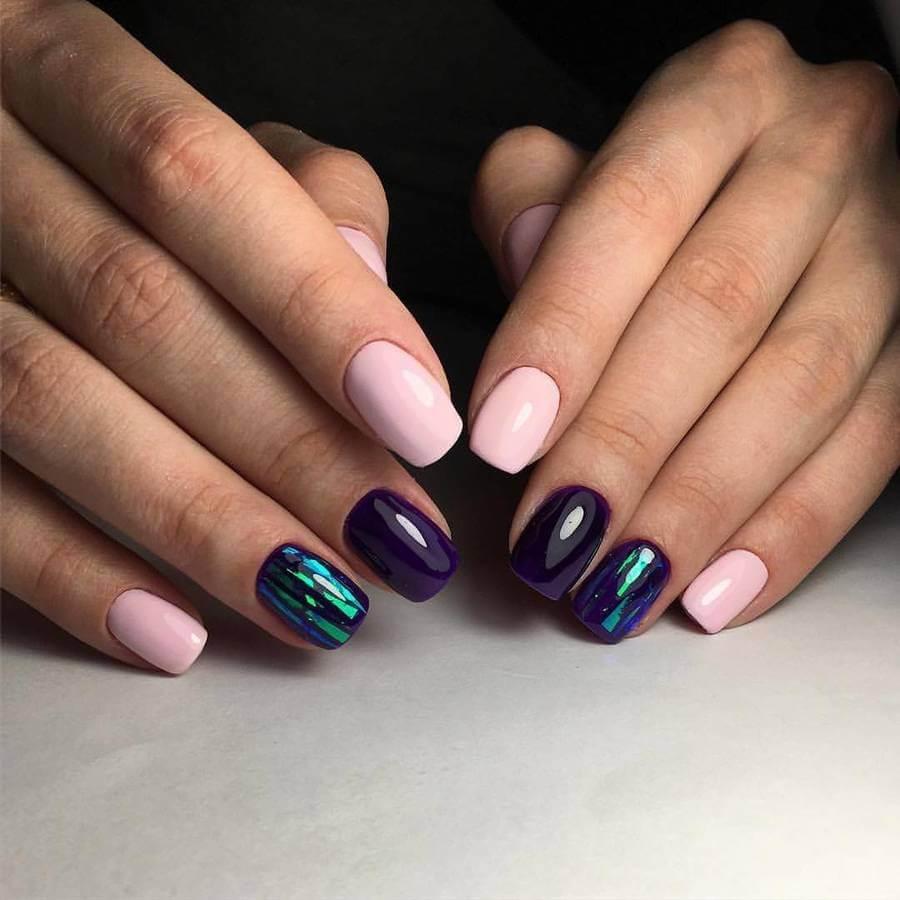 It is clear that the combination of blush nails and dark purple are not very typical. However, when you add metallic foils at all that, you get the combination that is gorgeous indeed. Short nails look amazing while shades make a fantastic combo.
Like a Universe
Black matte nails look gorgeous. However, there should be some way to make them even more exciting. Yes, there is. You can draw universe planets and stars to make your nails look eye-catching.
Rhinestones on Nude Nails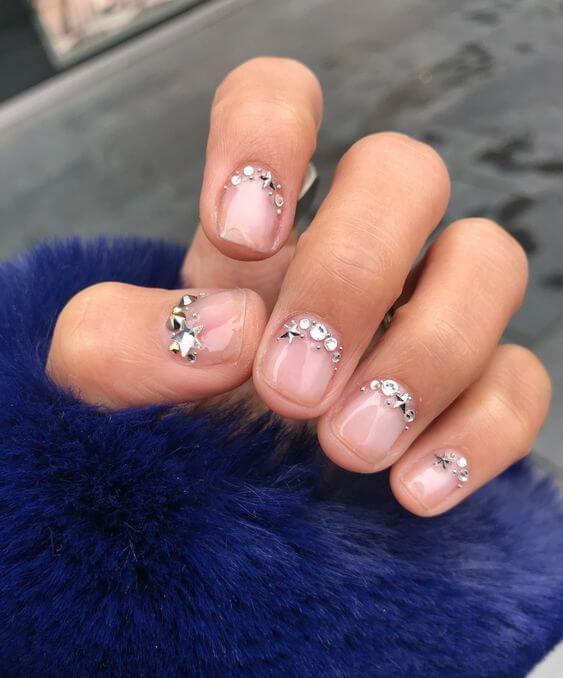 Rhinestones on the nails can easily look kitsch. However, if you style them properly, make them all in the same color, and with the nude background, your nails will look more than perfect. This is great manicure even for those wearing short nails.
Sparkly Nail Edges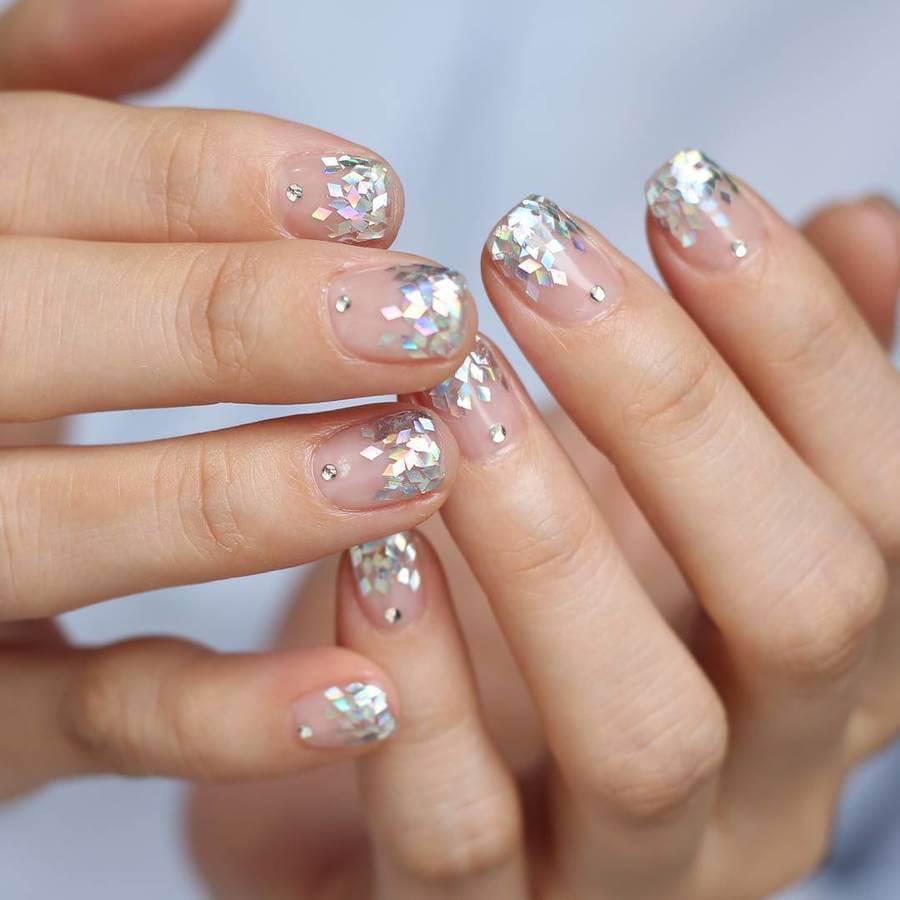 Let your nails look like snowflakes. Silver flakes in form or a rhomboid will add some texture to your nude or transparent nails. This manicure is excellent for weddings, prom nights, and other special occasions, especially in the cold winter time.
Bronze Stripes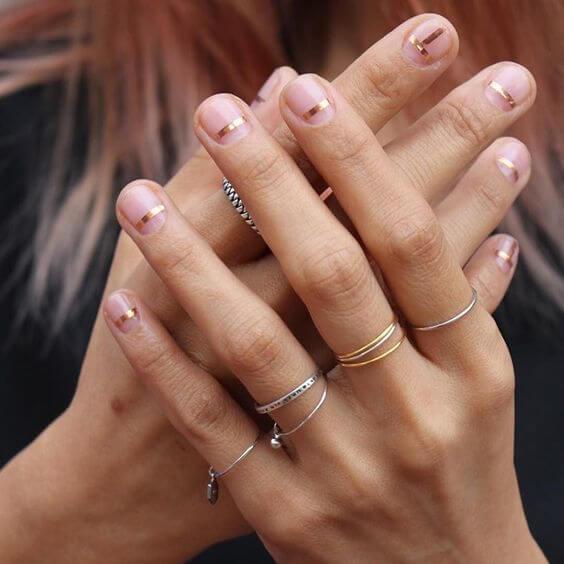 Many women don't even think about their manicure. They leave their nails with a nude base or even without any nail polish on. However, if you want something quick and chic at the same time, look no further than this. Bronze lines on the top of your nails are simple to make and even easier to style.
Waterfall Nails
Colorful nails will always be more eye-catching than the ones done in only one shade. Waterfall nails are kind of a trend that doesn't plan to go that easy. You can opt for two or more toned waterfall nails to make them look fantastic.
Dots and Triangles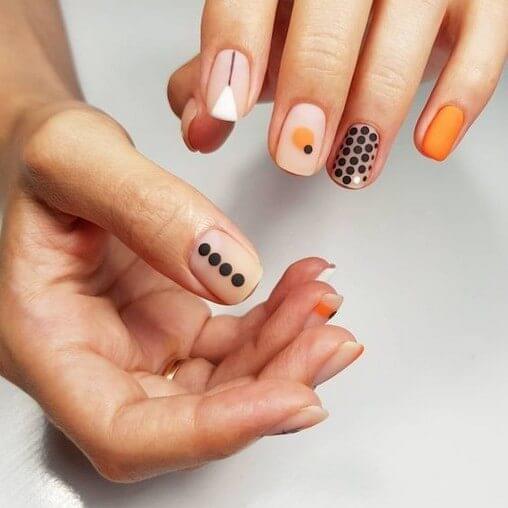 Geometric patterns on nails are trendy in the last few seasons. You can combine colors, patterns and make it look amazing. Even if you like your nails short, you can still pull out this look and make your nails look great.
Hearts with Eyes
Simple hearts are not enough anymore. To make your nails exciting, add hearts with small eyes! Oh, trust us, everybody will be amazed by these nails. Round nails will present hearts even better.
Glam Burgundy and Gold Glitter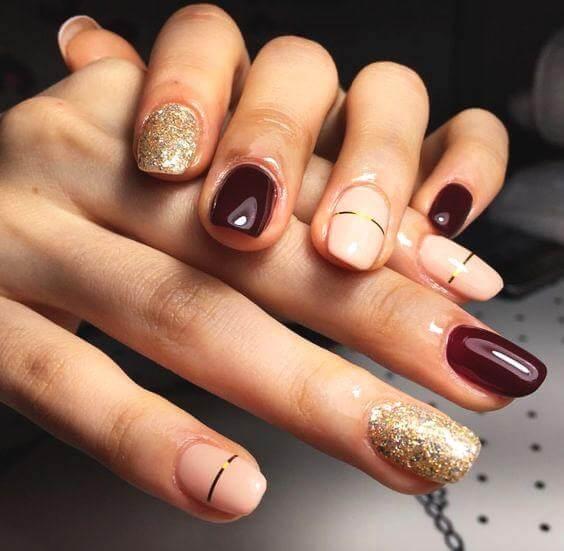 Burgundy nails are considered very elegant and sophisticated. If you want to add more glamour to your attires, add golden glitter. It will add even more elegance, and your nails will appear great. You can also opt for a few nude shades with gold stripe across your nail.
Pink and Red Nails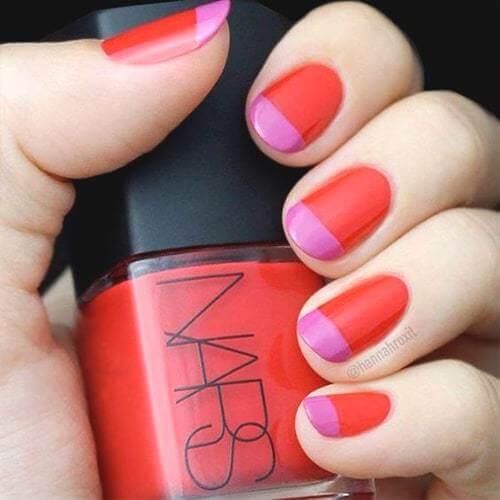 Red and pink mix was long considered as an impossible combination. We were avoiding it as much as we can. However, from this year, this combo is in trend again. Every girl has tried wearing these two colors together, and they loved it. Try it on your nails as well.
Different Kind of French Manicure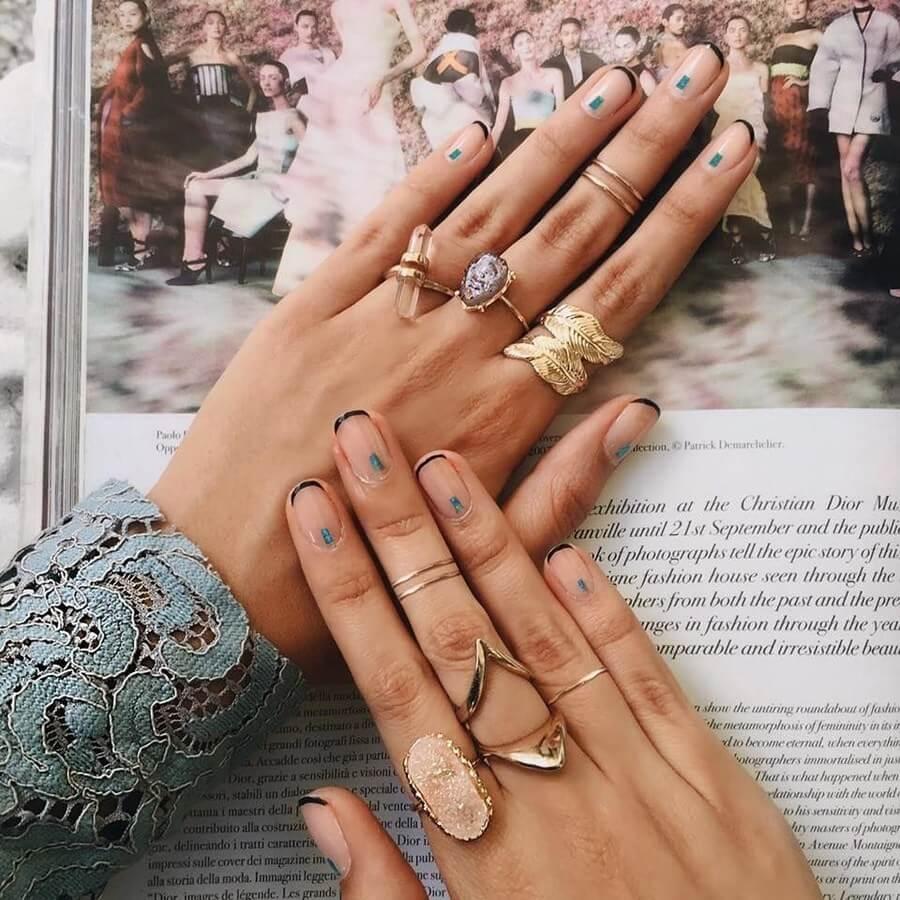 Instead of classic French mani, you should do something that will make you stand out from the crowd. Add black line instead of white and leave the rest of your nails transparent. The blue detail in the center of your nails will make a huge difference.
Tropical Nails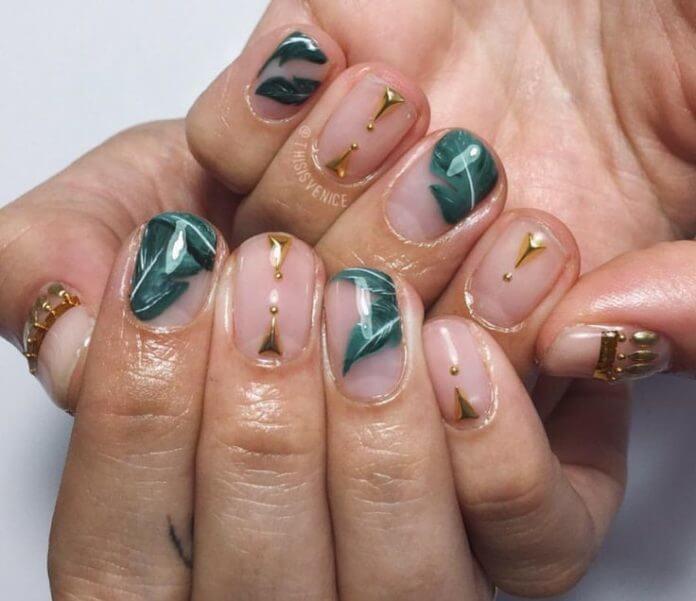 Preparing nails for summer is one of our favorite activities. And no, you don't need to grow your nails long to make them eye-catching. By adding gold rhinestones and tropical green leaves on several nails, you will be ready for warm weather and beach parties.
Color Block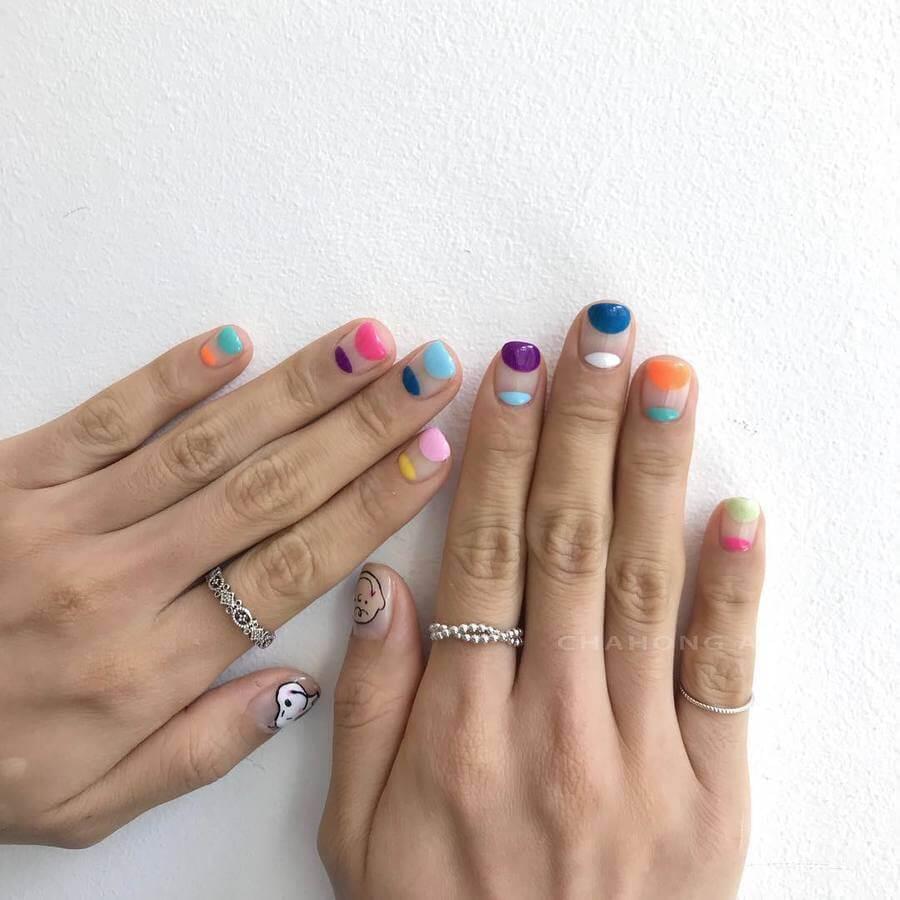 Color block is considered as a fearless technique in the fashion world. Wearing a lot of colorful pieces at once look eccentric, but also very stylish. Although you need to do it right, the color block can look very cheerful. You can carry over this trend on your nails as well.
Colors of the Sky and Grass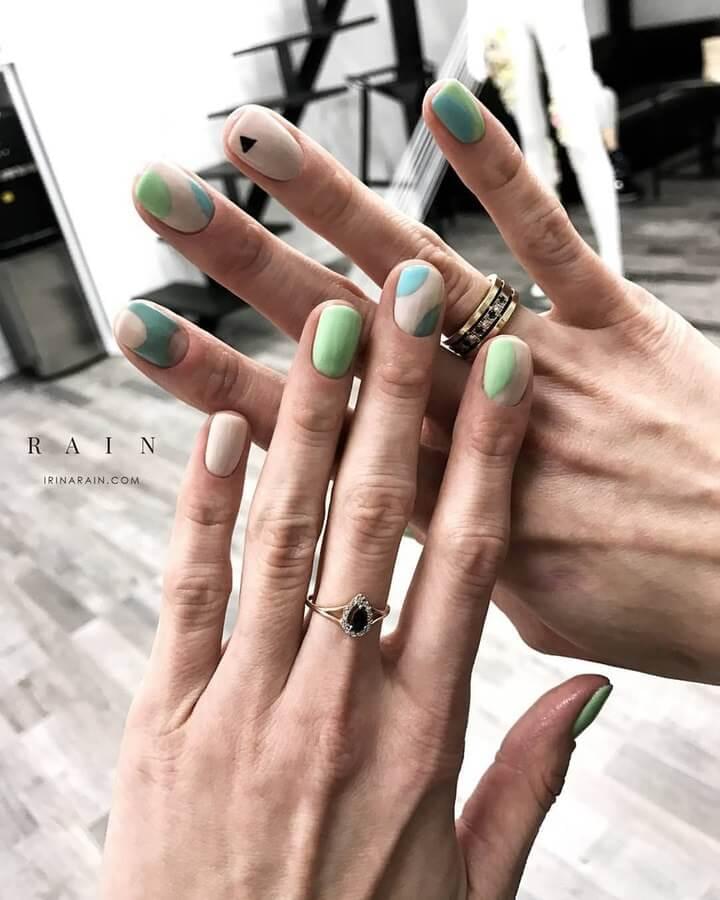 Maybe you were not aware of it, but this color combination is wonderful. We have to admit it though – it didn't come to us to do this nail shade combo on our nails. Pastel blue and mint green patterns will make you stand out from the crowd wherever you go.
Pink with White Details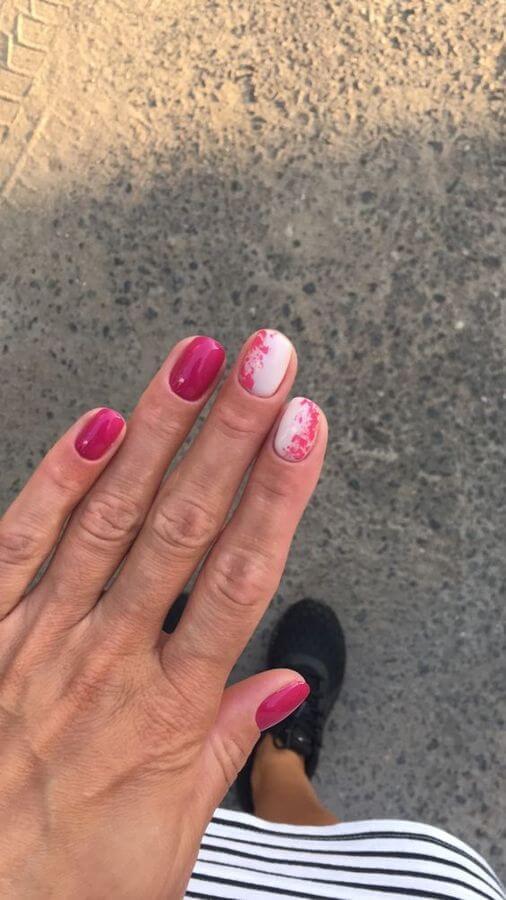 Pink nails are wonderful. They even look better on short nails. So, don't think twice when picking a new shade for your next manicure. They can be enriched with some details, like white shade or splashes of pink shade on white background.
Grey Hues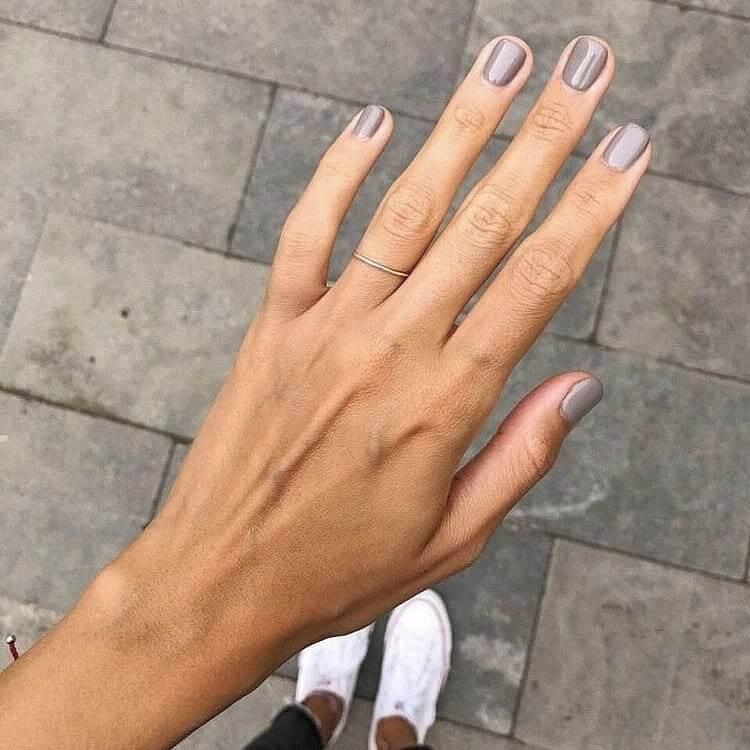 Grey is one of those basic shades that you can wear with all other hues and colors. You can absolutely pick grey nail polish that will provide you with the versatility that you need for everyday wear. Short nails are both nice looking and practical.
Blue, White, and Black Nails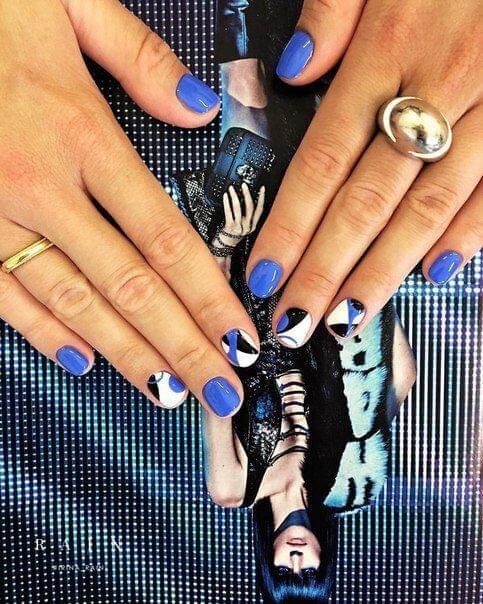 Blue is a great color for your summer nails. It is eye-catching yet very stylish. You can combine it with other shades to make this mani attractive. For instance, black and white details on your middle and ring fingernails will make a big difference.
Purple Nails with Aztec Patterns
Aztec patterns are seen on nails, and we have to admit they look fantastic. They give your nails a charming vibe so you can pick the shade you want for the rest of your fingernails. However, make sure to draw Aztec patterns on a bright background so they can be visible as much as possible.
Polka Dots are Back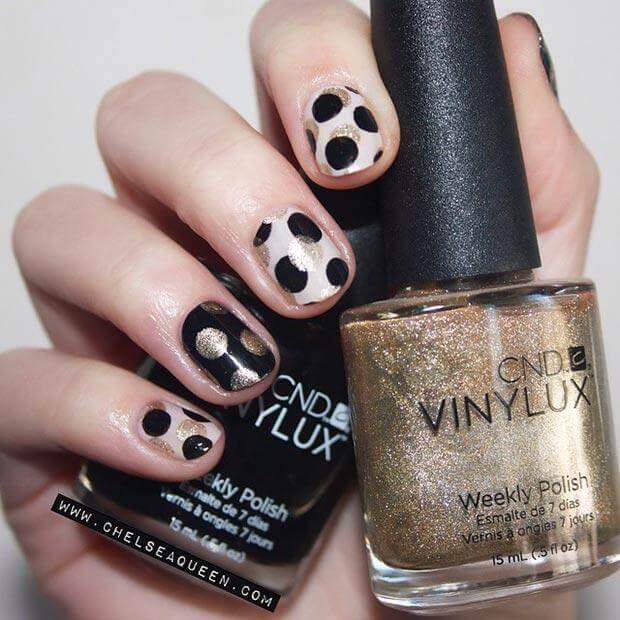 Polka dot print is back to style. It is actually always present, and it has the power to stay in fashion forever. So, what are you waiting for? Show your love for this print by putting it on your nails. You can combine white, black, and gold nail polished and create an amazing look.
Gradient Glitters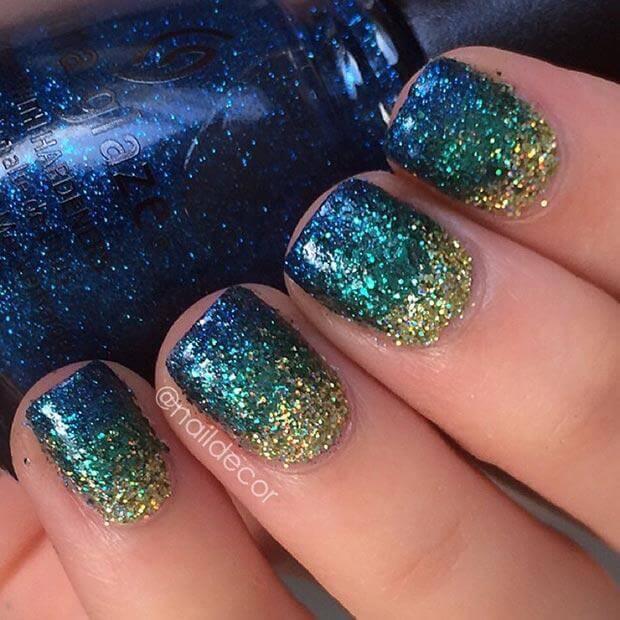 Gradient glitter nails can make you the main star of every event. They will make you stand out from the crowd wherever you go. Gradient nails look like a dream. The colors appear like a night sky, and you simply have to adore it.
Shiny Circles
While you leave your nails transparent or nude, the shiny circles are what brings out all the joy about this nail art. They are colorful with a delicate shine that will make your attires look even more sophisticated and celebration-ready.
Tropical Leaves
There is no better pattern for summer than tropical leaves on your fingernails. You can decide if you want to draw leaves on every single nail or you want to leave some of them transparent and minimal.
Shiny Sides and Edges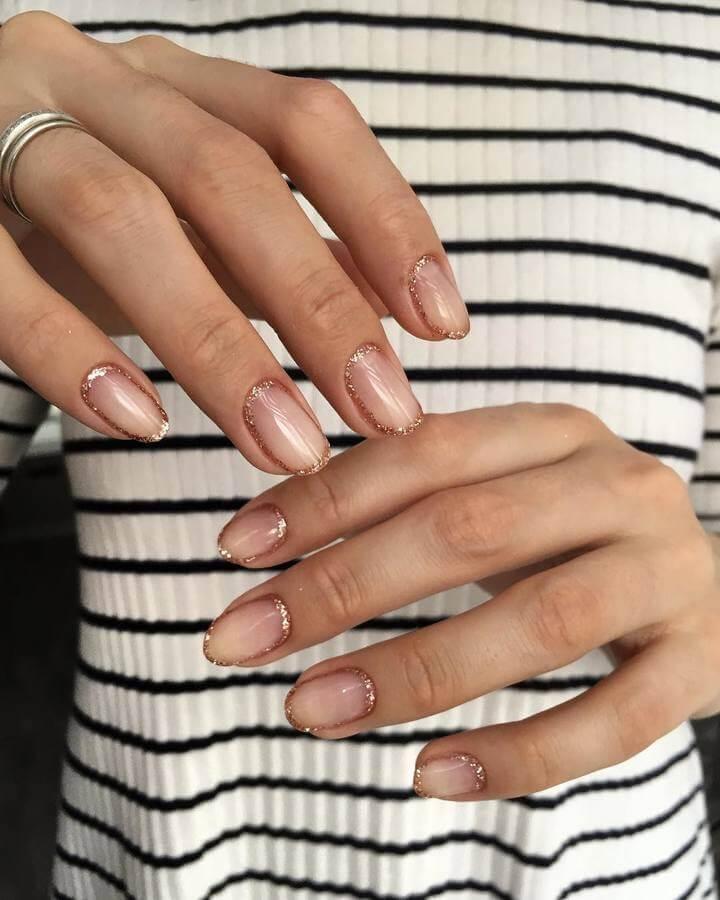 Shiny nails are perfect for the wedding day if you are a bridesmaid or going as a guest. The fine glitter will compliment your attire along with your shoes and hairstyle. You can frame your nails with glitter lines and make them gorgeous yet sophisticated and low-key.
Colorful Geometric Lines
Geometric colorful lines on your nails will definitely make them look more eye-catching. You can be sure that these nails won't be unnoticed, wherever you decide to go. They are modern and very futuristic.
A Real Art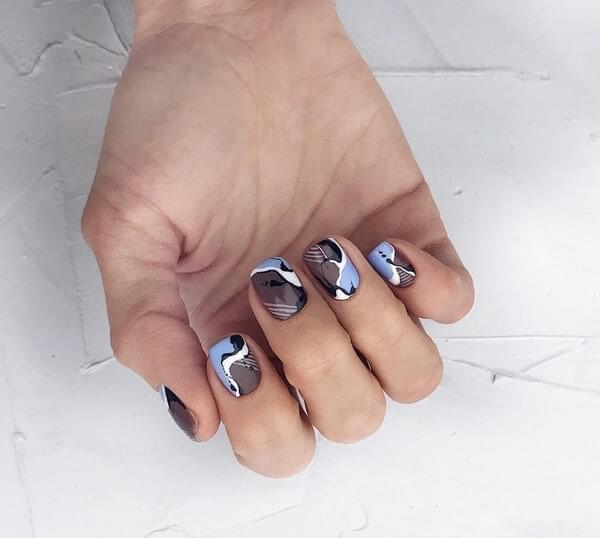 Sometimes nails can look like miniature pieces of art. This is a great example of how you can wear an unusual color combination while making your nails look like you have decorated them with a painting.
Mint Green and Blush Pink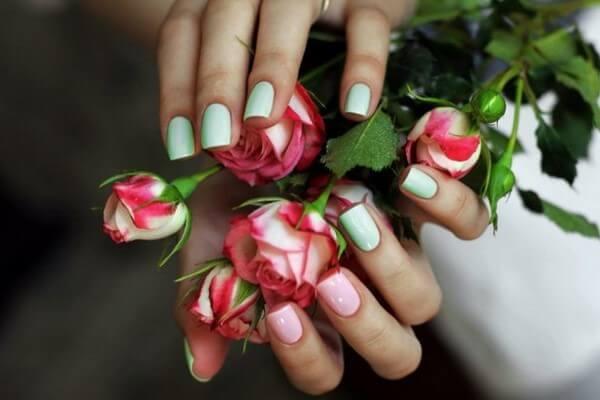 Mint green is one of the most popular pastel shades for spring and summer season. Oh, you need to try it. Combine it with some other pastel shade is a brilliant idea! Blush pink and mint green will make your short nails pop out!
Delicate Floral Design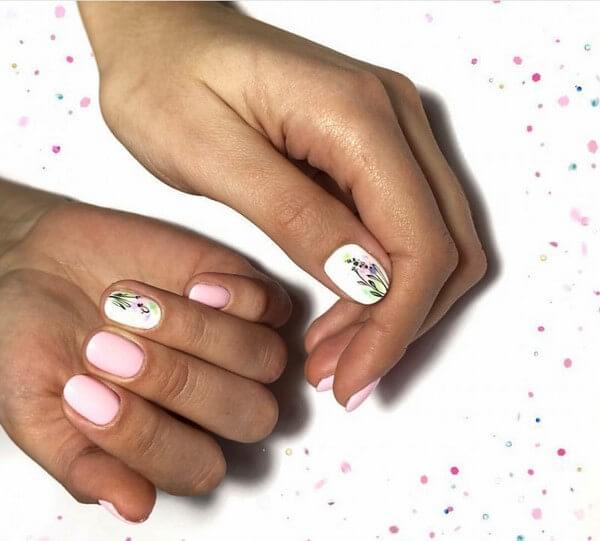 Light pink nails are lovely and casual. By adding floral designs on your thumb and ring finger, you will get an amazing spring manicure ready to be shown off to the world. You will be satisfied with these shades and proudly wear this mani every day.
Dots, Dots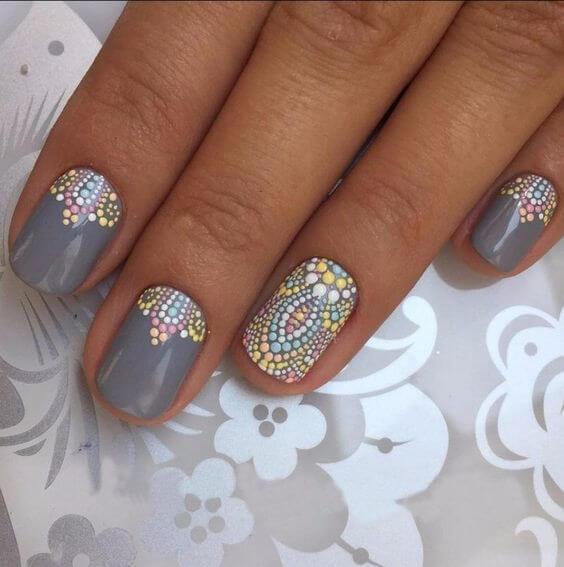 Grey nails can appear a bit dull. That is why you should make them attractive. And how to do that? Look no further than this. Small dots in different shades will make your nails gorgeous. Don't you agree?
Basic Colors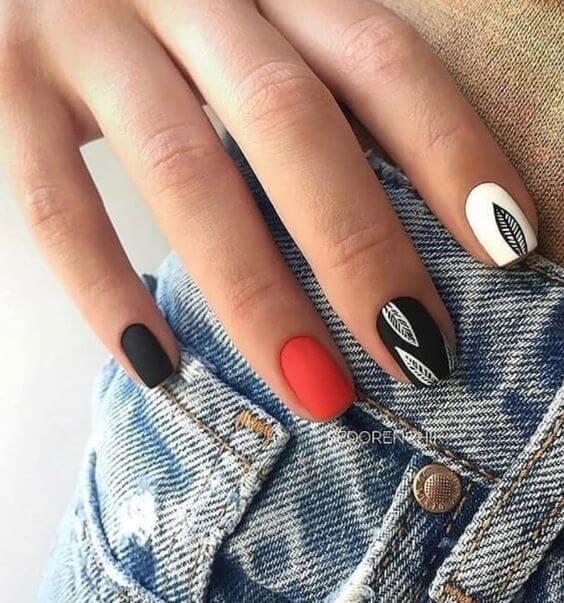 Basic colors on your nails will match perfectly with your basic capsule wardrobe. Black, red, and white nail polish are those that you need to have at home. Combine them for a perfect and chic manicure that you can wear every day, even at work.
Colors on Point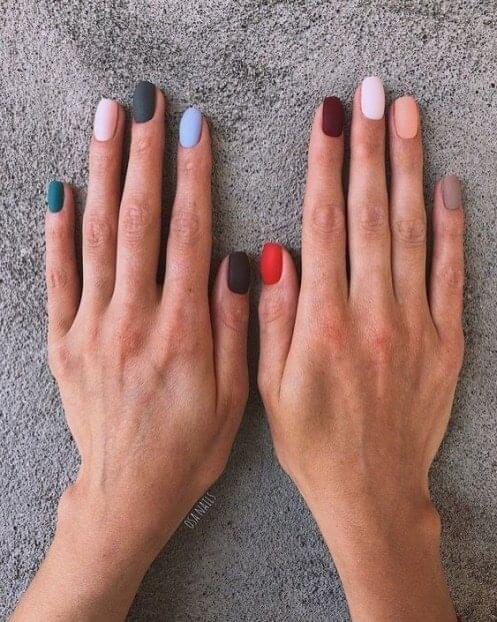 One color for the whole manicure? That is so last year! This summer, try something like this. Different shade for every fingernail looks cheerful and exciting. You can plan and pick your favorite colors and synchronize them to look amazing when paired.
Rhinestone Pineapple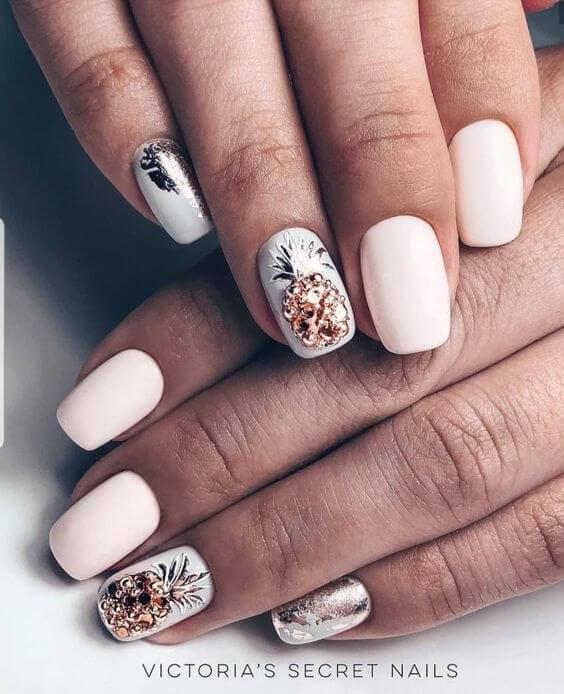 When it comes to your nails, sometimes you can find it hard to make them look so eye-catching so you can stand out from the crowd. Well, with these nails it is more than possible to be noticed. Even though your nail base is white, your ring fingernails are the ones that will catch all the attention. Rhinestone pineapple is everything!
Cute Nails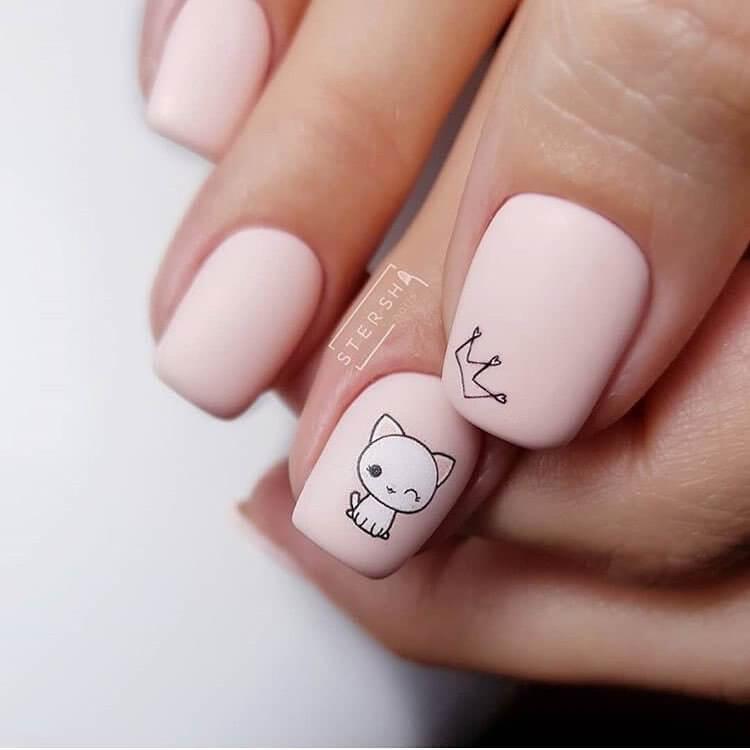 This gel manicure is perfect for teenage girls. They adore to catch attention, so this will be their great chance to do that. Blush pink polish with a matte finish and cute kitty and crown drawing on them will be enough for everyday wear.
Chic and Cute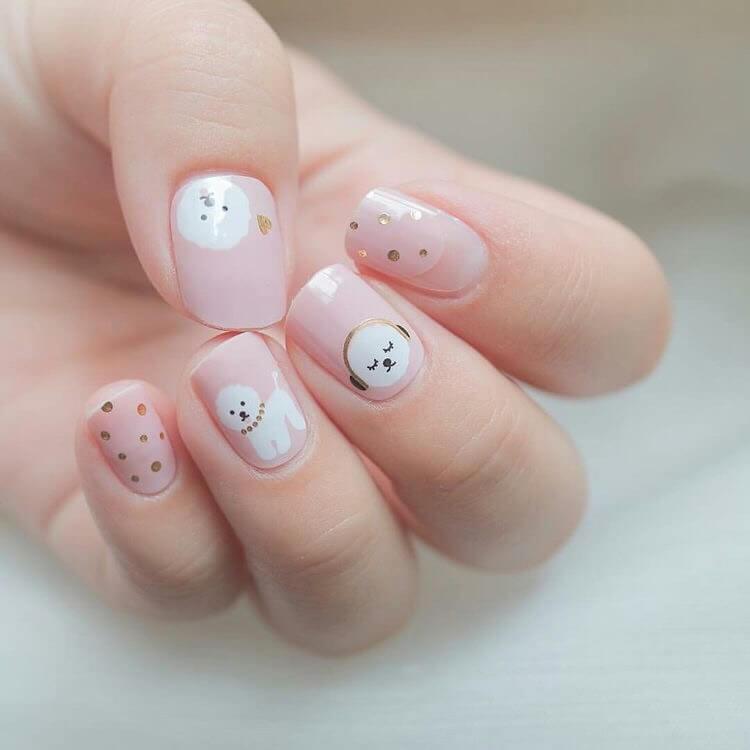 Are you an animal lover? If you are nodding, then look no further than this lovely manicure. You have to adore it. It is lovely! Combination of cute drawings, gold dots, and pink blush base will blow everyone's minds when they see your nails.
Frayed Eggs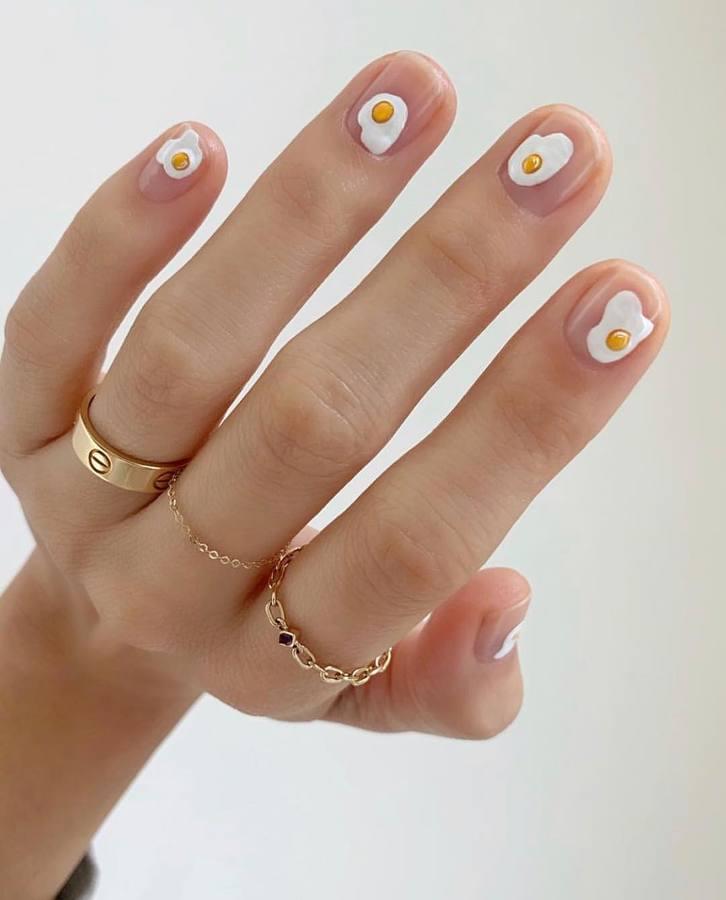 Thinking about your breakfast? Well, if one of your favorite dishes are frayed eggs, then show it to everyone. Wear them on your nails. You know what does it mean, right? Your nails will be in the center of the attention wherever you appear. Get ready for that!
White and Gold United
This short manicure is convenient, while the shades are gorgeously refined together. White and gold mixed together might not be your first choice, but check out how they look in a combination. This manicure is great for wedding days, celebrations, and other elegant events.
Chrome Nails in Silver
For women who like to make statements with their nails, chrome mirror nail polish is the right choice. You can be sure these nails won't be unnoticed. Silver is a versatile and elegant hue that you can wear for weddings, birthday or holiday celebrations.
Ombre Nails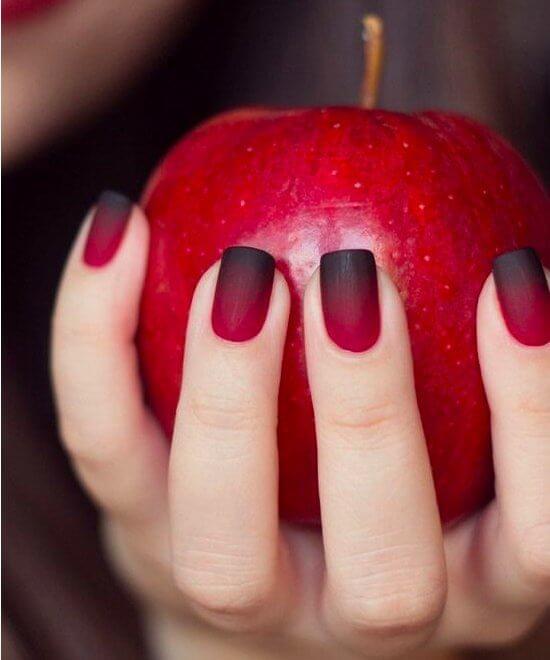 Ombre technique has found its way out of hair and makeup industry right to the nail technicians. Now you can have your nails in two interflow shades that you wish. For instance, a mix of red and black looks like an apple with dark chocolate on the top.
Pearls and Rhinestones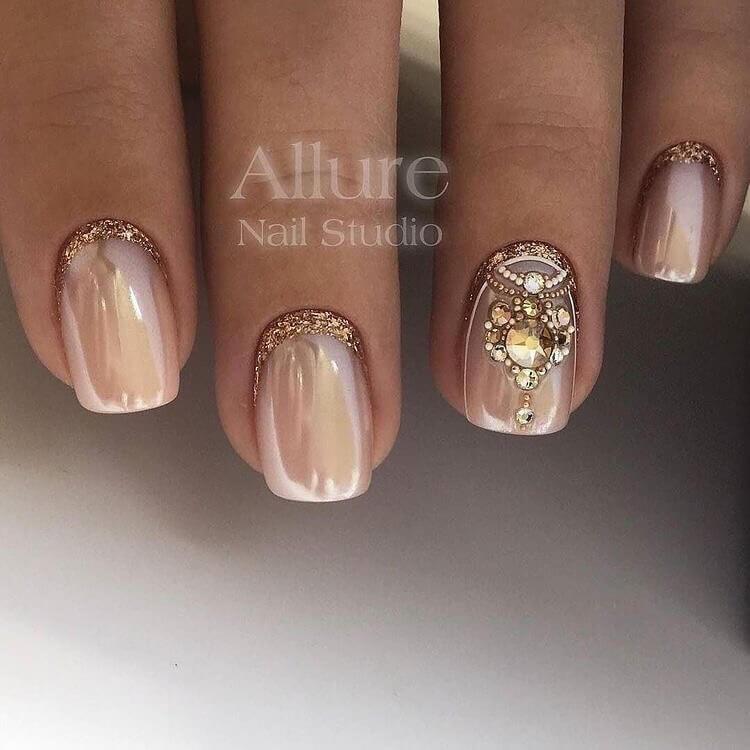 Pearl nails are trendy, especially for elegant occasions. Don't let your wedding day or birthday pass without you not having a gorgeous manicure. This one will surely make you look fabulous. Golden rhinestones, especially on your ring finger will make a statement.
Winter Characters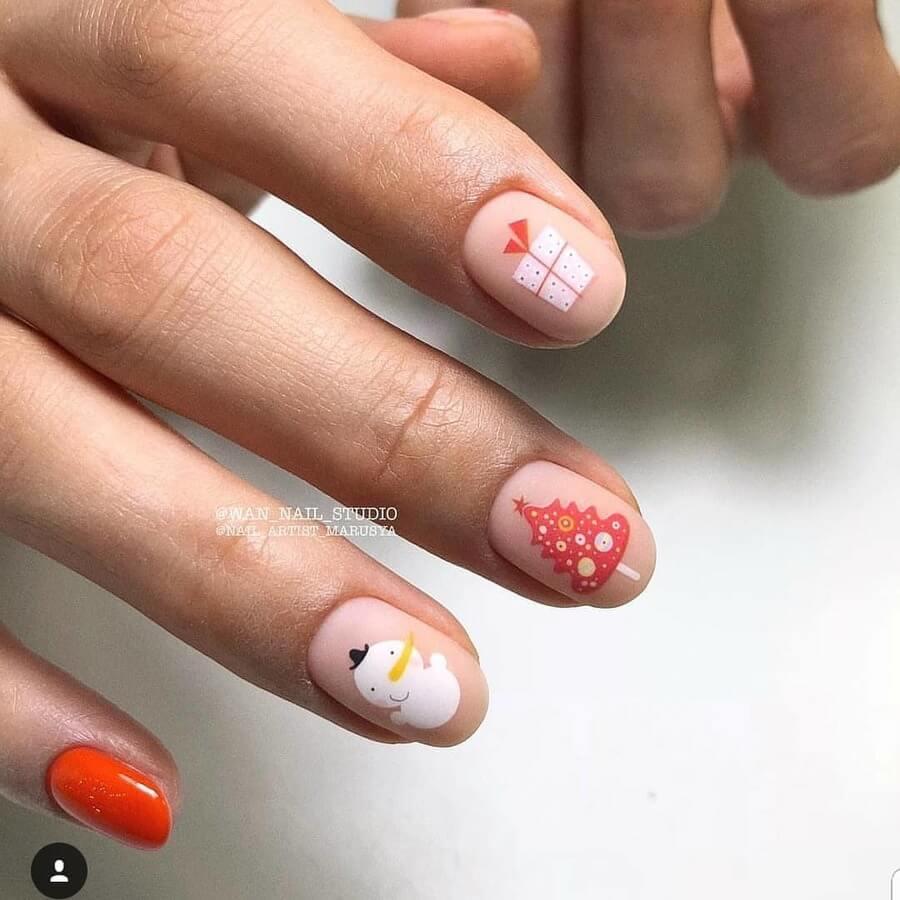 We know that summer is almost here, but we simply couldn't resist this lovely manicure. It is clearly winterish and funny nail design. These characters on your nails will make you smile whenever you look at them. MAke sure that the nail base is nude.
Decorated with Pearls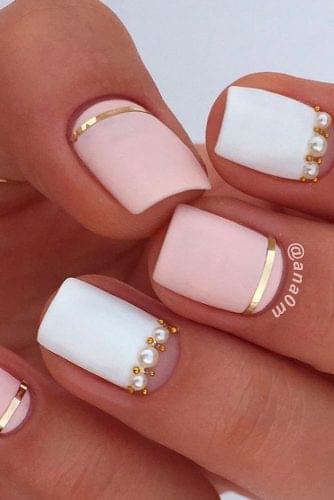 Wearing short nails for your wedding day is a pretty smart idea. They are practical, and they won't be bothering you (imagine the horror if they break). You can opt for pastel shades and pearl decorations. They look elegant and very sophisticated.
Purple Metallic Scratches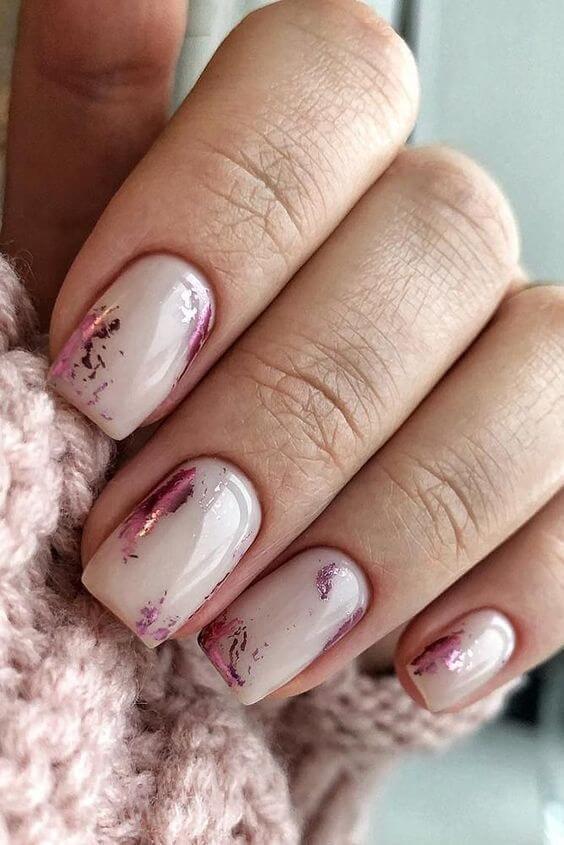 We believe that scratched nails won't be your first choice when picking your manicure. However, you need to check out this one. Nude base with purple metallic scratches on the top makes your short nails look fabulous and chic.
Black and White Stamp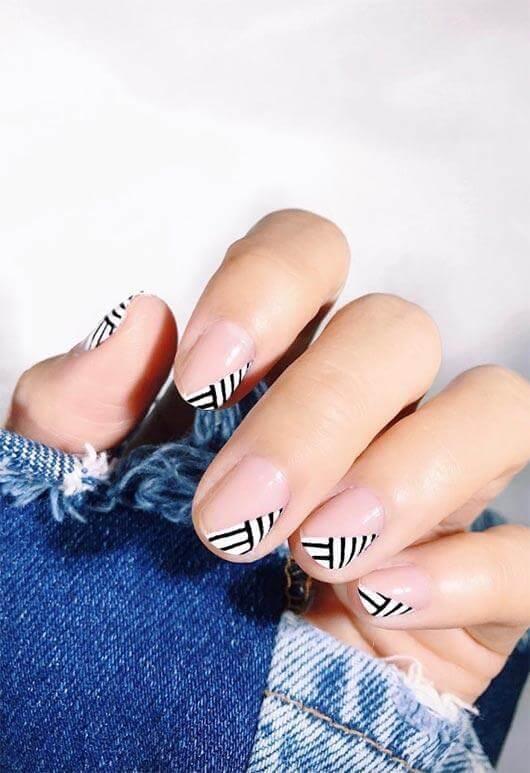 Short nails don't necessarily mean boring. Try to make your nails shine with this lovely black and white stamp. You can make your nails look like this, by just cutting off a piece of paper and drawing black and white lines.
Cobalt Blue and Silver
Cobalt blue is such a nice color. You can wear it, or you can polish your nails in cobalt blue. Whether you choose, don't hesitate to match it with silver. Even if the line is this thin, that is barely visible. Leave the space around your cuticle nude.
Dark Lilac and Nude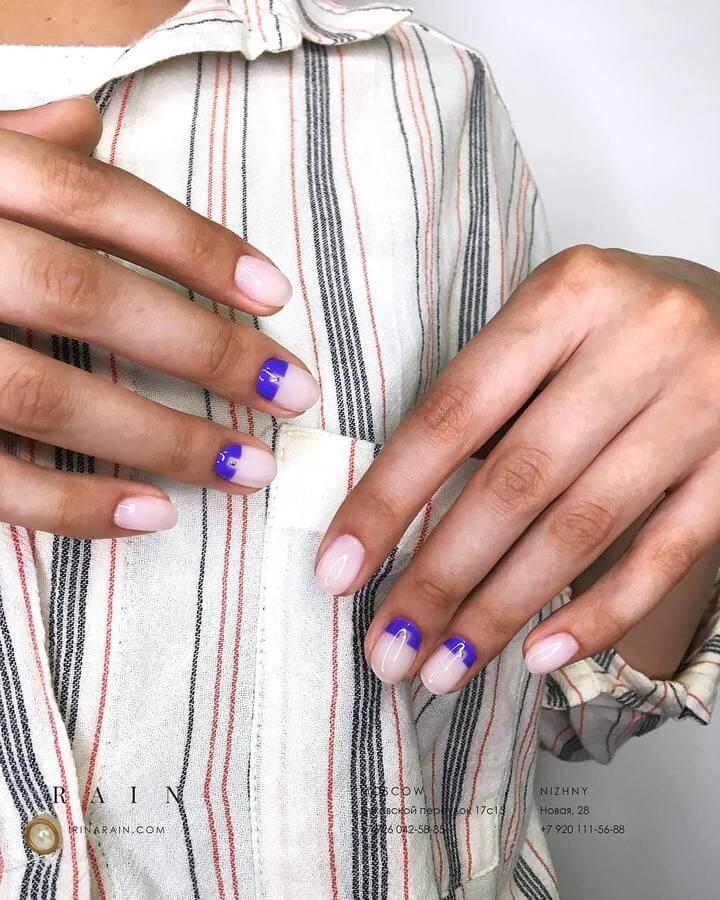 Nude nails are appropriate for any event, workwear or even elegant occasions. However, if you want to make them look fabulous even if they are short and nude, add more colors. Dark lilac on your middle and ring fingernail, near your cuticles, will make some difference.
Emerald Green Nails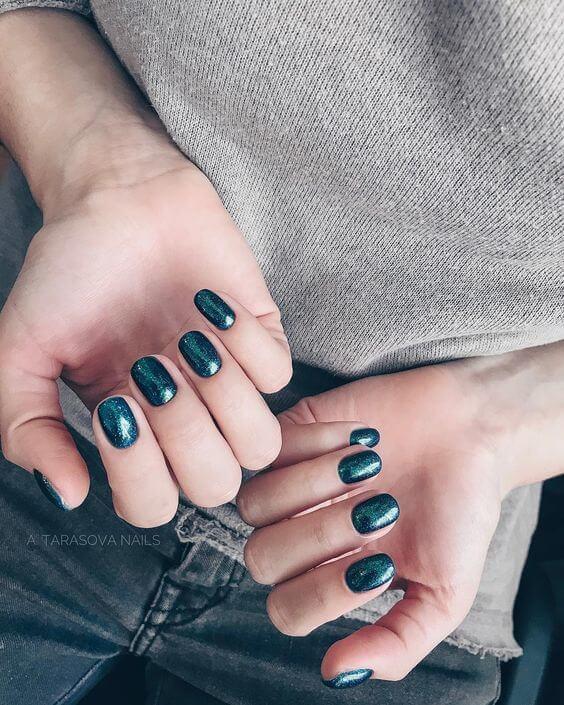 Winter nails require better care while your cuticles can be easily damaged. You will need a gel nail polish that will hide all those imperfections and make your nails chic and casual. Sometimes, these dark shades are great for everyday wear.
Like A Lace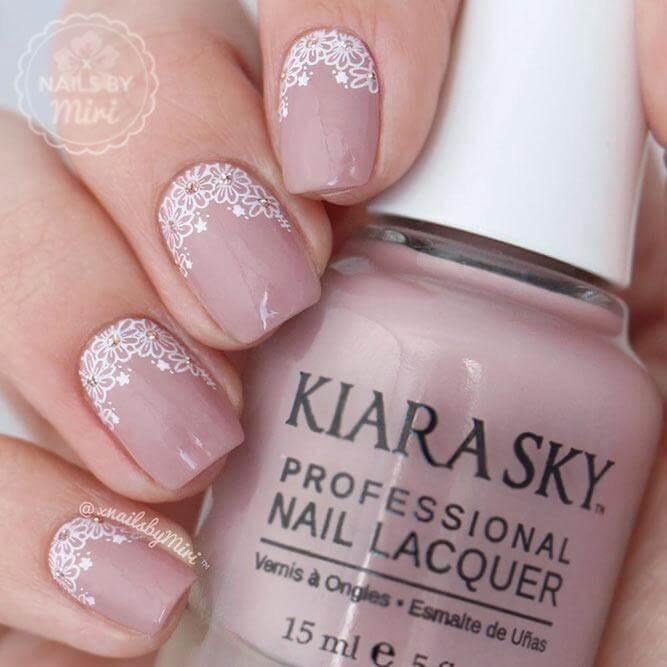 Nail designs with blush pink nails are subtle and cute. A design that reminds us of the lace is perfect for romantic looks and women that prefer their nails to be classy and low-key. You can even add small golden rhinestones to make that floral design look chic.
Neon and White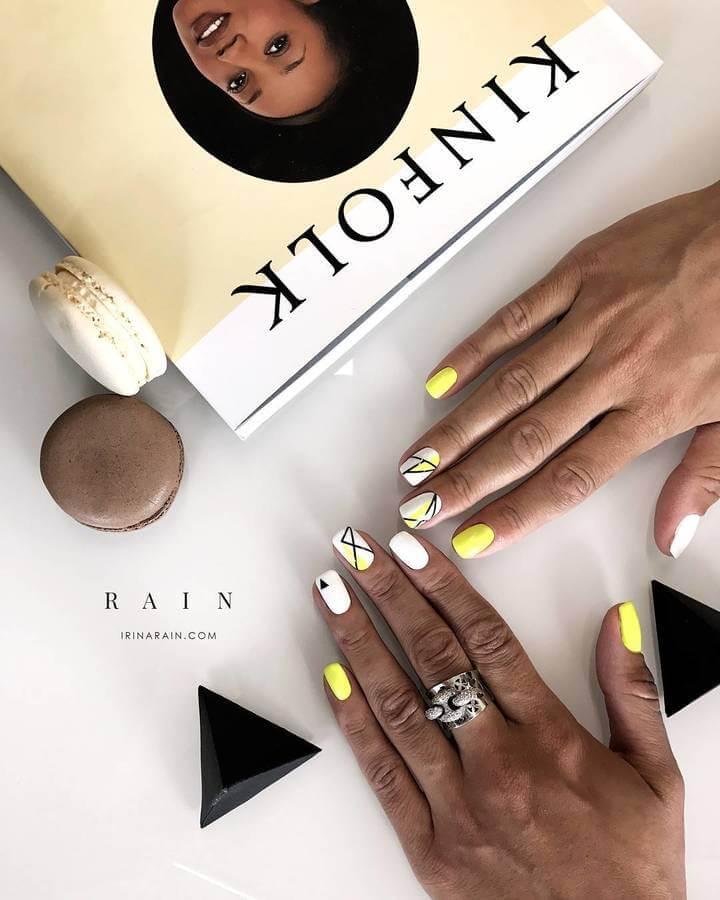 Neon took over fashion in a blink of an eye. That is probably how it got into the nail industry as well. We can only be thankful for that. Yellow neon in combination with matte white nail polish is a perfect combination for summertime.
Peachy Floral Design
Peachy nail art designs are versatile almost like nudes. You can wear them one-toned or in combination with other shades. We suggest to go with white and to add some beautiful and cute floral designs on a white background.
Turquoise Patterns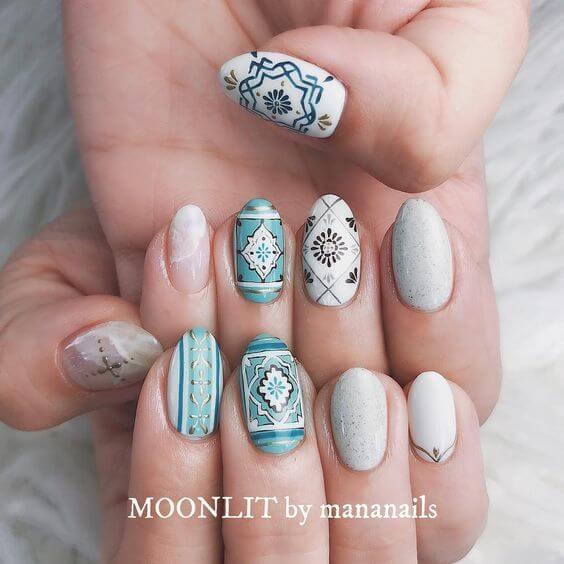 Your nails can look like some beautiful building in Lisbon. Their tiles are popular worldwide, so it's not a surprise why women adore these patterns so much. You can look amazing with such art design, but try to combine patterns with basic shades like white or nude.
Yellow like a Sunflower
Spring is a wonderful time of the year. Everything blooms, flowers everywhere. So, why don't you put some flowers on your nails as well? Sunflower is a great representative of spring and sunny weather. Match it with your yellow nails.
Paws and Animals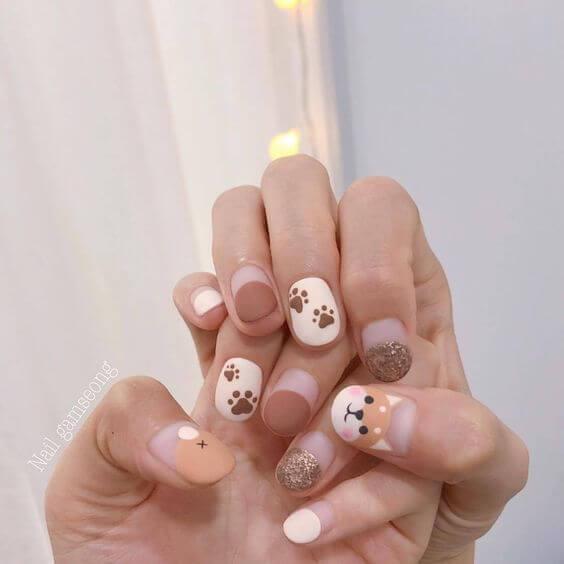 These nails are perfect for animal lovers. Paws, cute animals, as well as the glitter will make your nails look very attractive. You can wear this anytime, but it is more suitable for younger girls looking for a fun and cheerful manicure.
Abstract Face Drawings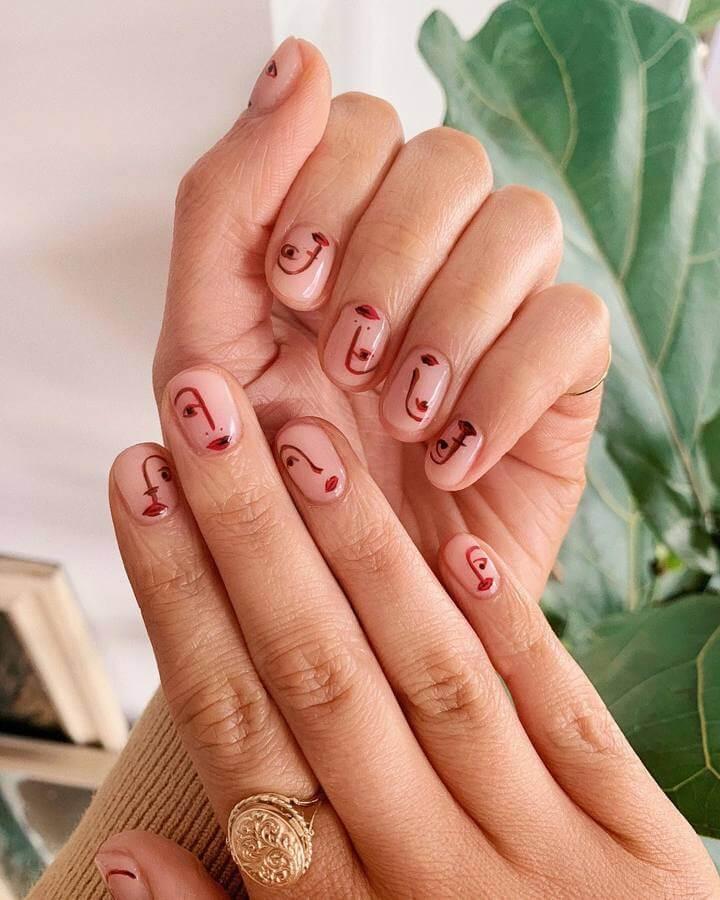 Nude nails with the abstract face drawings are seen among many girls on Instagram. You can have them as well. Even on your short nails, this manicure will look precisely the way it supposed to look – wonderful and so chic.
Related articles
Get Nail Designs and Nail Care Tips to Your Inbox
We will send an email from time to time. Not too often. You will get inspirational nail designs, nail care how-to's, guides, and advice.