Some women prefer wearing their nails really long. We can't find a reason why you shouldn't do that too. However, short nails have their charms as well. You can always count on them. They are practical and less likely to be broken.
Brides often opt for short nails to keep them good looking and practical. They are great for working moms, busy women, and everyone who don't like to think about their nails that much.
Short nails can be fascinating. From classy manicures to really complicated ones you can achieve them all even if your nails are pretty short.
There are certain nail colors for short nails that look better than others. Some colors can even make your nails visually longer, of you wish so.
We have collected the best short nail designs for you. They are simple and complicated – unique, and eccentric. It's on you to pick.
Colorful and Interesting
Like it is not enough that this manicure is colorful, it is also patterned. Leopard print on your nails can look absolutely fabulous. Be careful though – don't overdo it. One nail is totally enough to make a statement.
Pastel Pink and Grey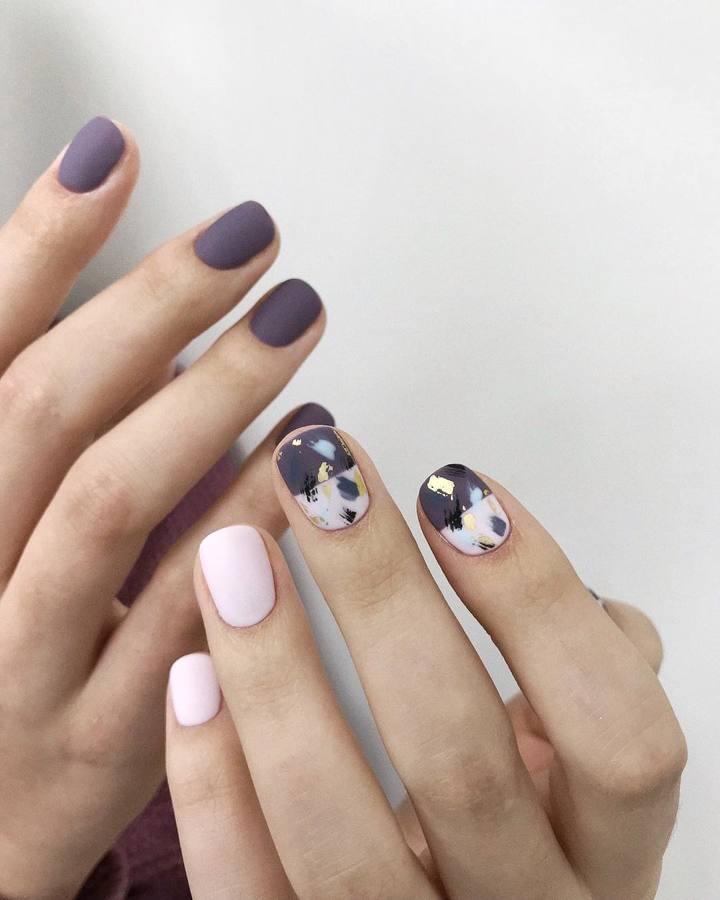 We were not aware of how good this paste-dark combination look like! Additional details on your middle and pointy finger look will only make this combination look better and great for everyday wear. You can have short nails, still, make them look fabulous.
Like a Night Sky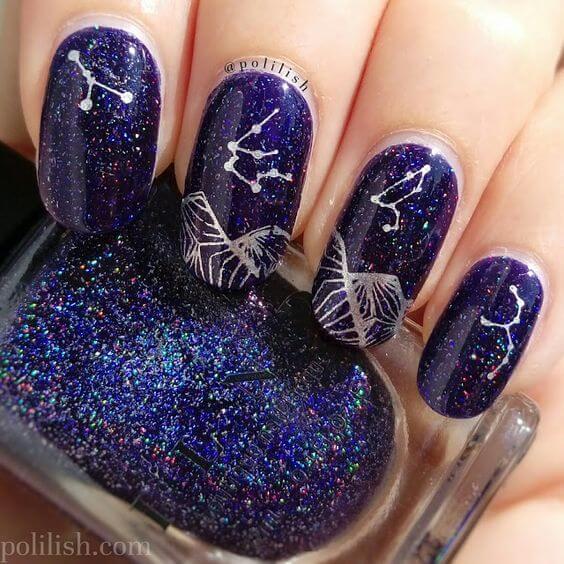 Dark glitter looks lovely on short nails. You can be sure that there geometric white lines in combination with glitter nail polish will make your nails look like a night sky. So, whether you wear short or medium nails, they will look gorgeous.
Black and White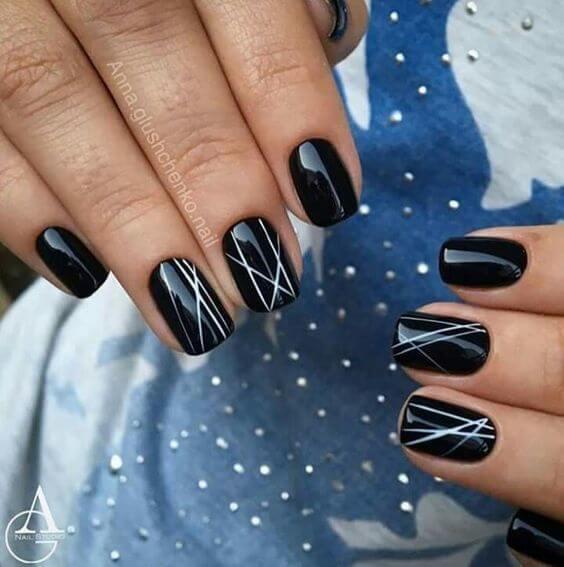 Black nails might seem too casual for you. That is why you need to add white lines to make them even nicer and more beautiful. If you don't want to overdo it, leave your two nails black and make them shine with a top coat.
Purple and Glitter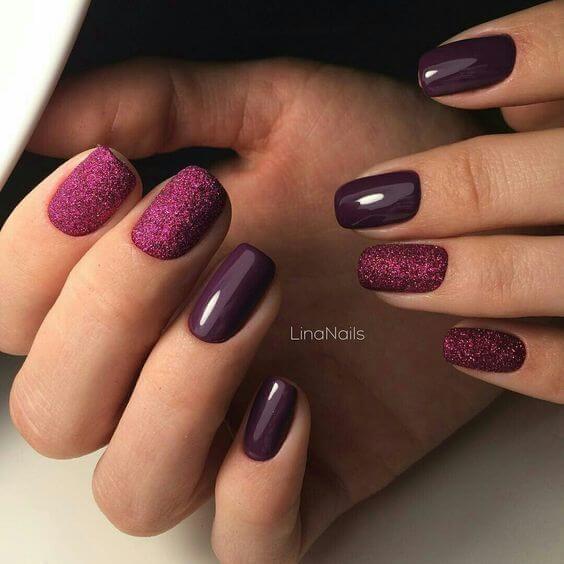 Dark nails are good for fall and winter. That is an ideal time to switch from bright to more subtle tones in both wardrobe and manicure. So if you are wondering which shade to pick, we think you should go with burgundy and purple.
Blush with Floral Short Nails Design
If you are into some blush shades, look no further than this. With delicate flower design and small leaves, your short nails will look fantastic. Vibes from Chinese culture are apparent here. We absolutely love them.
Minimal and White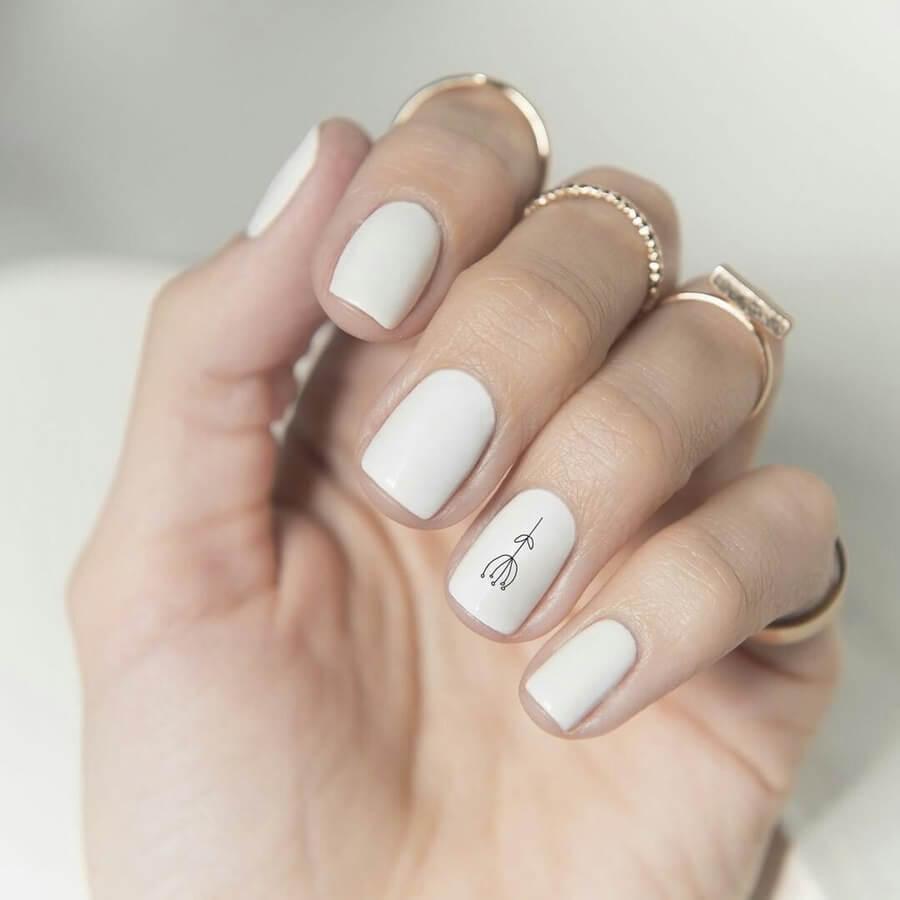 Long nails aren't necessary to make them stand out. This manicure is perfect for those girls who like their nails short and insignificant. Cream white polish and short nails make an excellent combination. A simple ink flower on the ring fingernail will make this otherwise quite simple and  natural nail design very attractive.
Golden Flakes
Simple yet so chic – how else to explain these lovely nails? The golden flakes on the edges of your nails will provide you with an eye-catching vibe. The rest of your nails can easily be transparent or white. This is perfect for all women who like low-key manicures.
Metallic Foils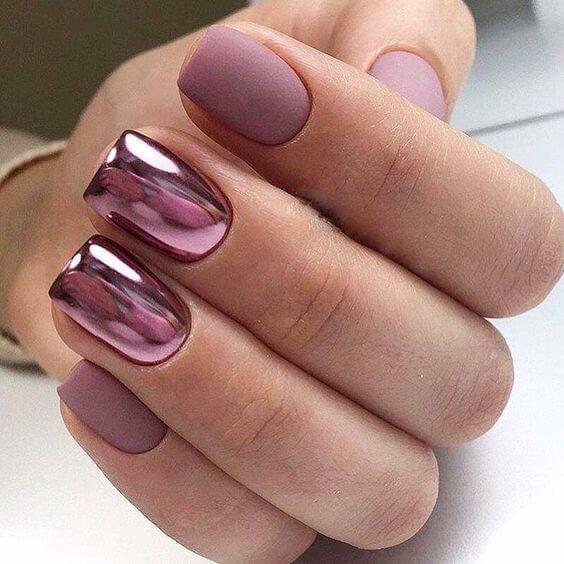 Metallic foils became very popular a few years ago. Since then, many girls have tried it and loved it. So can you. This manicure is great for fall and winter time if you opt for a shade like this. You will receive many positive comments.
White Nails with Glitter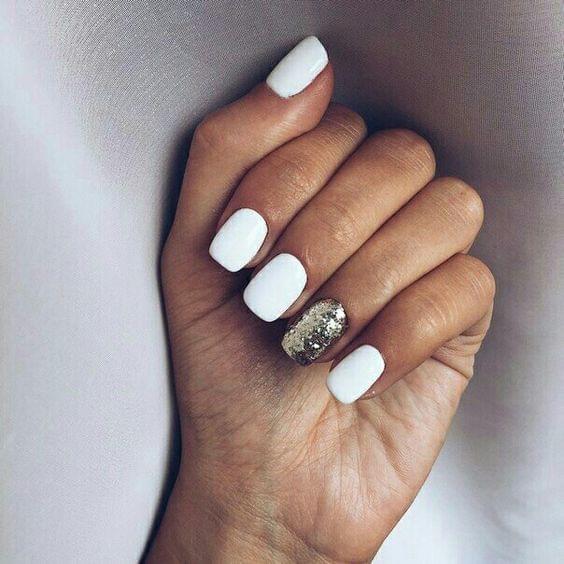 White nails are classy and timeless. However, to make them look a bit different and exciting add a bit of glitter. Precisely that – glitter polish on your ring fingernail only will make a big difference and make your nails super stylish.
Red for Summer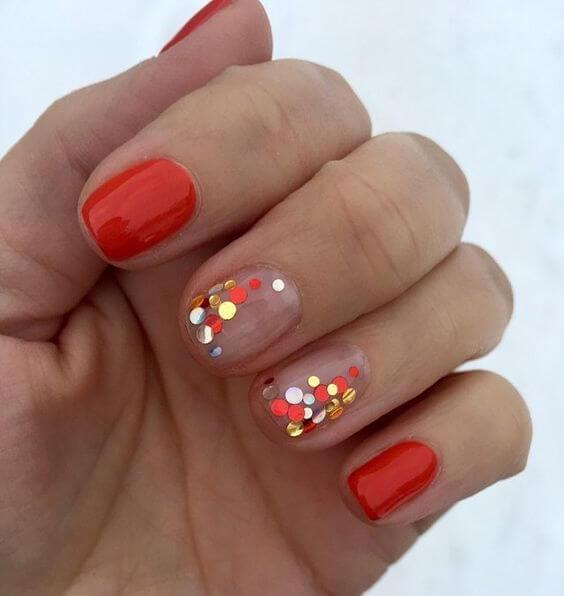 Red is considered to be one of the most popular colors for a manicure.
However, to avoid your nails looking too classic, add some glitter on. You can paint some of your nails in red and leave the others transparent with golden and red shiny flakes.
Green and White Pattern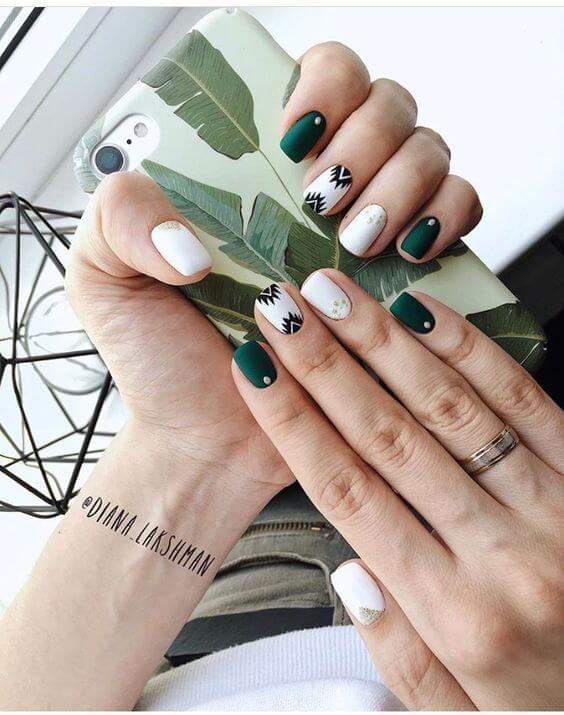 Green nails might sound strange to you. We get it – it's not the most used color for the manicure. However, dark and matte green in combination with white will make your nails look unique and very stylish. You can draw some patterns or just combine these two shades.
Red Star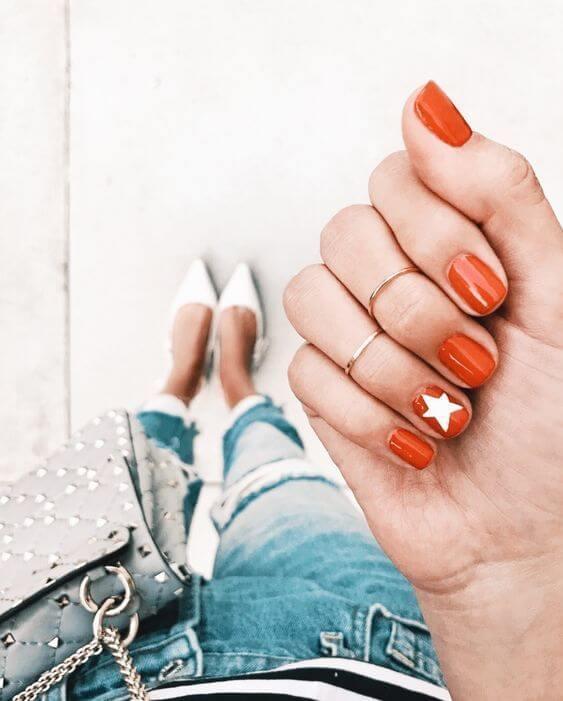 Red nails are timeless. You can wear them however you wish, but the shade will remain forever. If you are bored of classy red nails, drew a star on your ring fingernail. It will add a bit of rock 'n' roll vibe to your style, that is for sure.
Little Sparkly Stars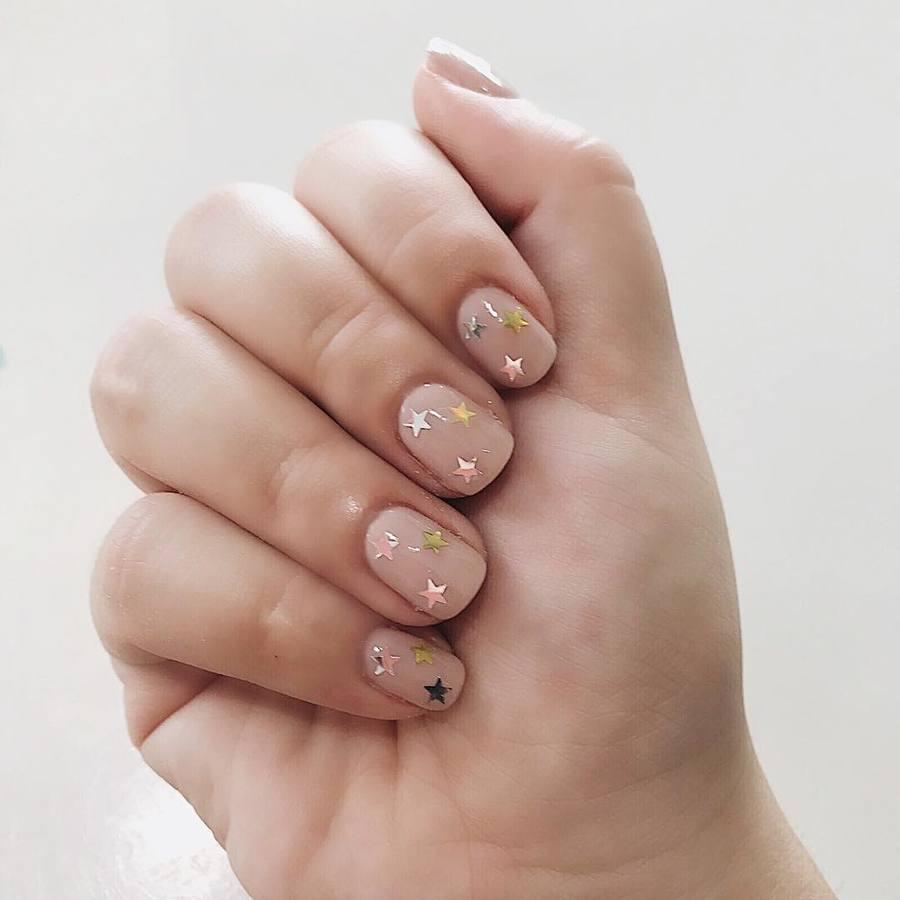 Nude nails are appropriate for all occasions. These with stars are great nails for the upcoming prom and graduation season. You can look appropriate, yet to be stylish and modern at the same time. You can do this manicure even on short nails.
Geometric Patterns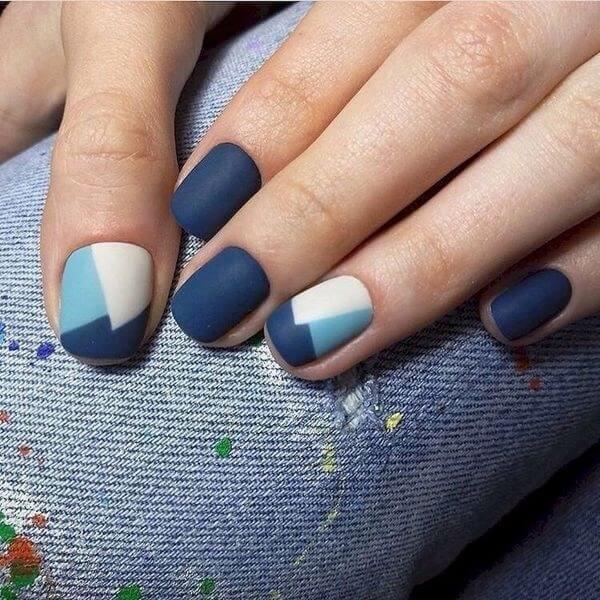 Geometric patterns look amazing, even on short nails like this. You should only pick the color you wish. Here, you can see how the combination of navy blue, white, and baby blue matte polish can make your nails look wonderful and very modern.
Modern and Chic
Depending on your style, you can choose your nails as well to be nude, black, or maybe glittery. These have it all – three color combinations, marble print and a bit of sparkly polish. You will love to wear them for all possible occasions.
Pastel Lilac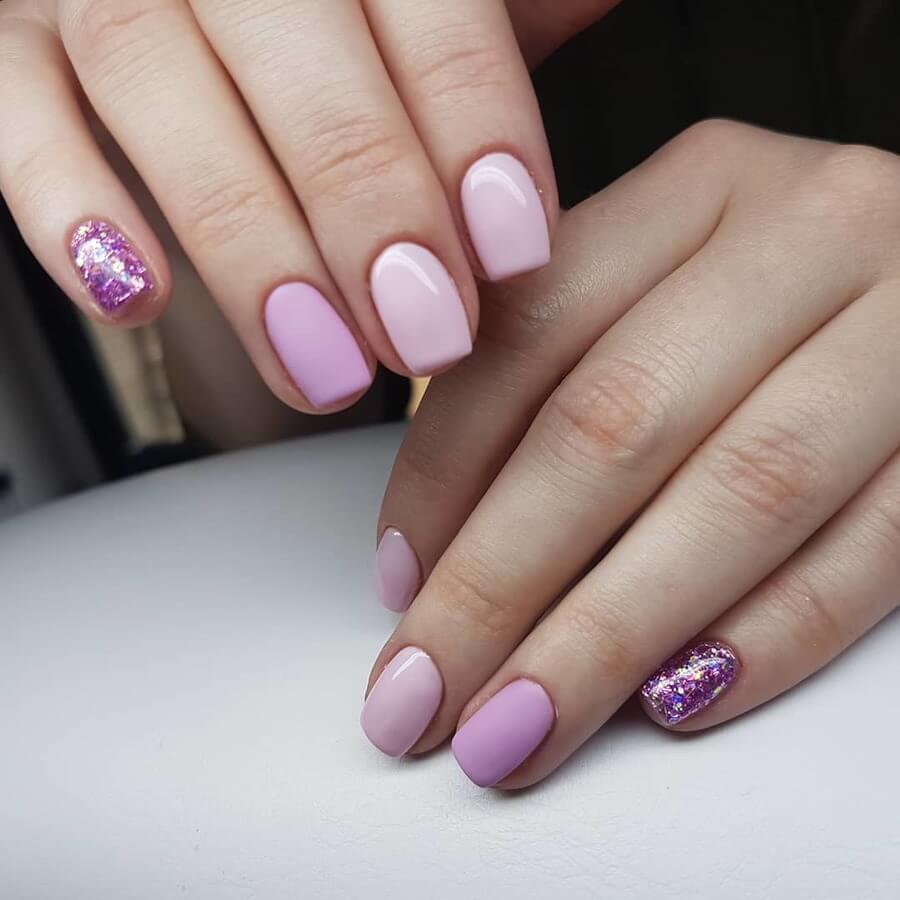 Lilac was and still is one of those colors of the season. With that status, it became trendy gel nail shade, so it's not a surprise that women love it so much. You can wear it matte, shiny or with a bit of glitter. Anyhow, your nails will look amazing no matter what you choose.
Blush Nails
Blush pink nails are great for all those women who like their nails classy and low-key. It is a perfect nude-blush shade that suits everyone. You can always play and be creative. Adding some shiny details on several fingernails is desirable!
Classy with Lines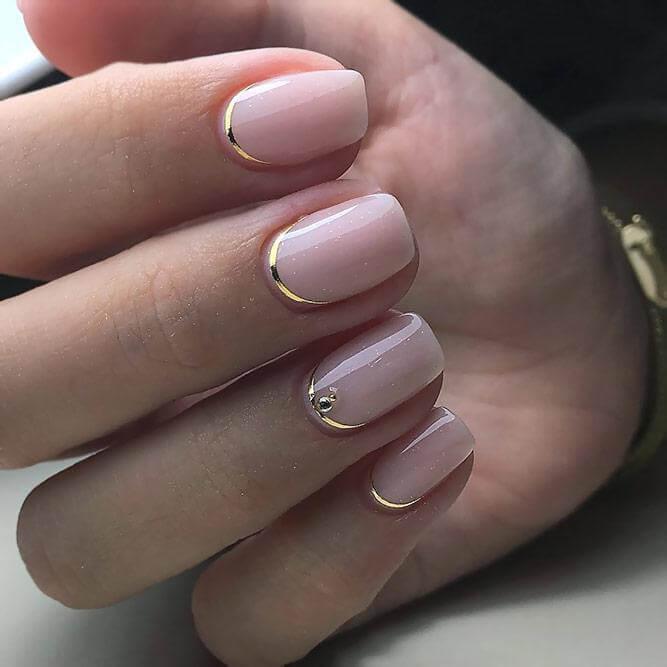 Instead of doing a classic French manicure, play with your nails and draw lines close to your skin, not the edge of your nails. Leave them in some neutral shade, while lines should be gold or silver.
Delicate and Silver
White nails are totally chic. When you add sparkly details even more. You can also do this kind of manicure on super short nails and round ones. This is one of those perfect manicures for everyday wear.
Matte and Glitter Combination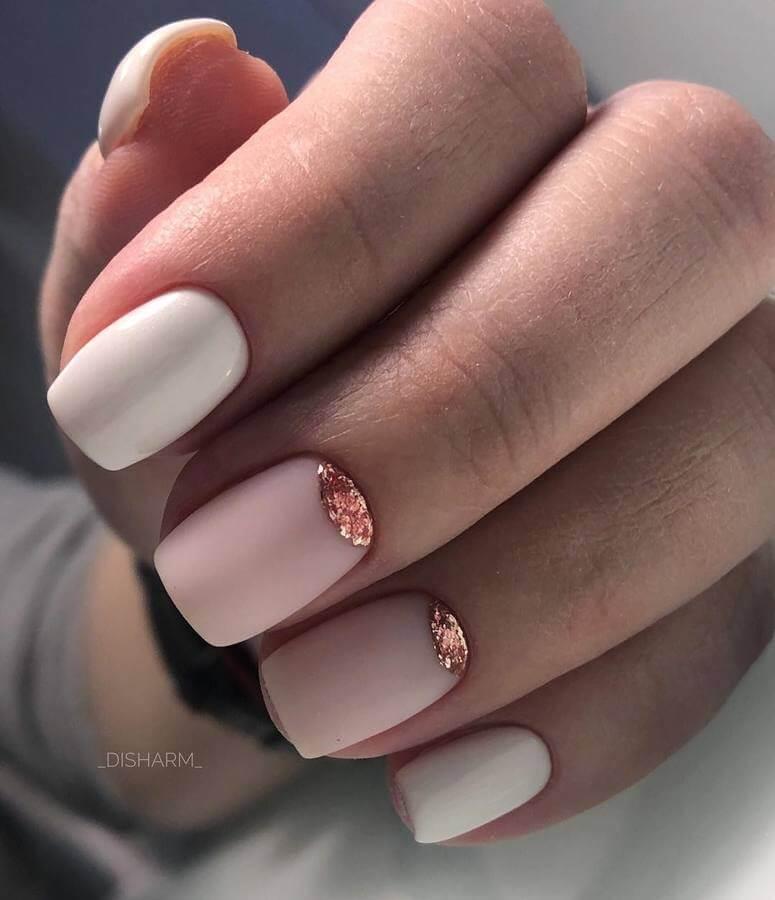 Sometimes, you don't need to polish your nails all in glitter to attract views. You can simply give your friends a little shiny detail, and they will all be amazed by it. That is the thing with this manicure. It is simple, yet very eye-catching combination.
Animal Print on Nails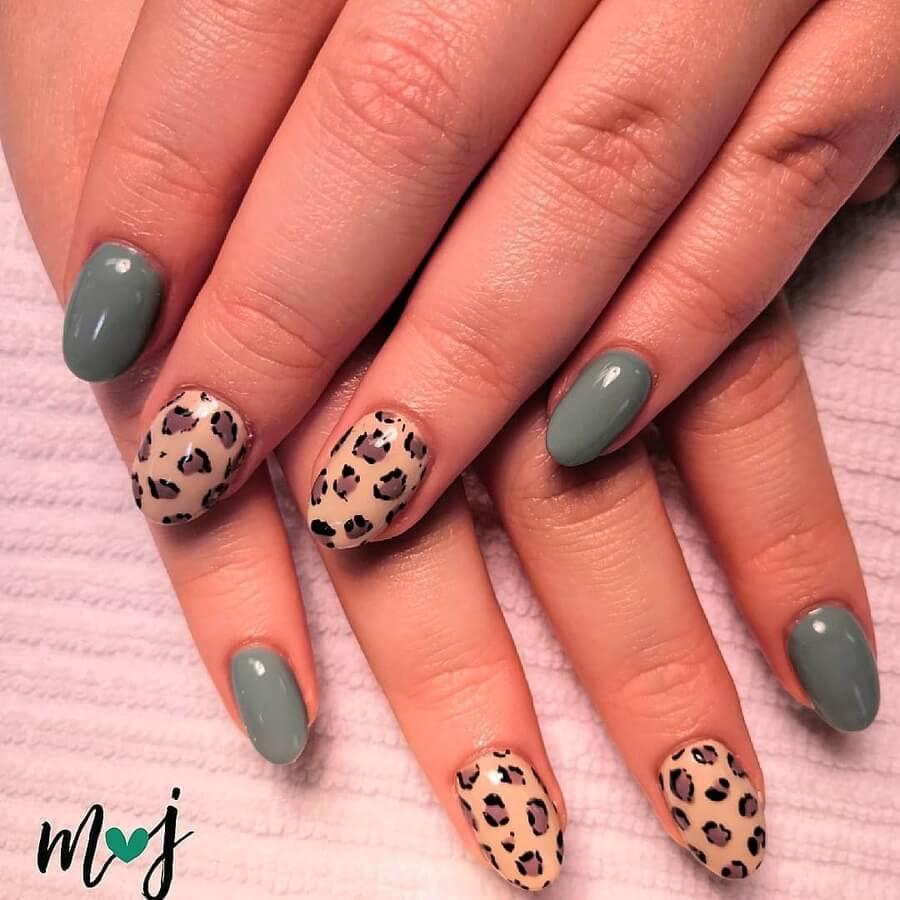 Animal print is one of the leading trends for the season spring/summer. You need to include it in your everyday wardrobe or style. If leopard skirt sounds too much for you, you should then opt for leopard nails. Combine this print with some other nail polish shade.
Yellow Nails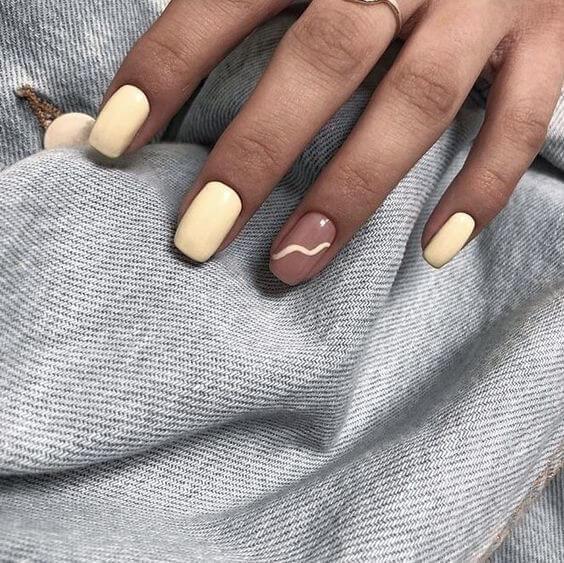 Yellow is a fantastic shade for summer. It is funny, chic, and great looking on your nails. Make your nails interesting by leaving your ring fingernail nude and draw a yellow line.
Orange is the New Black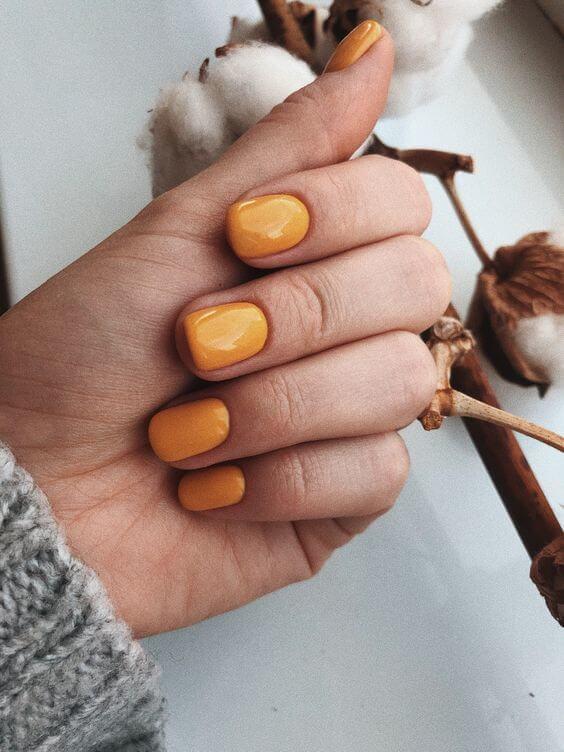 Orange is a color that might seem hard to combine, but it is stunning and versatile. Some say that orange is the new black. And we can't agree more. Especially in spring and summer time when you can wear bright colors more than ever.
Modern and Minimalistic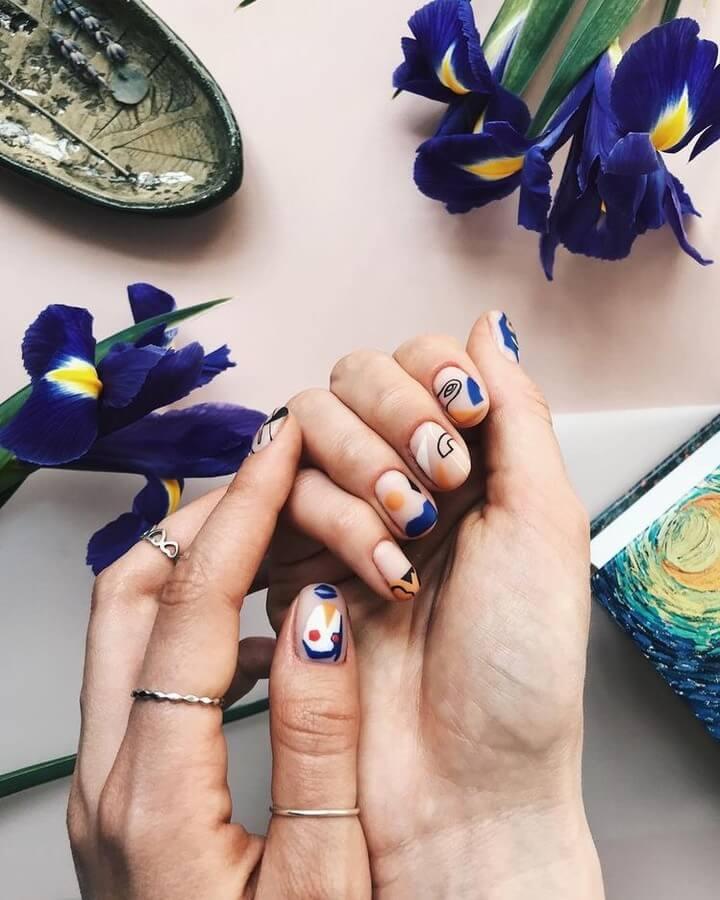 These kinds of prints are at the peak of their popularity right now. So, why don't you put them on your nails as well? The combination of colors is beautiful. Purple, dark lilac and orange make a fantastic mix on your nails.
Pears are Cool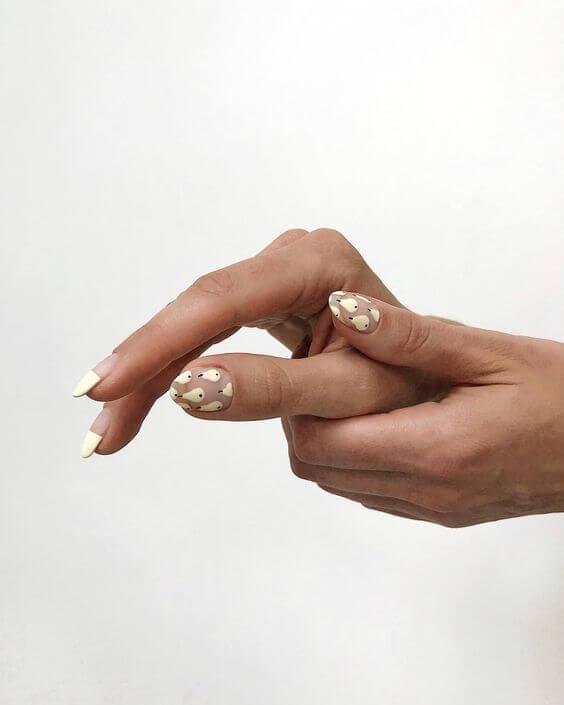 Pears might be your favorite fruit. Why don't you tell the world? You can draw small pears on your nails and make them tell your story. This is one of those funny and very eye-catching manicures that everybody will love.
Blush and Roses
Blush is beautiful and versatile. You can wear blush manicures all day, every day, for all possible occasions. That is the charm of this shade. Make your short nails interesting by adding roses on your ring fingernails.
Lilac Flowers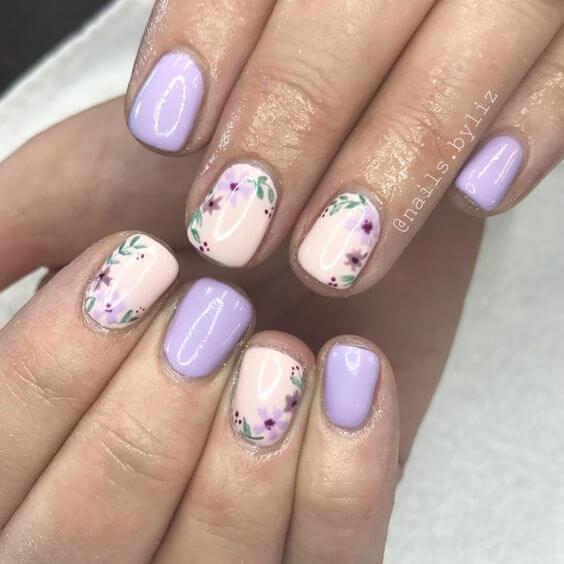 Since lilac is the color of the moment, it would be brilliant to try this shade on your nails as well. You can spice up your manicure by adding some floral design. Don't overdo it though. Your ringer and middle fingers are perfect for these details.
Sunshine
Summer is almost here, and now it is the right time to start thinking about new nails. Make them shine like a sun. Even add lines that will show off everybody how much you love sunny weather and sun-kissed skin.
Metallic French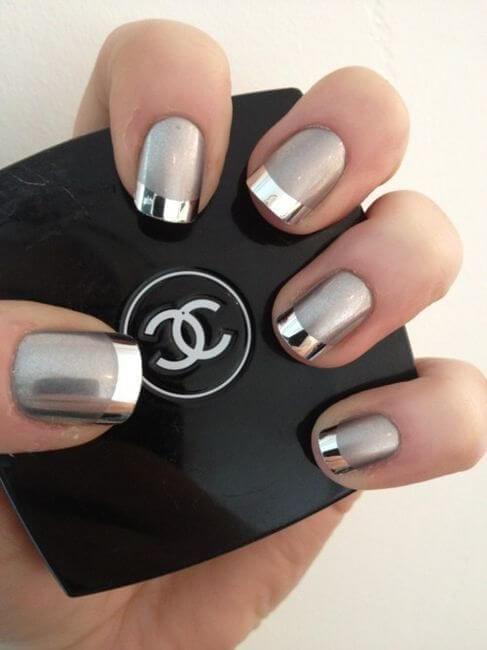 Looking for something elegant and bold? Look no further than this. This French manicure with metallic foils will blow your mind. It is great for those women who like to make a statement and to be noticed. You should try them as well.
Broken Glass Nails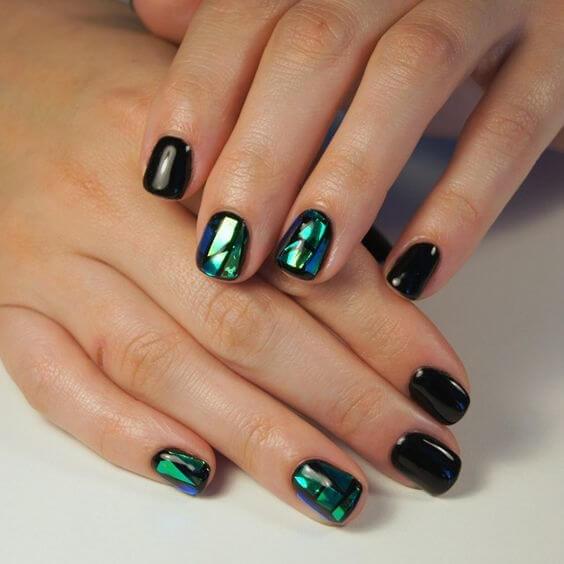 Broken glass nails look amazingly interesting. If you want to make your nails unexpectedly chic and modern, go to the professional and ask for broken glass nails. You can pick the shade you want. Our suggestion – go with dark green and black.
Golden Details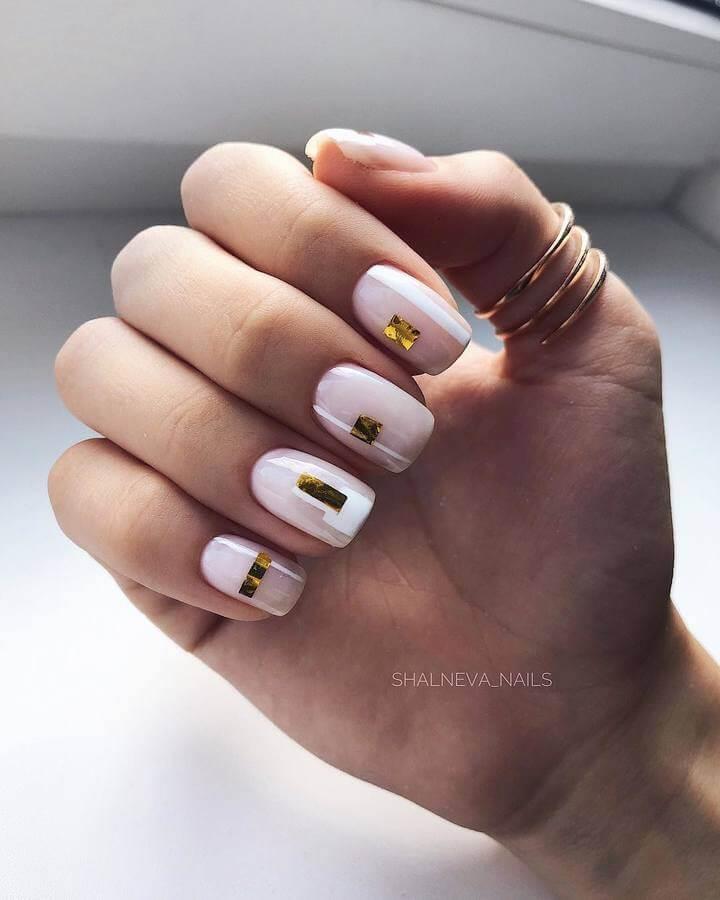 No matter which polish shade you choose golden details can make everything better. Square gold foils on your nails in combination with nail polish will make your nails shine and be perfectly eye-catching.
Little Hearts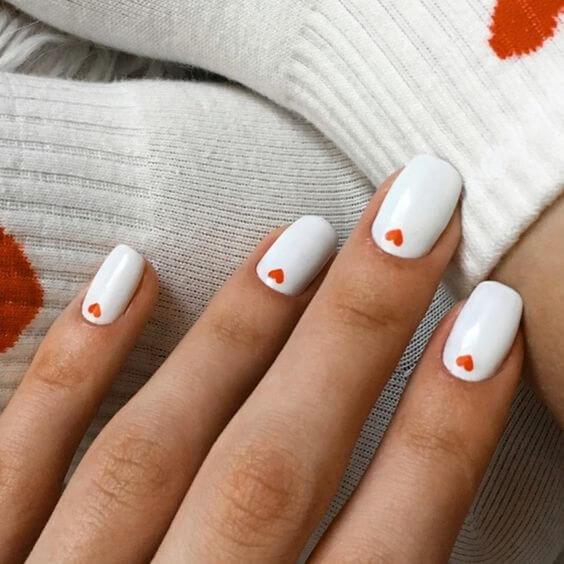 These nails can be perfect for Valentine's Day. Furthermore, you can continue wearing them even after that. They are pretty simple, yet will surely catch some attention. You can wear this heart mani on short nails.