What are the best nail colors for short nails? Are there some shades, nail art, or designs that make them look longer?
Of course, many women adore long nails. Many superstars like Billie Elish or the Kardashians wear super long nails. Long nails look elegant; most of the colors seem pretty lovely on them.
However, they are not the most practical ones.
Short nails are great for women who don't like anything stopping them from doing everyday things. Just because you are wearing short nails doesn't mean you won't be stylish. On the contrary – you can play a pretty strong nail game. With proper manicures and matching colors, you can create truly beautiful short nail designs.
What Colors Make Short Nails Look Longer
The color of your nails can make them look longer. Also, there are ones you should definitely avoid if you want to prolong your short nails visually.
Nail experts suggest going for dark shades like navy blue, black, and burgundy. These shades are evergreen – you can wear them all the time without wondering if they are appropriate or not. However, some women prefer wearing them mostly during the winter and fall months.
On the other hand, beige, nude, and pastel shades can adequately make your short nails look longer. These shades are great for women who like to keep their nails minimalistic yet wish to have them done in some shade.
Best Nail Color Ideas for Short Nails
Nude Nail Polish with Leopard Print
Go for nude nails if you want an elegant and practical manicure.
Do you know that pastel shades can make your nails look visually longer? Nude and blush tones are perfect for making slimmer and thinner.
This nude shade is upgraded with a delicate animal print on the ring finger. Details like that will make your short nails look beautiful.
Such a manicure is great for everyday wear since it matches all kinds of outfits.
Go, Matte!
Matte is yet another way to make your nails look simple and stylish.
This technique is excellent for various nail polish shades. You can double the game by choosing matte polish in nude shades.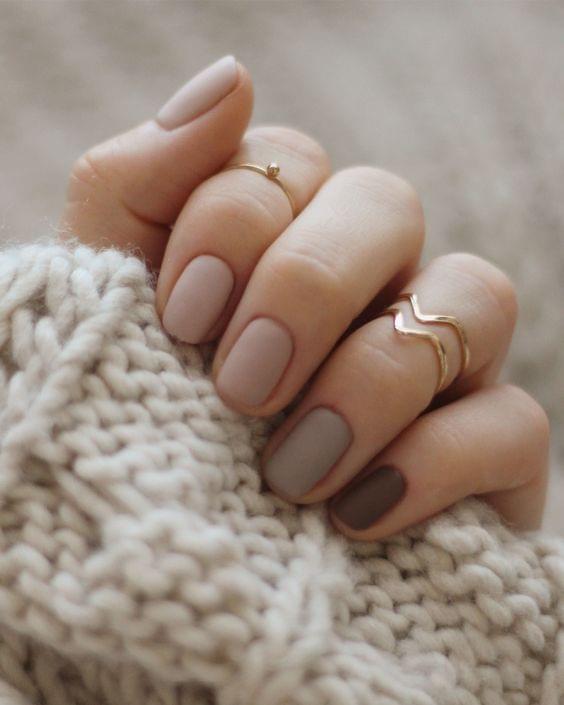 Short Nails with Gradient Pastels
Pastels are not only trendy for a few seasons now. Honestly, pastels come as a first choice to most women as one of the best nail colors for short nails.
Nail polishes in pastel tones will make even very short nails look visually longer. You can make it more interesting – mix the colors and make them look gradient.
Navy Blue Nail Design
Dark blue (aka midnight blue) is excellent for more elegant occasions.
As you see, even short nails are suitable for small pieces of nail art. You can also consider adding some lovely details, like a star and constellations in the picture below.
Shades of Red or Burgundy
Classical red is one of those shades that suit both short and long nails. If you are a fan of classic, timeless shades, go for red shades.
You can also consider dark red and burgundy. Check the regal moody merlot nail polish in the picture below, with its magnificent glossy opaque application.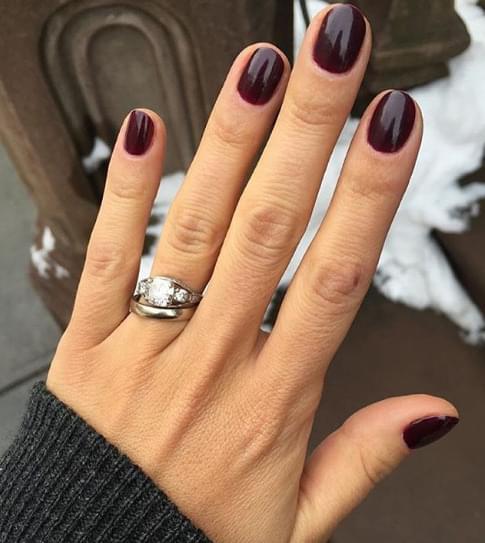 So, whether you are team dark or team beige, these are some of the shades that can make your short nails look much longer.
Some women didn't even know that nail polish can do miracles like these – but it can! Long nails are no longer required. You can relax with short ones and just make them visually look fabulous.
About The Author