Did you know that hands are one of the first things men notice in a woman's body?
Yes, it pays to have smooth glowing skin and shiny locks. However, having beautiful hands and well-manicured nails are as important. In fact, beautiful manicured painted nails is one of the simplest ways to reveal something about yourself.
Whether or not you opt to go to a salon or have them done by yourself, choosing a nail polish color is not easy. With a wide variety of available colors and even designs, what should you go for? Don't forget to take into consideration nail shapes and try matching them with your overall style.
If you're a beginner, the best way to do it is through classical nail colors and designs. It's important to know the basics but it can sometimes be boring. There are actually a number of ideas that you can use to give your classic nail polish an exciting twist.
Here are amazing classical colors and nail design ideas for you:
1. Warm and Cool Taupe Polish
These color have been go-to for many fashion catwalks over the years. Taupe colored nail polish varies from warm to cool undertones. It's perfect for all skin tones.
One of the best ways to wear this shade is by wearing it alone with either short or long nails. If you have fair to light skin, taupe shades leaning toward cool undertone will fit you best.
Medium to dark skin toned women, on the other hand, will look amazing on taupe shades with warm undertones.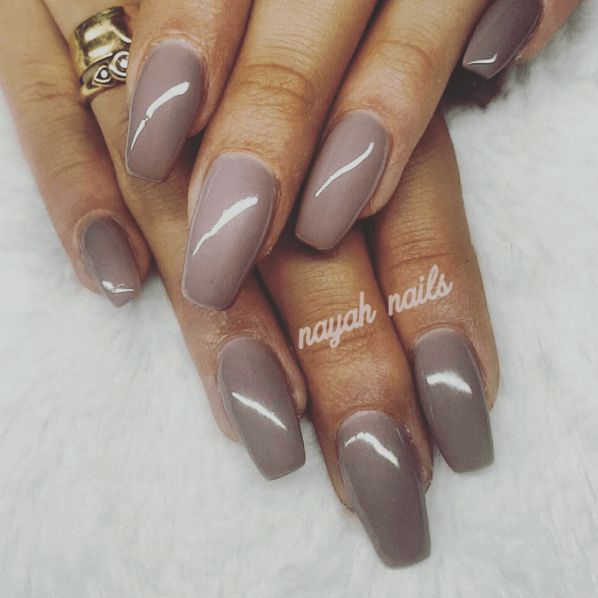 While this color is already great on its own, you can give it a twist. Instead of using the typical glossy finish, use matte finish nail polish like this photo here.
What's amazing with this style is that you no longer have to splurge and buy another bottle of matte taupe nail polish. Instead, use your old one and just buy a matte top coat that you can use with your other nail polishes.
Why stop there when you can put glimmer and glitz to your already beautiful nail polish? This photo looks really stunning. Remember to put a base coat. It will create a barrier to the accents that you're going to use. It will also make removing your nail polish easier.
You can be artistic too, add some shimmer strips or gems on your nail polish by using nail glue.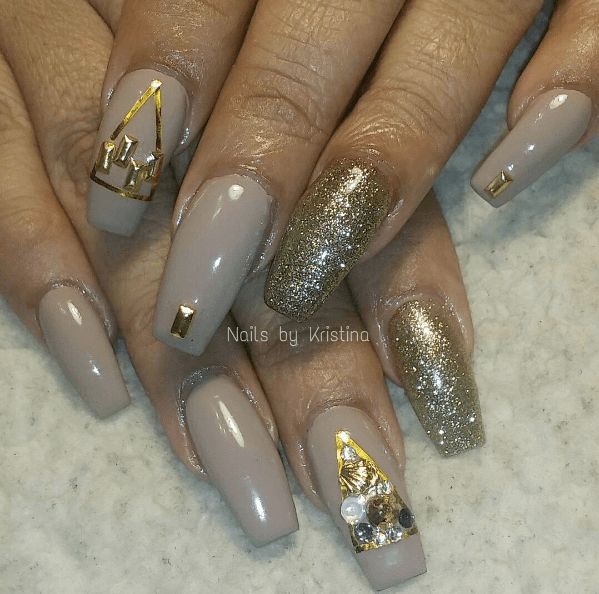 Taupe shades are Coachella friendly too. The nail art in picture is clearly an inspiration by the famous music festival.
2. French Tip With A Flip
Nothing beats a classic French manicure when you want that chic and sophisticated look. For a more striking look, have your nails grow long or you may opt to use gels or acrylics to lengthen your nails in an instant.
Adding some interesting details, you may jazz up a classic French tip a little. Best for attending parties and other social gatherings, why not add a glitter tip instead of just the classic white tip. Let your nails be your bling while you strut with class.
If you're all up for rainbows and unicorns, this multi-colored French tip is perfect for you! This nail design is best for baby showers or even during Easter. Use different pastel colors for your tips combined with a pale pink or clear base coat.
You want to stick with the classic yet you want to put a unique touch to your French Tip? Try combining black and white for your tips as seen in the photo below. Glam it up a little by adding glitters too.
3. Nude-y Artistic
Nude nail polish never gets out of style. If you're undecided about what type of nail art you can use for a longer period of time, nude nail art is perfect for you.
Aside from the fact that nude nail art never gets old, it can also make your legs look longer. Compared to other nail polish colors, nude colors give an illusion of longer and smoother legs.
Nude nail polish alone looks classy already but if you embellish your matte nude nail art with gold and silver beads, it will give a fabulous effect.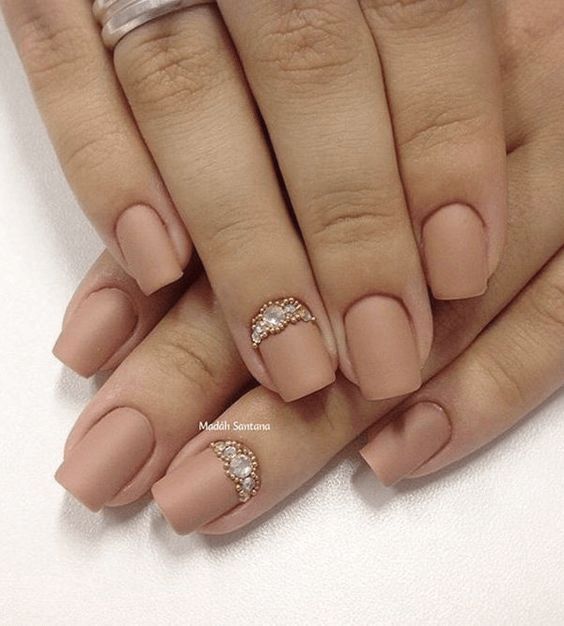 How about putting a glitter accent on your nude nail polish to sizzle it up a bit? Milani nail lacquer offers an amazing glitter nail polish that you can perfectly pair with your nude nail polish.
Liven up your nude nail polish by doing a plaid nail art. Zoya nail polish has a Satin Formula collection, which is perfect for this nail art design.
4. Fiery Red
Symbolizing passion and sensuality, most women are fans of the color red for their nail polish, which comes in many shades. Women who are confident and strong choose this classic color of flame and love creating an image of fierceness and strength.
Fire up your imagination and create a flame-like design using a normal art brush. On a yellow nail, paint wavy streaks starting with orange, then red and finally a dark red.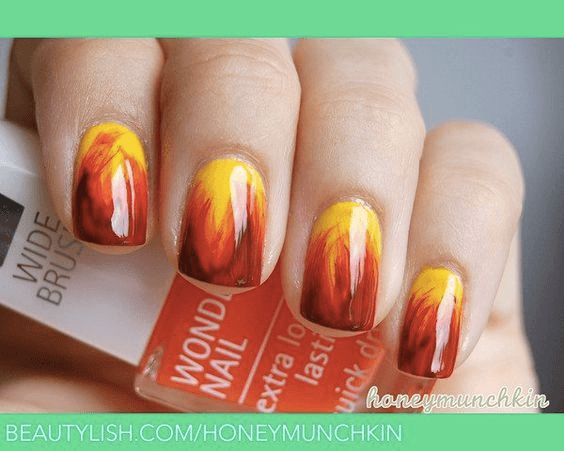 Using a nail stamp, add an exquisite touch to your fiery red nail color. For your base color, use Couture Gel Nail Polish in Skinny Dip. By taping off sections of your nail, leave bare the portions where you want to stamp images to. With black stamping nail polish, stamp onto the nail the image of your choice then remove the tape.
Creating a fierce yet fabulous look, a matte gradient in red and black colors is ideal for Halloween. Apply red nail polish to your nails then take a makeup sponge to make two stripes of polish right next to each other with red and black colors. Top your gradient off with China Glaze Matte Magic topcoat for an amazing matte effect.
5. Classic Black
Everyone will definitely agree that black is one of the most classic colors when it comes to a dress or your nail color. Suiting every outfit and occasion, black gives off a regal effect.
As classic as the color, black is, polka dots never go out of style. Using a black nail polish as your base, add dots in white color with either a dotter or a toothpick. Let it dry before applying your top coat. Depending on your preference, you can design the polka dots from smaller to bigger sized dots.
While it is said that black goes pretty much well with anything, it's safe to say that glitter looks wonderful on black. Black makes the glitters stand out. Any glitter color will do but for an elegant look, gold or silver glitters will be the best match. Using a matte black nail polish as a base, layer the glitter and polish alternatively to create a vanishing effect. You can also just make a glitter accent with one of your nails if you like.
Best paired with your black nail polish is the animal print design. This nail art has gained popularity as it can match to whatever outfit you wear. Zebra, leopard or even cow prints are some of the choices you can make. The zebra print could be the most popular. Starting off with your white base coat, add alternating stripes of black to your nails. To make your stripes stand out, you may add a light gray color beside the stripes.
Sticking to classic nail art designs will be your safest bet when picking the right color and design for your manicure.
When choosing nail art designs, consider many factors. Different occasion or season should be considered. Will it match your personality? Will you be comfortable wearing that design?