White nails are suitable for all occasions, and that is why many women like to wear them. Some women like to wear their nails short, while others prefer extra-long – and that is fine since white nail designs are suitable for both.
Believe it or not, white nails can make a combination with mostly all shades. Popular styles are made with black, nude, and even gold. Rhinestones, glitter, and flakes are just some of the ways you can decorate them.
We have gathered 40 cute and easy white nail designs that you can achieve. To make it easier for you, we divided them into a few sections.
Pure White Nail Designs
Pure white nails are great for minimalists, women that prefer their nails short and neat.
1) Pure White Nails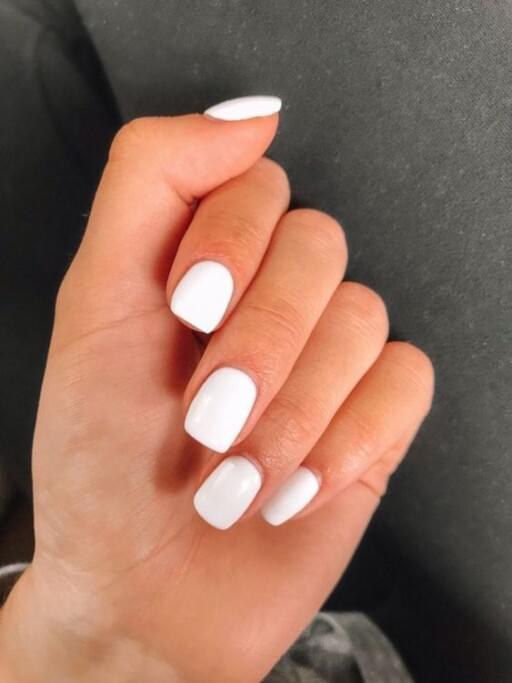 There is nothing better than pure white nails for the summer season. White combines perfectly with both gold and silver jewelry and even better with sun-kissed skin.
2) Coffin White Nails
Coffin nails are perfect for women who like to wear long or medium-long nails. Their interesting shape will surely attract some views, even if you wear them in pure white nail polish.
3) Pearly White Nail Designs
If you are looking for something elegant and fancy, we recommend going for pearly white nail designs. You can apply one or two layers of pearly white nail polish and wear it for both day and night events.
4) Classy White and Neutral French
Almond-shaped nails are great for applying a classic French manicure. If you are a traditionalist and only have a few neutral and white nail polish bottles in your cabinet, this style is definitely for you.
5) Metallic Tips
A modern version of French tip nails with metallic tips and a white base is great for minimalists. It will show off your style while still keeping your nails neutral and very sophisticated.
6) Snow White Round Nails
Round nails are shorter than almond nails and are rounded at the sides. Snow white shade of nail polish will definitely match with sunkissed skin.
7) Gradient White and Nude Nails
If you like to wear white nail designs, but want to try something new, then this is the look you should turn to. Gradient nails are easy to make, yet their effect is really stunning.
8) Milky White
One of the popular shades of white is the one in with milky hues. It is a beautiful shade that makes your manicure look natural and minimalistic. You can do both regular and gel manicures to get this shade.
9) Creamy White Combo
Instead of wearing clear white nails, try this look. It is sophisticated and fancy, yet your white nails combined with creamy hue will accentuate every outfit.
10) White and Delicate
Believe it or not, there are many shades of white. From milky to snow white, there are an array of shades that you can pick according to your wishes and skin tone. This one will fit women with fair skin tone.
White Nail Designs With Glitter
White nails with glitter are for women who prefer to spice up their usual manicures and add something interesting.
11) Side Glitter
This white manicure with side details is suitable for square-shaped nails. If you like interesting nail shapes, such designs not only look minimalistic but also emphasize the shape of your nails.
12) Delicate and Romantic
If you would like something suitable for a wedding and the days that come after that, then this is the nail style for you. Delicate and romantic – that is how we see it. Accentuated ring finger with glitter and white color, you can't make a mistake.
13) Gold and Minimal
White, nude, and gold – these shades make a perfect combination. If you decide to combine them, we guarantee you will have a wearable, sophisticated, and minimalistic manicure.
14) Touch of Gold
Believe it or not, gold and white look pretty good together. Especially on nails, when your skin is sunkissed, and you get to wear a lot of chunky boho jewelry during summertime.
15) Silver Stripes
White base with glittery silver stripes is a playful and modern-styled manicure. We recommend it for younger girls and women who are not afraid to show off their unusual side.
16) Glitter on Milky Base
If you are searching for a wedding manicure, then we would say this is the perfect white one. White nail designs like this one are suitable for not only the bride but also her bridesmaids.
17) Marble Effect
Marble nails are very eye-catching and modern. This nail style will surely attract many views. Gold glitter is delicate, yet it gives a whole look an upgrade.
18) Modern Combination
Sometimes, polishing your nails into two or more shades can be a great solution. However, even when you opt for only one nail to be different, you scored. The glittery half of your ring fingernail will definitely catch somebody's eye.
19) Blue and White
Blue like a sea and white like a cloud – this is the combo you need on your fingernails. Especially in summer, when you will be spending some time at the beach.
20) Gold Flakes
Gold flakes on white nails look enhanced and very sophisticated. Ask your nail artist to apply a few flakes on your freshly manicured white nails.
White Nail Designs with Rhinestones
White nails with rhinestones are for the brave ones, that like to catch somebody's eye with their style and manicure.
21) White with Gold Rhinestones
Gold rhinestones look enhanced on a white base. You can put them on all fingernails or opt for a few nails only. For summer, we recommend doing all your nails!
22) Colorful Rhinestones
White is an excellent base nail polish. You can then upgrade it with glitter or these beautiful rhinestones. They look amazing on coffin nails.
23) Side Rhinestones
Delicate and sparkly rhinestones at the sides are simply beautiful. This style is an excellent pick for all future brides-to-be and their bridesmaids.
24) Blue Rhinestones on White
Blue and white are our favorite shades for summer. They make an extraordinary combination that matches pretty well with your bohemian summer outfits.
25) Sparkly Cut-Outs
This manicure, with its lovely sparkly cut-out, is boho-inspired. You can wear it daily, as well as for special events.
26) Pink Diamond Rhinestones
Are you interested in going out of your comfort zone? If yes, then this is the manicure for you. Pink diamond rhinestones should definitely catch your colleague's eye.
27) Elegant with Nude Nails and Crystals
This manicure is elegant and fancy. It is perfect for women who prefer a combination of practicality and elegance. You can even wear it to your workplace.
28) Bold and White
Nails can attract even more attention than the whole outfit. If you prefer nice and bold white nail designs, then take a look at this one. Side rhinestones are just perfect with a white base coat.
29) Studded Nails
Are you a fan of rock 'n' roll? If you are nodding, then consider this to be your next festival manicure.
30) Wedding-Inspired Rhinestone Mani
Delicate and colorful rhinestones are definitely something you should consider for your wedding day manicure. It would be best to apply rhinestones on a white base – they will be even more enhanced.
Floral and Geometry-Inspired White Nail Designs
Floral and geometric white nails are perfect for everybody! The combination of techniques and colors can turn any manicure into a great one.
31) Delicate Floral Design
White nails are a perfect canvas for delicate floral designs. You can just pick a color, but we recommend blue and yellow for the best effects.
32) Inspired by Nature
Neutral colors, earth tones, and greens are inspired by nature. All these things can be shown on your nails and attract many views.
33) Lemonade
There is nothing better than a cold lemonade in summer. Your nails can be matchy with the Sicilian environment – just apply a white base and draw lemons on top.
34) Florals with a Bit of Glitter
If you are wearing flowers on your nails, why don't you try a bit of glitter as well? Combine these two, and you will end up with beautiful nails that will catch everyone's attention.
35) Dots, Dots
Colorful dots, irregular shape, and white base on nails – these things make this manicure simply perfect for daily wear.
36) Stars are Bright
This mani is a combination of two cold shades – blue and white. Golden stars added on white nails are beautiful and utterly stylish.
37) Face Manicure
Drawn faces are pretty minimalistic and eccentric. You need to apply white nail polish first, let it dry completely, and then draw faces, lines, and other geometric shapes.
38) Winter-Inspired
The green shade is a symbol of winter and cold weather. The combination of white, gold glitter, and a bit of red can be perfect for your Christmassy-inspired manicure.
39) Passion Fruit Lover
If you are a fan of delicious passion fruit, then you can have it on your nails now! A combination of white, pink, and black dots creates an imitation of this famous fruit.
40) Blue Waves, White Foam
This can be a modern version of a French manicure with a twist. Blue waves on square nails with a white base – what else can you ask for to get a perfect and unique mani? You won't find better white nail designs than this!
About The Author