Almond nails are great for all seasons, but for this summer choose bright colors and a new design. They are usually long and great for drawing on them. From flower designs to geometric colorful lines and patterns – everything is possible and wearable in the summertime.
Yellow nails, colorful patterns, and glitter – these are just some of the things you can wear in summer, and match them with your flowy dresses and bikinis!
If you plan to hold cocktails and lie down by the sea with your fresh nails done, you need a place to get inspired. Look no further – we have collected all the coolest nail designs with this elegant nail shape for this summer.
The good thing about almond nails is that they are so versatile and practical, and they suit many women. Just have a look!
40 Inspiring Almond Nails
#1: Geometric Summerly Nail Art
Even though the colors on the nails are neutral, they will catch attention wherever you go. These geometric patterns are a trend of the year, something you have to try. Almond shape is practical for those who like to keep nails long but still stylish and appropriate.
#2: Nude with Glitter
Nude nails are great for all occasions, including special ones. They are classic, nails that every girl has tried even once in her life. By adding a bit of glitter nail polish, you will upgrade these lovely almond nails from casual to elegant and sophisticated.
#3: Emerald Green
Emerald green is the favorite color among It girls. You can find many long and elegant dresses in this shade and completely fall in love with them. Nails in this color are charming. They look so sophisticated, perfect for elegant occasions and special events. They look even better with a bit of glitter.
#4: Yellow and Interesting
Yellow asymmetrical patterns on your nails make them unique and so trendy. Adding black dots with a wooden stick will make them look even more impressive. They are perfect for those ones who like to make a statement with their nail designs.
#5: Colorful Inspired
Different colors on your nails will make you look trendy and fabulous. Even though you might think they are hard to match with clothes, these ones are pretty neutral and versatile. Delicate patterns on a nude base will look beautiful and match everything you wear.
#6: Pink with Blue Glitter
Matte baby pink nails are great and go well with many other shades. We know blue is not the one that first comes to your mind, but look at these nails! The contrast is perfect, unexpected, and excellent for standing out from the crowd.
#7: Lilac Almond Nails
Lilac is one of the colors that is a season favorite. You have to try it! If you are not sure how to wear it, then do your nails. They are beautiful, and trendy, and they will make you look stylish, no matter what your style is.
#8: Gold Flakes
A nude or white nail base is perfect for adding lovely gold flakes. They are definitely not over the line, but very delicate and perfect for multiple occasions. If you ask us, we would definitely wear them as an everyday nail design.
#9: Red with Lines
Red is such a classy color. You can wear it all the time and still not feel dumb or your style boring. They are simply timeless. However, you can always upgrade them with some crisp detail – a black line on one or two nails will make a huge difference.
#10: Colorful Summer
There is nothing more appropriate for summer than lovely colorful almond nails. The shape makes them suitable for everyday wear, while the colors make these nails unique and so pretty! You can even wear them with your workwear.
#11: Rainbow Nails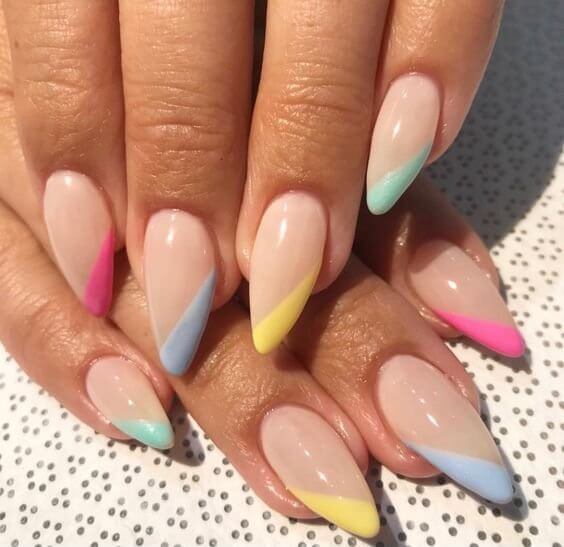 Almond nails are perfect for colorful designs like this one. With a nude or transparent base and different colors on the edges of your nails, you will secure a beautiful look. You can wear it for everyday events and special occasions.
#12: Nude and Glitter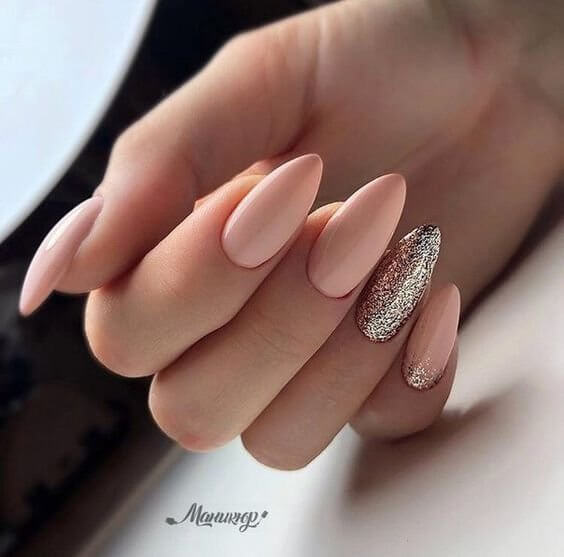 Nude and glitter are always the right combination. However, don't overdo it. Apply glitter foils or nail polish on your middle or ring finger, and not on every fingernail. That is how you be sure you didn't go over the line with the shiny polish.
#13: Baby Blue and White
Pastels totally win over the influencers' hearts. Baby pink, blue, and mint green are more than present in the fashion, makeup, and nail industry. Do you want to try something new and fashionable? Go for baby blue and white. The silver line on the white base will make this manicure look great.
#14: Yellow on Point
Yellow is an unexpected but unquestionably trendy nail shade. It is perfect for summer, and matchable with all your bikinis, kimonos, and flowy flower dresses.
#15: Holographic Nails
Holographic nails are new and popular in the industry. However, we can all agree they look more than beautiful and so attractive on your almond nails! Foils with holographic effects are available, so you can easily make this manicure at home.
#16: Earth Tones
This is quite an interesting nail art. Earth tones are neutral and quite practical for everyday occasions. By adding some attractive white design, you will upgrade this look from casual to elegant. These nails are suitable for any outfit you plan to wear.
#17: Wedding Appropriate
A bit of glitter kills nobody! Glitter nails are more than appropriate for wedding day, engagements, and big birthday parties. Combine them with a white base on the edges of your nails, and make them look like a waterfall.
#18: Daisies and Yellow Shade
Interesting to see a floral design on one almond nail. Daisies on your nails might not be something you planned to wear, but we dare you to try. Don't overdo it. Let the rest of your nails be in a gorgeous yellow shade.
#19: Metallic Foils
Metallic nails are great, but you should be careful not to overdo them. That is why you should use foils. They are great for getting that cracked yet very sophisticated look that is great for multiple occasions. By adding a black line, you will add a modern vibe to this manicure look.
#20: Mint Green
Mint green is the color of the season. Why don't you try it on your nails? If you don't want to polish every fingernail in this shade, they combine it with nude. It will still be eye-catching, but you will provide an elegant and sophisticated manicure look.
#21: Floral Design
Go to a professional nail artist if you want your nails to look like this. Floral design is perfect for all seasons, but the fact is they suit you the best in the summertime. Leaves, flowers, and a transparent base will make these nails unique and so stylish.
#22: Coral Almond Nails
Coral is an excellent color for summer. Warm weather, sunsets, and long parties at the beach match your manicure. Isn't that great? Almond nails are not too long, which makes them great for everyday wear.
#23: Lines and Colors
Lines and colors look amazing on almond nails. As you know, almond-shaped nails are perfect for summer, so don't hesitate to try some new shades. Navy blue in combination with sky blue and white – your nails will look gorgeous, like a summer sky.
#24: Cherries on Your Nails
Cherries are one of our favorite fruits in late spring and early summer. But, what about transferring your favorite fruit on your nails? Almond nails are great for drawing cherries on them! You should definitely try it.
#25: Pink and Orange
Pink and orange neon hues on your nails will be matchable for summer wear. Don't hesitate to leave the base of your nails nude or even better to polish it with transparent nail polish. Modern and fun, right?
#26: Stars Design
Shiny stars on ring and pinky fingernail can make a huge difference in one casual manicure. Try to pair glitter stars with some summer shade, like lemon yellow. However, the nails where stars are should be left only with the transparent base.
#27: Pink and Interesting
There is nothing more attractive than pink nails that have a unique design. You can make your hands look different. Black lines, or black dots – it is on you. We can only say that pink matches summer clothes perfectly.
#28: Glitter Blue
Seaside, beach, and sand – let this surrounding be the main one this summer. To match your nails with the seawater, you will need to polish them in the lovely blue shade(s). A bit of glitter will serve you perfectly, as well as geometric shapes.
#29: Matte Pink Nails
Pink is beautiful and perfect for summertime. However, instead of choosing the shiny version, opt for a matte color this year. It will look trendier and provide you with a great style. Almond pink nails are more than appropriate for everyday wear.
#30: Bold Stripes
Bold nails are great for those girls who like to make a statement with details and accessories. With these nails, even the most casual white dress will look great, eye-catching, and absolutely stylish. Don't be afraid to combine all these colors.
#31: Small Detail Makes Big Difference
Small details can make a huge difference when done right. For instance, this manicure would look pretty basic and neutral without any design. However, with the simple yet eye-catching detail like this gold line, you will instantly upgrade these nails from casual to elegant.
#32: Sunset Done Different
Almond nails are the perfect canvas for combining two or more colors. Let this be your vision of summer sunset. Change the usual colors with attractive blue and green nail polish. You will be amazed by the results.
#33: Like a Sea Wave
White nails are great, but let them be unique and interesting with these cool wave designs. The blue and gold mix of colors makes everything look perfect! You can make the wave flow from your middle to the pinky fingernail.
#34: Minimal and Colorful
We know that minimal and colorful don't usually go hand in hand, but in this case, this manicure has it all. Polka dots, gold foils, and colorful patterns – we can't wish for anything else, don't you think?
#35: Pearl Pink
Pearl shine is great for those girls who like their nails to shine but not to be covered in glitter. You can always opt for nails like these. Pearl nails are perfect for both casual daily occasions and night luxurious ones.
#36: Classic is Timeless
Red or black – it is on you to choose. Whatever shade you choose, you will have a timeless and classic manicure for all seasons. Black is matchable with any other shade, and it is excellent for both summer and winter.
#37: Tropical Nails
Tropical nails for summer are definite must-have. You have to try them even if you are a fan of simple, plain nails. Tropical leaves and palms are great for catching some attention and making a statement. You can go a bit further and add gold rhinestones.
#38: Pretty Pink
Pink nails are desirable for every possible occasion. You can wear them if you have 17 or 77. They are timeless and never go out of fashion. Add a bit of glitter and combine different shades of pink if you want your nails to look like in the photo above.
#39: Yellow Like Lemons
Lemonade is the most popular beverage in the summertime. Your love for it can be easily presented on your nails. Draw lemons on your ring finger with white nail polish and color the rest of your fingernails in a bright summer-craving yellow hue.
#40: Flamingo and Palms
Flamingo nail art tends to be one of the leading trends of the season. Combined with tropical leaves and palms, you will get a fantastic manicure look, perfect for every day under the hot summer sun.
About The Author