Nail shape might seem like a small detail, but trust us, it plays a big part in achieving a perfect mani. So, the first thing you need to do when you enter the nail salon is to pick a shape that you like and that suits you.
There are many choices, but you need to choose only one. Tough, right? That is why we have created this guide with nail shape ideas.
One thing is for sure – there is no best nail shape. They are all unique and beautiful. It is on you to pick a square, round, or almond one – the nail shape that suits you – your nails, hands, the nail polish colors you prefer to wear, or sometimes – even a zodiac sign!
All Nail Shapes Explained with Examples
Here are some of the most popular nail shapes. We have gathered them for you to see how to wear and style them.
#1 Easy and Practical Square Nails
Square nails might be the most popular nail shape among women. They are easy to achieve and attractive to wear. Their design is clean and minimalistic. The exact definition of square nails is: "those with front edge perpendicular to the sides of nails."
They are pretty explained by the title – the nails are square and nothing can ruin their shape. They should be flat on the top and have extremely sharp corners.
Wear them if you have narrow nail beds and slim fingers. Dark colors, as well as geometric shapes, are perfect for trying with this nail shape.
Blue and White Square Nails
Blue acrylic nails in square shape are simply great for both winter and summer months. The good thing is that you can style them with any outfit. White ring fingernail will highlight the whole manicure with its interesting design.
Geometric Shape
As mentioned, geometric shapes look gorgeous on square-shaped nails. You can choose between many lines, colors, and designs. For this summer, go for black lines and baby blue nail polish. You can tell your nail tech to do every nail differently.
#2 Lovely Round Nails
Classy yet bold round nail shape is another popular shape that many women prefer. Mostly because of its versatility and easy maintaining. These nails practically mirror the shape of your fingertip and have circular edges at the tip.
The reason they are loved is because of their versatility. Anyone can wear them since round nails make your fingers look elongated. You can style them with any nail polish shade, as well as with different details. It is on you to choose! You can also style them long or short – both will do.
Colorful for Summer
If you are bold enough to wear a lot of different colors on your nails, look no further than this manicure. It is absolutely divine! Thin black lines add a bit of geometric vibe. Your nails will look like little pieces of art!
Colorful Polka Dots
Asymmetric polka dots in different colors look amazing on a white base. Short round nails are perfect for all busy moms, businesswomen, as well as girls seeking minimal maintenance.
#3 Almond Shaped Nails
Elongated fingers with long or medium nail length can be achieved with almond-shaped nails. These nails are filed along the sides but tapered to the end. They actually recreate the shape of almonds, which is more than possible to see.
Almond shape is one of the most elegant forms that exist. It is great for all girls seeking for sexy yet chic nail shape that they can wear with various nail polishes. Since natural nails can be weak, sometimes you would need to enforce them with acrylic to protect the form of almond nail shape.
Wear these nails with nude shades, but also patterns, geometric or colorful splashes, and other bold hues.
Lilac-colored Nails
This is not nude, but it definitely isn't vivid color as well. Pastel lilac shade on your nails is something that you have to try this summer. Combine it with other summer hues – yellow, white, and even mint green.
Classy Nude French Mani
Sometimes, it is best to opt for classic. French manicure never goes out of style. As you can see, it looks gorgeous and very chic on almond-shaped nails. In fact, this might be the best nail shape for doing this timeless manicure.
#4 Stiletto Nail Shapes
For all those bold girls out there, we have only two words for you – stiletto nails. They are long, sharp, and all about the drama. Women who like their nails to make a statement, shouldn't look further than this.
Stiletto nails are all about glitter, rhinestones, and other eye-catching details that scream – attractive. You can style them with any outfit, but be careful. You can easily look over-the-line if you go too much with glitter.
Black and Gold = Bold
If these nails don't get you tons of comments, we don't know what will. Their black base is done until half of the nail, with transparent tip and gold flakes. Need anything else? We don't think so either.
Neutral Shades
Stiletto nails can't be neutral, but with these shades, you can make them appropriate for daily and even workwear. Different shades of beige and burgundy, along with sophisticated glitter nail polish, will definitely make a difference in your everyday outfit combinations.
#5 Ballerina/Coffin Nail Shape Ideas
Ballerina, aka coffin nail shape, is also known as Kylie Jenner's signature. They mirror the shape of a coffin or ballerina pointy-toe shoes. Their form is similar to stiletto nails, but instead of a pointy tip, they have a square one. The sides are tapered.
Ballerina and coffin nails are the favorite of all people who really like their nails to be styled and perfect. Acrylic and shellac nails with the addition of details are perfect for daily wear.
You can wear them matte, nude, or add glitter and gems. Anyway, you will be attractive enough for them to be seen.
Pink Glitter French Mani
These coffin nails are perfect for daily wear, but also for special occasions when you need to stand out from the crowd. Delicate yet attractive pink glitter on the tips will make a huge difference in your everyday outfits.
White Nails
If there is one shade that can make your nails highlighted, then it is white. If your skin is sun-kissed, look no further than white ballerina nails. They will look even more enhanced, beautiful, and absolutely gorgeous for summer wear.
#6 Oval Nails
If you like almond-shaped nails, then you will certainly adore oval ones as well. These nails are almost the same shape, except the ovals are more rounded at the tip. They are different from round nails as well. Oval nails make your fingers look slender, which is not the case with round ones.
The oval shape is timeless and very romantic. This nail shape is great for trying different techniques, colors, and details. Go for vivid and metallic shades, and opt for different summer patterns to rock your summer outfits.
Nails with Floral Designs
Wearing florals like these ones on your nails can be only fantastic. They look beautiful and so attractive. However, let your nail tech do them for you. Tell him or her to leave the base nude so the florals would be even more enhanced.
Baby Pink Nails
Baby pink or nude – it doesn't really matter since these are the two most popular shades among women. They are quite neutral, but that is what makes them perfect for everyday wear, as well as for special occasions.
#7 Squoval Shaped Nails
A squoval nail shape is a rounded square nail. Yes, and still not the same! This shape is perfect for girls who like easy maintenance and nails that are always in order. If you are not into sharp corners of square nails, look no further than this!
This nail shape is the best for all of us. It is pretty versatile and universal, so it doesn't really matter if your fingers are long or short, or your nails wide or narrow.
Beauty experts suggest wearing dark, metallic shades with this shape. However, if this is your preferred nail shape, you can also go for nude or different patterns.
Burgundy Nails with Glitter
Burgundy nails are great for fall and winter when your attires are in much darker tones. You can always add a bit of glitter to make everything look more elegant and sophisticated.
Pearl Shine
How many times have you seen a manicure that totally left you without breath? This is definitely one of them. Even though your nails are short, you can be sure they will be noticed wherever you go with this lovely pearl shine shade.
#8 Impressive Edge Nail Shapes
Edge nails form a pointy tip, but it is much less dramatic than a stiletto, arrowhead, or mountain peak one. These nails extend straight before the top edges, which makes them much less aggressive.
As you can see, they are quite unusual, so not everybody can wear them. If you like to add a few spicy details to your looks, then don't hesitate to wear them.
Classy French Mani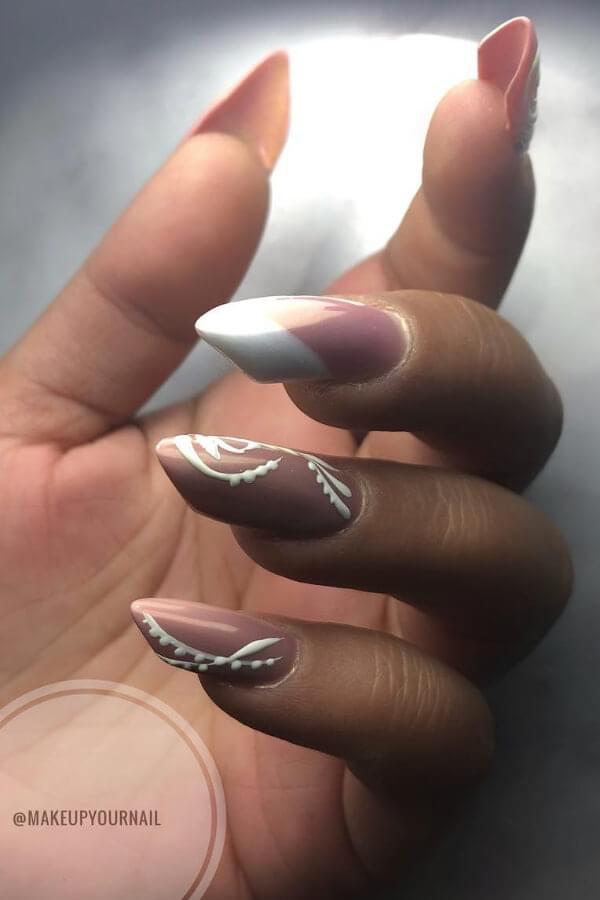 Even quite sharp, such long nails can look chic and sophisticated with the French manicure technique. You can also go for small and engaging details, like a white leaf design on some fingernails.
Black and Nude Edge-Shaped Nails
Nails shaped like this will definitely catch all the attention wherever you decide to go. To make them even more exciting and appealing, polish the tips in black while leaving the rest of your nails nude or white.
About The Author