What we now call a French manicure is typically a natural manicure style involving a clear or nude base color and a white tip, either on artificial or natural nails.
It is speculated that French manicures came about as a neutral option for Hollywood actresses so they could have a manicure that would go with their numerous wardrobe changes.
Regardless of its origin, it's gone on to become a classic look both for everyday and special events. Like a plain white t-shirt, French manicures are versatile staples; you can keep them simple or jazz them up. Nowadays, your color choices aren't limited to only pink and white.
In fact, colored French tip nails can add vibrant look to your manicure. You can also paint on different designs and add small jewels, decals, or other adornments.
1. Go for Garnet
Who said French manicures have to be pink? Instead, use a color in the same color family as pink – garnet red. It's a gorgeous spin on the traditional French manicure. Top off this deep red with some complimentary metallic gold. If you're going the gel route, ask your manicurist to add a shiny mirror effect on the gold polish.
2. French Tip Nails with a Splash of Yellow
Choose a bright color such as yellow to brighten up your French manicure. There are a couple of ways to get that perfect tip at home, and one of them is to use these hole reinforcement stickers you probably have lying around.
Simply place the sticker so that the top curve of the circle is in line with the curve of your nail, leaving a thin space for the yellow tip. When you're sure your nail polish has completely dried, carefully remove the sticker. You should have a perfect French manicure – just apply your favorite top coat and enjoy!
3. Indulge in a Little Rose Gold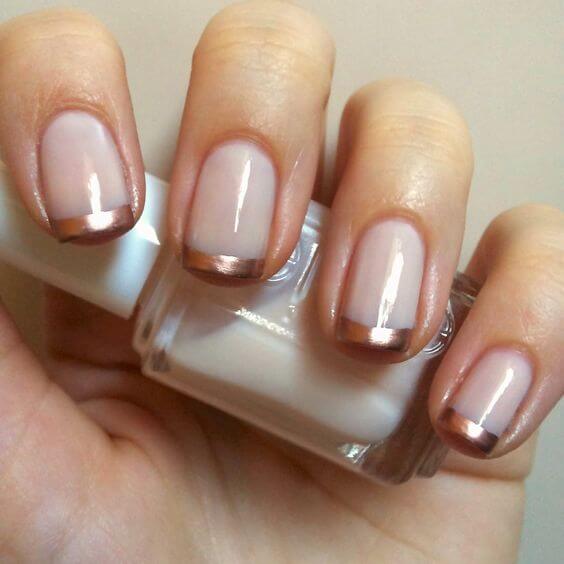 For a sophisticated and trendy look, use a pale pink as a base polish and metallic copper for the tips. This combination of colors gives off the same vibes as rose gold jewelry or metal reflects. Finish with a glossy topcoat.
3. Nail with Snow
Show your winter spirit with these sparkling French tips. The tips are on the thicker side, allowing for a more dramatic effect. To recreate this at home, you'll need white nail polish as well as translucent or silver glitter.
Use tape, stickers, or any other method to isolate the tips of your nails. Apply several coats of glitter to your tips and seal with a glossy top coat. If you want, pick an accent nail to cover with the white and glitter polish.
4. Be Subtle With Your Sparkle
This design is perfect for shorter nails but will also look great on all lengths. The result is quite minimal and natural. All you need to do after you apply your base layer of pink polish is to add a thin, straight strip of nail stickers or rounded glitter polish to the tips.
5. Play with Negative Space
Change up the traditional French Manicure by using the opposite color on the tips– black. Exaggerate the natural curve of your nail to get the rounded effect you see in the photo. You can use a nude base color or just clear nail polish.
6. Get Festive
A really easy way anyone can decorate their French manicure is by adding a decal or sticker. Decals can be bought online for only a couple of bucks. Not only are they affordable, but they are also extremely customizable; they come in about a million different designs. The possibilities are almost endless! You can tailor your nails to the seasons, different holidays, or anything else you want.
7. Dress Up Your Ring Finger
This design would be drop-dead gorgeous for any bride on her special day. A white design such as this one on the ring finger is a really effective way of making a standard French manicure special. If you DIY, the design will need to be made with a very thin nail tool. Otherwise, you can purchase a floral nail decal and adhere it to the desired nail.
8. Invert the Sparkle
To get this look, do a nude and white French manicure as normal, then add glitter. Make sure the glitter is only on the base of the nail, not the tip. This helps add contrast between the base and the tip of the nail. This look is a little livelier than the traditional French manicure, but it's still chic and subtle.
9. Amp Up The Glitter
This look is perfect for glitter lovers or prom inspiration, especially if your dress has similar glitter accents to it. You'll need glitter powder to get such a thick, even layer of glitter. This can be really messy so you may want to leave this up to a professional.
10. Get Intricate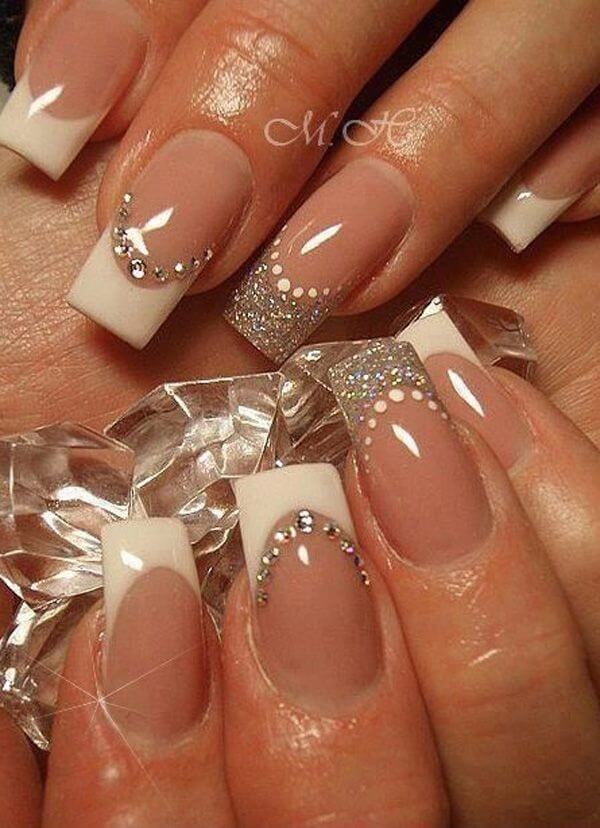 If French manicures are normally too simplistic for you, you may love this glitzy nail art. Using a mixture of silver glitter, white dots, and small rhinestones makes this square-tipped manicure both classic and visually interesting. Take inspiration from just one of the nails for your own French manicure or incorporate a different design on each nail, as shown above. These would also be great for prom or any special occasion.
11. Dip Them In Gold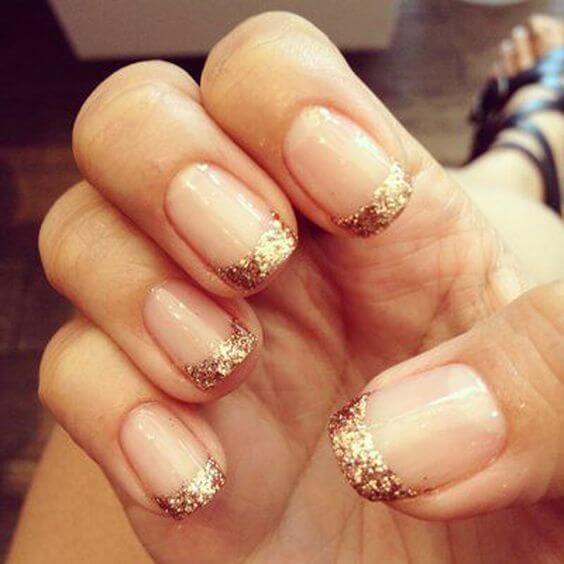 Not everyone can wear silver. Maybe your dress or outfits have gold accents, or perhaps gold goes better with your skin tone than silver. Plus, what could be more decadent than a gold glitter manicure? You or your manicurist should apply a thin, even layer of glitter to the tip of your nails to achieve the same effect.
12. Keep it Light
Some people live the look of a think tip. Pair it with a very light pink nail color, and you've got a classy, understated look. This particular manicure is gel, but you could always recreate it with any other type of nail polish.
13. Just a Hint of Glitter
You can incorporate glitter into a classic French manicure in a number of different ways, as you may have gathered. This way is unique and subtle. Decorate your tips with a thin layer of glitter polish between the light pink base color and the white tip.
14. Chrome It Up
Ready to blow your friends' minds with your manicure? This chrome beauty is as sleek and modern as it comes! Invoke the colors and textures of polished metal and steel. You'll need special mirror powder to achieve this awesome reflecting effect, only possible with gel manicures and a UV light.
15. Lovely Lace
How gorgeous are these lace-inspired French tips? This artist has chosen to use black and gold for this design, but you could use any color, including traditional white. A subtle "V" shape is created with the black polish, and an artistic pattern is stamped on top in gold afterward. The extra effort is well worth it for such a stunning design!
16. Geometric French Tip Nails
If you're a big fan of the accent nail, you will love these nails. The design is very sleek: the artist has used clear nail polish with just a thin black line to define the tips. Any nail would look great as the accent nail for this look. Use an extremely thin nail tool or as your manicurist to copy this triangle design.
18. Make a Major Glitter Impact
We've seen French manicures with glitter tips so far, but it's time to take it to the next level and amp up the glitter. Don't be shy with your base color; a more pigmented rose shade will create a bolder effect. When choosing your glitter, you can use pink, gold, or both!
19. Take Inspiration from Art
This look has one of the most beautiful accent nails that we've seen on a French manicure. It's not overly glossy or gaudy, making it the perfect complement to a dressier outfit. The ring finger has an intricate design reminiscent of baroque swirls used in European architecture. It's timeless and the perfect design to accompany your new ring.
20. Shape 'Em Into Stilettos
This is a fantastic option for those who love thin, pointed nails known as stiletto nails. They are modern, simple, aesthetically pleasing, and will certainly go with any outfit or style. If you wanted to recreate this at home, you could use either masking or scotch tape to get the triangular pattern.
21. Play Around With The Thickness
Not everyone has long nails –some people's nails just won't grow or will break easily. Long nails might not be right for every lifestyle anyway. This style will elongate shorter nails while still staying within the guidelines of the traditional French manicure shape.
22. Play With Gradients
If you need a special manicure for prom, wedding, or any special event, try a glittery ombre French tip. The glitter is concentrated in the top fourth of the nail, so it won't distract from the details of your outfits. It reminds us of the subtle sparkle of precious gems.
23. Make it 'Noir'
There's no reason why you should have to stick to pink and white when doing a French manicure. This artist has selected a matte black nail polish for the base of the nail. Rather than contrasting the color between the base and tip, she has instead created contrast using different finishes, as the tip is a glossy black. The color possibilities are endless with matte and glossy top coats.
24. Black Tie Affair
On top of beige or pale pink, create interesting detail in the form of triangular tips on square nails. You could also try this manicure in white for a look that's closer to the traditional French tip look. Use a matte topcoat to finish it off.
25. Lengthen Your Tips
Play around with shapes a little and elongate your fingers with coffin-shaped nails. This shade goes best with a thick tip that starts just before the nail starts to slant slightly upwards.
26. Glam It Up With Some Jewels
This look is actually really versatile. It involves clear nail polish, black tips, and a simple jeweled design on a black accent nail. This way, you aren't risking any color clashing by using another color of nail polish, but you're still creating a unique and impressive design.
27. Get Your Metallics On
Turn heads with a futuristic French manicure such as this one. The curved, golden tips are an exciting addition to the black matte base. If that wasn't enough, the golden accent nail with a glitter gradient really adds to the 'wow' factor. Pair it with your favorite gold jewelry and accessories.
28. Accentuate with Iridescent Tips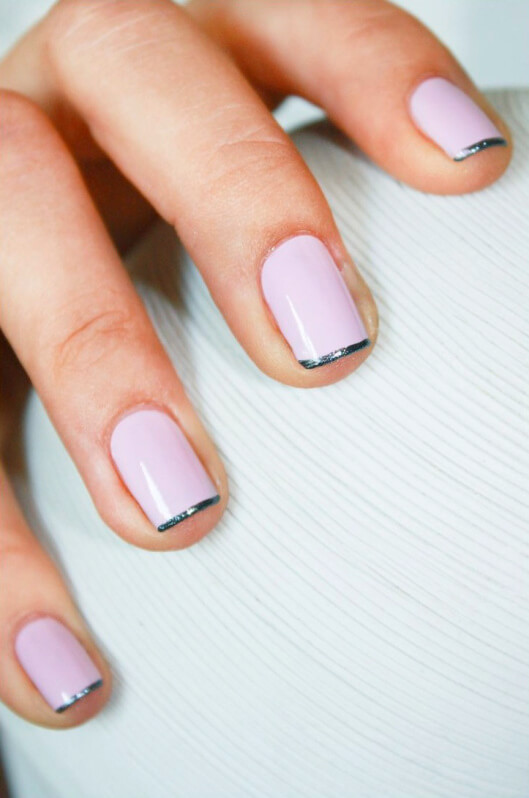 If you're sick of black and white, try out this fun French manicure with thin tips. To get such a thin line, use a nail sticker or tape to create a straight line. The slightly iridescent and metallic polish on the tip makes this manicure refreshing and new.
29. Flower Power
We love this original French manicure design. Instead of filling in all of the white tips like you normally would, the artist has chosen to occupy that space with gorgeous white and gold flower designs. This would be a stunning bridal or everyday look.
30. Go Mod
In the mood for something really fun? Have a go at this mod version of the French manicure. You could incorporate it into your everyday look or pair it with a '60s themed costume. The alternating black and white dots complete with the stripes are eye-catching without being overly busy.
31. Make it Mint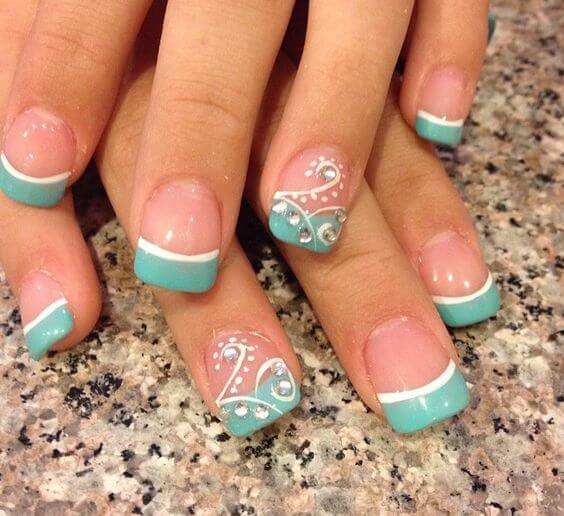 We'd use any excuse to get this creative manicure! It's ideal for matching any clothes or accessories in a similar blue-green shade. The swirling accents, rhinestones, and white details make this even more visually appealing.
32. Overlap Your Colors
Here is another design for square-tipped nails. This look involves overlapping black and white triangles to create a geometric effect. If you have a small enough brush, you could easily do this one at home. We could imagine these nails in a Parisian cafe wrapped around a steaming cup of coffee.
33. Add a Shade of Gray
If plain pink and white nails just aren't your thing, opt for a cool blue-gray instead. It's a great choice if you don't wear a lot of warm colors since it's still pretty much a neutral color. Leave a thin line at the top for a pink tip to complete this updated French manicure.
34. Multicolor Madness
Rainbow nails can be sleek and stylish too! If you love bright colors, you won't be able to resist this ultra-modern, super-fun manicure. The thinnest pop of color on a beige base is cute without being overwhelming. Add a matte finish to your base to streamline the look.
35. The Cherry Blossom On Top
Set your manicure apart from the rest by painting a Japanese cherry blossom design over your traditional French manicure. If you're doing this at home and don't feel confident in your painting abilities, you can always use a flower decal or nail sticker.