Sqoval nails are probably the most flattering and versatile manicure. It is a timeless and classic shape that works with any look. Plus, they elongate your fingers without adding too much length to the nails (I know the OTT manis are not for everyone!).
The squoval nail shape is the nice top and jeans of the nail world, and they suit everyone. The last few years have seen coffin and stiletto nails take over, but now is the time for the squoval nail shape.
So, how can you do a squoval nail shape at home? And what are some trending looks to try out right now?!
What Is a Squoval Nail Shape?
What's unique about squoval nails? The name says it all. As explained in our detailed nail shapes guide, an oval and square shape together is called a squoval-shaped nail. So it's in between a square-shaped and an oval-shaped nail. The nail is square, with the edges filed to create the look. 
The filed edges soften the square nail, keeping the length and clean look. This creates a sophisticated manicure that is easy to maintain.
Plus, you can have long or short squoval nails. It is totally up to you and your style!
How to File Squoval Nails
One thing I love about the squoval shape is how easy it is to do at home. I have tried out different shapes on my nails, and certain shapes, like the coffin one, are pretty difficult to do yourself! 
You only need nail clippers and a nail file to file squoval nails on your natural nails. I usually use a 100/180 grit nail file to shape my nails.
Firstly, take your clippers and cut straight across your nails to create square nails. Then, use your nail file to soften the edges. Hold the nail file at a 45-degree angle and use long strokes to add the curve to the edges. Take your time doing this, checking your nails as you go.
Squoval Mani Ideas That You Shouldn't Miss
The squoval nail shape is easy to do, classy, and flattering. What is not to love? But do you need some inspiration for your next mani?
My insta feed is full of nail trends and ideas, so I have found the best squoval nail ideas to show you. These looks can be done at home or your favorite nail salon.
1. Pastel Floral Squoval Nails
Keeping your mani short with the squoval nail shape doesn't mean you have to sacrifice designs and decals! This stunning set matches a soft pastel green with white flowers to create a manicure perfect for spring.
If you want to create this manicure at home, you can recreate the flowers in different ways. I swear by nail stickers when I do my nails, and you can pick up some cute floral stickers pretty cheaply! If you are more arty, get a nail dotting tool and create the flowers yourself.
2. Zebra Print Squoval Nails
Animal prints will always get my attention, and I am obsessed with this out-there zebra print manicure. The contrast between the dark green and zebra print is very trendy, and it looks great with the squoval nail shape.
This is a pretty intricate design, but it can be recreated at home. I recommend using nail art foil for the zebra print, as this means you don't have to paint all the lines on yourself!
3. Floral French Tips
French tips are a classic look, and I am obsessed with all the different twists on the trend. This mani is pretty low-key, which means you can wear it for any occasion. However, being low-key does not mean being boring! 
To recreate this look yourself, grab some French tip stencils to create a clean tip. Then, after curing the white color, add your design with gel nail pens.
4. Lavender Squoval Nails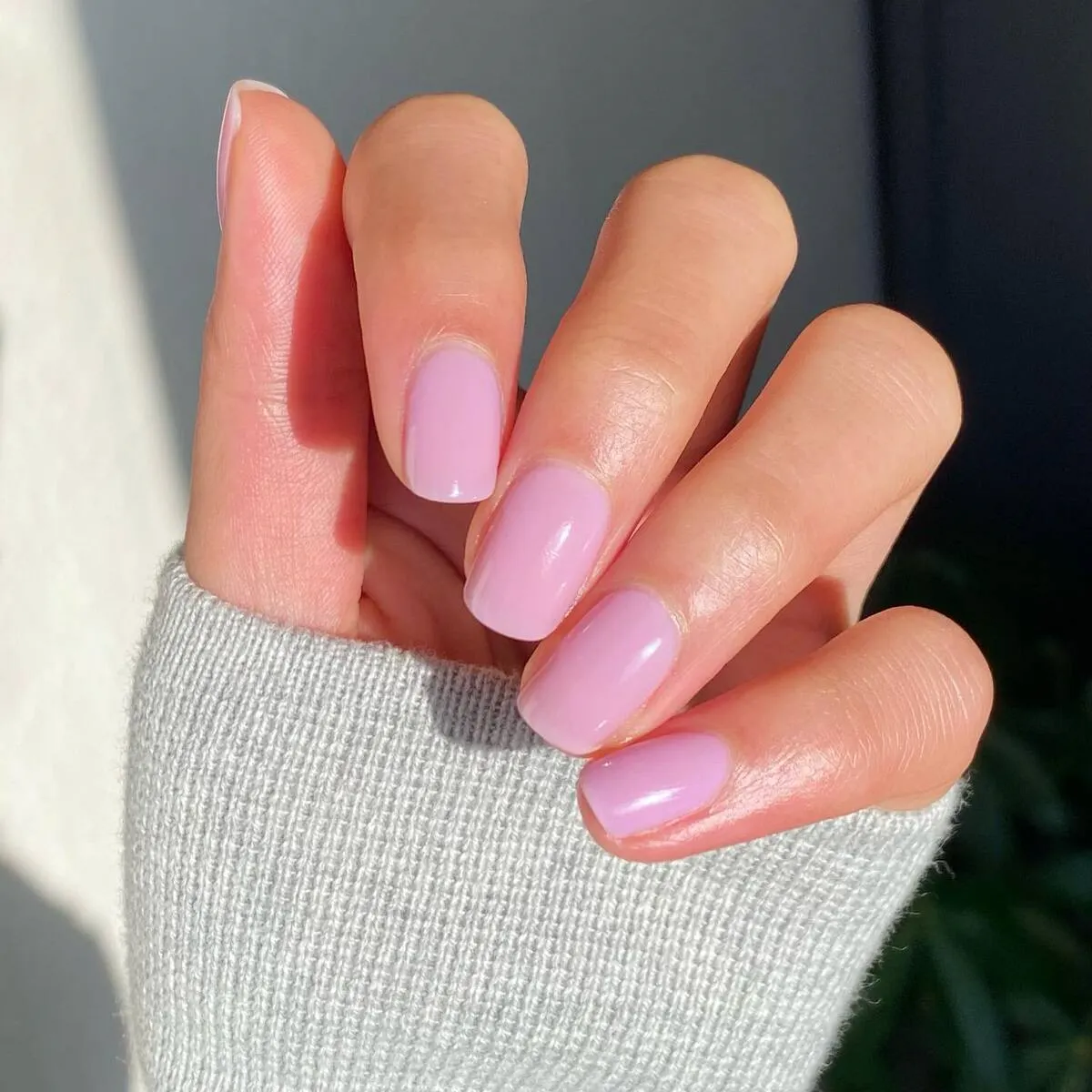 Sometimes, less is more. The squoval nail shape is the perfect base to showcase your favorite color. This beautiful lavender color is so pretty and perfectly matches many different outfits.
5. Glazed Donut Squoval Nails
The glazed donut nail trend is here to stay, and it goes perfectly with the squoval nail shape.
It is a simple yet stunning trend that kicked off at the Met Gala in 2022 when Hailey Bieber showcased her glazed donut mani. Since then, this trend has been everywhere.
This look can be created at home by applying a base color under a glossy gel.
6. Marble Squoval Nails
I love this green marble manicure, created by applying different gel layers to the nails. Okay, I am yet to try out marble nails myself, but they are on my list for trends to try out!
The little golden band at the nail bed is so simple yet so effective.
7. Milky Squoval Nails
The nail artist used a nude base and added stickers to the feature nail to create these. Feature nails are always a great way to get some personality into your manicure, but without overdoing it!
I love the delicate, natural floral stickers used in this manicure. Going to try to find out where I can get some…
8. Abstract Squoval Nails
Another trend that is not going away anytime soon is the abstract nail trend. From bold splodges to simple lines, there is something for everyone regarding abstract nails.
Lines are a simple way to create your abstract nails at home. After applying a base coat and color (a milky shade is an excellent choice), add some lines with a gel nail pen or a thin brush.
9. Long Squoval Nails
The squoval nail shape also looks fantastic on long nails, and I love this look. Sparkly shades are an iconic choice for your manicure, and the nail artist has mixed it up by adding negative space to a few of the nails.
10. Mix and Match Squoval Nails
Mix-and-match nails are perfect if you can never figure out what design you want for your manicure. This design uses a few different similar shades to create a cohesive look, with various trends thrown in, making the manicure super bright and arty.
11. Neon Squoval Nails
Another 'one color says so much' look. After that iconic performance by Käärijä at the 2023 Eurovision Song Contest, neon green is trending hard.
12. Airbrush Squoval Nails
I am constantly seeing airbrush nails on my social media feed and trying to work out how to recreate them myself without buying an airbrush (sponges, maybe?).
This squoval airbrush manicure is fantastic, and I love the grungy look.
13. Rainbow French Tips
Another twist on the French manicure trend, these French rainbow tips are summery and fun. This is the perfect manicure if you want to add color to your nails but still want a versatile look. 
This look can be created using a sponge to blend two colors with a French tip stencil to create a clean line.
14. Neutral Matte Squoval Nails
A matte top coat completely changes a look and matches so well with these neutral, earthy shades. I love to pick five different colors in the same palette for my nails, probably because I never know which color to choose!
The white decals at the base of the design are a nice touch, too. They don't take the attention away from the beautiful colors but add some intrigue to the mani.
15. Cloud Squoval Nails
Another fabulous manicure from Tess Lyn Nails! She also did the marble squoval nail look and quickly became my favorite nail artist on Instagram because of her stunning designs and interesting tutorial videos.
This manicure used sponges to create a dreamy, cloudy look. She then added the golden stickers to complete the manicure.
16. Negative Space Squoval Nails
Negative space nail art is a fantastic way to play with shapes and colors in your manicure. This abstract look is a fun and bold design, using lines and dots to add intrigue to the nails.
This look can be recreated at home using nail brushes and dotting tools. Apply a bottom coat before adding lines and dots to your nails. Get creative and see what look you can come up with!
17. Nude Squoval Nails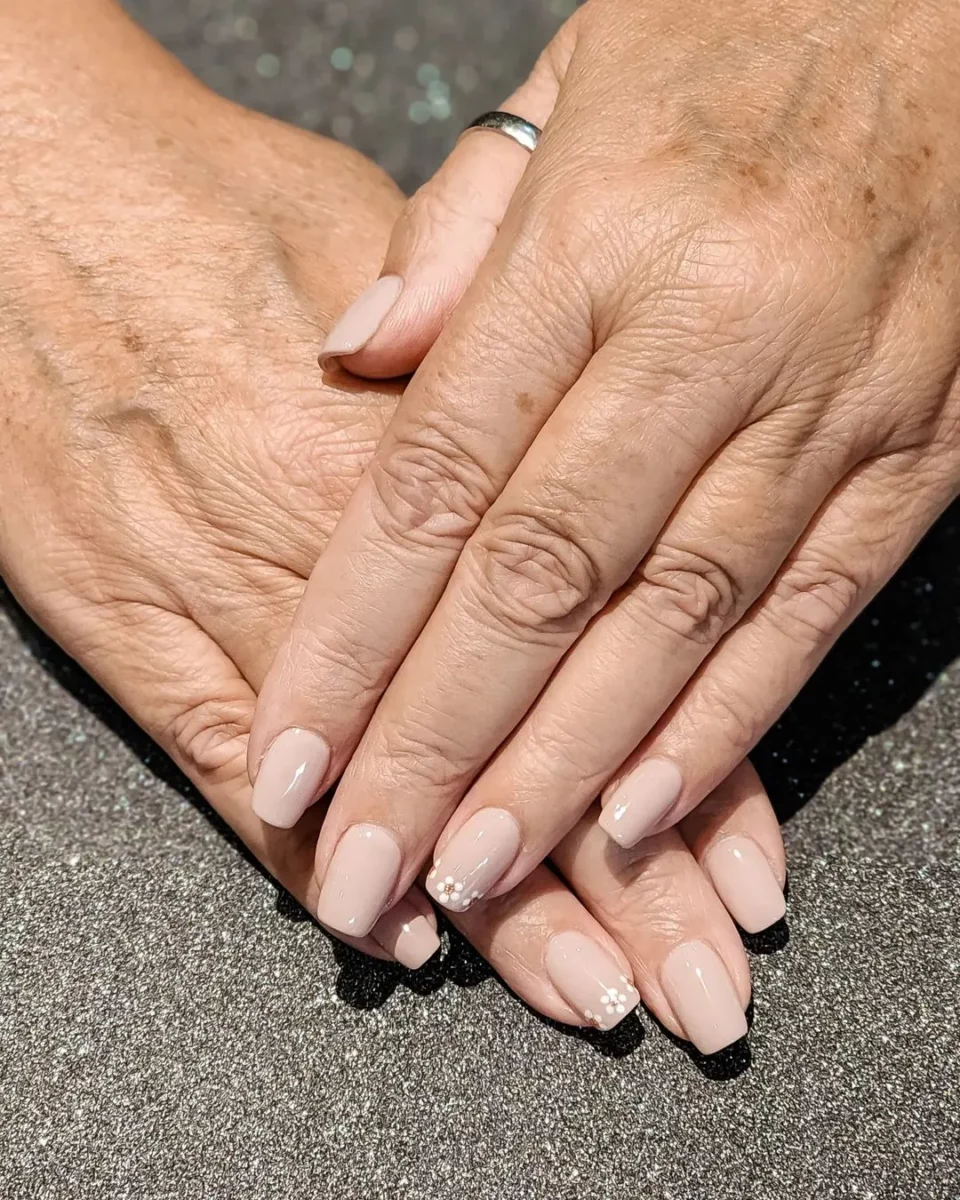 Nude nails are a go-to for many mani lovers. They are the perfect choice for so many occasions and are super versatile! If you think nude nails are boring, think again. This manicure adds a floral design as a feature nail to add some personality to the nude nails.
18. Multicolor Squoval Nails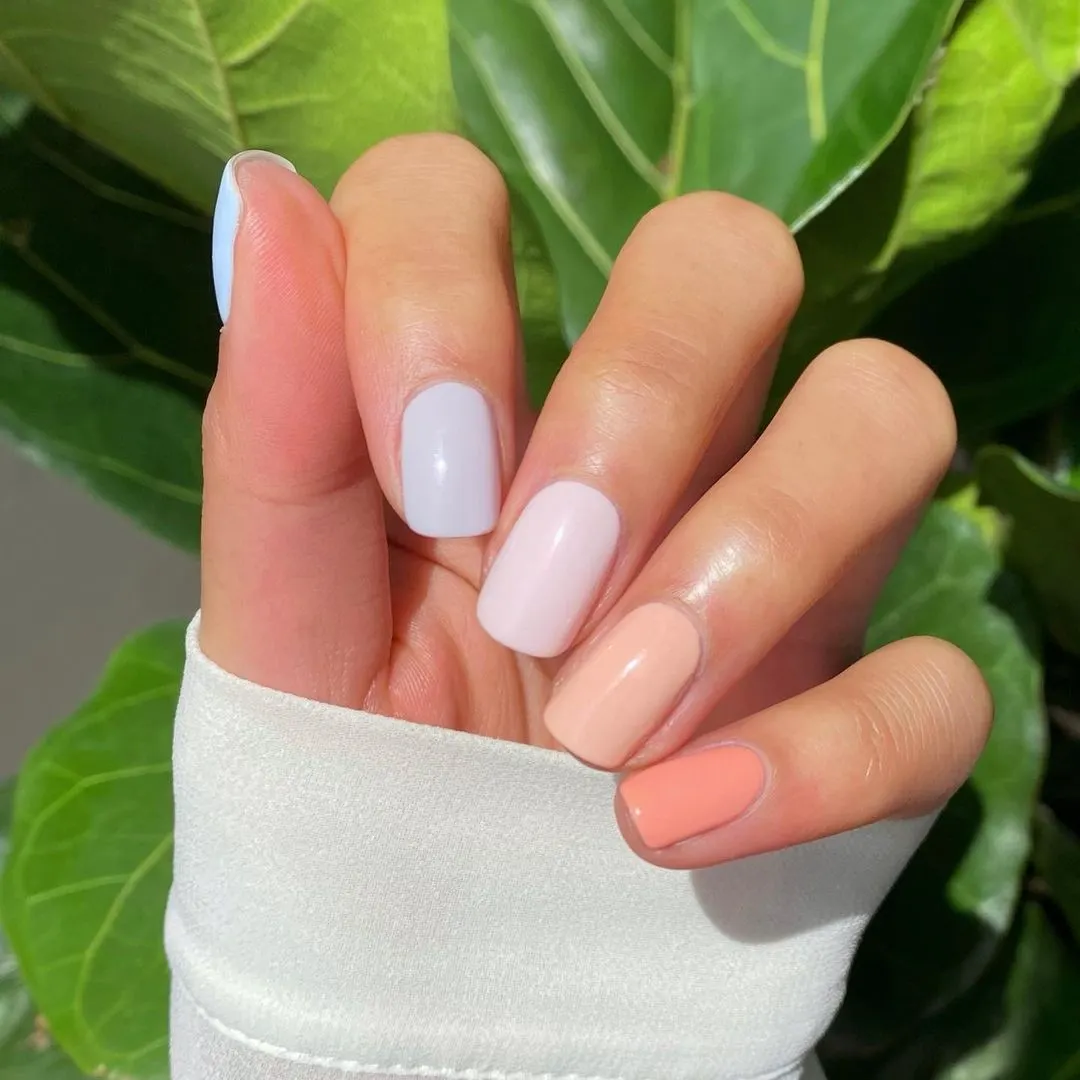 Finally, we have this set that pays homage to the summer sunset. I love the simplicity of this manicure, with the light and cheery colors used. Gradient manicures are always fun to try out, and this manicure pulls it off perfectly!
Pick your favorite gel nail polish shades to recreate this look at home.
FAQ
Is Squoval Nail Shape Practical?
Yes, the squoval nail shape is really practical and low-maintenance. It keeps the nail strong and easy to maintain, as the shape will rarely chip or break. 
Does a Squoval Nail Shape Work for Long and Short Nails?
The squoval nail shape is perfect for both long and short nails.
For long nails, the squoval shape helps to maintain strength and prevent breakage. The straight edge provides stability and reduces the chances of the nails catching on objects or getting snagged, which can lead to chipping or tearing. The rounded corners add a soft and elegant touch, making the nails appear more feminine and refined.
On the other hand, the squoval shape is equally flattering for short nails. It helps to create an illusion of elongation, making the nails appear longer and more graceful. The straight edge gives the nails a wider and more substantial look, while the rounded corners soften the overall appearance. This combination helps balance the nails' proportions and enhance their beauty.
Related articles