Classic French manicure is famous worldwide. Women simply adore the simplicity of it – white tip line, nude base.
However, let's upgrade it a bit. Add colors to French tip nails to make your manicure more vibrant and livelier. Check out great examples of colored French tip nails – from pastel shades and rainbow stripes to rhinestones and squares. And if you're a fan of more subtle designs, have a look at French ombre nails.
Multi-Colored French Tips
Nail Colors on Point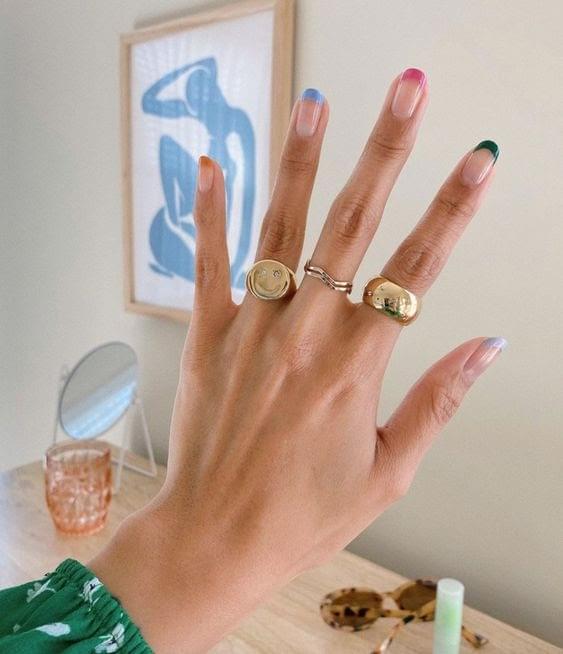 Long nails look beautiful and elegant. Paint them trendy this summer, by mixing all bright colors. French manicure never looked more appealing.
Neon Matte Nails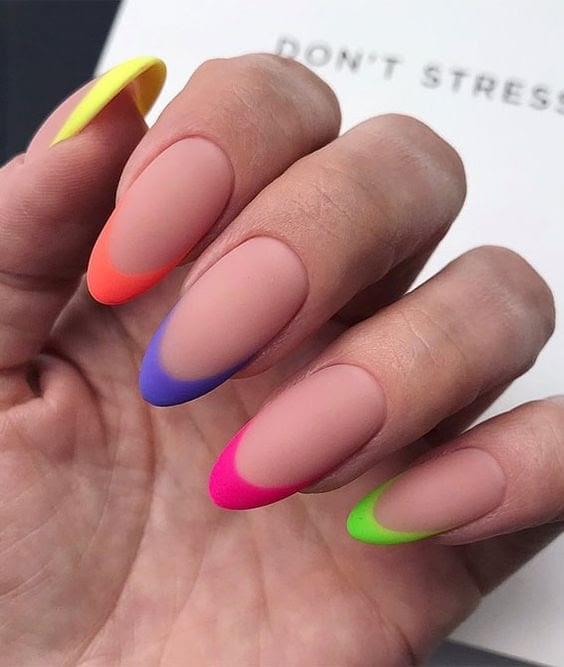 Neon nails are great, but many women don't like wearing them to work or for other formal occasions. If you share this opinion, then we have something chicer for you – french neon nail tip.
Almond Shaped Side French Mani
Colorful nails are perfect for daily wear. Almond-shaped nails are great to pain with a French manicure but go for colorful one this time. Pastel shades are great to pair with a summer wardrobe.
Short French Mani
Colorful French manicure looks great even on super short nails. If you are not a fan of long stiletto or almond-shaped nails, then there is a chance to enhance your short nails as well.
Geometric-Inspired Colored French Tips
Nail designs that are inspired by geometrics are always interesting. These colored French tips are great for both daily and formal wear. You will enjoy the whole summer long.
Interesting Colorful French Mani
This manicure can be called a bit of this and a bit of that. Some nails are painted completely, some with reverse French, some with regular thick French lines. It is colorful and cheerful – perfect for summertime.
Rainbow French Manicure
Are you bored with classic strips? Go for the rainbow pattern then! These lovely shades will turn your regular nails into fantastic ones. Make sure your base is clear, so all other colors are visible.
Orange French Manicure
Deep orange nail polish became more than popular in the last few years. If you like minimal French, you will love this manicure as well.
Nails on Fire
How it looks when your nails are on fire? This manicure shows it exactly. The shades of fire on your stripe will absolutely be a head-turner.
Nail Art with Rhinestone Details
These neon french manicure colors look stunning, but what about those rhinestones? They are the perfect addition to this lovely manicure. We have to admit that these nails will be perfect for both day and night events.
French Manicure In Two Colors
The Half-Half French Mani
Half-half colored french tip nails are stylish, and you can do them in whatever combination comes to your mind. If you like bolder colors, go for the exciting neon mix. On the other hand, these earthy tones are perfect for summer.
Nail Art with Peachy Shades
Peachy shades are great for daily wear. Try combining them like this, making a little rainbow of colors on your nail tip. This is definitely a new way of wearing French.
Square Sequin Nail Tips
Square nails are the most common for a French manicure. Not a surprise since they are practical and fantastic. Instead of drawing white lines, go for sequins and nude base.
Floral Purple Nails
You can even add floral designs to make your French tips look beautiful. If you ask us, these nails are perfect for winter. Those jewel-toned nail polishes go very well in colder months.
Neon Touch on Nails
Neon colors are your best friends for summer. You can call this manicure a neon touch since this French manicure is all but regular. Apply nail polish near cuticles and on the tip of your nails.
Pink and Blue Mani
Alternate blue and pink as your base and tip. Combine these two to get this awesome French manicure. Add a fine metallic line for a super glam finish.
Single Colored French Tip Nails
Elegant White and Mint French Manicure Style
White nails are great, but let's see how we can upgrade them a bit. Apply mint green stripe, add a bit of white and make sure your base polish is nude or even clear.
Burgundy Lines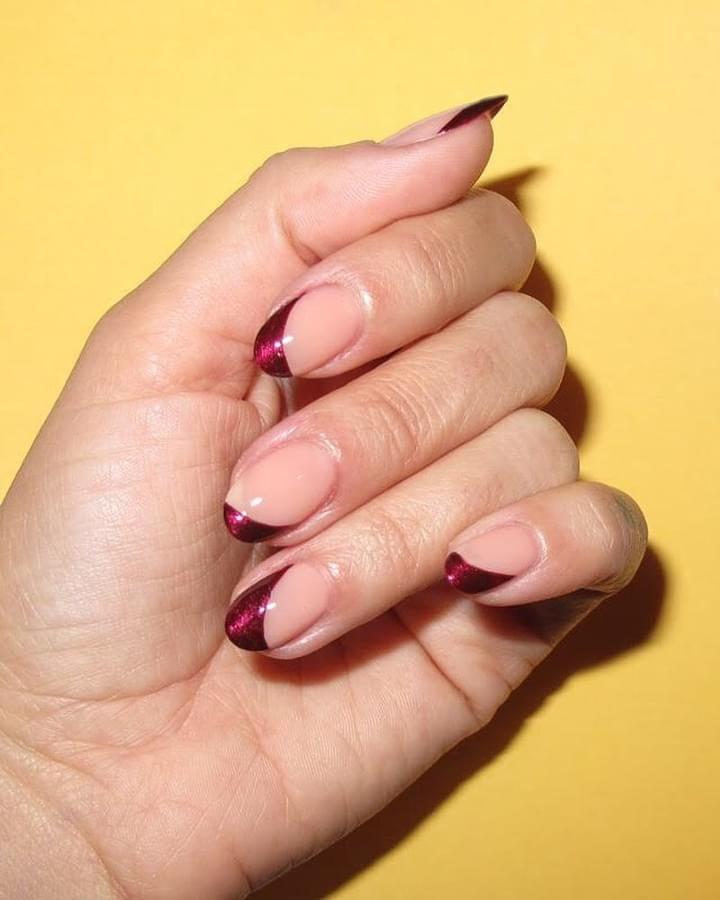 Not every French need to be painted in bright colors. You can pick a dark burgundy shade for fall and winter to match with your coat or your boots.
Orange Double French Line
Instead of one, draw two lines for your French manicure. Choose orange or any other summer-friendly color to compliment your looks.
French Mani in Neon Green
Even if you are not a fan of experimenting with colors, you need to give this French mani a try. Neon green stripes and a clear base will attract many views.
Black French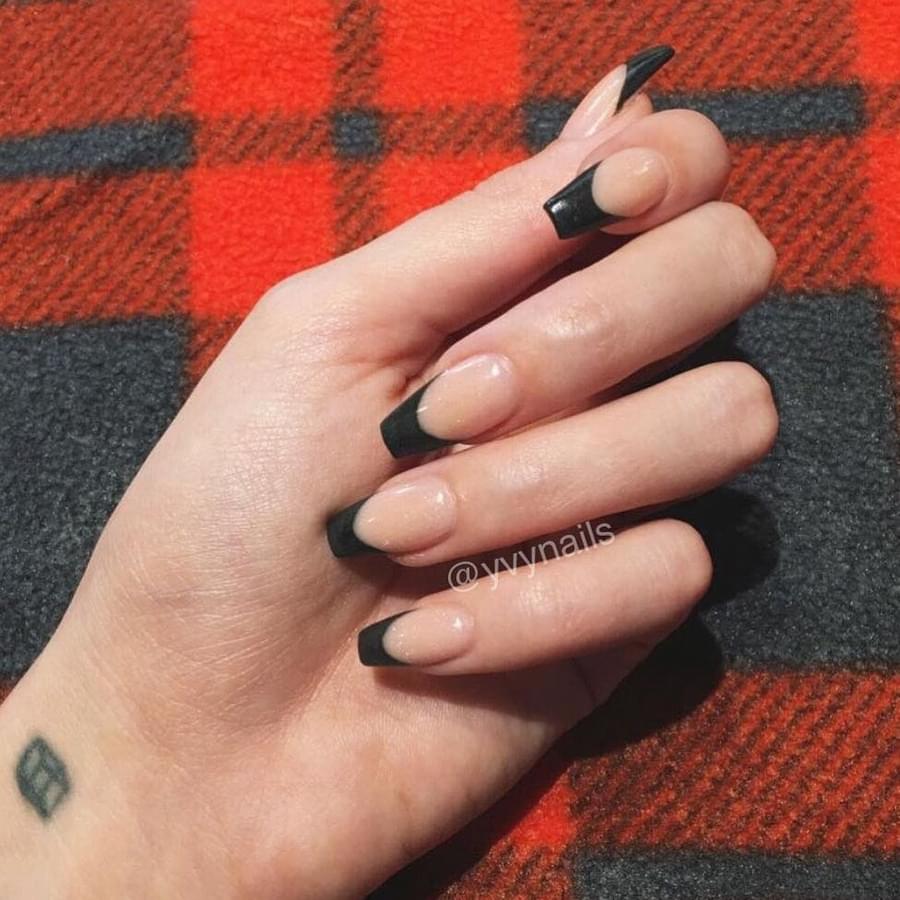 Tired of classic nude French? Go for a black one! It will surely attract more views than a classic one. Still, you can style it with all your outfits. It looks great on all nail shapes, including square ones.
Long and Delicate Nails with Blue Stripes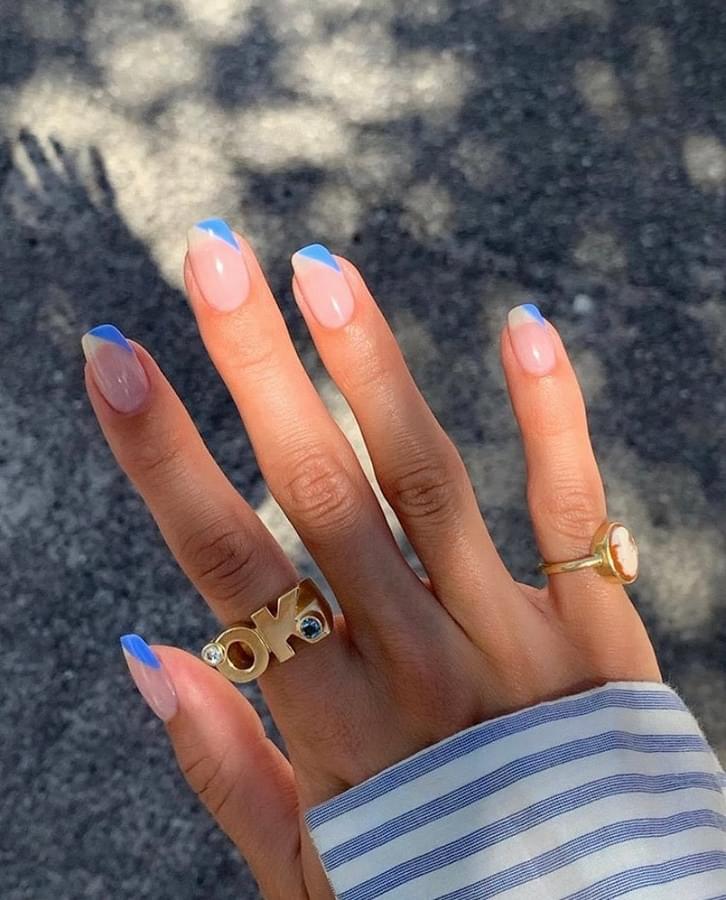 Blue like a sea, like a sky – on your nails! Long nails are a perfect canvas for experimenting. You can make your long nails look delicate with combining soft pink and baby blue shade for your French tip nails.
Neon Pink Manicure
Neon pink nails look great on sun-kissed skin. You can try something unusual this season, by wearing French manicure in neon pink shade. Think about a clear or nude base.
Neon Green Nails
Some women wish to match their nails with their sporty equipment – leggings, sneakers, or even sports bras. You can do that with neon green colored french tips.
Classy and Thick Red Line
Is there anything classier than red manicure? It is timeless and can be worn for many different occasions. Make sure to try this French mani with a thick red stripe.
Minimalist Black French Mani
If you follow the less is more mantra, then these nails are right for you. You can be sure that these French manicure in black color won't be unnoticed.
Cobalt Blue Nails
You will surely make a twist when your French manicured nails like this. These cobalt blue nail tips are everything but regular.
Barely Naked
French manicure base is always bare, or transparent. However, sometimes you can upgrade your French from classic to fantastic by merely adding a bit of color. Go for the neon peach shade.
Nude and Half-Half Nails
Making your nails appropriate for every day is not so hard with nude nail polish.
However, making your French mani look this great with nude polish is harder than you think. Go for different nude shades and make them look like in the photo above.
About The Author