Summer is almost here. We cannot wait for it to come and to bring all the fun and joy. We switch from sweaters to t-shirts, from boots to sandals, and most of all from dark nail polishes to summer ones.
Nail designs for summer are full of colors, vivid, and cheerful. Nail shapes don't matter – with all the colors you can be sure you will catch so much attention, wherever you go.
If you are thinking about summer manicure, we have so many examples for you to try. Let's check them out together.
Summer Nail Designs
Fresh and Fun
If these nails are not fun and so interesting then what is? They are so stylish and full of colors. Asymmetric lines, a splash of different vivid colors, and this short nails design will make you stand out from the crowd, wherever you go.
Florals for Summer
Floral designs on oval nails can look nothing but perfect. While the base of your nail is nude, flowers will catch all attention. You surely don't need to worry about that.
Pastel Nails with Gold Details
If you are a creative soul, you want to show it off with your lovely nail designs. This combination of pastel shades and gold nail polish is simply amazing and will provide you with a great summer look. We can't wait to switch to dresses and skirts and fun nail polishes.
Safari Inspired
Earth-toned base with side foils gives you a tropical Safari vibe. All that you need to add is some chic button-down dress and flat suede sandals. You are ready for Africa safari!
Florals On Point!
A truly girly nail design, but who can resist florals for summer? They are great for all seasons around, but the fact is that they match with lovely summer floral dresses. Make sure your nails are not too long for this nail design.
Blue Details
We were not aware that blue and gold make such a good combination. If you would like to try it for summertime, make sure to combine all these shades in one. Show off your creative side!
Shells and Turquoise Rhinestones
Shells and turquoise color are the best indicators of summer, right? Then, you should definitely incorporate them into your attire. Try something different this time and instead of a turquoise dress, try a nail design with rhinestones and shells.
Blush Pink and Gold
If you like classic more than rhinestones and foils, you can always opt for this lovely reverse French manicure. Oval nails are not only trendy, but they are also great for everyday wear – practical and perfect for work.
Like a Bouquet
The fact is that floral design is always in style. This one in particular looks like you have recreated your favorite bouquet of flowers on your nails. Make sure your base is white, so the flowers can be even more highlighted.
Tropical Foil and Gold Details
Tropical plants are perfect summer symbols. So, why don't you put it on your nails? Instead of a classic French manicure, put on a tropical foil on the top of your nail and gold rhinestone just in the middle of your fingernail. Check some French manicure designs with a stylish twist for more inspiring ideas.
Botanical with Dark Base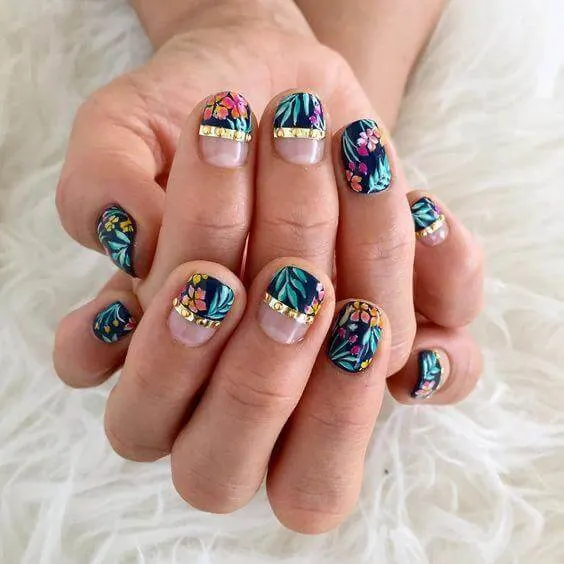 Botanical flower foils to the middle of your fingernail will make you stand out from the crowd. As you can see, these foils match perfectly with gold details.
Green Palms
White nails might be boring, but when you add green palm tree details, they become amazing and summer-ready. This nail design is perfect for day to nightwear.
Geometric and Fun
Who has said that geometric nails need to be minimalistic and monochrome? That statement is absolutely not true when it comes to this nail design. It is super fun and summer-like. You should try it on oval nails.
Blue Glitter
Glitter nails might not be your cup of tea, but you need to try them for summer. Blue glitter nails might look like mermaid skin, which is amazing, right? You can create a combination of white and blue glitter on your middle finger and make it look even more like a fish or mermaid skin.
Pink Nails with Tropical Design
Nothing shows off summer like palm trees. Instead of picking some neutral nail base, do ombre with two shades of pink nail polish. You will look stunning wherever you plan to go – from vacations to pool parties.
Pastel Cactus Nails
Pastel matte nails are not recommended for fall and winter, but they are more than welcome for the spring and summer period. By adding cactus details, you will upgrade them to look more eye-catching. They seem so fun and summer-like.
Tribal Themed Nails
Tribal details look not only interesting, but they are also perfect for summer wear. The trend of wearing the tribal print was thrown over from fashion to the nail industry. You need to try it for summertime, trust us!
Navy-Blue and Nude
Quite an unexpected combination for summer but, hey, this one definitely looks impressive. Flowers on the thumb and ring finger in combination with matte nail polishes look simply gorgeous for summer wear.
Orange Tribal Inspired Nails
The ring finger is a perfect place for you to put on a tribal design. It will be catchy enough to gain all the positive comments.
Hawaii Inspired
Flowers of hibiscus and tropical palm tree are the main indicators of the island of Hawaii. Yes, those shirts and button-down shirts now can be transferred to your nails. Interesting combination of colors, right?
Marble Effect
The marble effect on your nails is great for catching some attention. Opt for a blue color to revive the sea and waves. They are simply perfect for summer wear.
Summer Motifs
Imagine every single detail or piece of clothing that you use in the summertime.
Now, imagine it on your nails! Flip-flops, bikinis, and everything else that you love is now possible to put on your nails. Those miniatures will leave people breathless.
Ice Cream Look-Alike
Have you ever seen a nail that looks like ice cream? We neither, and that is why we are blown away by this lovely design. Dripping nail polish over a pastel nail base is beautiful, and you will admit a very unexpected nail design for summer.
Orange Nails
The orange-yellow color on your nails might seem strange at first glance, but trust us you will love it in the end. Don't overdo it with flower design – only put it on your middle and ring fingernails.
Blue Glitter and Flowers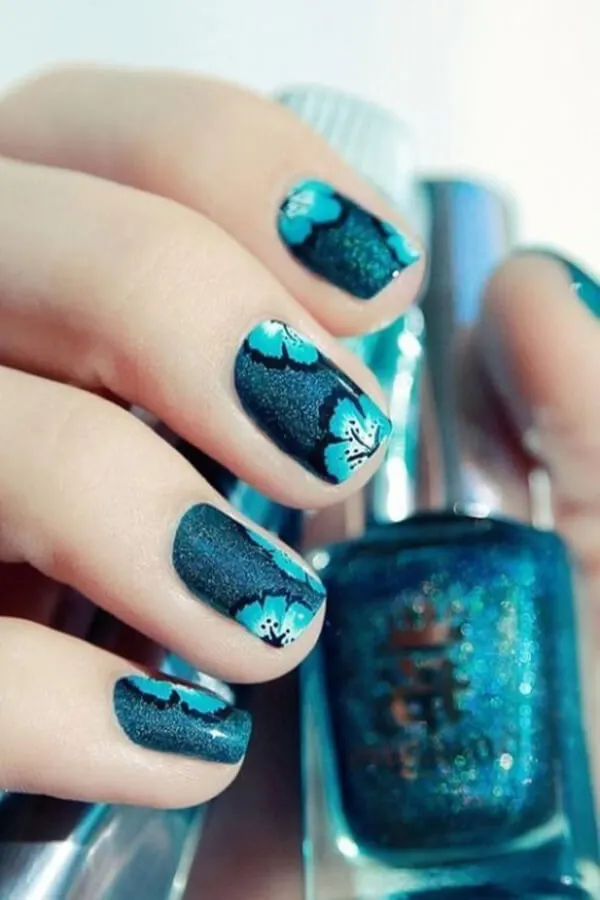 Even though a combination of blue glitter and blue nail polish can sound dull and not creative at all, this time your nails will be gorgeous. Blue Hawaiian flowers will match perfectly with blue glitter nail polish.
Nautical Inspired
How can a summer pass without you having nautical nails? Blue and white stripes, as well as gold glitter anchors, will look gorgeous on your short round nails.
Beach and Sand Nails
Recreating your favorite beach on your nails? Impossible! Well, this nail design proves us all wrong. With ombre technique make your nails look like a sea and add gold glitter polish at the very nail edges.
Blue Geometric Nails
The beautiful blue color on your nails simply screams summer. When you add more geometric details, you get a wonderful combination that will be hard not to notice.
Modern Nude
Nude is presented with a twist here. And that twist is more than interesting, we have to admit. These are great summer shades that you should incorporate into your nail polish collection.
Strawberries on Point
Miniature strawberries on your nails almost feel like they are real. Make sure to draw them using a small toothpick and leave the base nude or white.
Lemonade to Refresh You
Fresh lemonade is a way to refresh yourself in summer. Why don't you put lemons on your nails so they can always remind you to refresh when the temperature hits up high? Combine this lemon design with kiwi green nail polish.
Pineapples are Trendy
Catchy pineapples that peek out from your nails look so cute! They are highlighted even though they are drawn on a blue base. These nails are great for summer wear!
Blush Pink Base and Tropical Trees
Not all tropical palm tree designs need to be drawn on a white or nude base. You can also do great work with pink blush base and a few gold details.
Fruits all Round
Which fruit is your favorite? If it is watermelon and bananas, you are lucky – this nail design presents how you can recreate your favorite fruit on your nails.
Pink Flamingos
Who wouldn't love a good flamingo nail design in the summertime? We definitely wouldn't mind if few flamingos are on our nails. Make sure the rest of your nails are soft pink.
Palm Tree Sunset
The Ombre technique on nails looks even better than on your hair. We admit it, it is not so easy to achieve, but once you do – you will absolutely love it. Add a black palm tree to all your fingers. It won't look like you have overdone it.
Sea Details in Gold
Shells, seahorse, and sea stars – everything in gold. Even though it might sound strange to have all this on your nails, you will love the result.
Pineapple and Flamingos
This is a combination to remember! Pineapples and flamingos will make you unique and so summer chic wherever you go. The rest of your nails should be painted in a soft pink shade.
Peach Tropical Nails
Peach nails are great for summer wear. However, you can always upgrade them by adding a bit of a tropical design. Don't overdo it though – tropical designs should be on your middle and ring finger.
Cute Floral Design
Small and cute flowers on your nails will attract all attention, wherever you appear. Try matching them with your favorite summer flower dress – those flowy ones that you adore to wear in the summertime.
Summer Graphics
You can only adore these graphics. The eye, eyelashes, and a heart – everything will make this look summer-ready and adorable. It is catchy enough, but don't look like you have spent too much time doing your nails.
Simple White Nails
Sometimes you wish something classy enough, but not dull. These simple, yet chic white nails are perfect for your sun-kissed skin. If you wear them on the beach day, you can be sure you will be noticed.
Blue and White Nails
Blue and white remind us of the color of the sky and sea. And there is no better time to wear them than in summer. Add a bit glitter on your ring fingernail to make this manicure eye-catching.
Yellow Bananas
Yellow nails are just the best to wear in warm summer weather. By adding bananas, yellow vibes will be even bigger and more interesting.
Pastel Hues
All shades of pastel were so trendy over the last two years. So, that is why it is not a surprise why you now can wear them on your nails as well.
White Nails with Pink Glitter
Delicate pink glitter on your middle and pinky finger will look great on a simple matte white base. Squared nails are perfect for everyday wear – great for functioning and work as well.
Short Fruity Nails
This fruit design will make you forget how short your nails are. They appear cute and very appropriate for summer wear. This tutti-frutti manicure will leave your friends breathless.
Freshly Squeezed Lemons
Lemons are used a lot as nail details in the summertime. However, if you are more for something minimal, then you should try something like this. Lovely nail design will match with all your summer outfits.
Watercolor Cacti
Watercolor cacti look great on a white nail polish base. So, when the temperature spikes you know what to do – draw cacti on your simple white nails and upgrade them for summertime.
Pool Reflexions
Have you ever imagined your nails to be like you are looking at the pool water reflection? If you are nodding, then let us prove you wrong. The key is to wear this nail design every time you go to the pool, understand?
Colors of the Sun
Yellow, orange, and purple – all shades of the sunset. Preferably mix all these shades on your nails, creating geometric patterns with a little nude hole in the middle.
Lilac Coffin Nails
Lilac proved to be one of the trendiest colors of the season. No surprise – it is utterly stylish and great for wearing. Coffin nails are modern and very appropriate for your summer wear.
Long Turquoise Nails
Long nails don't necessarily mean that you need to give up glitter and eye-catching colors. After all, in the summertime, everything is allowed. These nails revive the shade of the sea.
Nail Striping Tape
Red nails are classic, and we are all aware of that fact. Nothing can beat them. However, to prevent your nails look too casual, you can add striping tape and draw a thin line. It will make your nails exciting and cool for summer.
Orange Ombre Nails
We have already learned that the ombre on your nails look stunning and cool. If you want to make your nails summer-ready, then polish them in orange and make sure they are done in the ombre technique.
Navy-Blue and Gold Foils
This might not be the typical summer shade, but it is excellent if you are going to some special event. You can rock this nail design for weddings, engagements, and other important dates.
Water Splash
If you have ever imagined how a splash of water looks like on your nails – well, now you know! A beautiful nail design on white base will make you look unique and your hands so eye-catching.
Marble Inspired
There is nothing better than a classy and chic marble pattern on your nail. We can't decide if they look better with shiny or matte nail polish. However, if you opt for a matte version, you won't make a mistake.
Shark, Sea, and Stripes
Yes, we know – this might sound like a usual combination for your nails. However, here, on these nails, the design looks more than perfect. Summer is near, and you know what to do – combine these graphics for a fantastic design.
Go with The Flow
Sea waves are beautiful and breathtaking. If you like them as much as we do, then it is the right time to present them on your nails. Make sure they look realistic, like in the photo above.
About The Author