Summer is a great time to show you some beautiful nail ideas.
Nice weather calls for bright and romantic manicures. From multi-colored nails that are a massive trend for some time now, to classic and easy girly nail designs – we covered everything that you should see. As you will see, some nail ideas don't have to be super vibrant or multicolored – in fact, some of the designs are stylish, and sleek – with a bit of girly flavor!
Multi-Colored Girly Nail Designs
Multi-colored nails became a trend that tends to stay for more than one season. They are perfect for summer since bright and girly colors make manicures look gorgeous.
Candy Crush Nails
Pastel nails, candy crush nails – call it as you wish. One thing is sure – they are girly and fabulous. This manicure is perfect for prom nights if you want to be noticed.
Blush Pink Hues
Coffin nails in blush pink hues are something that you have to try this summer. From almost white shade to fuchsia pink – this color spectrum is great for combining with summer clothes.
Rainbow Nails
Almond-shaped nails are perfect for trying out rainbow designs. Many celebrities have tried and loved them. You should try them too.
Nail Design with Colorful Stripes
Geometrical shapes never fail us. You can use different nail polishes for creating such girly nail designs. Make sure your base coat is transparent so that all other colors can be visible and eye-catching.
Reddish nails: Reds and Roses
Red and rose in a combination might not be your first choice, but we think you should give it a try. These girly nail ideas are all romantic, easy to do, and, most of all, perfect for all seasons.
Bare but Dotted Nails
If you like to keep your nails minimal, yet to polish them, then this mani is the right one. A base coat is transparent, while every nail is dotted with different shaded polish. Very minimalistic and girly.
Multi-Colored Nails with Gold Details
Gold might sound intimidating, but this manicure has subtle gold details, almost invisible. They are perfectly combined with two-toned nails in orange and lilac shades.
Dark Pink, Red, and Burgundy
A combination of red, burgundy, and fuchsia pink might come as a surprise, but the result is impressive. You can wear these girly designs on both long and short nails.
Neutral and Girly Nails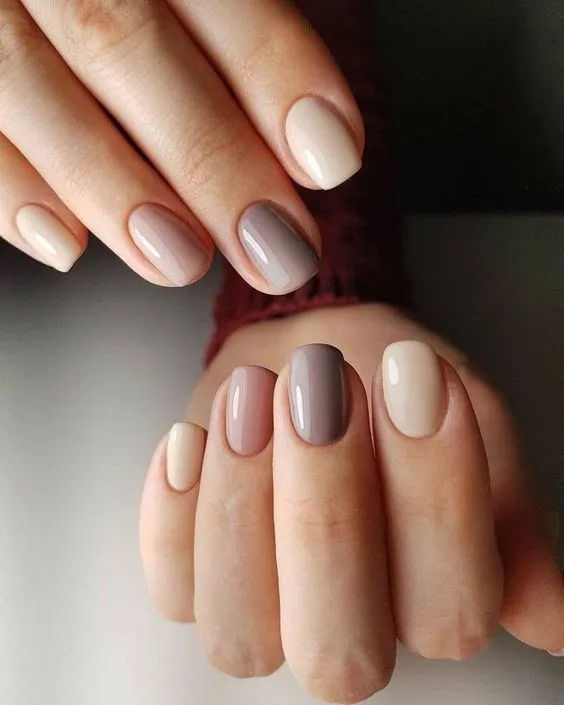 Girly nail design doesn't have to scream colors. Neutral nails are the best solution for all of those who are in doubt. They are suitable with any outfit, any color, and any style. Most of all, they are so lovely and girly.
Greys and Blues Nails
Grey, white and blue hues are as neutral as blush and beige shades. You can wear them both casually and for elegant events.
Floral Girly Nail Design Ideas
Floral is a trend that comes and goes, but when summer comes, it is always present. The power of flowers is not only present in fashion but in the nail industry as well. These are some floral and girly nail ideas that you should definitely try.
Blue Floral Nail Design
Blue flowers on a neutral and transparent base look more than beautiful and girly. You can even use green nail polish to make leaves.
Matte with Flower Details
Flowers can look great even on matte base and with the same finish. You can use your favorite nude or blush base and draw small and delicate flowers around the top of your nails.
Delicate Flowers on Pink Base
White daisies and pink base coat make a wonderful manicure combination. Daisies can be placed wherever you wish on a nail. We suggest the top of your nail and to wear your nails short.
Yellow Flowers
Sunflowers are typical for summertime, so why don't you show them on your nails? Let your base coat be transparent so the floral design can be even more visible.
Black and Yellow Nail Art
Black and yellow floral designs are cute and girly. The position of flowers is different on each nail, which makes this manicure interesting.
Shiny Rhinestone Flowers
If you would like to make your nails look girly, yet attractive, then choose mani like this. You can paint your nails with a clear base coat and make sequin flowers on top.
Colorful Flower Girly Nail Designs
Make a balance with blush and neutral base and colorful flowers. This is one of those great girly nail ideas, perfect for all occasions.
Almond Shaped Nails
Almond-shaped nails are great for all kinds of designs. You can apply a clear base coat and mix it with small and delicate flowers and dots.
Pretty and Vivid
Not all floral designs are delicate and nude. You can make them look vivid and colorful like this as well! These flowers will attract some attention.
Soft Pink Coffin Nails
Long coffin nails look elegant and can be perfect for special occasions. The combination of pink nails and clear gel nails with flowers is simply gorgeous.
Acrylic Girly Nail Designs
We have gathered some of the best and most beautiful acrylic girly nail ideas for you. They are perfect for the summer, as well as for other seasons. From stars to geometric lines – get ready for your daily dose of inspiration.
Nail Art with Shiny Stars
Girly looks don't specifically require flowers and neutral shades. You can wear this look and still look amazing and so girly. Bold and sequined stars on your nails will gather attention.
Subtle and Soft
This manicure is perfect for wintertime. It suits short nails and can be worn with any outfit. The combination of black and gold dots and lines look so minimalistic and girly.
Dots, Lines, and Colors
Colorful nails with different details can look great for both casual and elegant wear. These colorful acrylic nails are very eye-catching, yet subtle due to their neutral shades.
Fuchsia Girly Nails
Pink is one of the most common shades for nails. You can make it even more interesting by combining it with a light pink base and by adding black dots on the top.
Cute Colorful Nails
If you need the attention-grabbing manicure, this is definitely the one. These acrylic nails are so lovely and colorful. Shades are matched so nicely, with geometric shapes, lines, and little dots.
Girly Pink
Sequins – check. Pink – check. Now add more details – lashes, eyes, and hearts. You get this lovely manicure. It is excellent for both short and long nails.
Hearts on Point
This manicure is all about hearts. You can have plastic hearts on your thumbs, small red hearts on your pointy fingernails, and sequined ring fingernails.
Peek of Hearts
Paint your nails with a soft pink acrylic base coat and draw a few simple yet beautiful hearts. They should appear as they peek from all sides of your nails.
Delicate Animal Print
Even if you might not think about it, animal print can look pretty and delicate on your nails. The key is in color. This manicure with a matte finish is excellent for daily wear.
Beige Dots on Short Nails
You can't get anything more girly than this! Manicure with beige base and white dots is versatile, beautiful, and great for girls who like to keep their nails short.
About The Author