Some women prefer no nail polish or transparent ones that they wear all the time. However, others like to show off their nails by painting them with exciting colors or adding an eye-catching design. Right now, there are more ways than ever to make your manicure stand out. Using gorgeous metallic and mirror nail polishes, you or your manicurist can create amazing and unique nail art.
Below you'll find a variety of mirror and metallic nail designs and polish that span from beginner to professional skill levels. Have a look and see if any of these nail art ideas strike your fancy!
Metallic nails came back to style last year, and they are not going anywhere soon. Want to know more about applying metallic nail polish or how you can use metallic powder? The answers are just below.
What Is Metal Nail Polish?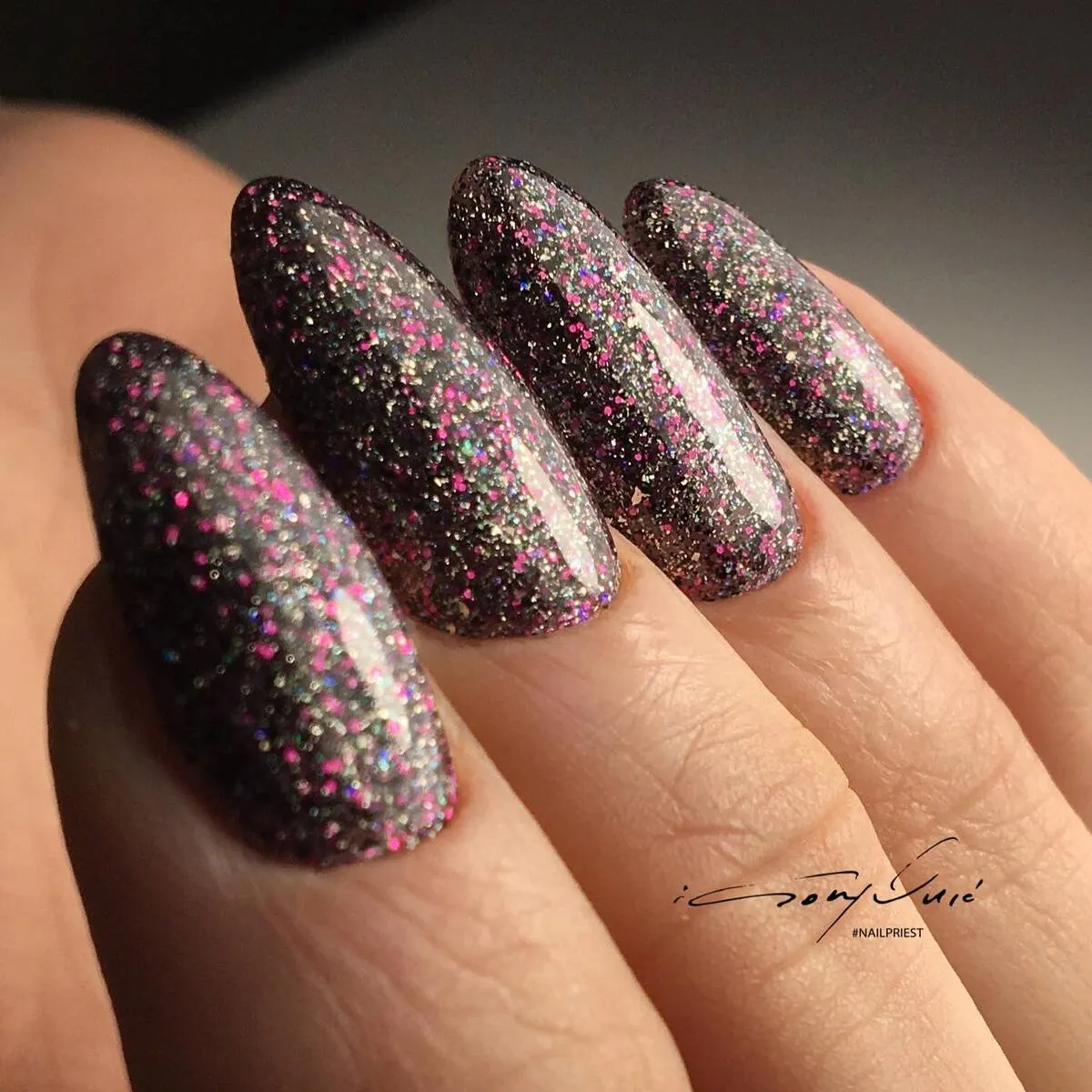 Metallic nail polish is eye-catching and very shiny. You can find them in many different shades, from grey to pink. However, the most popular ones are the ones that come with the most shine – that is how your nails will be noticed.
We suggest trying different shades before you decide which one is your favorite. Nail artists recommend a mix of copper and gold for fall, a combination of silver, green, and purple for spring. You can experiment with purple, pink, blue, and burgundy.
RELATED: 24 Magnetic Nail Art Examples That Truly Wows
All these shades get a fantastic upgrade when they get the prefix "metallic."
How to Do Metallic Nails like a Pro
Many women say that every time they tried to apply metallic nail polish, they ended up with nails that looked like a mess. It is hard for them to get nail polish evenly on the surface, so it ends up looking bad.
The key to applying metallic nails like a pro is nail preparation. You should polish the surface and make sure your nails are perfectly clean and dry. Then you can apply a base coat. This will give you a perfect canvas for metallic nail polish.
What you should do next is to apply coat by coat. First, apply a thin coat of metallic nail polish and wait for 2 minutes to dry. Don't be disappointed if the results are not as you imagined. Only after applying the second coat and waiting for it to dry will you see what the metallic nails really can look like.
Finally, you should apply a top coat that gives even more shine, and that will protect your nails from chipping.
How to Use Metallic Powder on Your Nails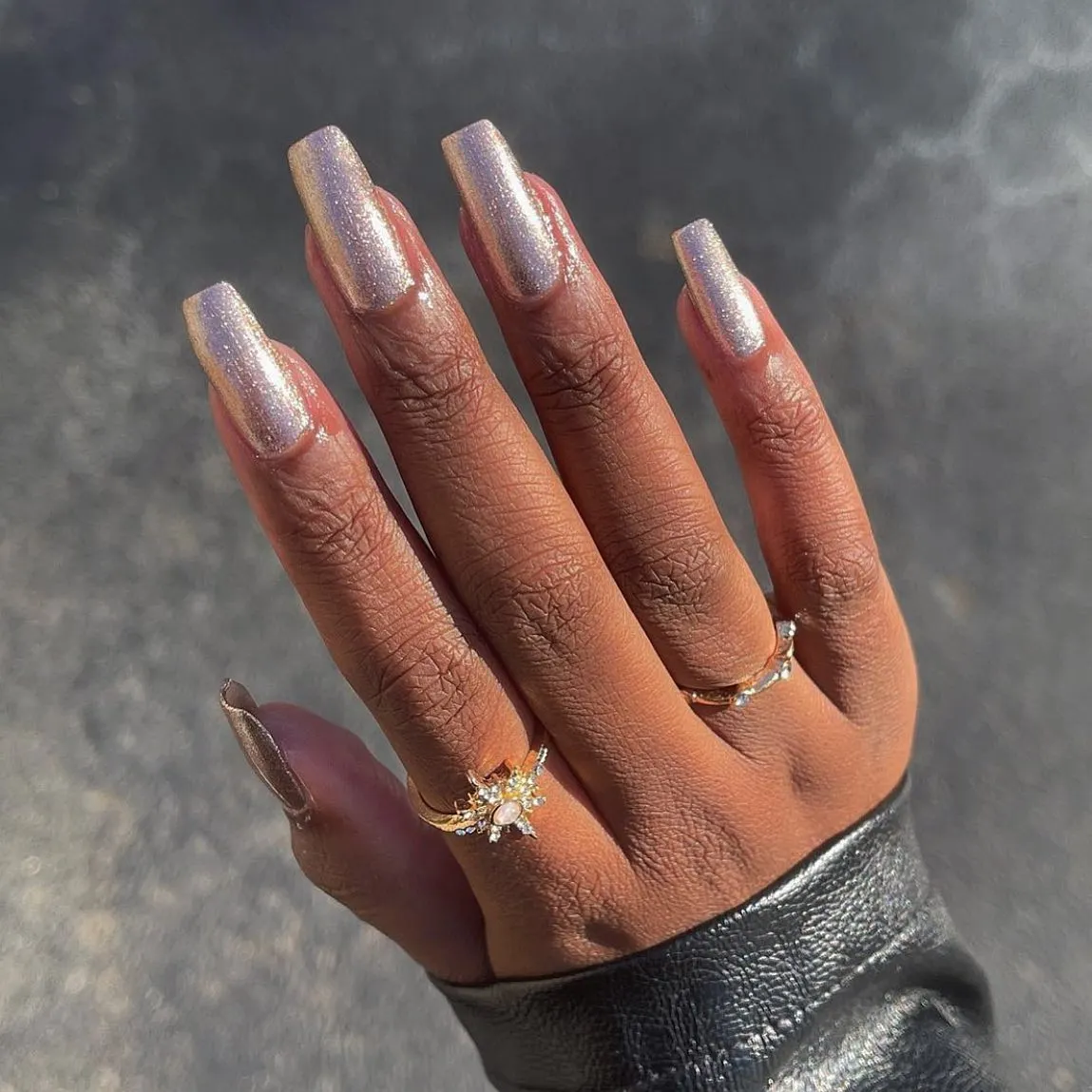 According to the newest trends from the nail world, metallic powder is the thing to try. You can apply the powder and get amazing chrome nails that are shiny and look pretty great.
The key to applying metallic powder is doing it over your regular nail polish. You should use a clear base coat to protect your natural nails. Pick a color that you like and apply two thin coats. Don't forget to let it completely dry (for about 5 minutes).
To avoid any bumps that will be more than visible after applying metallic powder, apply a top coat. You can use any top coat, as well as the base one.
Now, all you need to do is apply a powder (only using your fingertips). This way, you will apply it evenly over the nail and see how much you should press. Buff the metallic pigment until it is well pushed into the nail. Don't forget to cover the sides of your nails as well.
If you wonder how to clean the mess around the nails, use a kabuki brush and dust it off. Wash your hands, and don't worry about losing pigment. Apply a top coat over the powder. Otherwise, the manicure will last only a day.
How to Apply the Metallic Powder to Gel Nails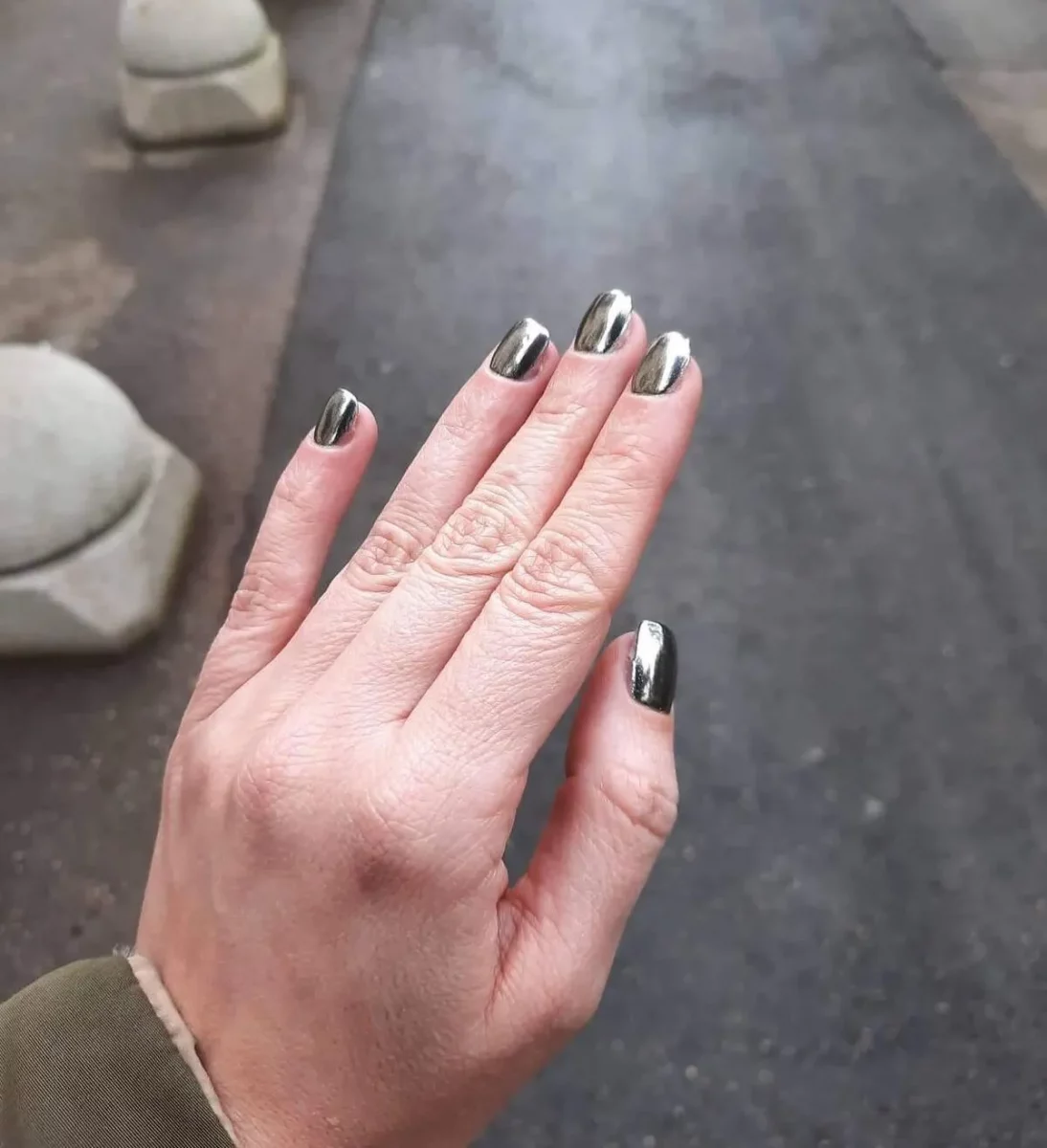 There is not much difference in applying metallic powder to gel nails. The process looks like this:
Start with clean nails and apply a nail dehydrator. That is how you prepare your nails for the gel.
Then, apply a thin layer of gel base coat and cure the nails under the LED lamp.
You can then apply a gel nail polish and pick the color you like. Apply two or more layers of polish and cure them under the lamp.
You will need to apply a thin layer of no-wipe topcoat gel for the next step. Make sure to cover the gel color completely. Now it's time for the powder!
You can apply powder with your fingertips again. Otherwise, use a beauty blender or eyeshadow sponge applicator. Since your nails are cured, don't be afraid to buff in the powder.
For the end, apply a top coat and cure the nails once again.
A Note on Holographic Nails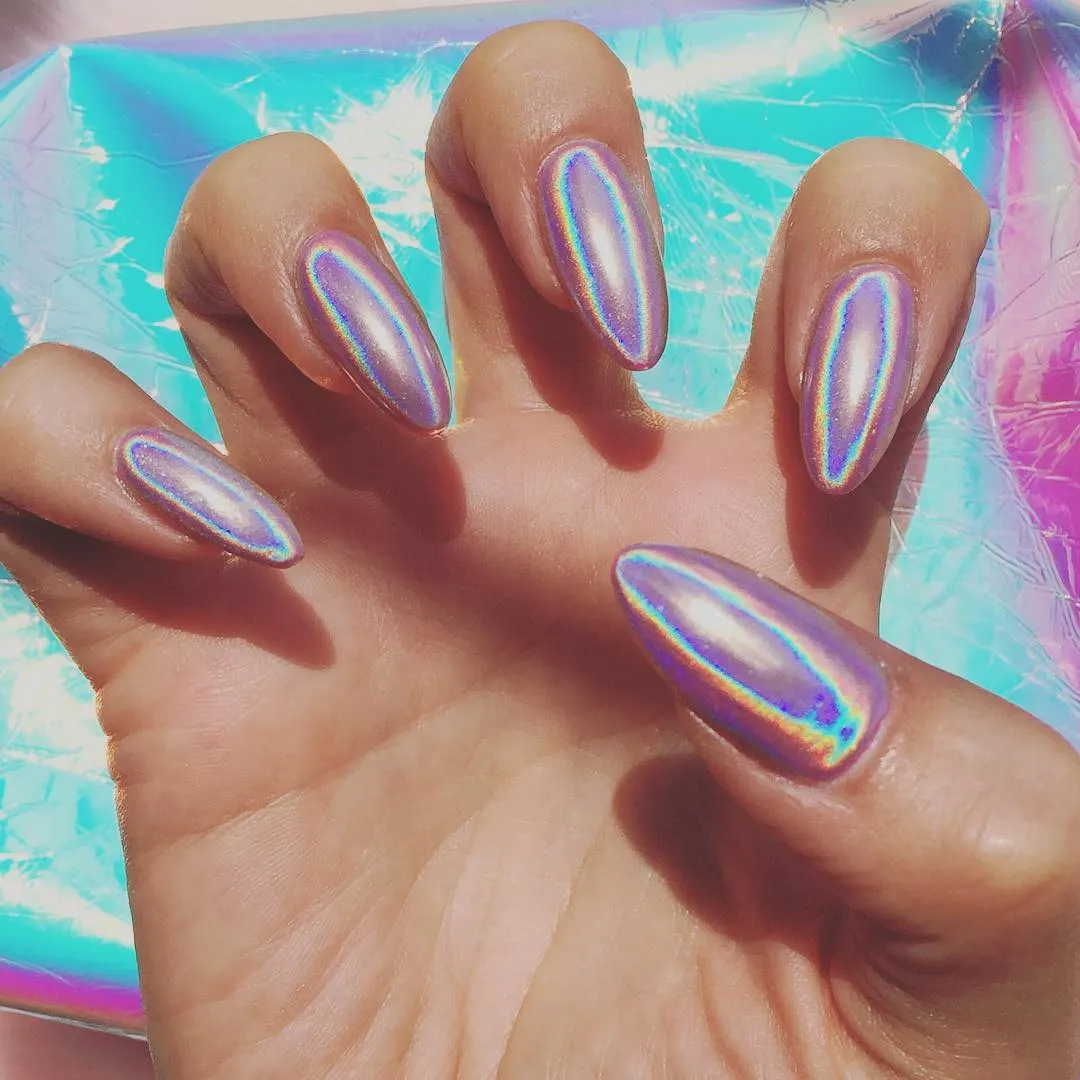 Whether you prefer the rose gold or silver version of holographic nails, you can be sure they will be noticed wherever you go. They are shiny as metallic nails yet can be achieved by applying powder over your regular or gel nail polish.
The process is the same as with metallic nails:
A basecoat, followed by two coats of gel color and cured under the lamp.
Then you should apply a top coat but not cure it.
This is where holographic nail powder comes into play. You can use a brush to apply this coat and finish everything off with a top coat.
Can You Mix Gel and Glitter?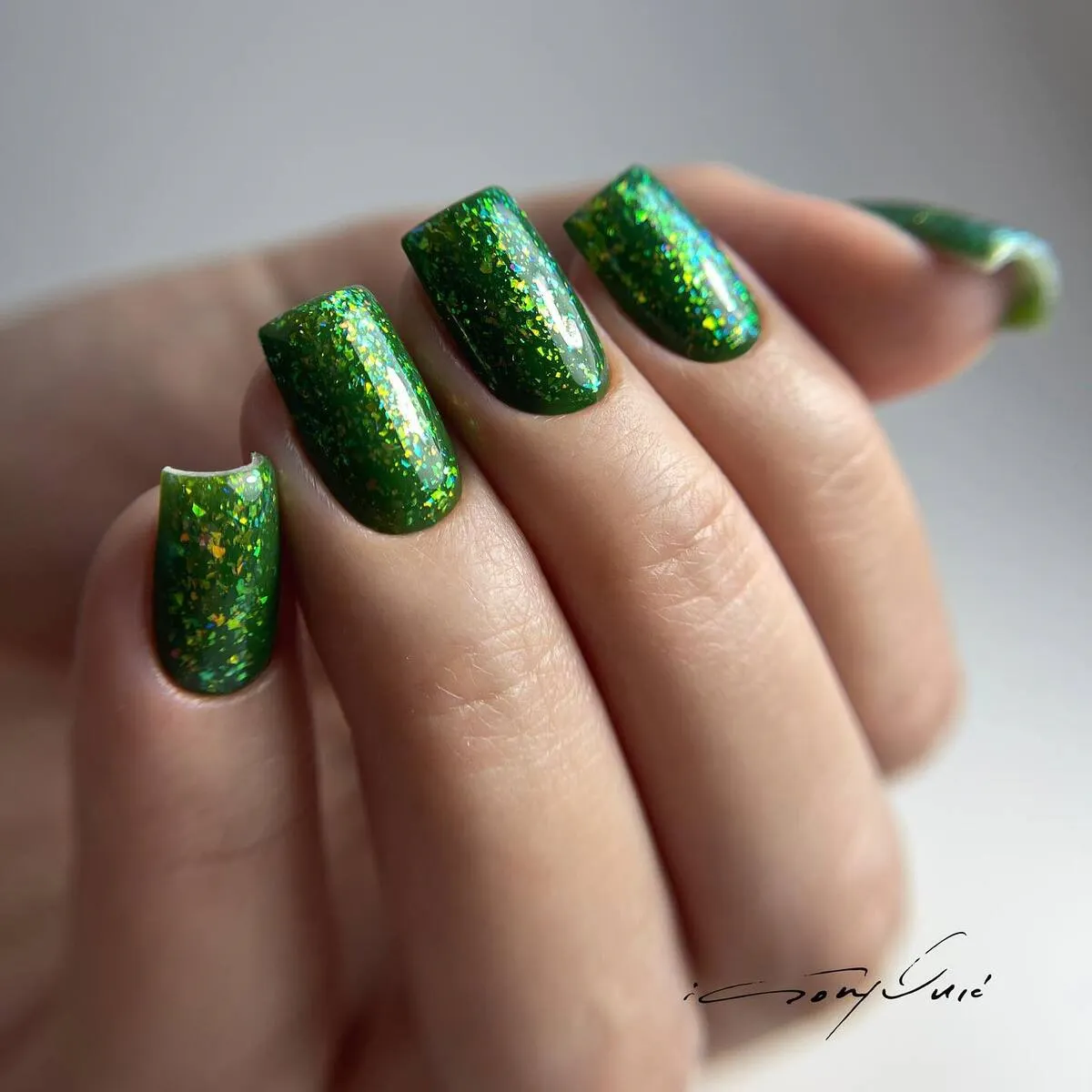 There are a few ways you can mix gel nail polish and glitter. Whether you pick the burnished or sprinkled method, the results will amaze you.
First method
Start by applying the base coat, curing it, and then applying two coats of color coat and curing those as well. For this method, you will need a small glitter brush.
Apply the glitter of choice on the nail, but make sure the layer below is a bit sticky so that the glitter can stick to it. Pat it and brush it down over the whole nail.
The result? Lovely chrome, metallic effect. Finish off with two layers of top coat and cure them under the lamp.
Second method
The second method is called sprinkled method.
You start again by applying the base coat, curing it, then one layer of color, and again curing it.
However, when applying the second layer of color coat, leave it uncured. Sprinkle the glitter into the wet color coat. Do not pat it much since the layer is wet.
Now you can put your nails under the LED lamp to cure them.
Clean the nail and apply layers of top coat.
Creative Mirror and Metallic Nail Designs Examples
1. Unique Black and Silver Geometric Nail Art
This nail art is special because each nail involves a unique design. Some of the nails are accented with gold triangle decals and stickers while other nails employ the use of silver mirror polish. The overall theme of these nails is triangular patterns and straight lines. Pick just one of these nails as inspiration for your manicure or copy the entire design!
2. Crisp Metallic Mirror Nails
You can rock this silver mirror look regardless of whether you have short or long nails. You can even do it at home if you own a UV light – you'll also need to buy special mirror powder to transform your nails over a coat of black gel polish. Otherwise, ask your local nail salon to do it professionally.
3. Chic Claws with Alternating Matte, Glossy, and Metallic Finishes
If you love the look of multiple nail polishes on one hand, you might dig into this nail look. It's perfect for those days when you can't decide between matte, glossy, or metallic. This artist has used black, gold, and white, but you can choose any color you want!
4. Sophisticated Mirror Tip Manicure
If you're in the mood for some classy nails, add some gold sheen to your matte pink manicure. The "V" shape of the metallic gold tips adds an interesting detail and elongates your nails. File your nails down to a rectangular tip if you want to copy the full nail look.
5. Luxurious Metallic Nail Designs with Rose Gold and Pink Accents
This design is particularly good if you currently have or are planning on getting acrylics. The rose gold polish is achieved by adding mirror powder onto a light pink base. You can add an accent nail of your choice (whether it's your thumb, ring finger, or both), embellishing it with small beads or rhinestones around the cuticle.
6. Luminous Metallic Mirror Tips
This particular look takes a skilled nail artist to create! This artist has blended clear, magenta, and gold reflective nail polish into a perfect gradient. Top it off with long pointed tips and prepare for everyone to ooh and ahh over your manicure.
7. Iridescent Mermaid Nails
This manicure is perfect for those of you who secretly wish they were mermaids. You will love this manicure inspired by the metallic hues of mermaid tails and fish scales. Add a little marine magic to your life, but get to keep your two legs in the process! Make your manicure even more memorable by shaping your nails into pointy claw shapes.
8. Mesmerizing Metallic Galaxy Nails
Anyone can get this metallic nail look with the right nail polish! If you aren't going for gel at the salon, look for a holographic shade in deep purple or blue and apply as you normally would, with a base coat and a top coat. This is the perfect look for nail art beginners as it's stunning, yet no-fuss.
9. Gorgeous Gold Flake Mirror Manicure
Take inspiration from the world's favorite precious metal and get this gold broken mirror effect. If you're trying this at home, you don't have to use gold leaf to get this look—you can use anything from gold stickers to gold nail foil. Place the gold flakes on top of a black background and set them in place with a good-quality top coat.
10. Sparkling Metallic Rainbow Glitter Nails
Here's another nail look that you won't need DIY expertise for. All you need is a nail polish with reflective metallic properties! There are a variety of brands that make these types of nail polishes, including this polish from the Korean brand Nfo-oh. Use your normal base and top coat and you'll be good to go.
11. Space-age Holographic Silver Nails
These nails are so holographic they may very well be visible from space. Match your silver holographic shoes or handbag for a sweet '90s throwback look, or adorn your hand with midi rings and on-trend jewelry pieces for an updated look. Warning: you may not be able to stop staring at your fingers! Paint at your own risk!
12. Glamorous Pink Mirror Nails with Pink Rhinestones
If you're looking for something that incorporates a lot of shine and a bit of bling, then look no further. This pink mirror manicure is extremely sleek and girly. The rhinestones add glamour and excitement to the manicure, making this perfect for anyone who wants to show off their gorgeous talons.
13. Modern French Manicure with Mirror Tips
The French manicure is a classic for a reason, but why not give it a modern twist? Perfect for interviews, work, or any other occasion, this manicure makes a statement without being over the top. To get this look, pick a gray or dark silver nail polish that's not too glossy to create a contrast with the metallic silver tips.
14. Stunning Silver Flake Nail Art
We can't get enough of the fragmented mirror look. If you prefer silver over gold, why not try your hand at this nail art? You can use this design on just one or two accent nails or as a full manicure. It would look great with pink gel polish, as shown, or any other color, such as teal. You can recreate this look by using clear or light pink nail polish as a base for the silver flakes. Add a layer of silver glitter and finish off with a top coat.
15. Sleek Black Nails with Gold Mirror Accents
You don't have to use a lot of color or glitter to get a wow-worthy manicure. This modern manicure incorporates metallic gold and black accents over a matte black base. There's something so appealing about mixing matte black with metallics, and you or your manicurist will be able to create a chic pattern incorporating one or more gold stripes.
16. Striking Neon Metal Nails
Warning: these nails may make you feel like you have superpowers. You or your manicurist will be able to copy these stunning metal nails using mirror powder with gel polish and a UV light. They remind us of neon concert lighting and sleek tinted metal. What's not to like?
17. Feminine Matte and Metallic Pink and Black Nails
We've seen a lot of nail art with different colored tips, but these delicate designs add interesting details to the tips. You can take inspiration from this manicure even if pink isn't your favorite hue. We love the stark contrast between the metallic and the mattes, and the jewels on the middle finger add a touch of glam.
18. Lavish Metallic Lavender Nails
Get in on the space-age trend while adding a little color to your look. You'll need lavender gel polish and mirror powder to achieve this look. You can do this look on fake nails or natural short nails – whatever the case, your nails will surely stand out.
19. Vibrant Holographic Rainbow Nail Design
If you want this particular rainbow metallic look, get yourself some nail polish from indie brand ILNP. This particular shade, Maiden Lane, will for sure jazz up any outfit. The darker colors in this rainbow metallic polish give it a cooler metallic feel, perfect for fall or winter.
20. Dreamy Multicolored Pastel Mirror Nails
Just because you're following a trend doesn't mean you can't personalize it to your own tastes. This manicure is a must for any pastel fan. Why settle for just one color when you can have five? If you're going to attempt it yourself, you'll need five different pastel gel polishes and mirror powder.
21. Witchy Purple and Orange Metallic Look
It doesn't have to be Halloween to indulge in a little witchy style. This glossy nail look appears to give off a marbling effect. This shade is so unique that the reflection will be different in different lights. These would look fantastic with a small rhinestone glued to the base of the nail if you wanted to add some sparkle.
22. Elegant Mirror Accent Manicure
This fragmented mirror look creates an effect similar to a stained glass window. These beautiful reflective stickers cut into large, chunky shapes reflect purple, blue, and silver hues, giving off a general opal vibe. It would go perfectly with any opal or iridescent rings you may have.
23. Simple and Subtle Gold Metallic Manicure
If you want to wear gold nail polish but don't want to make a big statement, consider a minimalist manicure like this one. You can use any type of gold nail polish or nail sticker, whether it's metallic, glitter, or glossy. It isn't a lot of effort, but the result is extremely beautiful.
24. Creative Black and Gold Mirror Patterns
We love this black and metallic gold look. It's both artsy and sleek in design. If you're going to DIY, you'll need very thin gold stickers that will give you the precision you need to recreate this look. You can also use gold leaf or foil for the other nails.
25. Stylish Black and Silver Metallic Triangle Look
Decorate your nails with this funky and stylish design of glossy matte polish and shimmering metallic triangles. To keep things interesting, invert the triangles on every other nail. To get a perfect triangle shape at home, use tape to get an even line. The trickiest part will be getting the triangles all the same size. Use a paper stencil to guide you if you're having trouble.
26. Hypnotic Holographic Swirls
If you or your manicurist is up for a challenge, try creating a holographic design with a rainbow metallic nail polish such as the one pictured above. To keep things from becoming too monotonous, pick one of your nails to be the accent nail and layer with chunky silver glitter. Mesmerizing!
Related articles
Get Nail Designs and Nail Care Tips to Your Inbox
We will send an email from time to time. Not too often. You will get inspirational nail designs, nail care how-to's, guides, and advice.