There's a reason why wavy lob haircuts are so popular. They have a lovely timeless look that can appear equally good when curled or when straightened. Many women opt for lob haircuts because they can have a gorgeous look every day with minimal effort.
These are some of our favorites, that never go out of fashion. They are suitable for all ages, face shapes, and most of all, different styles. And if you're looking for inspiration for shorter hair, check our short curly bob picks.
A List of 25 Wavy Lob Haircuts for Your Insipration
1. Asymmetric Copper Shade Lob
Combination of brown and copper layers adds volume and thickness to your wavy lob hairstyle. You can be sure that this hairstyle won't get out of style. It is versatile, perfect for both daily and special wear. Simply use a curling wand to make these lovely loose waves, and voila!
2. Chopped Layered Lob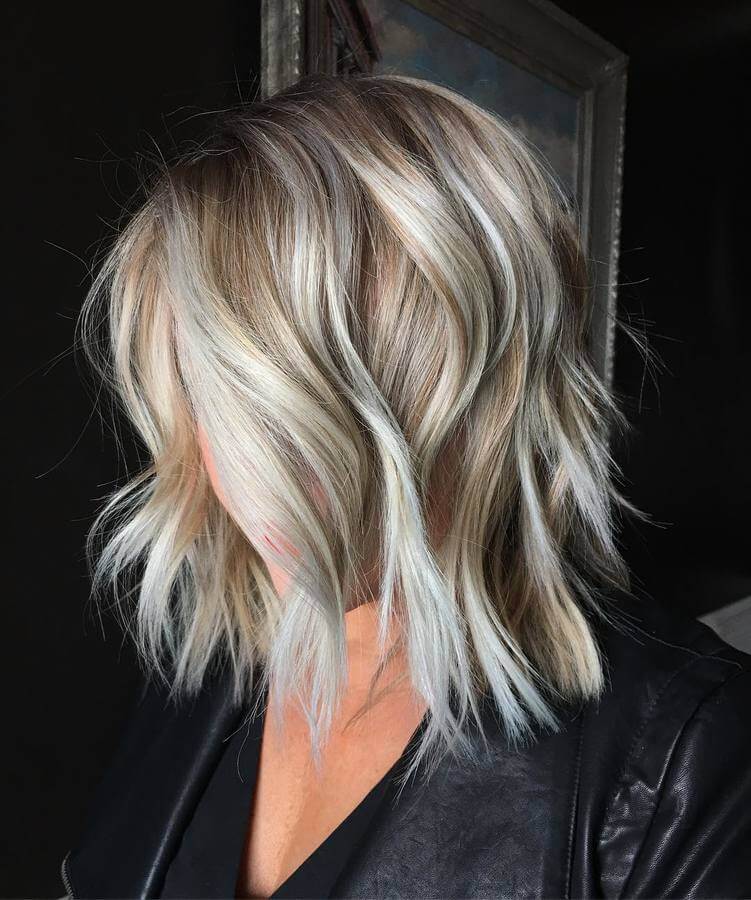 If you are eager to change something about your hair, we suggest looking for a layered wavy lob.
It is classy, pretty, and layers suit all face shapes. Most of all, lobs are easy to style. This platinum blonde lob works pretty well in combination with choppy hair ends and these asymmetric layers.
3. Strawberry Blonde Wavy Lob Haircut
Strawberry blonde hair is stylish and adorable. In combination with waves, lob, and blonde highlights, this hairstyle becomes perfect for both day and night events. If you are looking for something casual and chic – we suggest going with this one.
4. Burgundy Lob with Waves
Burgundy might not be your first choice for hair dye, but we challenge you to try it. In mix with waves and lob, this unusual, yet very flattering hair dye can look pretty amazing. To make it look even more interesting, go for dark highlights.
5. Brown Wavy Hair
Brown hair is popular as the blonde one. It is also equally attractive and versatile. The most important thing is to match the hue of brown with your skin tone and to make your face even more beautiful and perfectly framed. Leave the roots in your natural hair shade.
6. Ombre Wavy Lob Haircut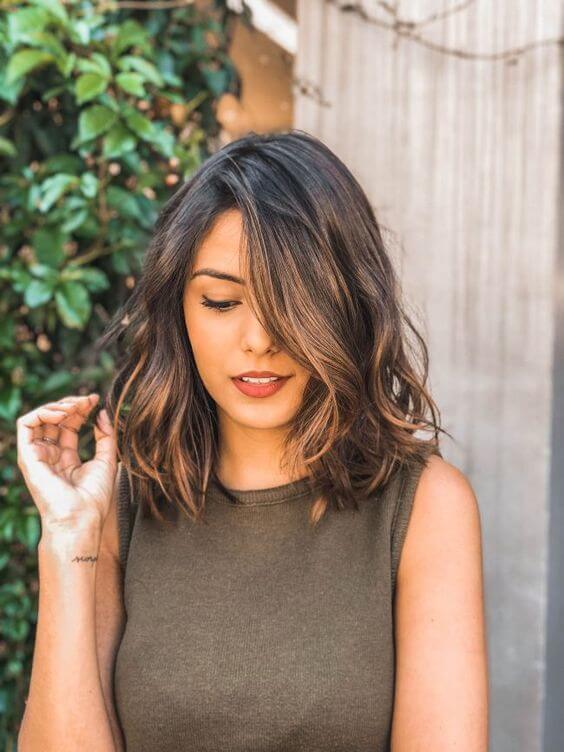 Ombre is one of the most popular techniques in the hairstyle industry. The key point about ombre is low maintenance. You can leave your natural hair to grow without feeling guilty for not dyeing it. That is the point! We suggest this brown-honey-blond combination of shades.
7. Textured and Side Combed
This wavy lob haircut works alone for you. With minimum effort in styling, you will get a fantastic summerish hairstyle that is perfect for all ages and face shapes. Comb it at one side to get an appearance of voluminous hair.
8. Light Blonde Lob
Light blonde is an excellent color that requires a lot of care. You need to oil and put on masks every time you curl your lob. Every breakage is more visible on a light blonde hairstyle, so be careful. This lob will perfectly suit women with fair skin tones and blue eyes.
Choosing lob over a shorter bob version is excellent if you have a bigger nose and want to reduce its appearance. Making it a lob together with adding some volume is especially helpful in such cases.
9. Blonde Hair with Dark Roots
If you want to spice up your light blonde hair, you can do it in a pretty simple way – by leaving your roots black or brown. In that way, you can prolong the time between dyeing and also get a chic and stylish hairstyle that is perfect for daily wear.
10. Honey Blonde Hairstyle
A combination of honey blonde and dark blonde dye is one of our favorites. It is a lovely combination of warm hues that make a gorgeous combination. If you want to make your hairstyle appealing, cut your hair in lob length, add side fringes, and dye hair in this lovely blonde combo.
11. Stylish Longer Bob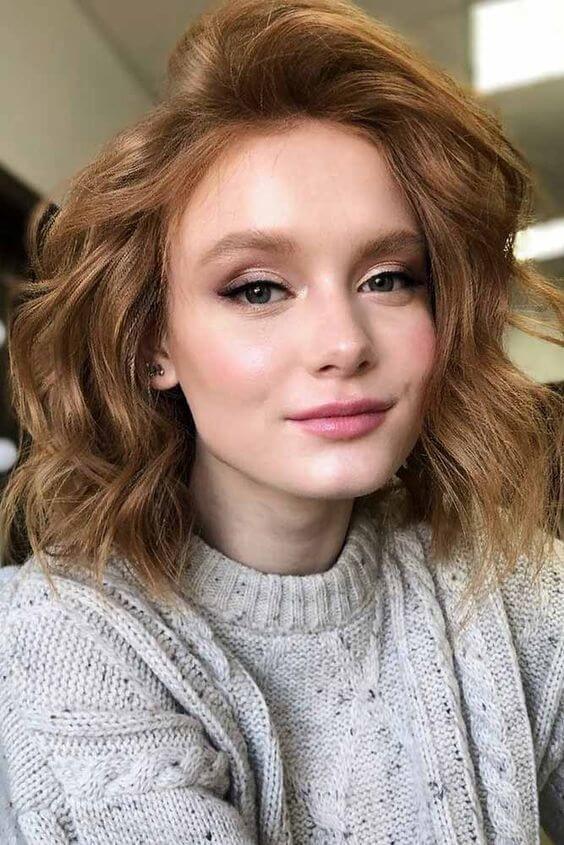 Volume can be achieved with lovely waves and hair combed at one side.
It is definitely the easiest and the most effective way of attracting many views. Copper hues will enhance your fair skin tone and the gorgeous color of your eyes.
12. Angled Wavy Lob
Not all lobs need to be cut straight or layered. Sometimes, it is more than enough to opt for the angled type of lob to make your hair look interesting. This lob with waves looks absolutely gorgeous and easy to style. It will take just 10 minutes of your time to make these lovely curls.
13. Messy and Layered
If you are interested in something more appealing, then you should definitely try out this wavy lob haircut. Layered and highlighted, this haircut is something that will make you look stylish and gorgeous. Side fringes will frame your face, and dark roots will even enhance the shade of blonde.
14. Twisted Half Updo
Twisted half updo on lob haircut will make you look gorgeous in day to night outfits. This is one of those versatile haircuts that can be worn during your working hours as well as for after-work drinks. Most of all, it is so simple to make!
15. Side Parted Lob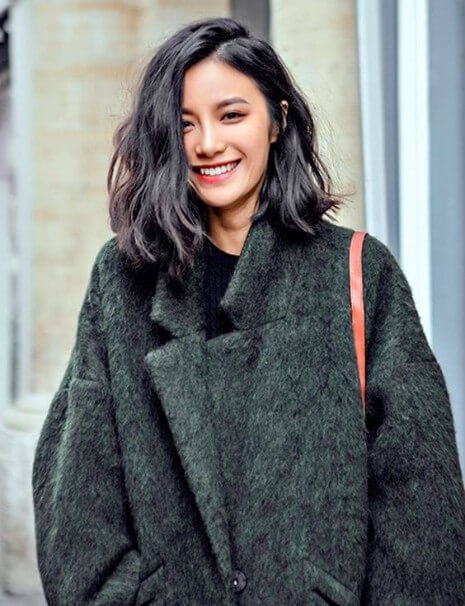 While some girls prefer having their hair side-parted, the others are parting their hair in the middle of their head. Both of these ways are great, but the first one makes more volume. If you have fringes – even better! You can be sure this lob won't be boring for you.
16. Two-Toned Haircut
Two-toned haircuts are stylish, but most of all, they are utterly eye-catching. If you pick some vivid color to match your dark hair, then you will undoubtedly earn a lot of positive comments. Delicate and easy waves are simple to style.
17. Reddish Copper Hues
Women with naturally red or copper hues are very fortunate. But since we are not all that lucky, you can dye your hair like this. A few highlights in different shades of red and copper will additionally enhance the beauty and style of this hairstyle.
18. Dark Balayage
Balayage is a viral technique that looks equally good on light and dark hair. While the roots and the middle of your hair are dark brown or black, the hair ends are dyed in a bronde, gold blonde hue.
19. Blonde Lob
To achieve these lovely curls, you can use both your curling wand and iron. The results will be almost the same, yet fabulous! You don't even need to curl all your hair. That will make your highlights even more visible and your hairstyle wearable and fashionable.
20. Voluminous Honey Blonde Hairstyle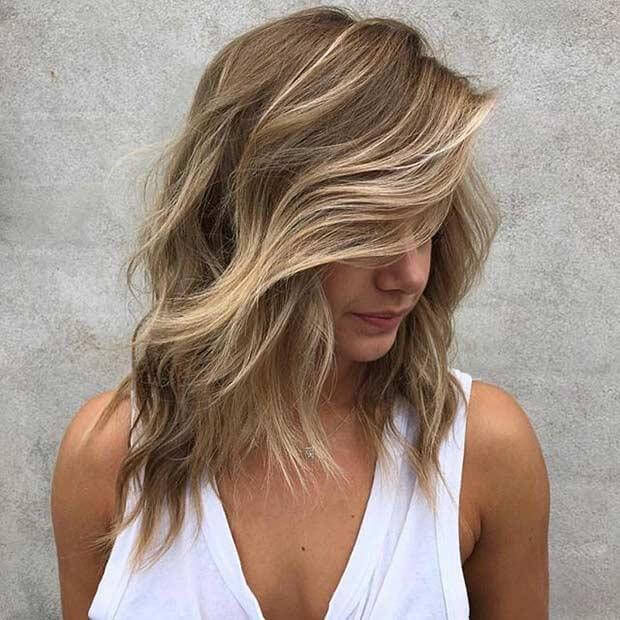 A voluminous hairstyle like this will definitely make all the heads turn in your direction. Side combed fringes are not only framing your face but also make your hair look thicker. You will need just a bit of hairspray in the morning to style this great hairstyle.
21. Messy and Rock 'n' Roll Inspired
If your style is inspired by rock 'n' roll, match your hair as well. This grunge look is complete only with a leather jacket, and cool skinny jeans. No matter what hair color you have, this hairstyle looks perfect on both dark and light hair dyes.
22. Summer Blonde
Now is the time to try this lovely blonde wavy lob. Although it looks messy, it is perfect for everyday wear, as well as special occasions. You can be sure that no one will pass without asking you about your hair dye and length.
23. Platinum Blonde Hairstyle
The platinum blonde looks great, but your hair sometimes needs bigger care.
Oils, conditioner, as well as leave-in treatments, are the must after blanch and dyeing your hair in a platinum hue. This hairstyle is timeless – you can wear it all the time.
24. Satin Ribbon Accessory
The silver platinum hairstyle is perfect and very eye-catching. However, you can always add some accessories that will make it look even more appealing. This ribbon is great for half-ups like this one. You can twist strands of your hair and gather them in the back with the ribbon.
25. Candy Pink Hairstyle
Candy pink hue is more than unexpected, but all women agree it is gorgeous. You would need to bleach your hair before even trying to achieve this lovely shade. So, make sure your hair is healthy and well treated. This is an excellent hairstyle for all women with eccentric styles.
About The Author