Bob is one of the most popular hairstyles of all time. One year we see blunt cut and straight hair, the next, we see curly bob haircuts. It is definitely up to you to choose what you like.
This year trends say curls, layers, messy look, and unique shades. Here we've got a collection of short curly bob haircuts you can bring to your hairstylist.
Short Curly Bob Haircuts for Natural Hair
Are you getting in trouble trying to tame those natural curls? Don't worry. We have some suggestions that can help you have a perfect haircut.
1. Short Choppy Curls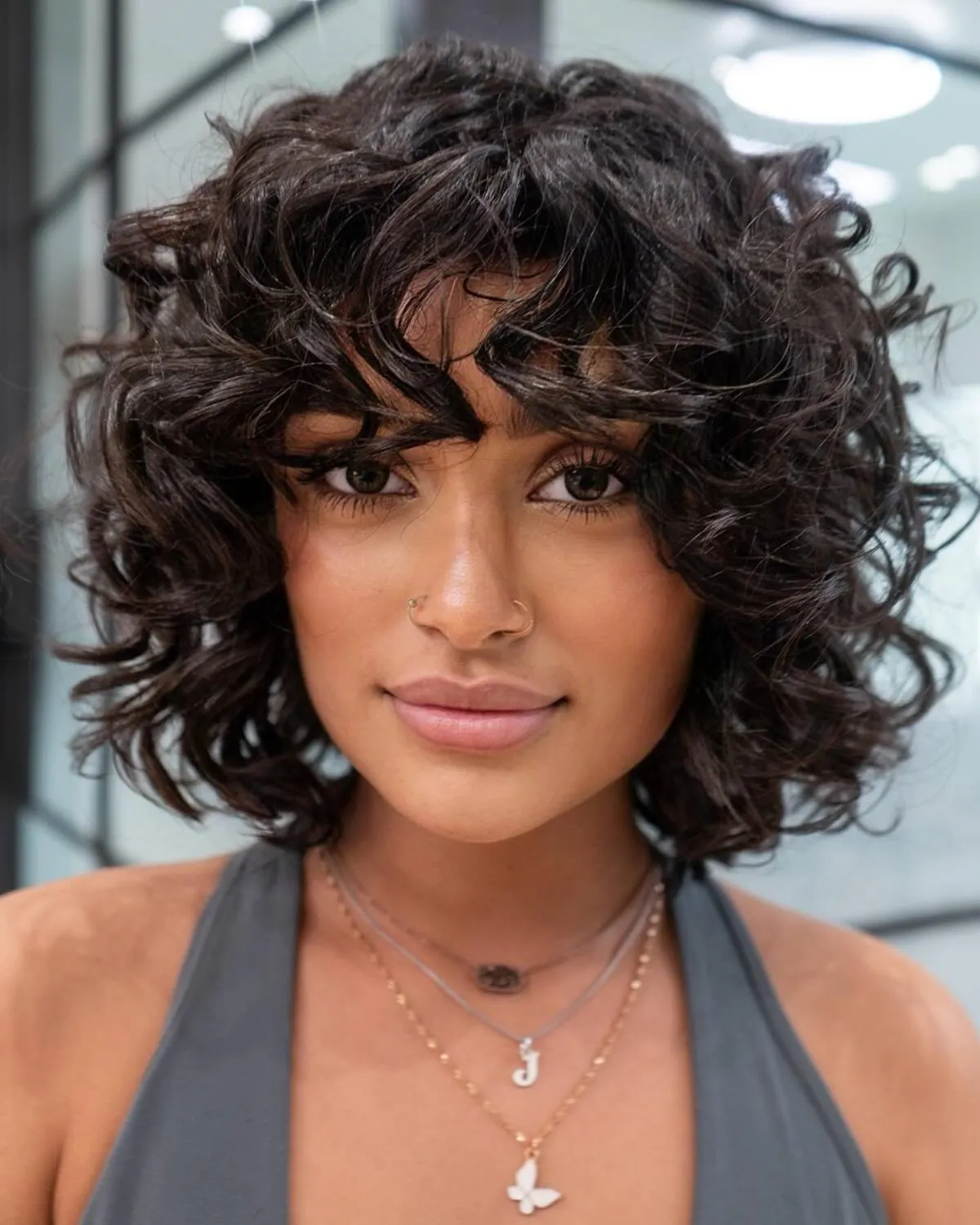 If your hair is curly, a shag haircut could be a likable choice. Natural hair might be tougher to tame, but you can always try curly bob haircuts for low maintenance. All you need to do is buy a hair product for curly hair that will define them and make them so bouncy.
2. Tight Curly Bob
When you have natural hair full of tight curls, they become even more visible if your hair is cut in a bob. Make sure to part your hair at the side and cut those front fringes, so they fall freely across your face.
3. Curly Ombre
This ombre style is perfect for natural hair. When you add a bob hairstyle to this mixture, you get a fantastic hairstyle perfect for daily wear. You should part your hair on one side.
4. Strawberry Blonde
Strawberry blonde hairstyle will be a head-turner. You can count on this fantastic hairstyle for both casual and elegant events. Let your curls be free with this amazing short bob.
5. Side Parted and Natural
Natural curls can actually look like this. Use a shampoo specially formulated for curly hair, and don't forget to apply a conditioner. You can always count on side parting if you want your hair to look more voluminous.
6. Wavy and Layered
Whether you opt for blunt or layered cut, make sure to make some waves. This hairstyle is perfect for both daily and night events, for casual and elegant occasions. You can side swept it for a more significant volume.
Curly Bob Hairstyles for Thick Hair Texture
If you have a thick hair texture and are unsure how to wear curly bob haircuts, check out these styles. We have selected some of our favorites for you to get inspired.
7. Classy and Sassy
Short and sweet – these two words perfectly describe this hairstyle. You don't need to have natural curls for it. You can make them yourself by using a wide curling wand. Make it a messy haircut on purpose. Still, this hairstyle will be great for elegant occasions as well.
8. Long Wavy Bob
If you are still unsure about cutting your hair too short, a long bob is a right place to start. Messy waves are easy to style and even easier to achieve. You will need no more than 10 minutes in the morning to style them.
9. Chocolate Brown Curls
The chocolate brown shade is perfect for women with a warm skin tone. It will complement it in the best possible way. Another way to enhance curls is to cut them into a really short bob. Blunt or layered – it is up to you! 
10. Side Parted
Even if your hair is thin, you can make it voluminous simply by choosing a side part. Instead of parting your hair in the middle, sweep it over and do a simple yet effective side parting. You will notice a huge difference.
11. Bronde Hair Shade
Have you ever heard about bronde? Blonde and brown are mixed, and the result is a perfect sun-kissed shade that looks like you have been on the beach all day. This is how the shade looks on a curly bob haircut.
12. Blonde Curly and Long
Curly long bob threatens to become one of the biggest 2022 trends. If you have been thinking about it for some time, there is no better opportunity to dye hair blonde and enhance the curls with curly bobo haircuts.
Curly Bobs for Different Face Shapes
No matter if you have an oval or square face shape, this is how you should wear it. Check out our suggestions.
13. Square Face: Short Curly Bob with Natural Hair Texture
This hairstyle doesn't only complement your natural hair texture but also your square face shape. The length is just perfect, so it can soothe the lines around your chin and hide a potentially high forehead with curly bangs.
14. Square Face: Embraced Natural Curls
Embrace your natural curls with a short bob haircut. If you are not so much into styling your hair, choose this style.
Layered bob in combination with curls will give your results like these. An amazing hairstyle for square faces as well.
15. Square Face: Lovely Curly Bob
Auburn hair color is great for women with both cold and warm skin tones. You can see how curls are being enhanced with the color and how they are messy. They are perfect for daily wear, combined with your favorite pieces of jewelry. This length is great for women with square face shapes.
16. Diamond Face Shape: Longer Bob
According to the hairstylists, long bob will be 'the' hairstyle of 2022. You should try it as well! Go for this style if your face is diamond-shaped. It will match with the haircut completely.
17. Heart and Diamond Face Shapes: Super Short Curly Bob
This super short curly bob is perfect for those who would like to try a new haircut, but this short. It is also suitable for people with heart and diamond face shapes. It complements the lines of your cheeks and chin. Make it messier by air-drying this amazing hairstyle.
18. Heart Faces: Curly and Messy Short Bob
Heart-shaped women can wear hairstyles like this – curly and messy. It is important to hide that strong jawline and high forehead. Use curly bangs and let your hair fall just below the chin.
19. Round Face: Longer Bob Swept at the Side
If you were looking for a lovely daily hairstyle, look no further. This one is perfect, both wavy and straight. The hairstyle also suits women with round faces. By sweeping your hair at one side, you will highlight all the right features on your face.
RELATED: 30 Best Curly Hairstyles for Medium Hair
20. Oval Face: Beach Ready Bob Haircut
Women with oval face shapes are indeed lucky. They can pull out any hairstyle they want. When it comes to curly bob, go for wet and beach waves like the girl in the photo above. This hairstyle is perfect for summer parties by the beach.
Curly Bobs for Dyed Hair
If you are looking for a new dye for your hair, we have many inspirational hairstyles for you. From copper and red to vibrant purple – we covered everything you need to see.
21. Red Hot Curly Bob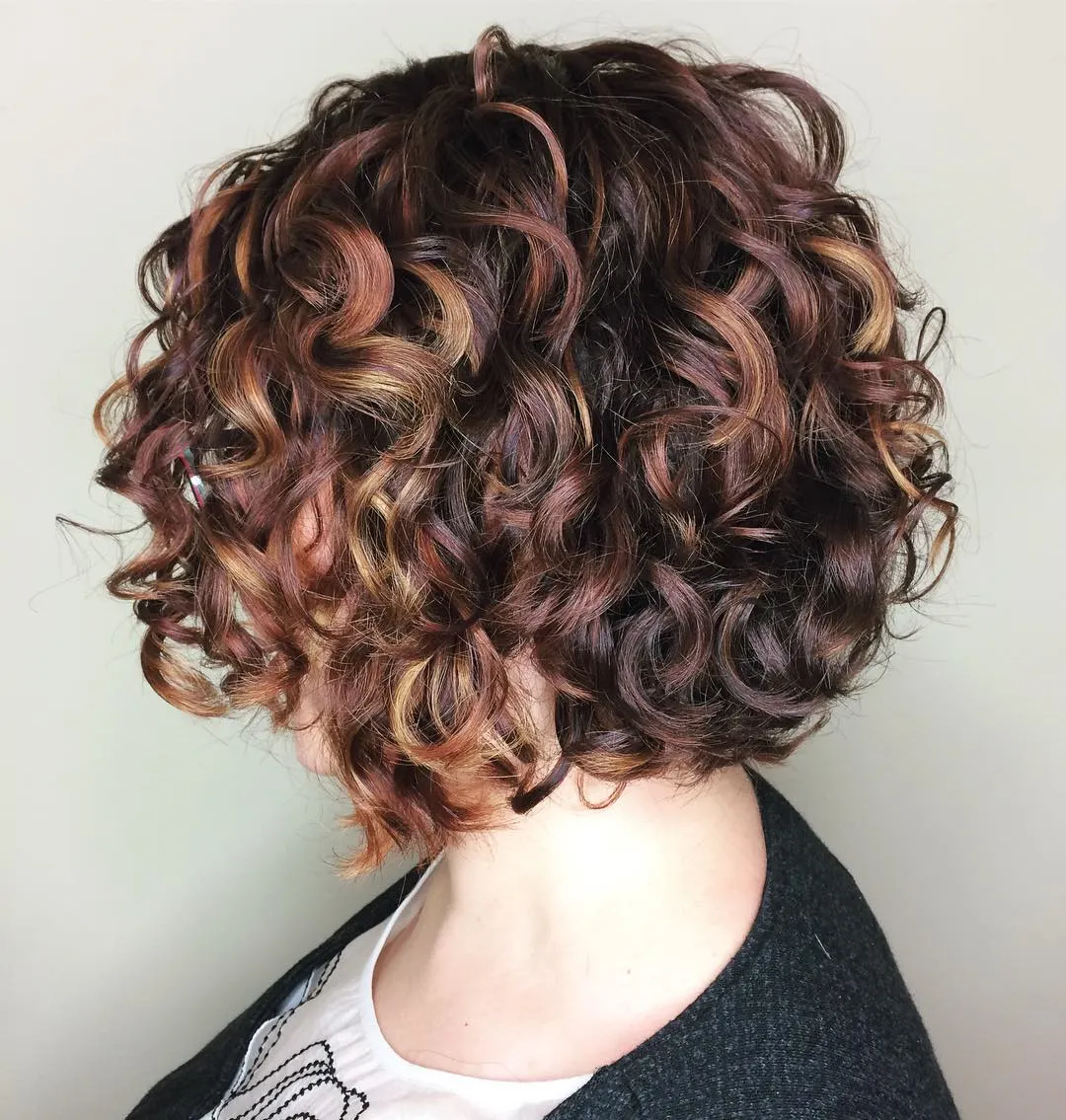 Highlights are one of the best ways to spice things up on your hair. You can be sure these red, honey, and dark burgundy curls will be noticed.
22. Platinum Curly Bob
If you were looking for a hair dye that will change your whole look, look no further than platinum blonde.
This shade of blonde will make your curls very attractive, yet you need to be careful. Platinum blonde requires bleach that can make your curls dry. Use conditioner and a mask every time you wash your hair.
23. Strawberry and Black Bob Haircut
Strawberry blonde is a fascinating shade that is even more enhancing when your hair is curly. You can start by dyeing your roots in black and then bleaching the rest of your bob for strawberry blonde dye. You will be amazed by the results.
24. Blue Curls
Even though these curls are not natural, you can style them in 10 minutes simply by using a curling wand. We admit it could be a bit eccentric when it comes to hair dye.
25. Purple Hair Don't Care
Are you brave enough to wear a purple bob? If you are nodding, we can only say go for it! This woman shows us how curly bob haircuts can look when you dye your hair in a vibrant purple shade.
26. Shaggy Bob
Shag means that your hair at the top will be more voluminous, with layers. This shaggy bob is everything you need to highlight your curls and make them look messy yet chic.
27. Auburn Bob
Auburn is such an interesting color to wear. Whether you want to blend in with the fall weather or you would like to match it with your skin type, this is an amazing shade to go for. In combination with curly bob, it becomes wild and chic.
28. Soft Pink Bob
According to trend charts, this soft pink dye will be huge in 2022. No surprise there, since it is gorgeous and can be matched with almost any skin tone. You can try it in combination with wavy bob, with highlights.
29. Blonde Wavy Bob
There is a way you can style thin hair to get this hairstyle. You simply need to cut the length of your hair to a bob, use a styling curling wand to make waves and side part your hair. All these will get you a lovely, everyday hairstyle.
30. Copper Curls
Copper is yet another hair color perfect for women with both warm and cold undertones. It can be matched with winter clothes, and it looks better with a thicker hair texture. That is why these curls look absolutely amazing in combination with copper shade.
31. Honey Blonde
Honey blonde is the queen of blonde hairstyles. Start by leaving the roots in your natural shade or going just a bit darker. This will make your curls a bit highlighted and even more enhanced.
32. Light Hair Ends
Naturally, curly hair can look extraordinary with light ends. Make those curls visible by dyeing your hair in contrast color. If your hair is black, the roots should be somewhere between honey blonde, copper, and auburn.
RELATED: 20 Ways to Wear Head-Turning Updo For Short Black Hair
33. Beautiful and Highlighted
When you choose to dye your curly bob like this woman in the photo above, you can be sure everyone will notice. These shades of red, burgundy, and just a pinch of orange look stunning, no matter where you are heading.
34. Goldy Red
It is not red, yet it is not gold. This shade is somewhere between light red and copper that can perfectly enhance your locks or waves. Wear it this year with a long or short bob.
35. Curly Bangs
Dark burgundy shade is great for those just starting with hair dyes. If your hair is dark, but you seek change, go for this shade before dyeing even lighter.
36. Dark Brown Curls
Darker roots with chocolate lengths are something you need to try. These curls look very elegant, and you can wear them to work or for some special occasion. In combination with some hair accessories, this can be a perfect bride hairstyle.
37. Voluminous Blonde Hairstyle
You can make volume on point by creating an illusion. The side part will help you with that. Honey blonde hair color matches with darker roots and cute curls.
38. Wet Curls
Another way you can be beach-ready is to make wet curls. They will look like you have just got out of the water. However, this is a hairstyle you can wear during the day and the night.
39. Naturally Highlighted
Even though it is dyed hair, it still looks very natural. If you would like to copy a look like this, opt for highlights and tell your hairstylist you want sun-kissed hair. They would know what to do.
About The Author