Some girls adore wearing long hair. However, you will admit it is not the easiest one to maintain. That is why medium-length hair is something you should opt for.
If your hair is naturally curly, or you want to curl your hair occasionally,  but are in lack of ideas on how to style it in the morning, don't worry. We have prepared some of the best curly hairstyles for girls with medium hair.
Curly bob is all about texture. Where is more texture, the hairstyle is even more interesting. These beautiful brown highlights are definitely making this curly medium hairstyle eye-catching.
This lovely medium bob suit girls with oval face shape. Layers give hairstyles wonderful shape, while the curls seem natural. You will have a perfect hairstyle for every day.
Layers are perfect for framing your face. This curly hairstyle suits girls with a round, heart-shaped face. You can throw your hair over one side for even better effect.
This hairstyle screams retro! The curly hair, as well as bangs, remind us of the '60s and '70s. Small curls look very bohemian and summer-ready.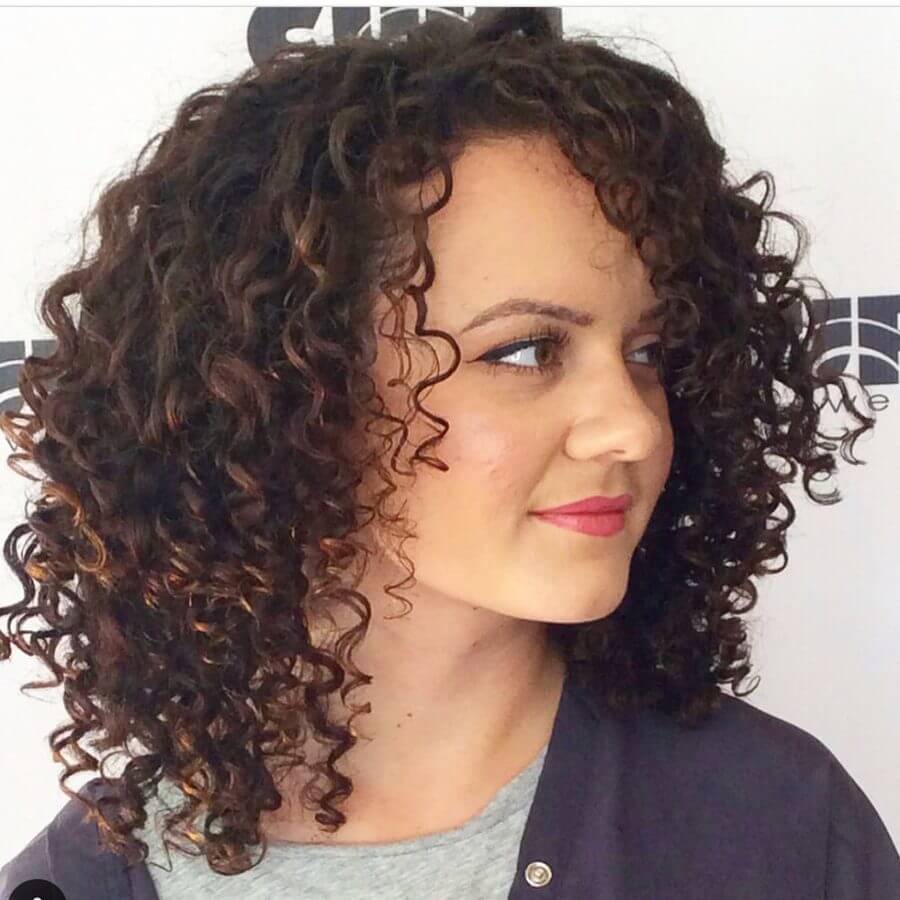 Sometimes it is hard and boring to style natural curls. However, with right hairstyle, everything is possible. This flattering shape will keep your locks in place while highlighting your face shape.
Highlight your curls with wonderful balayage technique. They will become eye-catching as well as your hairstyle in general. This long bob looks messy but very stylish. It is great for all girls who love to have casual hairstyle without much time spent making it.
If you ever wondered how sun-kissed hair looks like – here is the answer. This medium hairstyle seems very summerish and pretty. You can choose light blonde for your highlights and darker blonde for the roots.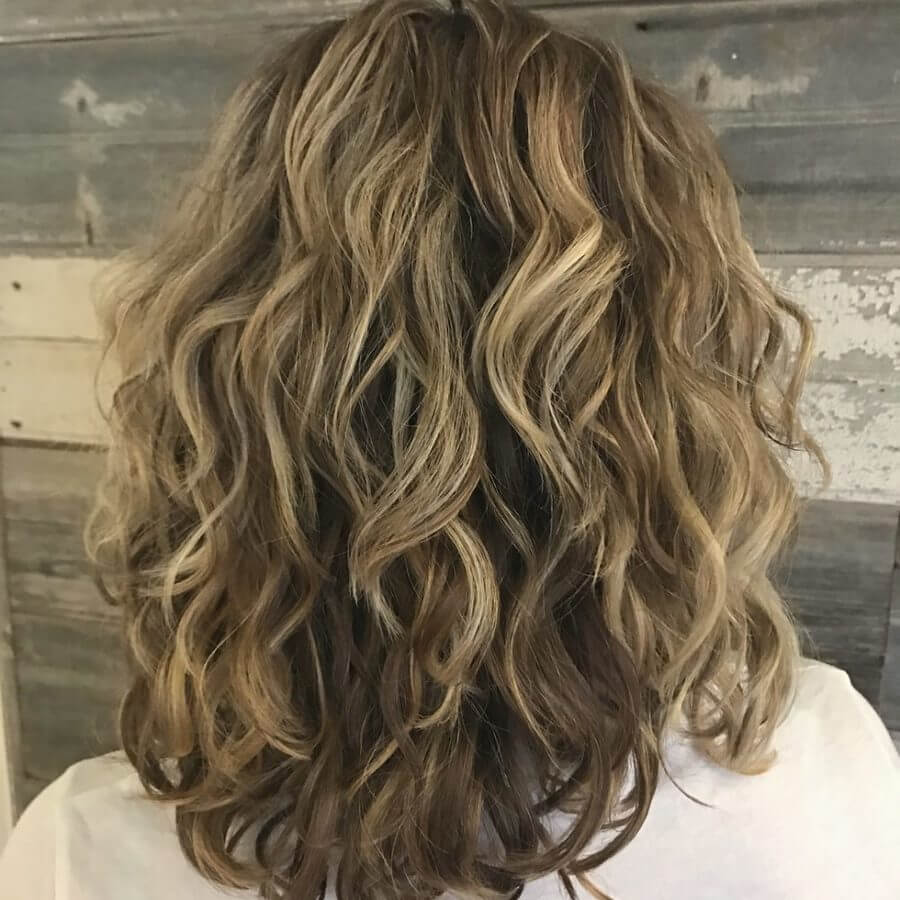 Cascade waves are perfect for highlighting your curls but your face as well. They are great for maintaining – super busy girls will love it. Opt for balayage – dark brown roots and ash blonde ends.
Cute and heart-shaped – two words describing this lovely medium hairstyle. Blonde highlights on dark hair are rare, but when done right they can look excellent. This hairstyle is amazing for all girls looking for something classy yet interesting.
How about dying your hair in pink? Be brave and do it! You will look absolutely chic and unique with medium chopped bob and beach waves.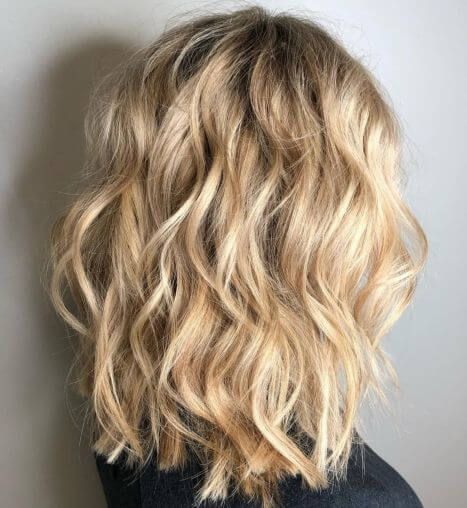 Texture and volume make every hairstyle interesting, whether you have long or short hair. Beautiful beach waves are perfect for every season, while balayage is trendy and super stylish.
Medium hair is easiest to style. Especially when it comes to bob and chopped curly hairstyles. If you opt for creating big waves with a large curling wand, you will have a perfect everyday hairstyle.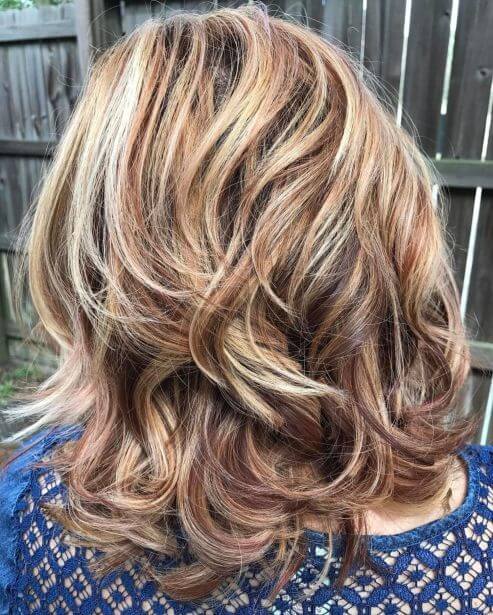 If you have thick hair, then it is the best solution to try layers with a lot of dimension and volume. Layers and loose retro waves will be even more visible with blonde highlights.
You can easily get this ribbon curls with your usual curling iron. After you finish styling your hair, run your fingers through and break them. Medium hairstyles are perfect for these kinds of curls.
Side part and bangs form beautiful shape-framing style. It is one of those hairstyles that never go out of style. You can wear it for years and still not be bored by it.

Do you enjoy flipping your hair to the side? If you are nodding, then this hairstyle is perfect for you. Medium length, dark roots, and strawberry blonde highlights are just amazing things to try this winter.
Loose medium hairstyle flows free and touches your collarbones. Curls and the color of this hairstyle are easy to maintain. You can always count on this balayage and gather your hair in a ponytail when training.
This lovely messy hairstyle is perfect for summertime. Medium length curly hair with lovely bangs and natural curls, are great to maintain and style. You can enjoy this lovely hairstyle and floral dresses.
Extreme color contrast is something that will make you unique and stylish. Curling iron and good product for your hair ends are two things you will need to achieve this beautiful hairstyle.
This micro fringe hairstyle with medium length will give you an instant style boost. Since it has that '90s vibe you can easily wear it through all seasons, looking amazing.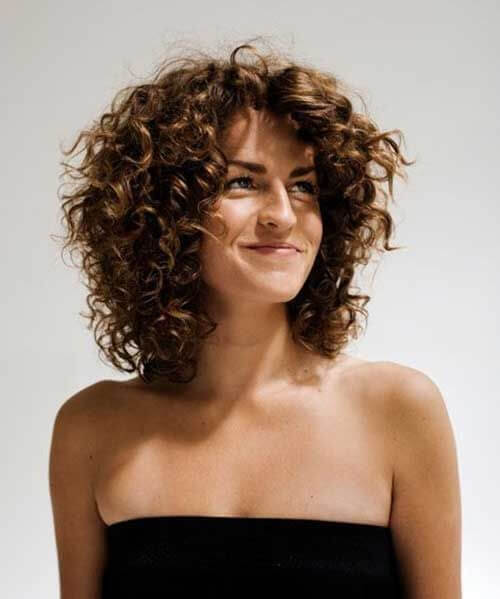 There is nothing better than natural curls and medium hairstyle. You can easily style it, while it also looks perfect for everyday wear.
Wonderful auburn shades of this hairstyle will match with fall and warm brown sweaters that you wear. Wavy bob like this seems perfectly elegant, but also appropriate for everyday wear.
Angled haircuts became popular few years back, but stayed trendy even nowadays. In combination with balayage, this hairstyle looks more than eye-catching. You can style it with a large curling wand.
Shoulder length and messy hairstyle will keep you nice and trendy wherever you go. Darker and ash shades might look dry, so don't forget to use a shine spray to keep your wide locks in place and looking healthy.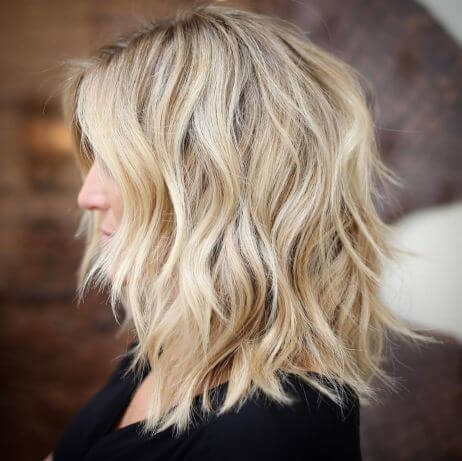 Long beachy wave bob is the perfect solution for those girls who like something with low-maintenance. All you need to do is to keep blonde color fresh and looking healthy.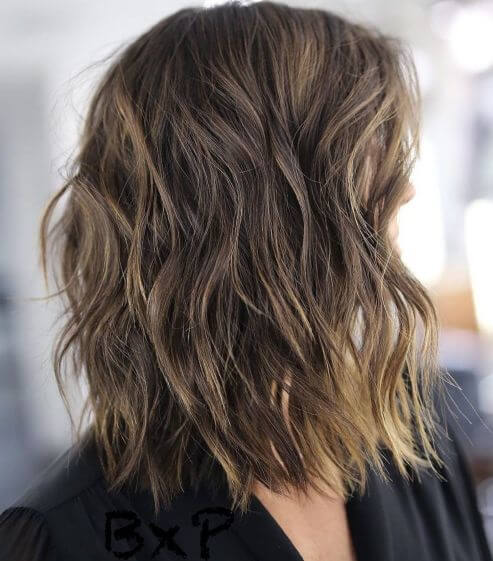 This is the perfect shoulder-length layered hairstyle for girls who have less than 20 minutes to get ready in the morning. Straight cut with a lot of texture and blonde highlights will give you a signature look.
Braids make everything nicer! This wonderful half-up-do style is perfect for elegant occasions such as weddings, New Year's Eve or proms. Go for natural-looking curls and keep them in place with hairspray.
For special occasions like weddings or engagements, add a lovely hair accessory. Accessories will make your hairstyle beautiful and eye-catching. Braids, curls, and accessories in your hair – and you won't need anything else.
Make your stunning braid look like a hairband – with the curls falling freely. This hairstyle is perfect for young girls, prom nights or other special occasions.
This is an amazing hairstyle for square-shaped faces. The side bangs are eye-catching, framing your face in the best possible way.
About The Author