Layered hair is definitely one of the most popular hairstyles, among all women and men as well. Layers in your hair can provide you with more texture and usually gives your thin hair some volume.
There are many types of layers and haircuts that you can achieve. Many girls love to combine braids and make beach waves and curls to combine them with layers.
How to Style Layered Hair
You can make layered haircuts and hairstyles as you wish! There are many ways to make your layers look amazing. Starting from a simple brush and blow dryer combination to the curling wand and flat iron.
You should also use some products to make your layers soft and to tame them. Before styling your layers or after washing your hair apply foam or hair spray. These products will keep your hair in shape.
Long Layers vs. Short Layers
There are many types of hair layers. You can pick all of them, depending on your hair type, length, and thickness.
Long layers are perfect for normal hair that is straight, thick, or wavy. They are great for those women that like to air-dry their hair. Low maintenance and enhancing natural waves of your hair – these are the main characteristics of these layers.
RELATED: How to Rock Straight Layered Hair: Hairstylist Advice
Opt for short layers if you have short hair, but you still want to add some volume to it. They might be a bit hard to style than long ones, but they always look amazing.
Classic layers is an excellent choice for all those women with normal hair, classic layers that face-frame at the front and leave you with a messy look at the back. These layers are perfect for styling with a curling iron to get the classic, timeless look.
Layered Lob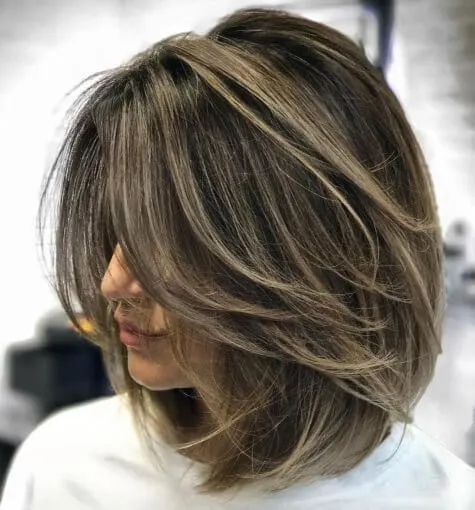 Making your hair strands look like feathers is simply gorgeous. Layers are cut in a way where they look like feathers, and we just can't adore trying it. These layers are especially useful for long bobs, aka lobs. You will have both texture and volume.
Balayage Lob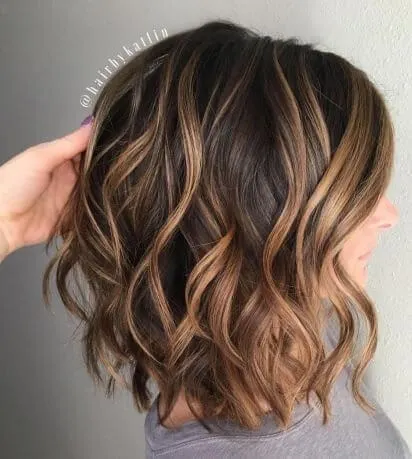 Balayage is one of those techniques in hairstyling that will enhance your layers. You can make your hairstyle look even better with these delicate waves. By making your layered bob asymmetric, you will add more texture and volume to this haircut.
Blonde Layers
Layers will highlight the beauty of your natural curls. However, be careful. You really need to take care of your hair and layers. By making them look healthy, you will always have wonderful long locks and a hairstyle in general.
Straight Hair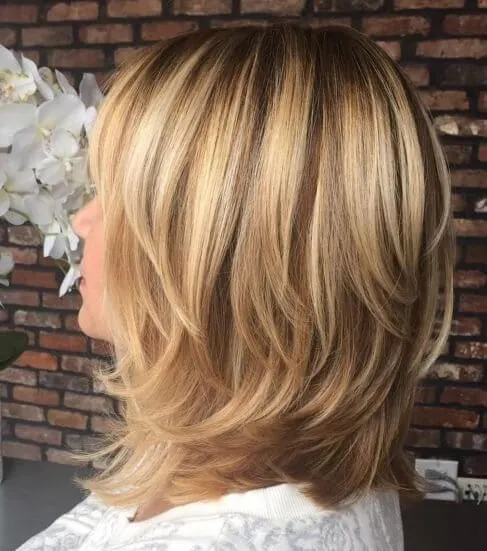 Shoulder length layered hair will definitely be your new trademark. You can wear these layers straight or curl them to get fantastic beach waves.
Honey Blonde Long Hair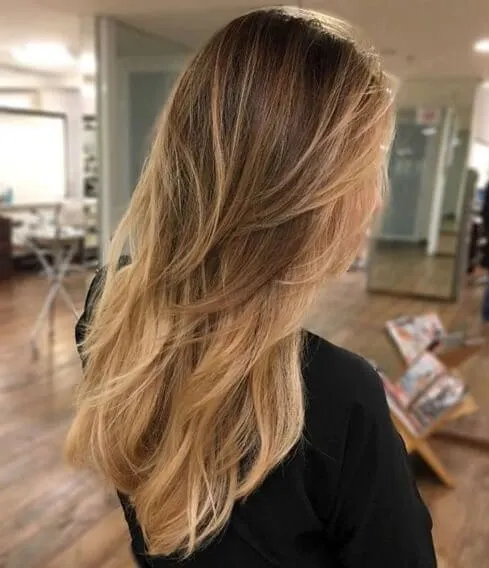 Honey blonde is one of the most popular colors. Many girls have tried it and adored it. Tell your hairdresser to combine various length layers on your hair.
Long Layered Hair with Fringes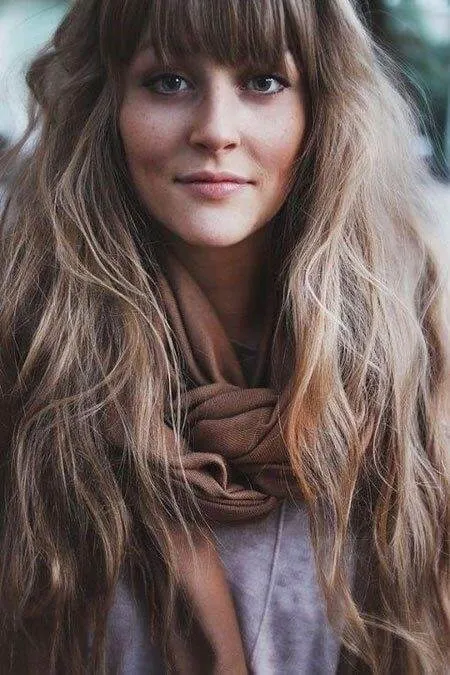 You can look as cute as this girl with long layered hair and straight fringes. The fringes will frame your face as well as layers. Those two things are perfectly matched together, so don't hesitate to wear this hairstyle as a new trademark.
Layers and Braids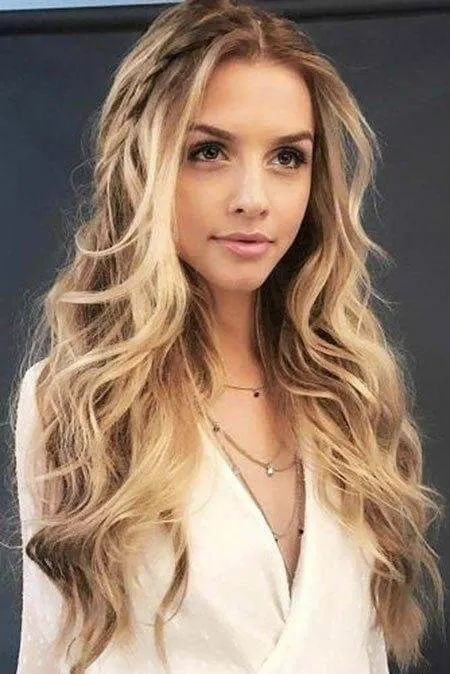 You can look like a goddess with layers, honey hues, and a braid across your head. This hairstyle is perfect for summertime, where you can wear it freely and make your beachy waves right there on the beach.
Ash Blonde Hairstyle
Ash blonde hair is trendy, nice looking, and relatively easy to maintain. A combination of long and short layers closer to your roots will provide you with a fantastic style. Bangs are a perfect addition to this hairstyle. They will frame your face and make you look gorgeous.
Platinum Blonde
Platinum blonde is one of those shades that are for the brave ones. You need to take good care of your hair and dye it regularly to keep it purely platinum. When you have layers and medium hair you can make whatever hairstyle you wish.
Comb Over Hairstyle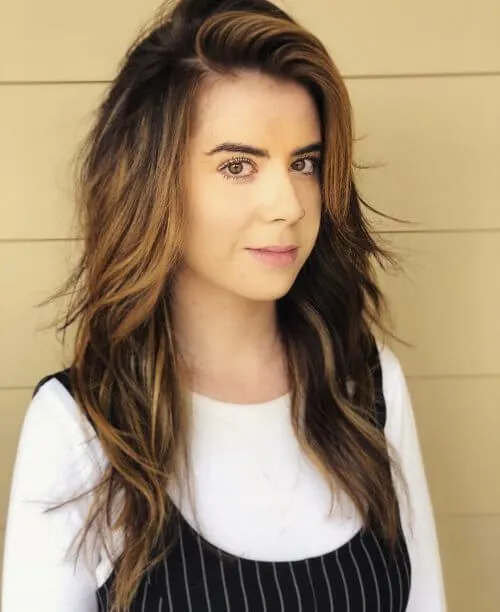 If you comb over your hair and brush it along with your blow dryer, you will get a lot more volume. Long shaggy haircut like this is enhanced with dark roots which give this look an even more interesting appearance.
Cascading Layers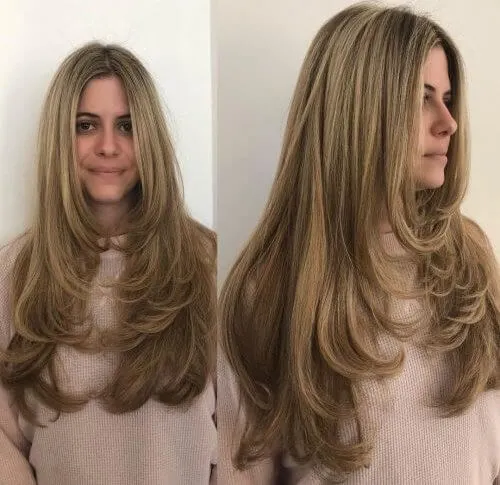 Extremely long hair might be hard to style. However, when you have cascading layers like these, they look gorgeous. From those that frame your face to the ones that are super long – in combination with honey blonde color, they all look fantastic.
Flipped Hair Ends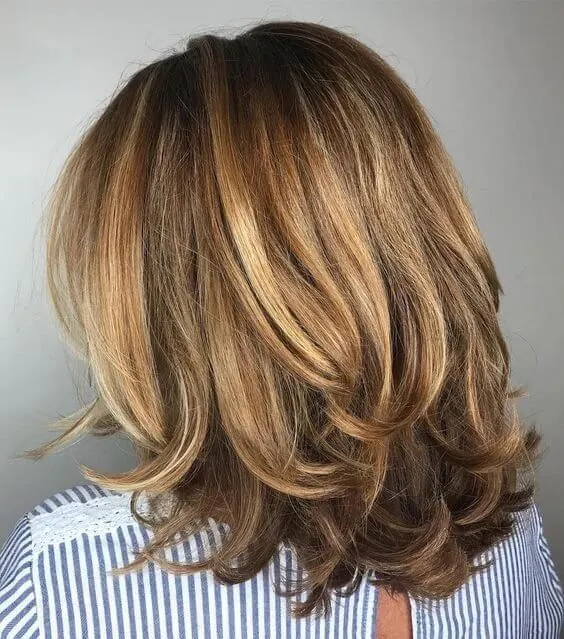 This layered hairstyle suits all women who tend to keep their style casual and classy. The Balayage technique enhances your curls. Flipped hair ends will add more volume and texture, even if you have fine hair.
Messy Bob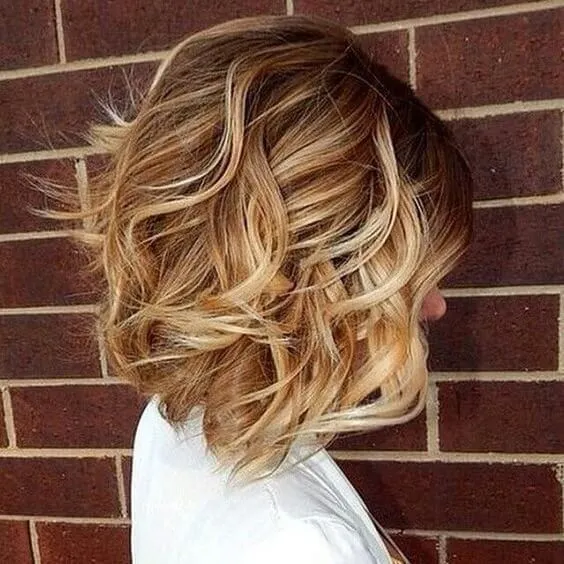 The asymmetric texture is something that will surely add more volume to your hairstyle. If you want to make, it looks even more eye-catching curl it with a curling wand and makes it messy. This is one of those hairstyles you can wear for both casual and elegant occasions.
Brunette Layered Hairstyles
If you are looking for a new hair dye for summer, look no further than this. This is a fantastic espresso shade that is great for sun-kissed skin and brown eyes. Baby lights, natural waves, and layers make an impressive combination that you will love.
Stunning Baby lights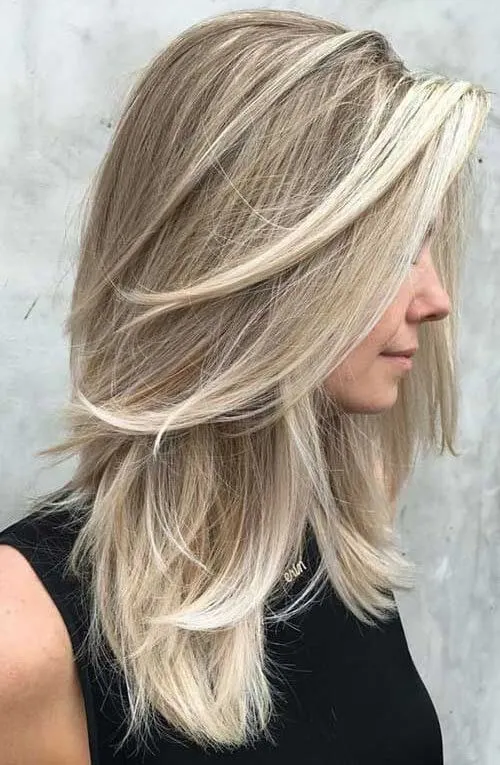 Blonde plus layers is a great idea for all women who want to make a statement. Baby lights around your face will do an amazing job in framing it and making your skin complexion even brighter. Medium hair is great for styling.
Short Layered Haircut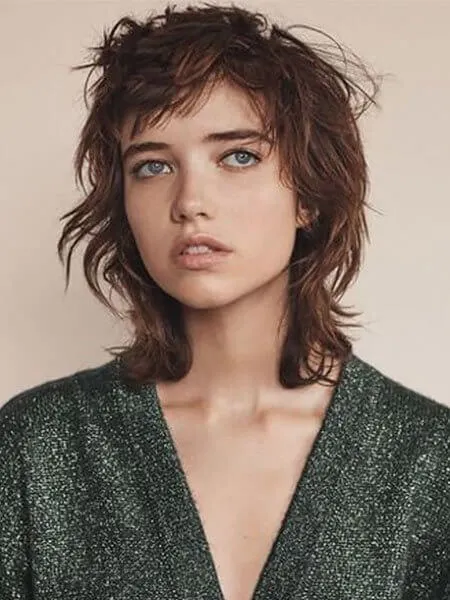 Not all girls have thick and long hair. Sometimes, fine hair can look textured. You need to know how to style it right. Do it with the help of layers and curls. A combination of these two things will add more texture and definitely volume. Short messy layers will enhance your face.
Ombre Hair
The ombre technique is one of the most popular ones. Along with waves and layers, the key thing here is to get more volume and texture. Combinations of blonde shade and dark roots will provide you with an amazing and quite modern look.
Medium Length Brown Hair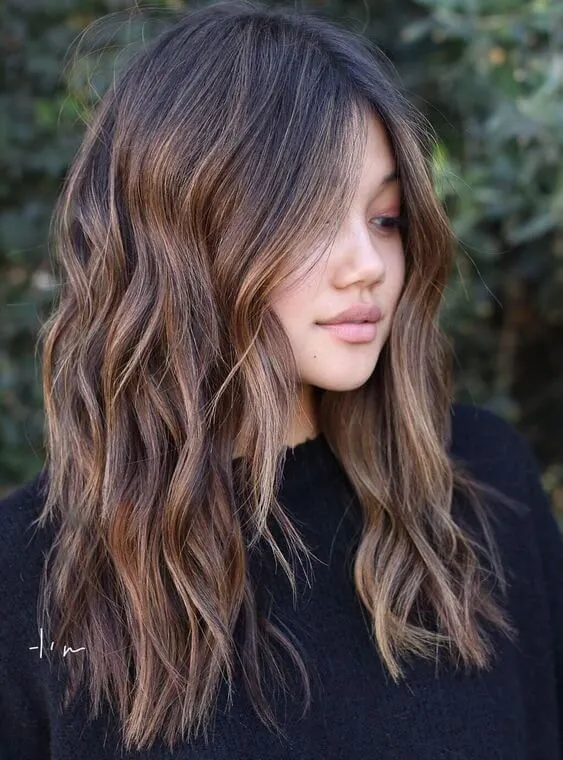 When you have medium-length hair like this, you don't need many layers to be eye-catching. A combination of long choppy layers and a few shorter ones will provide you with a gorgeous look. Such brown hair with added highlights makes the overall look super charming!
Half Up Half Down Layered Hairstyle
Half up half down hairstyle like this is amazing for all occasions.
You can wear it at home, for work or a casual drink and picnic outside. Highlights and dark roots will keep you trendy, while the length of your hair will keep you beautiful.
Combination of Different Length Layers
From extremely long layers to the ones that are short and near the roots, you get a fantastic haircut that will always be in style. It is one of those hairstyles that you can wear all the time, without worrying if you look dull or out of fashion.
Messy and Chic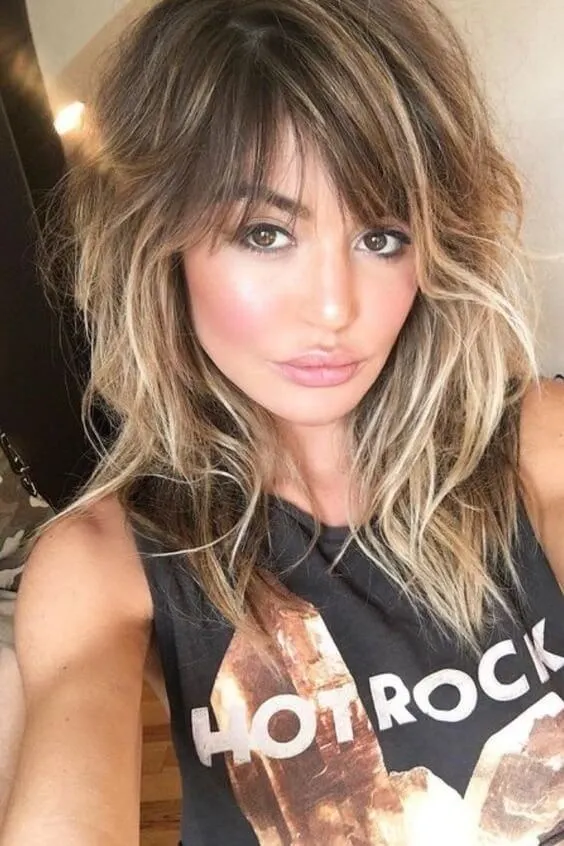 Inspired by the rock 'n' roll, such layered haircuts look amazing. You can make it even messier with your own hands and fingers. The balayage technique will make your layers even more highlighted and your looks upgraded.
Red Hair like a Fire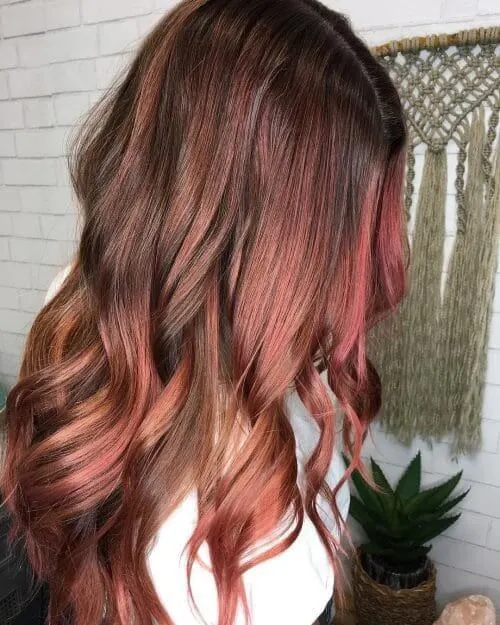 If you use suitable quality hair dye like this, your hair will shine all the time. Also, you need to take good care of it, by using oils, heat protectors, etc. Lovely curls and layers will just upgrade your modern everyday look.
Curtain Bangs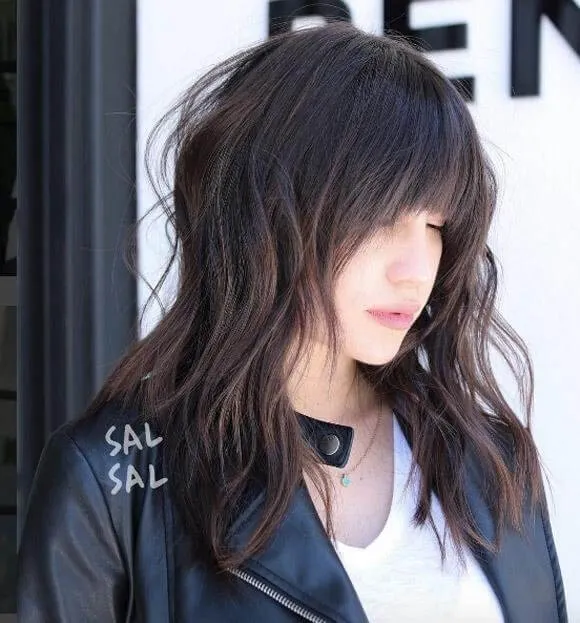 You might not be familiar with the term curtain bangs. Don't worry – we are here to explain and show. Curtain bangs are those that are on both sides of your face. They frame your face in a great way and are very versatile. In a nutshell, you can wear such bangs with long layered hair.
Layered Ponytail
Layers are achievable for everybody. Every hairdresser should know to make them according to your wishes and face. When your hair is a bit greasy, but you still don't want to wash it, or you simply don't have time for it, style it in a ponytail. Don't forget to add a satin bow.
Auburn Roots with Blonde Ends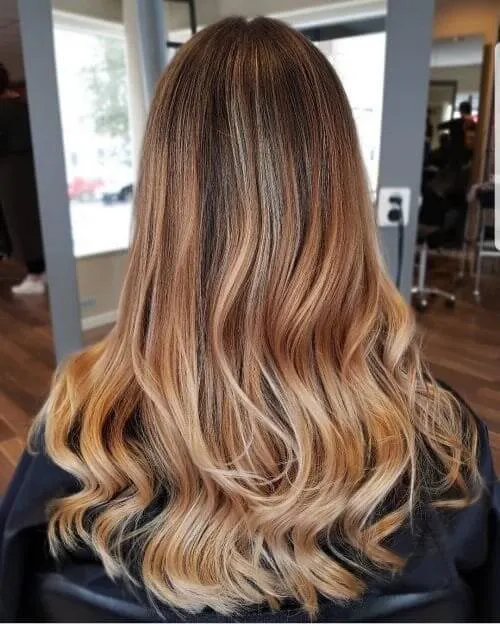 Auburn is an excellent shade for fall and winter. Some women tend to combine it with blonde ends, and it looks absolutely amazing. This is one of those casual hairstyles that you can wear every day – for work, after work party or a coffee with a friend.
Light Blonde Hair
Matching your skin tone with hair color is easy. The result is always great. You can be sure that light blonde matches with fair skin complexion. In the end, you can get lovely finish – layered light blonde hairstyle that makes a statement.
Strawberry Blonde Layered Haircut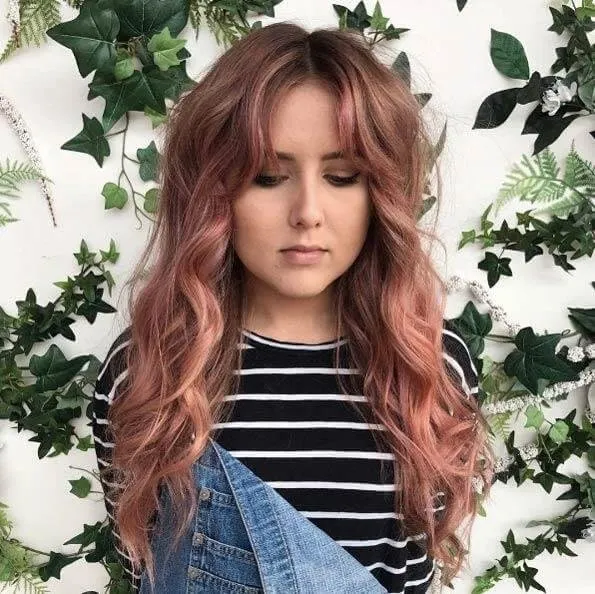 Long wavy hair and layers – all that you need to have an amazing hairstyle for everyday wear. Strawberry blonde is one of the trendiest hair dyes for summer, so don't hesitate to try it! You will be amazed by the results.
Short Layers
When we say layers, usually the first thing coming to our minds is long hair. However, short layered cuts can look even more exciting than long ones. If you are wearing a choppy short bob and you want to make it even more interesting – add some curls. See many nice examples of short bob haircuts for curly hair if you need some inspiration.
Straight Layers
This look is great for all those women who want their hair to look polished and stylish every day. Side bangs are popular as well as long layers. You can achieve a hairstyle like this with a medium and long length.
Top Knot
Top knots are trendy among younger girls and older women as well. The key is in their versatility and low-maintenance. You can leave the part of your hair down, and only wrap up the part that frames your face.
Short and Layered
An asymmetric bob will provide you with cool, messy vibes that no one would say no to. This hairstyle is classy and modern at the same time, and that is the main charm of it. Try it if you like your hair to be polished and classic for everyday wear.
Highlighted and Medium
It is not so often to see this dark hair with light highlights. However, the fact is that it looks more than satisfying. This hairstyle is appropriate for older women, businesswomen who tend to make their style classy and sophisticated.
Beach Waves Asymmetric Bob
Long layers and short layers combined in one – the result is this layered bob. It looks more than beautiful and so attractive. If you opt for highlights or baby lights, you can be sure your hairstyle will be more than noticed, wherever you go.
Feather Layers
Feather layers are those that look exactly like that on your hair. Lovely and casual, these layers are easy to style and even easier to wear. You can opt for this kind of layer for both short and long haircuts – just make sure you style them every day.
Side Bangs and Layers
Bangs are a great addition to your hairstyle. Side bangs are layered as well as your hair. They work perfectly with short and longer hair. You can always count on more volume with these kinds of bangs.
Layered Lob with Bangs
This layered lob with choppy bangs is great for those girls that like messy and stylish hairstyles. It is perfect for all those busy women who don't have time in the morning to do their haircuts. Ombre two-toned hair will only highlight the beauty of this layered cut.
Natural Curls and Layers
Some women might think that layers are not possible on naturally curly hair. That is not true. You can rock long and medium layers even if you have natural waves. Avoid cutting your hair in short layers, though. They can make your curls look even more enhanced.
Styled Layers
This hairstyle is undoubtedly for those elegant occasions when you need to shine. You should style it to look like this with a blow-dryer and a round brush. Highlighted hair will only make this style look sophisticated and elegant.
Long Layers
Side bangs and long layers on this lob look more than beautiful. The fact that there are no many layers makes this hairstyle easy to style and even more appealing to wear. You can opt for both one or two-toned hair – it will still look amazing.
Curls, Layers, and Highlights
Natural curls and layers definitely can work together. This hairstyle suits all women that like to wear their hair polished and classy. Curls and highlights will enhance your natural hair characteristics so you can be sure it will be noticed.
Long Golden Hairstyle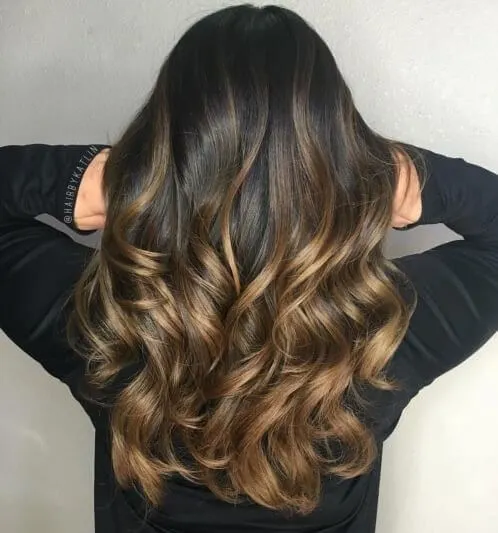 Dark brown hair with golden highlights at the hair ends, and waves are perfect for all occasions. You can always count on this hairstyle. These cascading curls can be achieved with a curling wand. They will stay in place for days.
Braided Hairstyle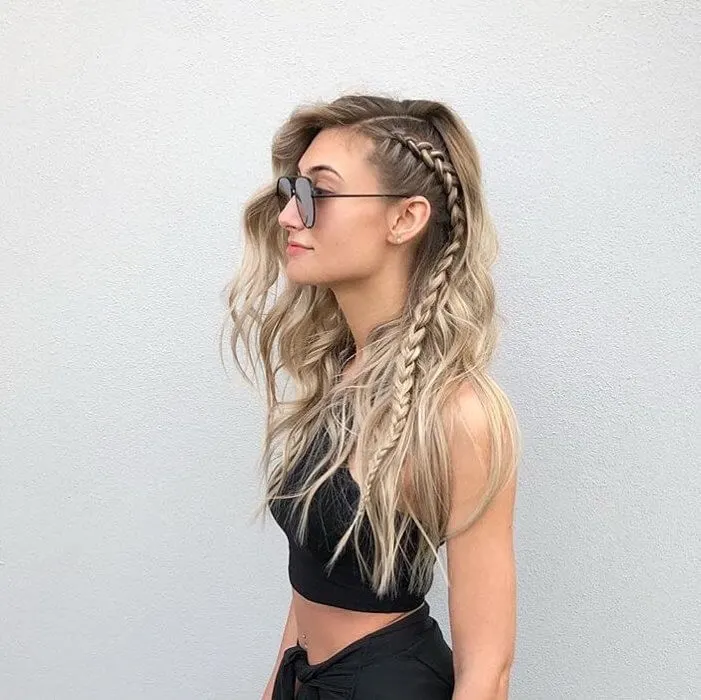 Braids are everything. They make every haircut look interesting and so chic. Long braids can look truly awesome! Yes, for such a romantic braided hairstyle, you need to have super long hair. Also, you can side braid your hair into a lovely Dutch braid and rock it casually like that.
Super Short Hair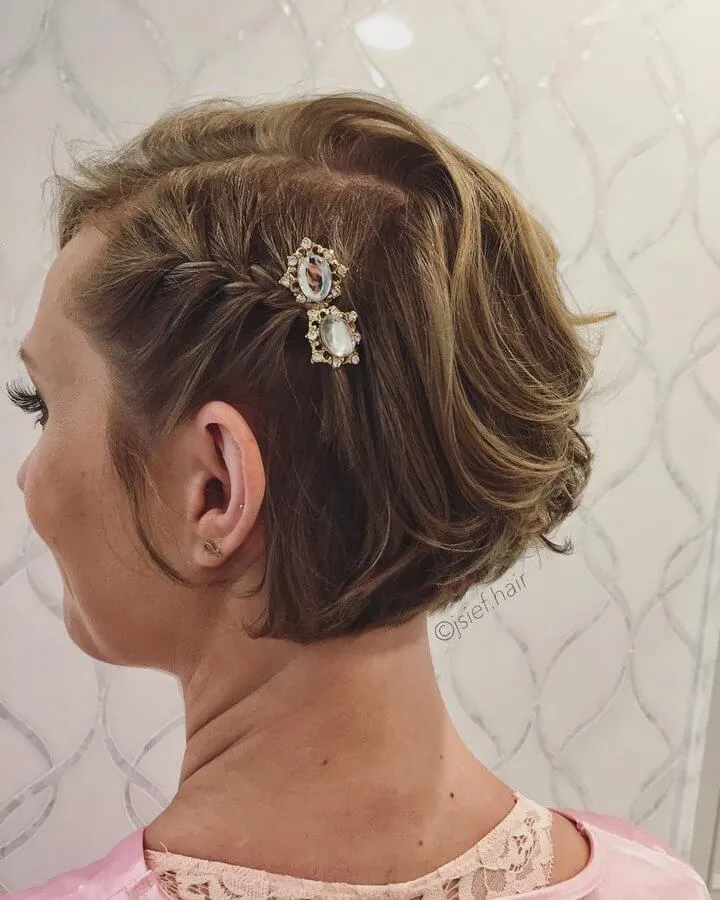 This pixie cut is great for brave girls who like to rock their super short hair. It is complemented with braid and trendy hairpins. If you opt for shiny rhinestone hairpins, then you can wear them for special occasions like weddings, engagements, holidays, and birthday parties.
Half Up Half Down Top Knot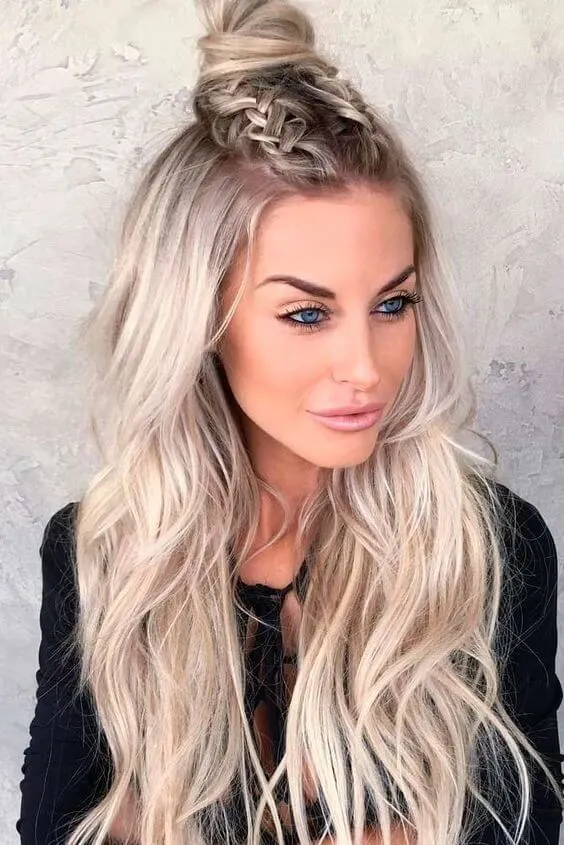 Boho vibes are on point! You can count on this hairstyle for upcoming summer music festivals, days spent on the beach, and the seaside. Topknot with braids will definitely make a statement.
Braided Hairstyle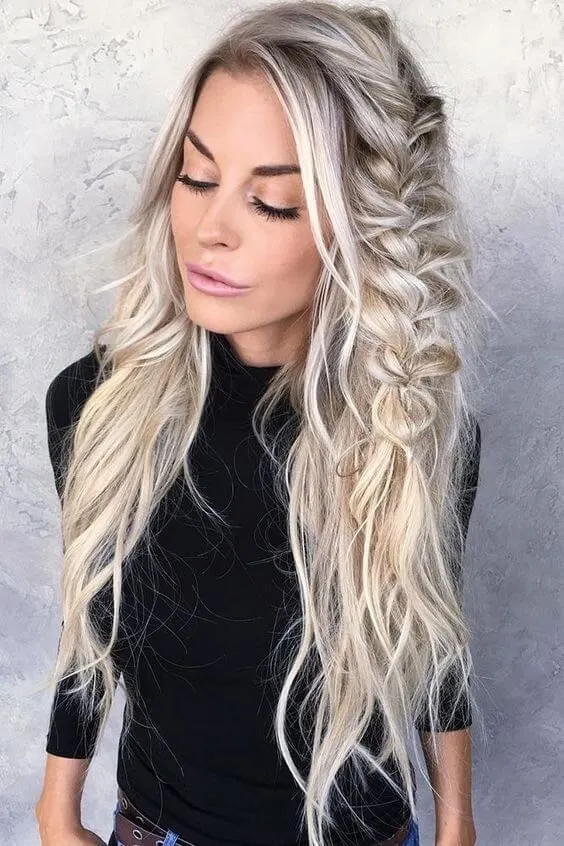 Long hair with long layers can be more interesting with a side loose braid. This hairstyle is great for summer wear. You can style it with a long floral dress, flat sandals, and a lot of boho-inspired jewelry. Lovely for everyday wear – you will adore it.
Corset Braids
You might never see that, but you can't just adore these corset braids. They look wonderful. You would probably need some help to make these braids, but once you do, you will be amazed by the results.
Two Braids
Long hair is perfect for making interesting hairstyles. For instance, two braids on platinum hair look more than beautiful. This hairstyle is perfect for trendy young girls that like to make a statement by their looks and hair.
Messy Wrap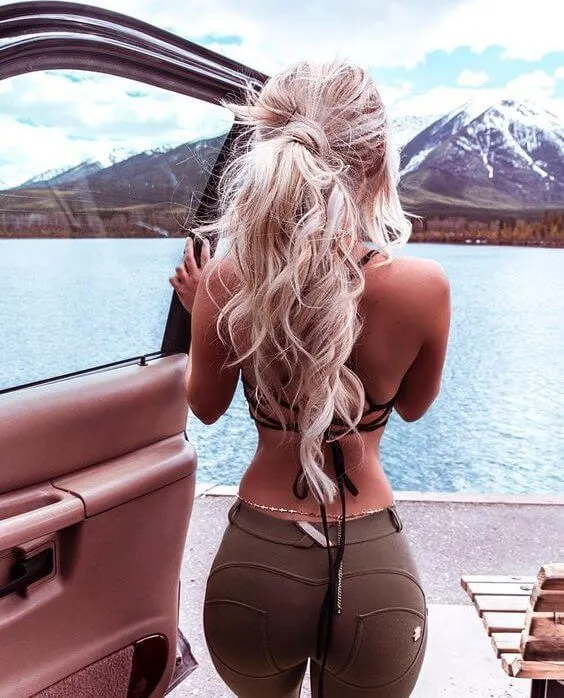 Messy hair is one of our favorite ways to wear it. You don't need to worry about it too much – let it be as natural as possible. If your hair is super long and it can bother you some time, wrap it in a bun or half updo.
Platinum Blonde Lob with Waves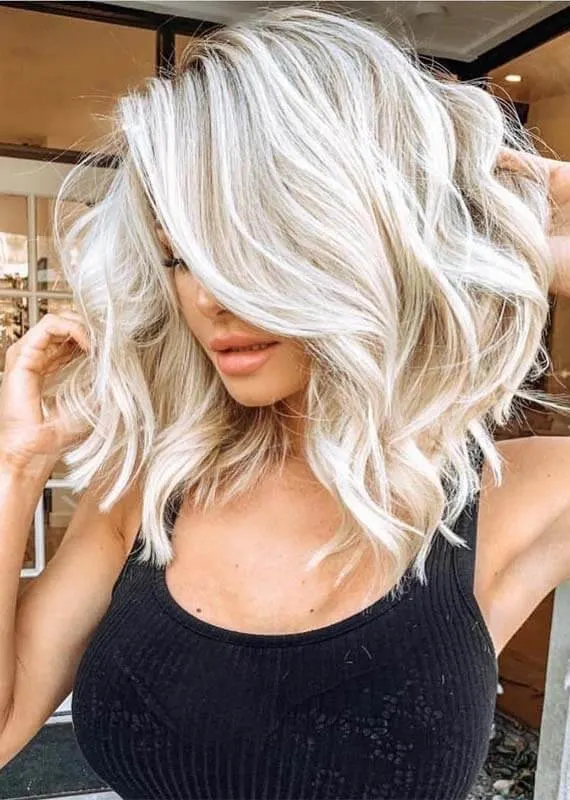 These waves can easily be made without any heat. The only thing you need to do is to braid your hair and section it before you go to sleep. You will wake up with beautiful hair like this. With minimum effort, you can have a cute wavy lob hairstyle that you can rock every day.
Warm Platinum Blonde
Not all platinum blondes are cool by default. By adding some honey hues to your platinum dye, you get hair like this. Loose waves and long hair will make you stand out from the crowd.
Elegant Curls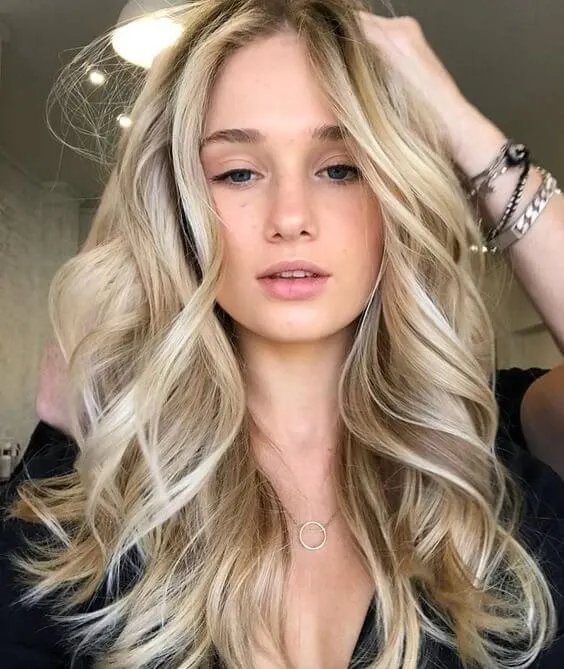 Loose and large waves like these are great for special occasions. They collaborate with waves perfectly and can make you the main star of the event. As you can see, these lovely locks are combined with highlights – we can't simply get enough of them.
Comb Over Blonde Hairstyle
Despite hair length, sometimes it is the volume that makes all the problems. You can solve the lack of volume by combing over your hair at one side. That is the safest and the easiest way to make your hair super voluminous.
Elegant Blonde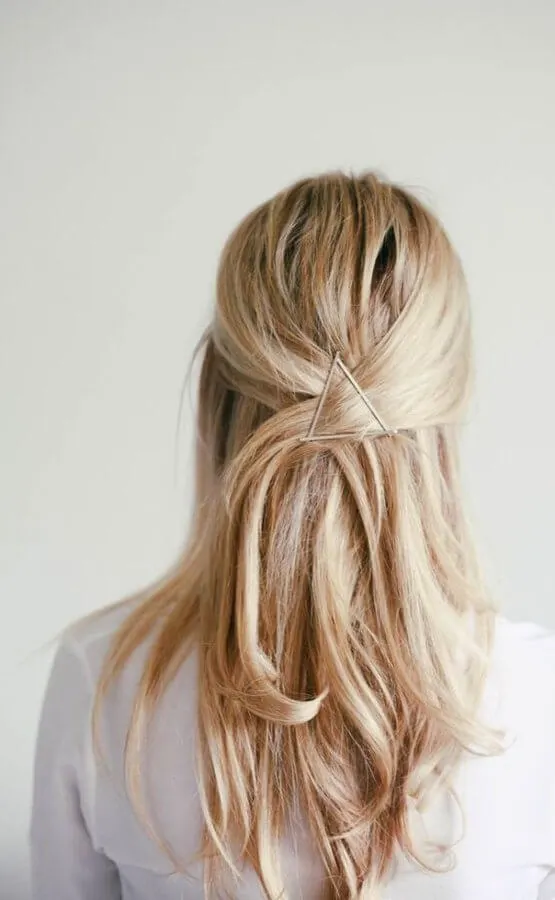 The layered hair that is gathered like this at the back of your head and decorated with a gold hairpin is great for elegant events. This honey hue will make you look remarkably stylish and ready for the upcoming summer.
Boho Vibes
Golden hues, braids and top knots – that's everything that you need to rock your boho hairstyle for summer. This is an excellent hairstyle for music festivals, seaside parties, and pool days.
Mermaid Hair with Layers
If your style is a bit eccentric or you like to be unique, then mermaid's hair is definitely for you. Lot of colors on your hair will cause people to look at you-you can expect many positive comments!
Super Long Hair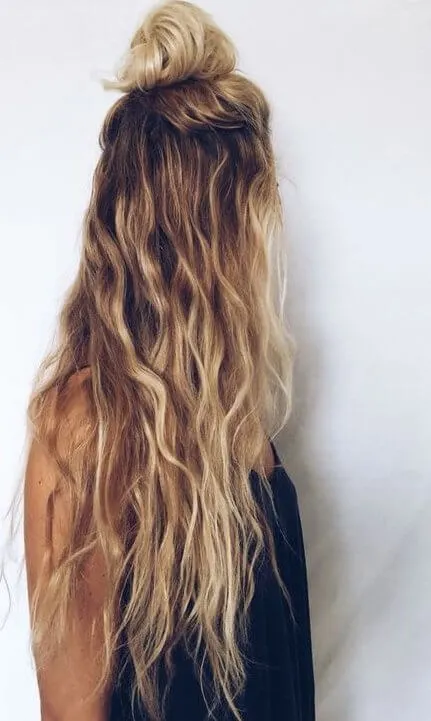 The top knot is one of the most popular hairstyles that we know. The key lies in the way it is made – in a second! You can wrap only part of your layered hair like this and make these lovely loose waves from the rest of your hair.
Space Buns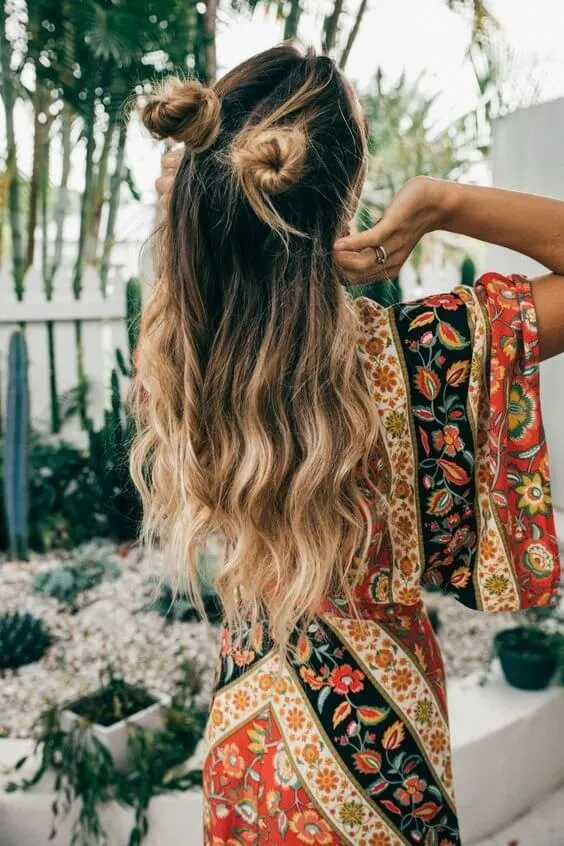 Since Princess Leia wore her famous space buns, their popularity hasn't dropped. Black roots and blonde ends along with two space buns at the top of your head will provide your look with a boho vibe and summer-appropriate.
Waterfall Braid
Braids look amazing on any hair length. This is one of those that hairdressers call waterfall braids. They appear very nice on medium and longer hair. You can make it even more exciting with ombre or balayage dyeing technique.
Soft Curls and Braids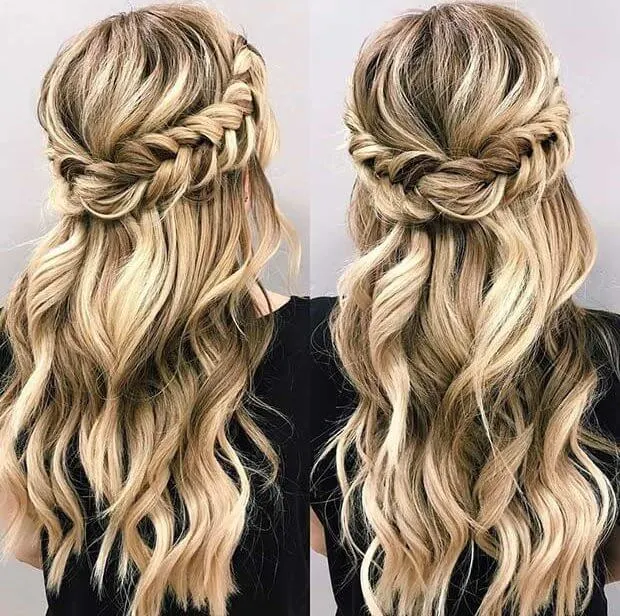 Soft curls can be achieved with both a flat iron and a curling wand. It is on you to pick the easiest way. Prom season is near, so you can opt for something like this if you would like to make a statement.
Angled Purple Bob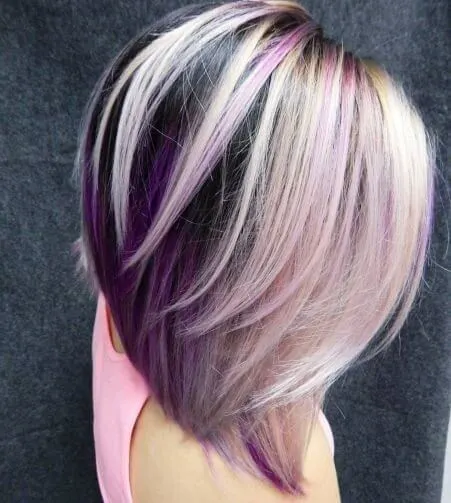 Angled bob is one of our favorite short haircuts. You can be sure that this haircut along with this hair dye will make you stand out from the crowd. Highlights and purple strands make a statement.
About The Author