If you have thick hair, then you are a lucky one. On the other hand, you know how tricky it can be to style that kind of hair, no matter long or short. Thick hair is luxurious, but also the problem that can occur is bulky and heavy hair.
Wrong styling of thick hair leads to women feeling bad and unhappy when they look in the mirror. And that is where we come to help. These are the best shag haircuts for thick hair that will make you feel wonderful and satisfied.
Shag Haircuts for Thick Hair
Thick hair might be tricky to maintain, but there is a solution to this problem. Shag haircut is something you should definitely try if you want to tame your hair.
Adding layers will bring more texture as well as volume. We have gathered these shags for your hairstyle inspiration.
1) Purple Shag
Purple hair might be unique, but in combination with a shag haircut becomes absolutely adorable. Your thick hair will be textured, and your look upgraded daily.
2) Short Honey-Blonde Shag
There is nothing trickier to style than short and thick hair. However, shag comes to the rescue. You should make beach waves to enhance the layers even more as well as the volume.
3) Long and Blonde
Long thick hair is a bit harder to maintain. Besides, you should always make sure it is hydrated and healthy. With a few layers, you can solve many problems just by adding some texture.
4) Perly Blonde Shag
This shag hairstyle includes the side fringes as well. You know, shag goes very well with some bangs. You can style them in a few ways, but we recommend going for center parting and letting them fall at sides.
5) Super Long and Curly Hairstyle
Long hair means more layers. But try not to overdo those layers since you can quickly look a bit out-of-style. Fringes are the must-have for this gorgeous rock 'n' roll-inspired look.
6) Curly and Pink
A bit unexpected strawberry blonde hairstyle can look amazing if you opt for a shag cut. The curls will definitely be more defined, and your whole look will appear more polished.
7) From Straight to Wavy
You can upgrade your hair from straight to wavy in a second. If your haircut is shag, even better! Your beach waves will be even more highlighted and enhanced.
8) Elegant Shag
If you are feeling that your hair is too heavy, then try this hairstyle. Elegant and sophisticated shag, with cascading layers, will upgrade any outfit you wear. You can blow dry your hair with a wide brush and get the look just like this.
9) Rock 'N' Roll Inspired
Your style is bold, and you don't know which hairstyle to pick? We say go for a shag with your curly hair. With a few layers and fringes, a new hairstyle will definitely upgrade your daily looks.
10) Ombre Hair
Ombre is one of those hairstyles that you try once and fall in love with afterward. You can make more or less visible transformations by using colors that are more or less similar to your natural hair.
11) Cooper with Light Ends
Cooper is an interesting shade, especially if you decide to mix it with lighter highlights. It can look exciting and modern at the same time, especially with a shag haircut.
12) Cool Redhead
The red shade is passionate and modern. Looking nice with red shade and a shag haircut is something we would all like. However, be aware that red can be washed out easily. You will need to dye your hair frequently to protect the shade.
13) Soft Pink Shag
Some women like to wear their hair in unexpected colors (a piece of advice – at least use an app for hair color change before going all-in). Pink is definitely one of them. Combining it with a shag hairstyle, you get a complete look that is bold and absolutely unique. Make curls for an even bigger wow effect.
14) Black and Emerald with Fringes
Fringes represent a big part of shag hairstyles. They give this style a specific shape, and your face is engirdled. If you pick emerald highlights on black hair, you can be sure that your style will stand out from a crowd.
15) White Underlights
Girls with black hair sometimes don't know how to upgrade it and make it look even better. We recommend trying underlights. Instead of making blonde highlights, position them on the bottom and under your hair.
16) Honey Blonde Fringes and Shag
This woman knows which shade fits her skin tone. Honey blonde matches perfectly with pale and pinkish undertones. You will not only wear perfect hair that has texture and layers but also this shade of blonde is trendy among women.
17) Fiery Red
If you like to get compliments about your hair, this hairstyle will undoubtedly bring some. The fiery red shade is trickier to maintain, but once you find appropriate shampoos and conditioners, you will enjoy it.
18) Burgundy Highlights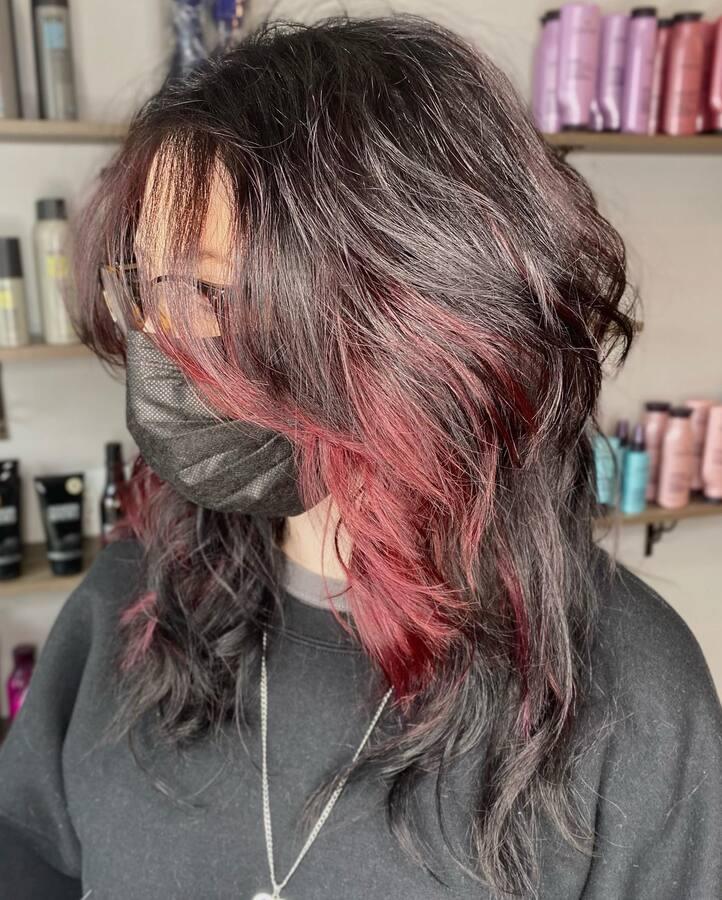 Highlights usually look even better if your hair is wavy. Since beach waves are easy to make, you can combine them with shag layers and get a fantastic day-to-night hairstyle.
19) Short Shag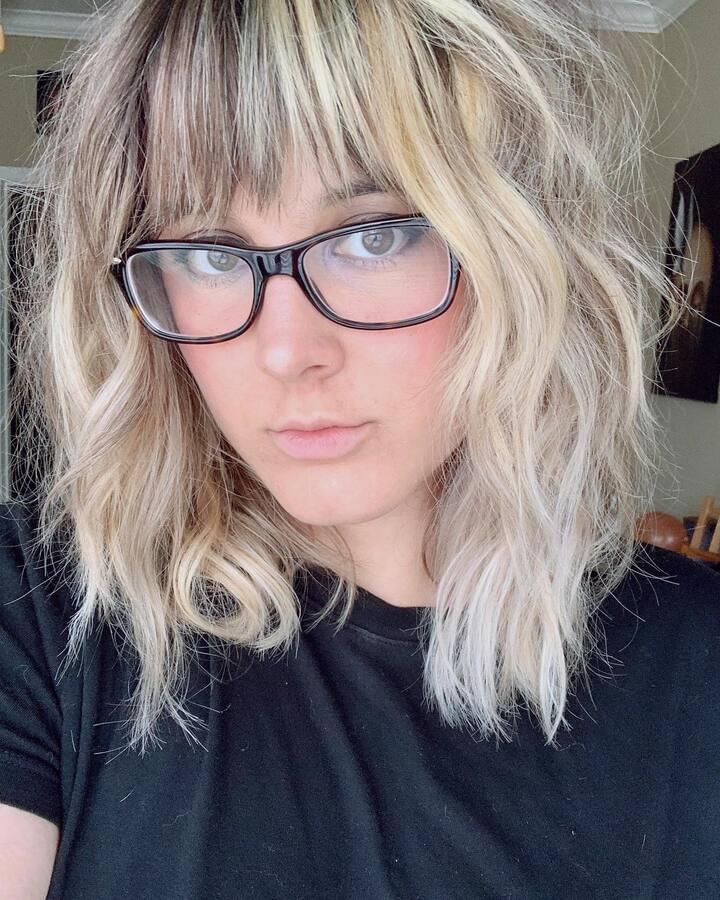 Short and thick hair can be hard to style. It is bulky the whole time, especially after you wash it. The solution is the shag haircut for thick hair. Don't forget to add the fringes as well.
20) Blonde Balayage
Balayage is one of the most popular techniques in the hairstyle industry. No surprise since it suits all cuts and hair lengths. If you combine balayage with shag, you can be sure all the shades of your blonde hair will be visible.
21) Model-Like
A shag haircut is popular among supermodels. They like to have their hair cut and layered. This helps them make fabulous hairstyles in no time and take interesting photos for Instagram!
22) Pixie Shag
For all those women who are thinking about cutting their hair, we suggest shag pixie. If you are going to cut the hair, then you have to do it right. Believe it or not, this shag is very manageable and easy to style.
23) Curly Boho Style
Relaxed and slightly curled hair gives you a bohemian vibe. Wear it like this is spring and summer when you can combine it with maxi dresses and booties.
24) Shaggy Undercut
Undercuts are a lifesaver for women with thick hair. They take off that weight that you feel. However, when combined with shag cut, undercuts look even better and more stylish. Try it!
25) Long Fringes
Long shag, curtain fringes are everything we need nowadays. This means that even your hairdresser doesn't work, you can still wear and style those fringes. Pandemic has taught us to style even overgrown fringes and make them look stylish, right?
Tips for Maintaining Thick Hair
Finally, here is a couple of tips to handle your hair better.
Minimize Washing Your Hair. If you were wondering how to keep your hair in good condition and protect it, the first thing you need to do is cutting back on washes. Don't wash your hair every day, but every other or even on three days. Washing your hair every day will strip natural oils that provide moisture and shine to your hair.
Use Hydrating Conditioner. Make sure to keep your hair hydrated after washing it using a sulfate-free conditioner. This product is crucial for keeping your hair healthy and elastic.
Don't Over-Dry Your Hair. Leaving your hair to air-dry isn't always an option. On the other hand, blow-drying your hair isn't the perfect solution either, since it can damage your hair. The best thing you can do is leave your hair to dry partially before blow-dry it at medium or low temperature.
Regular Trims. To keep your thick hair in good condition, make sure to keep up with trims, at least every 6-8 weeks.
Make a Weightless Texture. Ditch mousses and gels that only can make your hair tied down. Instead, try spray gels that will even add volume and don't weigh down your hair even more.
Appropriate Haircuts. Layered and shag hairstyles are perfect for thick hair. They will minimize the bulkiness of your hair while making you look amazing.
About The Author