Women with curly hair know – it is not easy to style and maintain curls. Unlike straight hair, curly hair tends to be dry, which makes it more challenging to maintain. Shag haircuts for curly hair help you tame your swirls, and that is why many adore them.
If you are looking for a hairstyle that will make your curls defined and still make you look stylish, then this is the article for you. We break down the trick and tips for styling and taking care of curly hair.
RELATED: How to Get Curly Hair: 9 Methods Recommended By Stylists
Also, we gathered some of the best examples of shag haircuts that can serve as an inspiration for you.
The Cutest Shag Haircuts for Curly Hair
We have chosen these hairstyles for you to get inspired for your next hair appointment!
1) Pink and Fabulous Haircut
Pink hair is not so often seen around, but once you notice that women wear it, you simply can't pass away without giving a comment. Shag haircuts for curly hair definitely match with soft pink hair and highlights.
2) Long and Curly
Long curls are a bit tricky to maintain. However, there is nothing that a good shag haircut can't solve. This style should define your curls, making them even more textured, even without using any hair product.
3) The Real Shag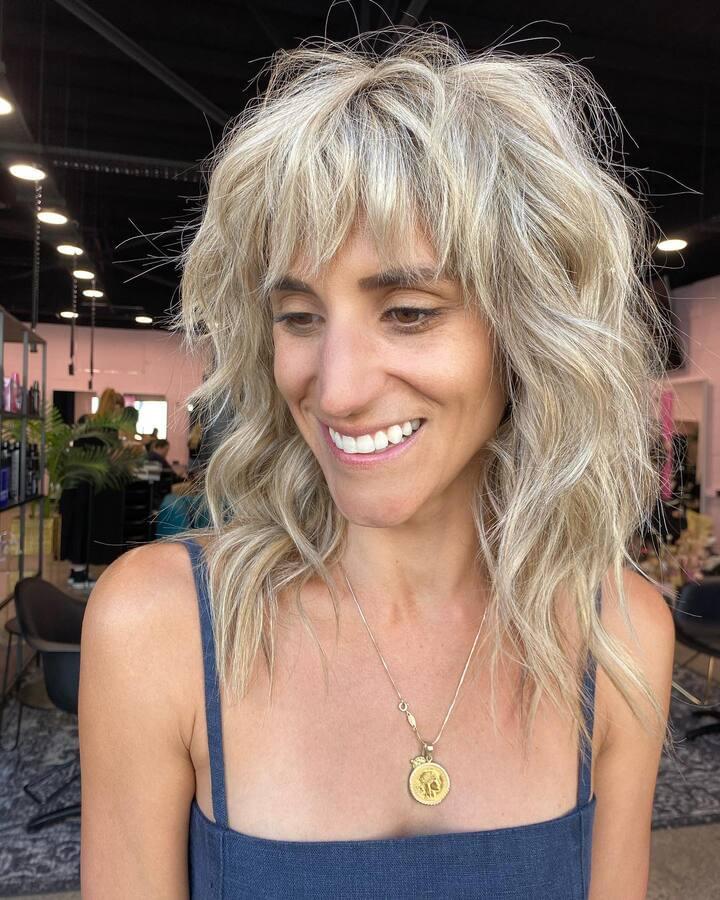 If you were wondering how the real shag looks – here is the answer. It has it all – enough layers, texture, and most importantly, the bangs. All of these are done on curly hair that still looks amazing.
4) Wavy Honey Blonde Hair
Honey blonde hair looks impressive itself, but when cut and styled in shag and with waves – we admit it looks even better. You can leave a few strands of hair lighter or darker and create a feeling of more volume.
5) Curly Blonde
Women with naturally curly hair might think that layering is not for them. On the contrary, shag is the perfect style to try if you have curly or natural hair. It will weigh off the hair, making it look more textured and styled.
6) Fuchsia Pink Shag Hair
If you wonder how to make curly hair look even more attractive, then this is the solution. Dye it fuchsia pink. You will get an absolutely enhancing and beautiful shag haircut that attracts nothing but positive comments.
7) Rainbow Curls
All those rainbow colors on the hair look very unique and bohemian. If you are ready to wear a hairstyle like this, we say go for it! Shag cut will enhance these shades even more by creating layers.
8) Like a Sun
Sunny yellow hair is not typical, we admit. However, it can make you smile even on a gloomy day. You can do highlights on your dark hair, around your face, but make sure to pick yellow dye.
9) Curtain Bangs on Long Shag
Long shag haircuts could be styled in so many different ways. Curtain bangs are a fantastic addition to this hairstyle. They will highlight your cheekbones and encircle your face.
10) Naturally Curly
It is noticeable that this girl has natural curls that are hard to tame. If you have the same problem, then the solutions are shag haircuts for curly hair. You can do side fringe or bangs – it is your wish.
11) Textured Curls
You can or can not consider yourself lucky with naturally curly hair. Some women love it, others hate it. We suggest finding a perfect balance with a shaggy hairstyle and lovely shade that matches your wishes, skin tone, and eye color.
12) Curly and Thin Hair
How to add volume to thin hair without putting on a tone of different products? The answer is in the shaggy haircut. Its layers will make your hair voluminous while preserving curls from losing their shape.
13) Dark Curls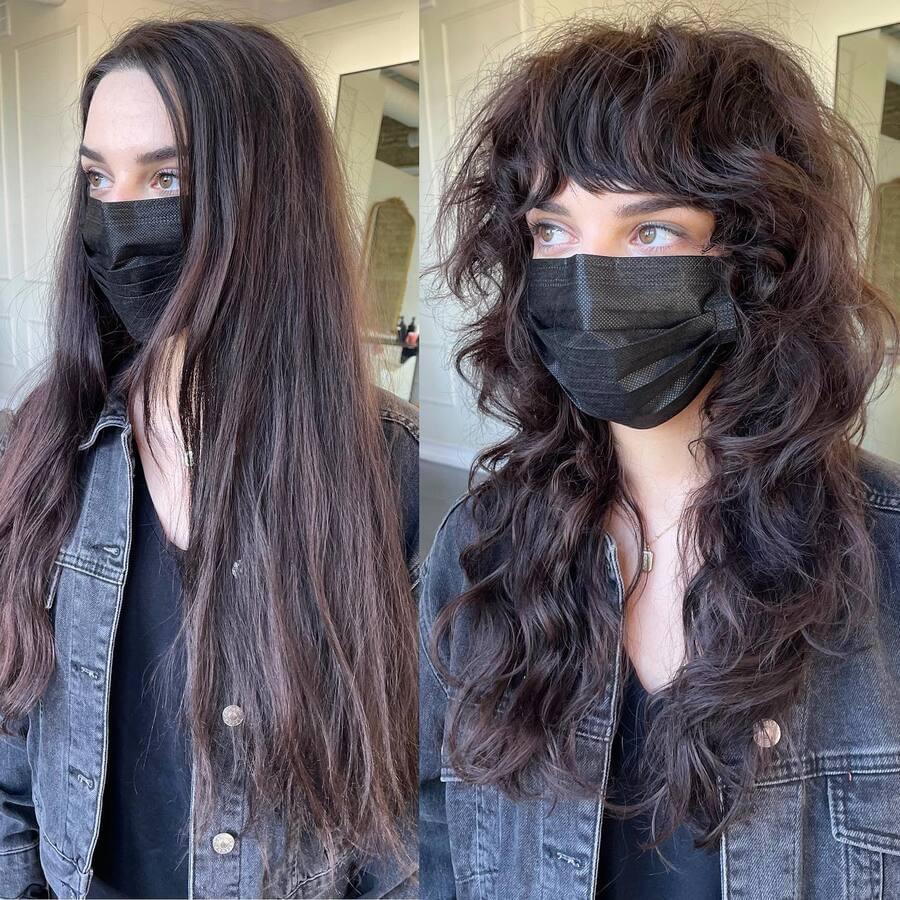 You can decide on flat or curly hair once you cut it in a shaggy style. Those layers are just perfect for both curling iron or a flat one, making your hairstyle even more attractive.
14) Short and Sweet
This is how you can style short curly hair without spending all your free time. You can save yourself time and energy if you decide to do a shag haircut and let your curls be free – a perfect haircut for both day and night events.
15) Youngish and Interesting
We all had periods when our hair was in the color of the rainbow. Usually, these things happened early in our teenage days. If you like your shag haircut, but you want to upgrade it, do blue highlights, and make sure they are positioned around your face.
16) Strawberry Blonde
Strawberry blonde was one of those shades that everybody wanted to try. It looks excellent on curls, especially on layers, when you can do highlights as well. Fringes encircle the face nicely, while those curls bounce up while you walk.
17) Colorful Shag
We have to admit, this is not a hairstyle you see every day. It takes time and patience to get this colorful shag. But we think that once you try something like this, you will be in love with your own hairstyle.
18) Cooper Balayage + Shag
Layers on your hair mean that your balayage will look even better, especially for thick shag hair. All those highlights, baby lights, and lowlights will look attractive even at night. The roots should be dark for great contrast, while lengths should be dyed in copper shades.
19) Natural Black Curls
Simple black curls that look healthy and textured are great for those who like classic hairstyles. This simple yet powerful shag haircut is suitable for all hair lengths and naturally curly hair.
20) Curly Pixie
Pixie hairstyles are bold and fashionable. They are also timeless, so you can choose them whenever you want. Layered pixie with curls looks extraordinary – so sophisticated and stylish. It is a perfect hairstyle for day-to-night events.
How to Take Care of Curly Hair
Now that you've seen all these pretty haircuts, let's talk about taking care of your curls.
It is important to focus on products and accessories that won't make your hair dry and overweight. These are some proven techniques that will help you enhance your curly hair and make them better manageable.
1) Pick The Right Shampoo and Conditioner
The first and most important tip is to buy shampoo and conditioner that are suitable for curly hair. They should be hydrating, and enriched with ingredients like coconut, jojoba, avocado oils, shea butter, aloe vera, keratin, and many others.
If you are washing your hair every other day, then make sure to use mild shampoos that contain gentle cleansers.
2) Avoid Hot Water
Hot water tends to dry out your hair by stripping moisture out of it. So, no matter if you are a curly or straight hair girl, you should definitely avoid hot water. Instead, try lukewarm water, even cold one.
When you are rinsing the conditioner or a mask, use cold water. The cold water will seal the hair cuticle.
3) Choose the Right Brush
As mentioned, curly hair, no matter what cut you are wearing, tends to be brittle and dry. It breaks easily when combed, and that is why it's so important to choose the right brush and comb.
The key is to brush your hair while in the shower. You can use a wide-tooth comb while the hair is conditioned, so it makes it easier for you to detangle it.
When it comes to brushing, invest in a good brush, with natural or wooden bristles, instead of classic plastic ones.
4) Mind Over-Shampooing
Washing your daily is not the best idea if your hair is curly. Over shampooing is a real thing and can drastically damage your hair.
Using too much shampoo can strip off natural hair oils and leave your hair dry and brittle. Try spreading the time between washes. We recommend washing it every 3 days.
5) Use Leave-In Conditioner
Usually, conditioning your hair while washing it is not enough. You should invest in a good-quality, lightweight leave-in conditioner. You will notice a huge difference!
The conditioners are applied after washing, providing you with an extra dose of long-lasting moisture. It also forms a barrier around hair strands and blocks out those things that can harm your curls – frizziness, UV rays, and other kinds of damage.
About The Author