Natural black hair is not easy to maintain. Sometimes it is hard to tame them after washing, even though you have put on all the products you had to. That is why we have dug Instagram for some black hair updo inspiration.
20 Impressive Updo for Short Black Hair Examples
From protective styles to buns and top knots – we have found easy yet head-turning ways to wear short hair updos. If you have thought they are impossible to make, you will hopefully change your mind after this article.
1. Side Bangs and Back Braid
Side bangs will reveal undercuts and your highlighted hair. Don't hesitate to make this updo for short black hair even more interesting by braiding it in the back. This style will make you look cool and stylish – a real head-turner.
2. Criss-Cross Braids
Criss-cross braids at the back of your head will surely make everyone turn their heads towards you. Even if your hair is short and curly, there is a way to gather it in an updo. This one is a perfect solution for both day and night events.
3. Twists and Curls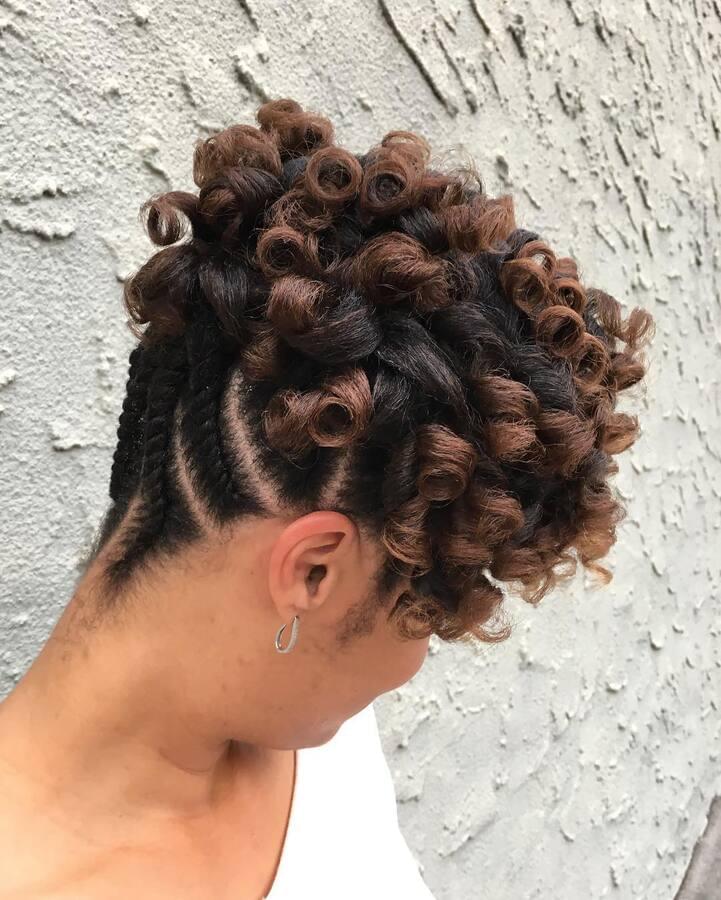 Curls on short black hair look eye-catching enough. However, putting them in an updo will make them even more interesting yet challenging for you. The hairstyle is a combination of twists and braids that will get you through the days when you don't prefer to wear your hair down.
RELATED: Perfect Updo for Short Hair: 4 Step-By-Step Tutorials
4. Updo for Natural Black Hair
Even though you think natural hair is quite impossible to style, there are still ways to hold it back and make it look good. Simply braid the backside of your hair, and gather the rest at the top. Yes, it is that simple, yet you will get an eye-catching style for both daily and special events.
5. Curly All the Way Up
Simple yet very head-turning hairstyles are the best. You get an interesting style in no time. All you need to do is style your natural curls using products for that and make them stay in a short hair updo for a day.
6. Accessorized Updo for Short Black Hair
You can always add some accessories to your updo to make it look more appealing. These golden rings are very often seen on black hairstyles, twists, and boxer braids. They can turn your regular updo for short black hair into the groovy one for the night out.
7. Half Updo for Short Black Hair
On those days when you don't have the energy for anything rather than Netflix and chill, you can make an updo like this. Simple – half of your hair goes up in a bun, and the rest – down. You can even iron or curl it if you are in the mood.
8. Updo with Scarf
A scarf is a multifunctional item. It goes on your neck, hand, hair, and bags. This updo looks excellent thanks to the black and white scarf. It is used as a headband in this case, but you can also use it for your ponytails.
9. Rhinestone Headpiece
If you are heading to a wedding or any other celebration, your hair needs to look impeccable. Putting on the rhinestone headpiece on your short updo will turn it from casual to super elegant.
10. Honey Blonde Ombre Updo
Ombre hairstyles look even better when they are gathered in an updo. That is how you can show off the dark side of your roots, and your honey blonde hair ends. Curly hair ends will surely be a head-turner. Make sure they are good-looking.
11. Cornrows Updo
Many women with natural hair think they can quite manage it to look great. However, if you choose to do cornrows with most of your hair and gather the hair ends at the top of your hair – you have a winning combo.
12. Flat Twists And a Bun
Flat twists are not only lovely to see on black hair – but this is also one of the protective styles that are perfect for your hair. You can wear the style throughout all the seasons. These flat twists are all gathered in a bun – simple and classy.
13. Glamorous Updo for Short Black Hair
This is one of those hairstyles that models on runways wear. Now, you can wear it too. You need to tease your natural hair and pull it up in an updo, using a lot of bobby pins and hair spray.
14. Twisted Ombre Updo
Twists and braids will enhance the look of your ombre hairstyle. This updo is excellent for women who like to have protective styles yet like to change them from time to time. You can position the bun wherever you want. One day as a top knot, the other as a chignon – the choice is only yours.
15. Messy Updo with Asymmetric Braids
Your hairstylist can achieve this look even on short black hair. These asymmetric and a bit chaotic braids make your hair look extraordinary. This will take time, yet you will have a hairstyle suitable for many different occasions.
16. Interesting Side Twist Updo
If you have natural curls, it is not unusual to find yourself bored with your everyday hairstyles – simple buns, topknots, and ponytails. This exciting side twist is an updo for short black hair that you would not resist trying.
17. Side Braids
Side braids will make even the most challenging natural pixie hairstyle look amazing. If you have highlights, even better – your hair will appear like you just have returned from the beach.
18. Circular Updo for Short Hair
Flat circular twists can look amazing on short hair. Even if it doesn't seem like that when you first see it, this is one of those looks that you can make easily. A protective style like this is perfect for daily wear, workwear, but also special events.
19. Bantu Knots
Even though it seems like natural short hair like this is hard to maintain, this is one of those styles you will enjoy having. Bantu knots and braids seem like a powerful combination that you will wish to wear all the time!
20. Burgundy Twists
Even if it seems like an intimidating color, burgundy is actually wearable. Especially in combination with natural black hair. You can expect an awesome braided and twisted hairstyle that will be a real head-turner.
Related articles
Get Hair Tips to Your Inbox
We will send an email from time to time. Not too often. You will get ideas with inspirational haircuts and hairstyles, suggestions on choosing hair colors, as well as hair care tips, and advice on how to deal with hair problems.