A shaggy bob haircut means asymmetrical, chopped ends, and lovely texture. That's one of those shag haircuts, that you simply can't help but adore! If you like low-maintenance haircuts, short hair, and interesting texture, then get prepared for an inspiration spike.
We have prepared many different ways to wear a shaggy bob. From tomboy short to the shoulder and long bob – everything counts. If you were thinking about a new haircut these days, let your choice be a shaggy bob.
Splendid Shaggy Bob Haircuts
Shaggy bob is one of those hairstyles that you can wear every day without being bored. Also, they are more than appropriate for all businesswomen. Easy to style, and even easier to wear.
Blonde hair and even lighter highlights will make you look stunning. With textured and choppy hair you can do whatever you want – throw it at one side or just let it fall naturally.
As you can see, curls look amazing in combination with a short bob haircut. When you add layers and asymmetrical cut to the equation you get a fantastic result!
Waves, a lot of texture, and side bangs are a great mixture that gives you a gorgeous messy look that you can wear every day, no matter the occasion.
This hairstyle is perfect for those girls who hate maintaining their hair in the morning.
We don't know about you, but we think bangs are beautiful in combination with a shaggy, asymmetrical bob. Bangs frame your face, pointing your cheekbones out.
This is a perfect hairstyle for all those bang lovers!
If you have thought that only short bobs count under the shaggy bob definition, you were wrong. You can rock this layered long bob every day – from your workwear to the night out.
Unexpected color in your hair might seem like you are the rebellious type. However, that can also mean your bob will look gorgeous and unique. If you are brave enough, don't hesitate to dye your hair in purple and yellow!
Highlighted hair is beautiful and very modern. If you like a classy, elegant style of bob haircut, then this might be the right hairstyle for you.
Long bobs are great for styling. You usually wear them just above the shoulders, messy or polished.
The point about these asymmetric bobs is precisely that feature – there is a lot of texture and different layers of hair that are perfect for maintenance and styling.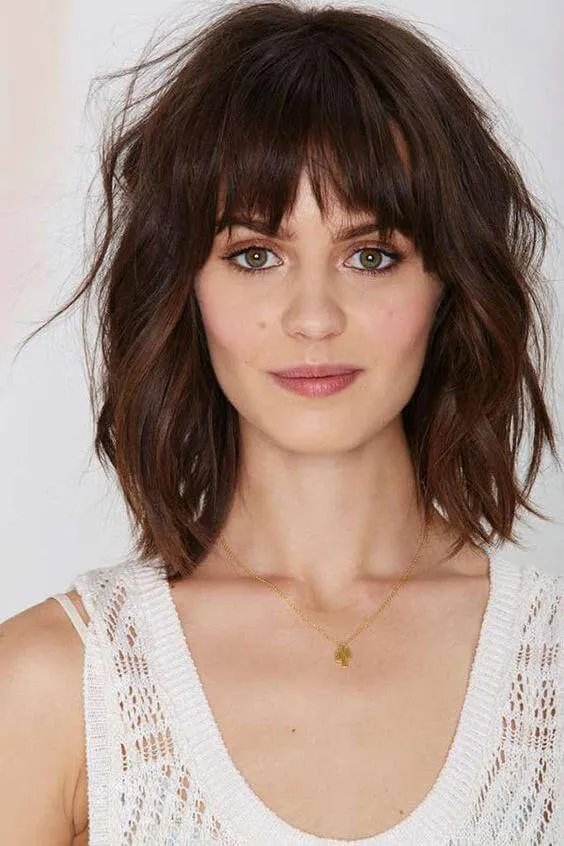 With softer and lesser chops, this haircut gets that feminine vibe that is perfect for all women. You can style this hairstyle for everyday or elegant events.
Maybe you were not aware, but wearing purple hair is more than trending for this year. You can decide on the shade and then cut your hair into a shaggy bob. This combination will be the bull's eye!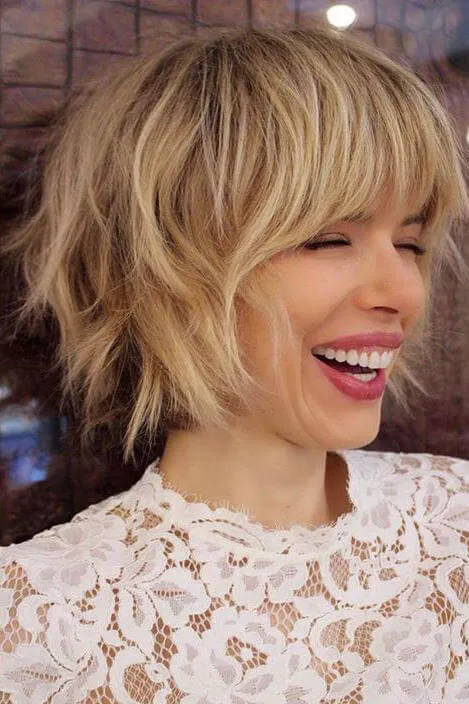 Even though this hairstyle is effortless to style, it makes a statement, wherever you appear. It is short, chopped, and with a lot of texture. This hairstyle is great for people who seek classic and glamour at the same time.
Everybody with thick hair can wear a shag bob haircut. No matter which hair color you have, a choppy, asymmetric bob like this will suit you perfectly. It will surely become your new favorite.
If you would like to go extreme and cut your hair into a short, tomboy look-alike haircut, then make sure it is layered. Shaggy bob like this is great for styling and one of those timeless haircuts.
A combination of curls and bob gives excellent results! This haircut is perfect mainly for elegant occasions, but it can also be styled for everyday office-home relations.
Grey hair is now available to everybody who would like to try that trend. When your hair is textured, and your layers are choppy, you can be sure your dye will be even more highlighted.
If you, in any case, have natural hair and you want your waves to be on point, then dye them in a lighter shade. You should also opt for a short bob with a lot of asymmetric layers of your hair.
This is a shag haircut for curly hair with angled and asymmetrical layers. You can let your hair grow and have an angled medium bob or have it short above your shoulders.
This glamorous hairstyle is perfect for all elegant occasions, including upcoming prom nights. Side parted, and with chopped ends, this haircut is perfect for elegant wear, with some sleek dress, makeup, and sparkly jewelry.
Side bangs and curly natural hair – a beautiful bob as a result. Hair strands in the front are much longer than the hair in the back, which makes this hairstyle interesting.
Pastel pink hair is one of the most significant trends in 2019. It looks absolutely unique and eccentric, but isn't that what you want?
If you are interested in having all positive comments coming to you, opt for this lovely hairstyle.
If you have really thick hair, then for you volume is not a problem. With short hairstyles, you can be sure your hair will look even better and more textured.
When cutting your hair, make sure you decide where your hair will fall. Centered or side-parted, no matter. It is essential for you to feel good while wearing this hairstyle all day long.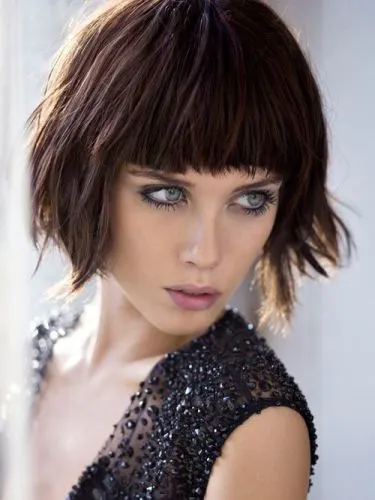 A short hairstyle like this is great for those girls who would like to have bold and rock 'n' roll-inspired looks. Bangs are great, but choose them depending on your face shape.
If you were wondering how these waves are achieved, we have the answer. The technique is called separated texture – waves are messy and kind of separated. And the result is amazing, right?
Classic haircut with some quite unexpected hair dye – this combination is great and achievable for all women. If you think this hair color will be too much, then just dye it in whatever shade you like, but leave the chopped ends and shaggy texture.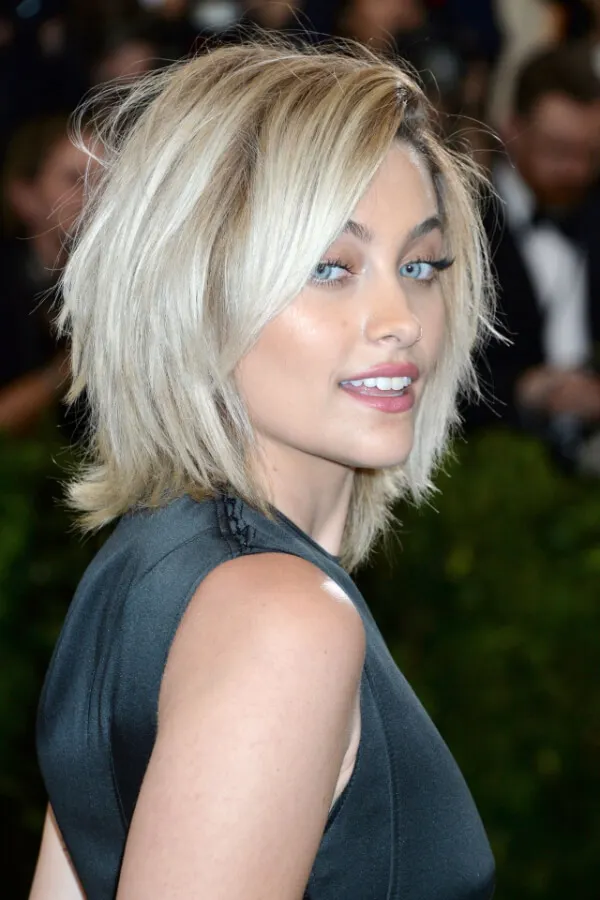 Even if you have fine hair, there is nothing bad in cutting your hair into a perfectly styled shaggy bob. Just tell your hairstylist to add more layers and texture.
Medium shaggy bobs are great for all sorts of events. You can wear it messy for everyday activities, and make large beach waves for elegant occasions. This hairstyle will always keep you trendy and chic.
Copper shades are looking gorgeous and eye-catching. In combination with shaggy bob hairstyles, you can get nothing but perfection. These hairstyles are perfect for both everyday and special events.
Choose these waves and balayage hair techniques if you want to catch all the attention. Lovely warm blonde color and large waves are perfect for work, black-tie events, as well as for daily meetings.
About The Author