Summer season is almost here. Now it the perfect time for all of us to see some travel outfits that can make us feel comfy and stylish while going on a train, plane or a bus.
You can actually wear anything for traveling, as long it is comfortable. Also, don't forget to layer items and always wear a jacket or cardigan. You never know when it can get chilly.
We have collected some of the best travel looks from our favorite It-girls, bloggers, and influencers. They all tend to amaze us even when they travel. Check the looks and find out travel tips for your next journey. Bon voyage!
Long Black Dress
The black cotton maxi dress is one of those items that every girl want to have in her closet. This staple is great for everyday wear, but also for women who travel a lot. Combined with a straw hat and flat sandals, this dress will make you feel comfy whether in a plane, bus or a car.
Black and White Combo
White pants might get dirty quickly, but they are so stylish. Combine them with a white jacket, black bodycon turtleneck, and animal print scarf for travels. You will look both chic and comfortable. Don't forget to finish everything with white sneakers.
Denim with Sporty Leggings
A denim jacket is definitely a timeless piece that you can always pull out from your closet. It is excellent for everyday wear, to drape it over the shoulders when it is chilly or to travel in it. The key feature of a denim jacket is its versatility. You can wear it with leggings and still look great and not like you are going to the gym.
Camel is Chic
If you are a fan of jeans, then you can always travel in a pair. Black jeans are a good match with a white sweater and camel coat. The details on the sweater are great if you are going to mountain skiing or to a snowy resort.
Comfy Leather Leggings
Grey cashmere cardigan, black leather leggings, and a basic white tee – these are exceptional items for all sorts of traveling. No matter if you are traveling by bus, airplane or a train, this outfit will serve you great. Looking chic in while traveling is no longer impossible.
Pleated Button-Down and Jeans
Skinny jeans and the pleated button-down combination is comfortable and great for traveling. You can always dress plain white tee and take off the button-down if you feel too hot. Adidas Superstar sneakers are a great choice to finish off this look.
All White Look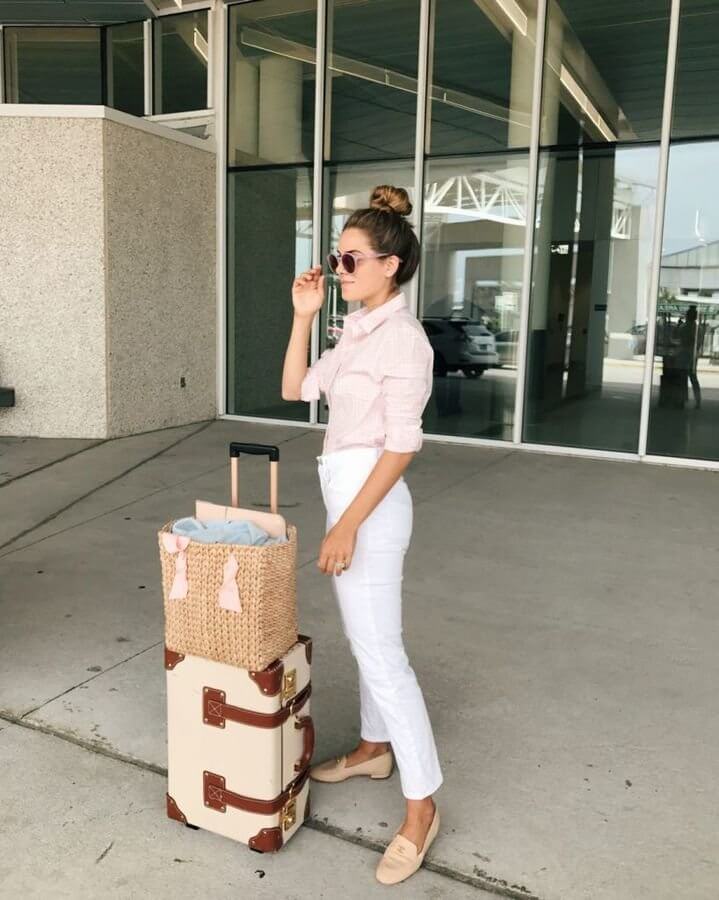 If you are going on holiday by plane, then all-white-everything outfits are more than appropriate.
If you want to break the white, switch from white blouse to the blush, and pick beige moccasins. This girl decided to match the outfit with a straw bag.
Denim and Black
Combining black and blue jeans is now more than possible. You can choose to wear a blue denim jacket, either on your shoulders or around your hips. Mix it with skinny black jeans and a t-shirt with some exciting print on. White Stan Smith's are obligatory.
Striped Blouse and Black Pants
Chic and comfy – there is no better combination than this one. Airports can be tough, so the most important thing is to feel pleasant. These pants will definitely help you feel like that. The blouse gives you that plane-chic look.
Loose and Casual
Loose T-shirt and jeans are classic travel clothes that everyone can pull out. It is also more than appropriate for moms that travel with their little babies. A hat and leopard mules are stylish accessories that will make you fashionable even while traveling.
High-Waist Jeans
Blue jeans, white shirt – it is a simple yet timeless combination that works for both casual and travel occasions. This fashion blogger wears this combo with a light grey cardigan and unique sneakers. The green bag might be an unexpected, but surely a very fancy item.
Straw Bags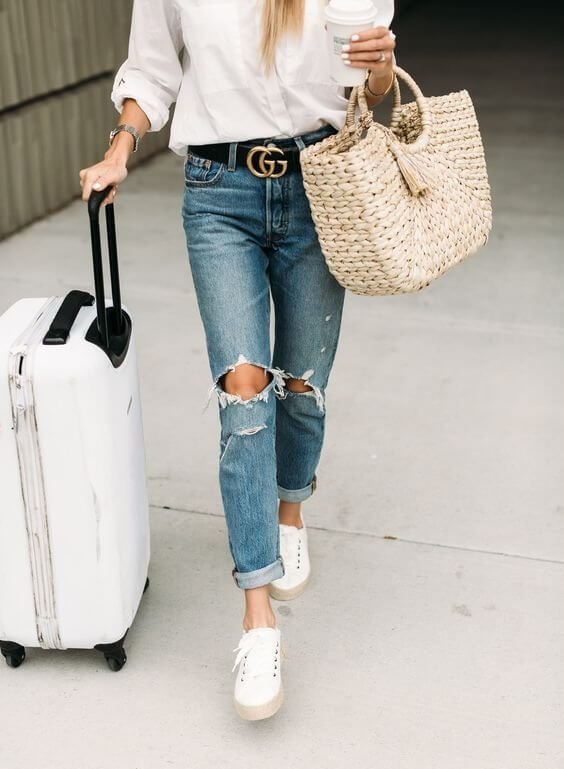 Straw bags are great for summer. You can style them with almost everything, so with your travel outfits. Ripped jeans and sneakers along with loose and comfy button-down are all great pieces to wear while traveling to your wished destination.
Like a Supermodel
There is no better look to copy than the airport look worn by supermodels. All in a black, comfy sweatshirt, as well as a chic bag – these things are the ones that you need to copy this look. Minimal makeup with red lipstick is definitely airport-appropriate.
All-Black-Everything
This British blogger knows how to dress all in black and how to make it seem airport appropriate. Comfortable travel can also mean you look stylish at the same time. The leather jacket is always a good idea for traveling.
Sporty Sneakers and Camel Coat
Sporty sneakers became a statement piece a few seasons ago. You are now allowed to pair them with dresses, suits, as well as travel outfits. A camel coat is a kinda elegant piece, but you can now pair it with white pants and sporty Nike sneakers.
Edgy Leather
Leather pants might not be your first choice when you go traveling. However, if the destination is short, then why not? You can combine them with a long and oversized grey sweater. This whole combo is a bit edgy and very chic.
Comfortable Shoes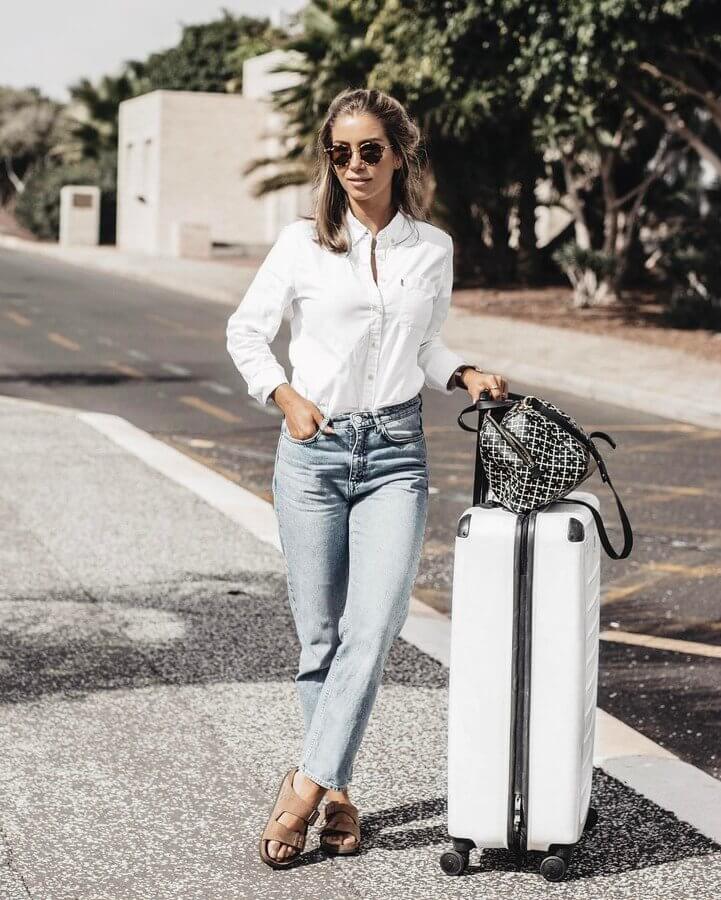 One of the most important things to consider when preparing your packing list is to take comfortable shoes. After a long flight, your feet can get simply swollen and make you feel uncomfortable. With this outfit wear Birkin sandals or mules that have orthopedic sole.
Stripes are Timeless
Stripes are great for everyday wear. In combination with jeans, you can easily look like a Parisian. The striped blouse is one of the favorite pieces of chic French girls. Bucket bag, straw hat, and white sneakers suggest you are going to some place where is warm and sunny.
Sporty Dress
Not all dresses are elegant. Adidas makes great sporty dresses that are perfect for occasions like traveling and casual events. You can match this blush pink dress with white sneakers and cardigan, knotted around your waist.
Bell Jeans and T-shirt
Bell bottoms are more comfortable than skinny ones. Match these jeans with a military green tee and leather sandals with a wedge heel. The big bag is the must-have for long flights. You simply need all your skincare and favorite book close to you.