Few patterns in your wardrobe will work quite as hard as stripes. No wonder we've been seeing this classic design pop up everywhere this season – from masculine button-down shirts to soft, flowing dresses.
Forget the naysayers who claim that stripes are unflattering. It all comes down to how you wear them. Horizontal stripes, for example, have the tendency to add extra weight when worn incorrectly. That's where vertical one come in.
Quick Navigation
Unlike horizontal lines that cross the body from left to right, vertical stripes are long and lean. This fools the eye into seeing a taller, slimmer physique (one of the best optical illusions, if you ask us).
But don't just take our word for it. We've compiled 25 looks that feature striped clothing in the lead role. We show you how to style this basic print for full fashion points.
Wearing A Striped Button-Down Shirt
1) Masculine Sexy
Modern and minimalist with a touch of masculine – that's the effect created with this outfit. The lines are clean and crisp, just what you need on a busy no-nonsense day. Whether you're running personal errands or running your company, this look works equally well in a semi-formal or casual environment.
Get a similar look by choosing slim-fitting high-waisted jeans in classic dark blue. Pair your sleek denims with a men's style button-down shirt featuring thin dark blue stripes. The overall effect is polished and sophisticated. Add your sexy spin by opening the top few buttons of the shirt if you dare, not forgetting to roll up the sleeves casually for a softer effect.
2) Schoolboy Charm
Maybe you've heard the old saying that stripes are only flattering if they're slim and barely noticeable. Well, this outfit proves that notion completely wrong. The stripes on this short-sleeved linen shirt are anything but thin yet, with its knotted detail at the navel, the effect is cool, hip and super trendy.
The perfect accompaniment to this classic style is a pair of high-waisted shorts in charcoal gray. But, unlike the usual schoolboy style, this pair features soft pleats on the upper thighs plus a thick cuff at the hem. This look is the perfect blend of vintage and modern – ideal for city girls with a penchant for old-world nostalgia.
3) Old-School Glamour
The best part about the striped shirt trend is the feminine touch you get to add to it. Here we have a typically masculine button-down shirt. It's the way that it's styled however that really sets this look apart.
Sure, you could pair this style staple with skinny black pants for a foolproof office look. Instead, why not go for a figure-flattering pencil skirt? This shapely ankle-length black number creates an air of sophistication and old-school glamour to an otherwise ordinary ensemble. Round off the classic motif with pointy stiletto heels in shiny black patent leather.
4) 1950s Flair
This look is all about contrast. On top, we find a button-up shirt adorned in thin blue and white stripes. Instead of pairing it with the usual choice of blue jeans, though, why not go for a more daring choice? This full midi-length skirt is the perfect accompaniment for an unexpected twist.
It features large solid checks, but it's the bright crimson color that really makes the outfit pop. The bold red shade is picked up further in a pair of lovely matching stiletto heels. We love the chic addition of dramatic black sunglasses and a classic large clutch purse. Then, for a cheeky nod to the 1950s, be sure to tie the shirt in a knot just above your midriff. Perfect!
5) Weekend Styling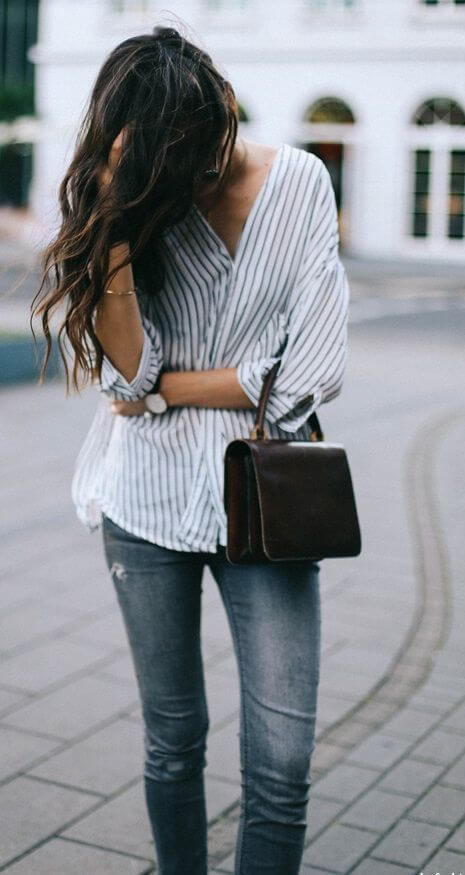 Here we see the striped shirt at its basic best. On those days when you can't be bothered to coordinate a brand new creative outfit from scratch, go back to basics: blue denim jeans plus your trusty striped shirt.
Fashion blogger Beatrice Gutu shows us how it's done in a pair of Zara jeans teamed with her favorite oversized boyfriend-style striped shirt. A leather bag in dark brown leather is the only accessory required to complete this easy-going look.
6) Boat-neck Beauty
We can imagine old Hollywood screen sirens wearing this outfit, couldn't you? Grace Kelly, Audrey Hepburn and Ingrid Bergman were all fond of classic, resort-style fashion. Something tells us, this boat-neck top would've been right up their alley.
Pair this vintage item with stonewashed denim jeans resting just above the hips. For a modern touch, tuck the front haphazardly into the waistline, leaving the back hanging open. Roll up the sleeves into large cuffs and complete with delicate gold jewelry and a neutral-colored clutch purse. Don't forget to top off the look just like an A-list star would: with a sexy slick of bold red lipstick.
7) Yes, Stripes Can Be Edgy Too
Admit it: the last thing you think of when you hear the word 'stripes' is edgy. Modern and sophisticated maybe, but not edgy and cool. Right? Well, this outfit puts a spin on the classic style staple.
To add some grunge to your look, try incorporating a mini skirt in sexy black leather. When paired with a loose-fitting button-down striped shirt, the effect is unexpectedly urban yet still cool and classy. Pick up the metallic color of the skirt's zipper by accessorizing with hints of gold jewelry.
8) The Espadrille Effect
Easy-going, laid-back and effortless – just what spring weekends should be all about. This outfit encapsulates that carefree spirit perfectly. A pair of faded Levi's shorts is casually ripped on the hem. On top, the relaxing effect is carried through in a loose-fitting button-down blouse from H&M.
This look is ideal for impromptu picnics or a heady musical festival with your friends. Continue the bohemian vibe with a pair of espadrille platform sneakers by Jeffrey Campbell and beautiful, wispy gold jewelry.
9) Faux Fabulous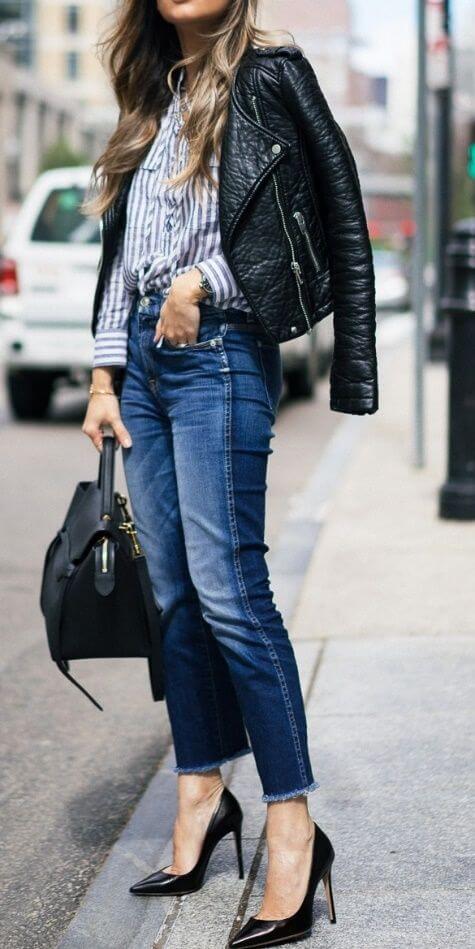 You can't go wrong with the tried-and-tested formula of blue jeans and vertical stripes. It's a combination that never fails – and if you can find a button-down variety with contrasting horizontal stripes on the cuffs, even better.
This ensemble works because it's made up of classic items effortlessly paired together. Get the look by matching edgy, dark pieces like this black faux leather jacket and black pointy-toed heels. The finishing touch is a structured black bowling bag.
10) Make a Statement in Stripes
Heading to a fancy cocktail party? One way to make an unmissable entrance is by combining two eye-catching style tricks: bold color and solid stripes. This look blends the two to perfection.
Recreate the look by selecting a high-waisted skirt in a bright, bold color like this rich royal blue. A flirty ruffled edge adds a cute feminine touch to the outfit. On top, the key is to go equally bold, and this vertically-striped V-neck blouse is the ideal choice. Softly cuffed at the elbows, the fit is softly draped and tucked into the skirt's high waistline. Complete the look with a metallic box clutch purse.
Outfits with Striped Pants for A Slim Silhouette
11) A Meeting of Classics
What's a sure-fire way to add class and sophistication to an outfit? It's not as complicated as you may think and this outfit is proof. A classic white T-shirt is striking as it forms the basis of this simple ensemble.
Complement your tee with a pair of high-waisted pants in stripes. You get bonus points if the hem on each leg features contrasting horizontal stripes. Top off the simple motif with block-heeled strappy sandals in brown and an easy nude-colored clutch purse.
12) Sporty Spice
Long, vertical stripes will always lengthen your frame and make you appear skinnier and, yes, taller too. So if you're on the short side, this trend was designed just for you.
As the eye is drawn down to the stripes, a pair of striped pants like this one will give the illusion of longer, slimmer legs. Wear them with simple white tennis shoes for an athletic feel. This carries on the cheeky, carefree persona created by a simple black bralet and subtle gold jewelry.
13) Twice as Nice
Sure, stripes are a big trend right now. Want to know what's an even bigger trend? Mismatched stripes. And this look shows you how to get the balance just right.
Firstly, choose different items in the same family of colors; in this case, neutral shades. A pair of boyfriend jeans is cuffed just above the ankles and covered in thin, barely noticeable stripes. On top, a white off-the-shoulder top features thin stripes which are spaced widely apart. The only dark, solid colors are found in a pair of black strappy sandals from Sam Edelman and matching black handbag.
14) Walk the Line
Call them jail strips or referee stripes… one thing is for certain – it's one of the most flattering silhouettes you can find. In the classic color combination of black and white, this outfit strikes a natural balance between casual and edgy.
These regular-fit pants rest high above the hips – an important factor when wearing an open-back T-shirt like this one. Wear low-rise pants, and you may just show more skin than intended. Choose simple accessories to continue the easy-going urban motif. All that's needed is a pair of black Aviator sunglasses and a black leather backpack.
Keep It Off the Shoulders
15) Hollywood Honey
This may very well be the trendiest outfit of the season. We've seen it on Hollywood starlets, models and fashion bloggers alike. Luckily, for the rest of us, this look is super-easy to replicate. What we see here is an ordinary men's button-down shirt styled in an unusual way.
To get the look, take a men's shirt in size larger than you're used to. Pull it below your shoulders and fasten the buttons, but keep the collar wide open. Pair this with a tattered denim skirt, remembering to let the shirt's edge peek cheekily out the bottom. Don't forget to tie it all together with another cult classic – Gucci's leather belt with Double G buckle.
16) Aye Aye, Captain!
Vertical lines were made to be worn with dark blue denim. But when the occasion calls for something a bit more formal, fitted navy blue pants do the trick just as well – if not better.
This outfit is sleek and elegant, all thanks to an off-the-shoulder striped design from Asos. It features a sweet nautically-themed knot around the shoulders as well as more structured cuffs at the sleeves. High-waisted fitted pants round off the look for a sophisticated touch. Metallic accessories highlight these neutral colors perfectly, as seen in a pair of Zara pointy pumps and sling bag from Yves Saint Laurent.
17) V-neck Vixen
Here are style items you probably already have hanging in your closet. Only, when styled like this, it takes on a whole new dimension.
This is the latest way to style your black leather mini skirt. Wear it high above your hips for a high-waisted effect. Take a classic striped button-down shirt, like this one from Zara, and wear it low down on your shoulders to create an open V-neck shape. The key is to leave it hanging loose and draped over the mini skirt. Cool, edgy accessories complement the look – black slip-on heels and a tasseled leather bag from Balenciaga.
18) Wrap It Up
As the weather slowly shifts into spring, there's no better way to celebrate the sunny temperatures than in light, airy fabrics. This beachy outfit is breathable and lightweight, the perfect choice for lazing about under the sun.
A striped maxi skirt like this fits beautifully with an off-the-shoulder peasant top. Complement the skirt's fine vertical stripes with a crisp white linen design tucked into the skirt's elastic waistband. When it comes to jewelry, barely-there bracelets and a simple metallic necklace are all that's needed.
19) All-in-one Style
Here we see a combination of three major spring trends into one stunning outfit: vertical stripes, an off-the-shoulder neckline, and oversized bell sleeves. The natural choice to show it off perfectly is, of course, a pair of dark blue skinny jeans.
This top would work equally well with cut-off shorts, white linen trousers or skinny black pants. Although it may be high fashion right now, we predict that this eclectic style will be around for quite some time to come.
20) Metallics & Stripes
This romper just screams 'holiday.' Even if you're stuck in an office this season, a fun vacation-themed outfit can do wonders to lift your spirits and add some cheer to your day.
This ensemble captures the essence of la dolce vita. A lovely off-the-shoulder design is adorned in elegant peacock blue vertical strokes. Her choice of shoes is a pair of dusty pink sandals with a hint of metal from Zara – a quirky, bohemian choice that ups the cool factor of this carefree look.
21) Scarf Styling
When the weather starts to heat up, the last thing you want is restrictive clothing that traps heat close to your body. Cue: this easy, effortless outfit. All it consists of is a long, striped black-and-white scarf wrapped carefully around the body.
Pair this unusual choice with fitted high-waisted jeans for a relaxed, laidback look. A word of caution, though: remember the double-sided tape to prevent any embarrassing nip slips during the day!
Mix Masculine and Feminine with Vertical Stripes
22) Pinstripes on Point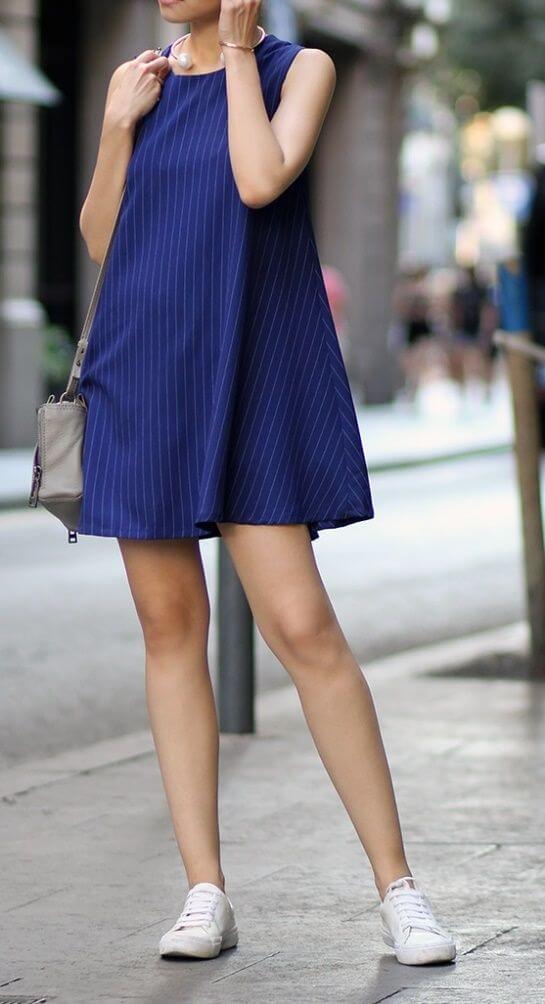 Here is a fashion combination we don't see all that often: pinstripes and sneakers. The overall effect is casual, quirky and definitely unexpected. Once again, it goes to show that when it comes to fashion, there are no rules.
This navy blue dress features a classic A-line baby doll shape reminiscent of the 90s grunge scene. When covered in thin white pinstripes, though, the rocker effect is softened slightly and given a preppy update. The finishing touch is a pair of pure white sneakers by Stradivarius. Lastly, to diversify the look even further, a double pearl necklace by Zara is a cute addition to the ensemble.
23) Lined in Style
So you've been invited to a snazzy evening event and don't know what to wear? You've got your answer. This dress is the perfect solution because it features just the right blend of smart and sexy.
Its striped pattern is trendy and chic, while the floor-length design plus thigh-high slit adds a daring touch. Dress like this needs minimal accessories. Only top it off with elegant ankle-strap sandals by Stuart Weitzman, a waist-cinching black leather belt, and classic Chanel clutch purse.
24) Mediterranean Muse
Is it a shirt or is it a dress? Well, that all depends on the way you look at it. The truth it, this outfit is made up of nothing more than an oversized men's style button-down shirt.
It's the accessories that truly pull the look together. A thin black leather belt cinches in the waist to create a feminine effect. A Panama hat and opaque black sunglasses complete the Mediterranean holiday persona.
25) Luxury Draping
We love this easy-going wrap dress from Australian brand, Country Road. This style is perfect for fuller-figured ladies and just goes to show that stripes suit all body types. Made of herringbone linen, the dress beautifully drapes across the body thanks to its lightweight design.
Thin yet solid white stripes stand out against a backdrop of smoky blue. The white is picked up further down in a pair of crossover sandals while a longer-length gray cardigan falls nicely on the arms.
About The Author