Winter is beautiful, but let's admit something here. There is no better feeling than switching from your snow boots to some light ballet flats.
Early spring outfits are layered, with a jacket or a coat on. While it is still warm during the day and cold during the night, you have to plan your outfits right. And that is where we jump in.
We have prepared some of the best spring outfits you see trending on Instagram. Let's get inspired together.
What to Wear in Early Spring?
An oversized turtleneck will make you feel comfy, but not too warm. However, you need to be careful with the early spring – a jacket is obligatory. Jeans and sneakers are a perfect combo for everyday strolls.
If you decide to wear a pleated skirt, then make sure you have a jacket thrown over your shoulders. You never know with early spring – the rain can come or some unexpected wind.
Cashmere sweaters should be in your closet until summer comes. They are utterly stylish and great for keeping you warm. Style your sweater with a pleated skirt and patterned ballet flats for the perfect early spring outfit experience.
One of the easiest yet very effective ways to look great can be achieved with a floral top and a skinny pair of jeans. This combination is great for dates, informal everyday meetings, and as a work outfit as well.
If there is anything you should prepare in advance for early spring, that is a baby blue top and a pair of white jeans. They simply shout spring when you wear them!
You thought that time of thigh-high boots is over? No, it isn't over. Celebrities still love them, so why don't you try them in combination with your short dress? Don't forget a suede jacket and matching belt.
Ruffle sleeves and off-the-shoulder sweater are a great way to invoke spring. You can wear this lovely white sweater with ripped jeans and a comfy pair of flats.
The suede jacket is a statement piece for early spring. Whether you plan to wear it with a dress or a simple tee-and-jeans combination, the jacket will keep you both stylish and warm.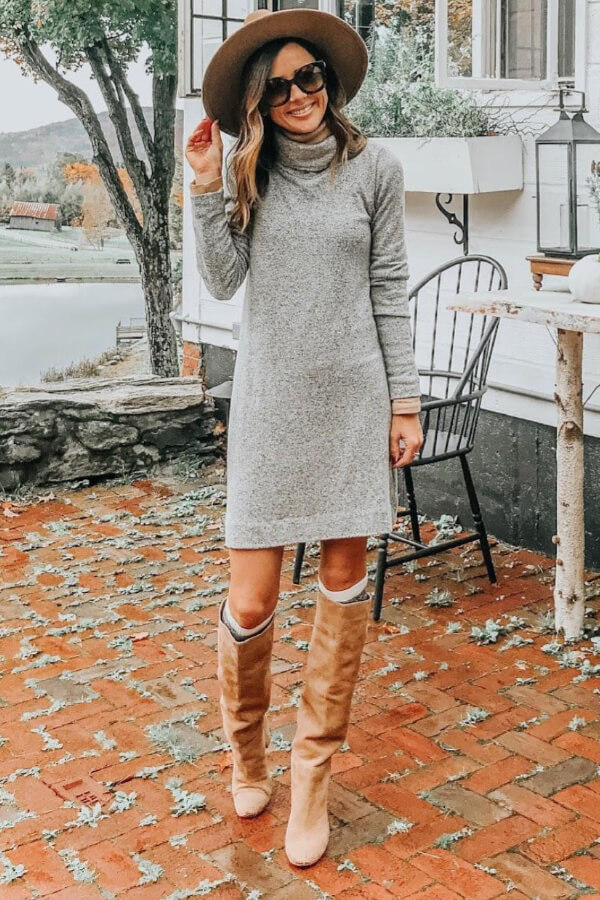 Layered items will provide you with warmth and coziness all day long. Make sure to wear a light turtleneck under your sweater dress, for an extra dose of comfort. The fedora will give that super feminine finish to the outfit.
Brown shades are one of the ultimate trends for fall. Instagram is on fire with all-brown-everything looks, so you should give it a try. Match your poncho with brown leather loafers.
If you are into prints, then you won't be afraid to mix them for early spring outfits. A classy white turtleneck with stripes and an animal-printed blazer are two items that will catch all attention while you are in the streets.
Soft pink and grey are two complementary colors that give fantastic results. Grey cardigan is great for those warm early spring days to spend outside. Peep-toe heels are a great accessory that complements the whole outfit.
Believe it or not, corduroy is back, and its comeback was very dramatic. Corduroy skirt is a perfect item to wear with a classy white blouse for an all day long stroll and coffee breaks.
Black and white combinations are great for both workwear and casual. You will look utterly chic in ripped white jeans and tee with the addition of black details – blazer and stilettos.
A trench coat is a statement item that you need to have as part of your spring capsule wardrobe. It mixes perfectly with the light and cozy sweaters for early spring combinations.
A Brown cable knit sweater is something that you can wear during the winter and in early spring. If you want to draw more attention, pair your jeans with white boots.
A light pink coat is all that you need in spring. Pastels are still trendy, so don't hesitate to choose precisely this shade of pink.
Cozy knits are a great item to style if you don't want to wear a jacket. In early spring these kinds of turtlenecks will keep you warm and stylish, along with your cut jeans and white sneakers.
Early spring is the right time for you to try wearing a slouchy cozy or oversized sweater and mini skirt. That is the only time when you won't feel very hot in it.
Hunter boots are a great item to have for early spring weather. Unexpected rain shouldn't ruin your outfits! The mini plaid dress matches perfectly with them. British vibes on!
This color combination is perfect for all those lazy days you plan to spend outside the house. It is a great outfit for all the girls who love to make balances between long and short items.
The sweater-skirt combination is one of our favorites. It is perfect for spring weather. While you won't feel any cold, you won't be too warm either. Patterned skirts are a huge trend for spring and summer.
Superstar sneakers are pairable with any dress. However, they look the coolest with knit dresses, such as this grey one. Drape a leather jacket over your shoulders, and you are ready to rock!
Light pastel skirt and crochet sweater are two items you need to rock this look. It is excellent for all cool girls seeking a comfortable yet chic spring outfit.
When we see wide-cut jeans, the first thing coming to our minds is the hippie style. Yes, this lovely vibe is back, stronger than ever and all cool girls love it. Style your jeans with a tee and suede jacket for a great spring outfit combination.
Combining strong and feminine fashion items is always challenging and attractive. A lace top and navy-blue military-styled blazer are two perfectly combined items. With skinny jeans and black flats, you will be ready for long days outside.
Pastel pink suit is excellent for early spring wear. However, don't wear it on rainy days, even if it would probably raise your mood. Keep this lovely suit for sunny, warm spring days.
Maybe you didn't know, but white and red details work perfectly together. This is one of those eternal outfit combinations that you can wear for all occasions.
We won't ever be bothered with classy tee-and-jeans combinations. You can change the color of your tee depending on the occasion, but the result will still be the same – fantastic.
Fringed jeans are still at the peak of their popularity. A denim jacket is a perfect item for spring – light enough yet to keep you warm at nights out.
If you were not aware, animal print is back. For this spring, it is even one of the most significant trends predicted. So, you know what to do – yes, you need to buy that leopard print skirt that you have been watching for a while. Style it with a chunky sweater.
A beautiful countryside style with Hunter rain boots and a button-down dress is just perfect for early spring weather.
A long light coat over the gorgeous lace dress is perfect for workwear and elegant occasions. This look is great for early spring – not to be overdressed but not to freeze either.
Soft pink shade, cashmere, and bell sleeves – this is what we call spring sweater. It matches perfectly with your favorite pair of jeans, and mules. If mules are too much for the weather, then opt for sneakers or ankle boots.
Moms' jeans tend to become one of the comfiest jeans ever. They are high-waisted and super versatile. Wear them with an oversized turtleneck and light trench coat.
A long and oversized burgundy sweater can serve as a jacket! Style it with dark jeans and white sneakers for a casual and chic rainy outfit.
Leopard print is one of the biggest trends for spring. Start on time – pair your vintage animal print blouse with jeans and wear it all the time during spring.
A floral blouse is one of those things that never go out of style. You can wear it tucked in your favorite jeans, with a matching long coat draped over your shoulders.
A crochet cardigan gives this outfit a retro vibe that is more than welcome for the spring. If you would like to follow trends, then match this cardigan with straight frayed hem jeans and two-toned heels.
This combination is amazingly versatile and great for all spring night outs. You can easily take off your jacket if you feel hot, and drape it back over your shoulders when going home.
Aimee Song decided to invoke spring in New York by choosing her outfit in earth tones. Dark green turtleneck, brown asymmetric skirt, and over-the-knee boots are greatly balanced pieces – perfect for early spring.
Don't leave your jacket at home just yet. Early spring knows to be pretty unpredictable, so coziness should always come in the first place.
A beige shade is very practical for all seasons. It is versatile, can be worn for all occasions and events. You should try this outfit for upcoming spring weather.
Combination of ugly sneakers, an elegant bag, and a sweatshirt? We were not sure about it as well. However, this girl convinced us that this combo is not only possible but very trendy as well!
Snakeskin is one of the leading trends for spring. Some bloggers already started wearing this print, as you can see.
We all hope that with bright-colored outfits we will invite spring to come earlier. Why don't you try it? Lovely pants are mixed with a matching yellow coat and beige turtleneck.
Even though plaid was one of the leading trends of last season, its popularity didn't stop. You can style a plaid blazer with your favorite pair of jeans and rock this look for early spring weather.
Ugly sneakers might not be the most beautiful sneakers in the world, as their name says it, but they are certainly very comfortable. Wear them with leggings and a light sweater for spring walks.
This jacket might seem like you have just stolen it from your boyfriend, but isn't that a point? With this look, you can be sure you will look pretty and feel cozy on unpredictable spring days.
The jeans and sweater combination is perfect not only for winter and a few layers above but also for the spring when you can wear it without any jacket. Enjoying the sun in this outfit – there is nothing better!
There is nothing better than feeling comfy and chic in oversized cardigans and sweaters. They should be your piece of a choice for early spring weather.
The Dior saddlebag is a statement piece of early spring. All the It girls already started matching it with their outfits. All-beige-everything look is great for leisure Sundays, spend outdoors.
Red stilettos are a perfect addition to all bold outfit combinations. The brown striped suit is casual and elegant at the same time – perfect for combining.
All-orange-everything might sound intimidating, but if you are brave enough, try this outfit for the upcoming spring. Cool girls already wear orange, so why don't you?
Beige sweatshirt and high-waisted pants present an unexpected but perfect combination for easy weekend days. However, let your jacket be somewhere around – you never know when you will need it.
Spring is the only time of the year when you will get a chance to wear pleated maxi skirts with sweaters and booties. Use that chance and show off your best looks.
Nothing can beat a classic Converse-jeans-blazer combination. This is a perfect look for everyday wear – from a supermarket to workwear. You can wear it everywhere.
White jeans in combination with a striped sweater look beautiful and utterly chic. Block kitten heels are a great choice for this lovely sophisticated outfit combination.
Polka dot asymmetric skirt calls you from the store windows to buy it! You should copy this early spring look from Margo and rock it during your strolls and casual meetings.
Zebra print is equally popular as any other animal print. This year, girls choose to wear this print among all others. This zebra printed skirt looks great with the cozy beige sweater.
The green color is one of the main trends showing off on Insta feed of cool girls. It works perfectly with camel, brown, and white shades.
Leather patches on the skirt as well as the black blouse make this combination extraordinary. It has that Parisian vibe which is very chic. Over-the-knee boots will keep your feet warm.
Even if florals are here every spring, it never hurts adding this print into your everyday capsule wardrobe. Did you know over-the-knee boots match perfectly with midi and long dresses?
If you are brave enough, then wear all these colors. They surely will invoke warm spring weather quicker than you think!
The balance should always exist in fashion. So, if you are wearing something tight like these black leggings, then you can style something longer like a jacket or blazer.
A matching suit in baby blue is nothing but perfect. Early spring is an ideal time to try something new, so why don't you give this suit a try?
Lilac is the specific color of the season. Opting for even one piece in this shade will make you trendy and very chic.
A long plaid blazer is combined with leather shorts and knee-high boots. Greatly balanced, and perfectly chic. You can wear this look as an everyday one, or style it for a night out with your friends.
One of the trendiest bags for spring is the baguette bag. It is a versatile, retro trend statement piece that you need to own.
Oversized sweatshirt with simple black leggings is a new aesthetic for early spring. Sporty clothes in combination with a few elegant pieces are It-girl's favorite way to experiment in fashion.
The pattern that we see a lot for spring is earth tones in combination with green, orange, and black. We don't know about you, but we are big fans of neutrals, so this would be our favorite combo for warmer spring days.
You should change your office wear with warmer weather. However, keep that tailored vest, a white button-down, and high waist pants, since they are perfect for all seasons.
Believe it or not, puffer sleeves are back. And many early spring outfits that we have caught on Instagram feeds prove that.
Blue tartan is not everybody first choice, but come on, fashion is all about playing. This outfit seems like it is going to invoke the spring wherever you are wearing it.
Shades of purple, lilac, and pink are dominant throughout all this season. You won't need a lot of details, just the colorful sweater to make you look fabulous.
One of the most important things in spring is to stay comfy and warm. You can do that by layering your button-down below your sweater. Skirt and military boots are great ways to finish off this combination.
For looking extra chic and sophisticated, try to find patent leather boots. A shiny moment that they have will make you feel fantastic on a cold early spring day.
Navy blue sweater is one of those basic items you need to have in your closet. Mix it with checked pants and brown accessories for an ultimate spring outfit. Style it for work or a casual stroll.
Even if only your bag is with the animal print, it is enough to make yourself utterly trendy for spring. Stay in neutral, brown shades and don't worry about the weather.
About The Author