The humble shirt is one of the most versatile pieces you can own. No matter what season it is, there are always multiple ways to incorporate this piece into your wardrobe.
When summer rolls around, one of the most popular ways to style a shirt is to unbutton it – unbuttoned shirt looks effortlessly chic, but it needs to be styled right to pull it off.
Do you unbutton the shirt all the way, or do you leave it half unbuttoned? Do you tuck it in or leave it loose? The options are endless, especially if you're unsure of what style of shirt to wear too.
This is a great trend to jump on if you have lots of old shirts that never get worn or if you're looking for a way to reinvent some of your outfits without buying new clothes. Styling is key for a fresh wardrobe!
Wearing An Unbuttoned Shirt in Style
Here are some of our top tips for styling an unbuttoned shirt. We also show some of the best unbuttoned shirt outfits to make sure that you have some visual inspiration. Here are trendy ways to style an unbuttoned shirt and some options of what to pair it with!
What Shirt Should You Pick?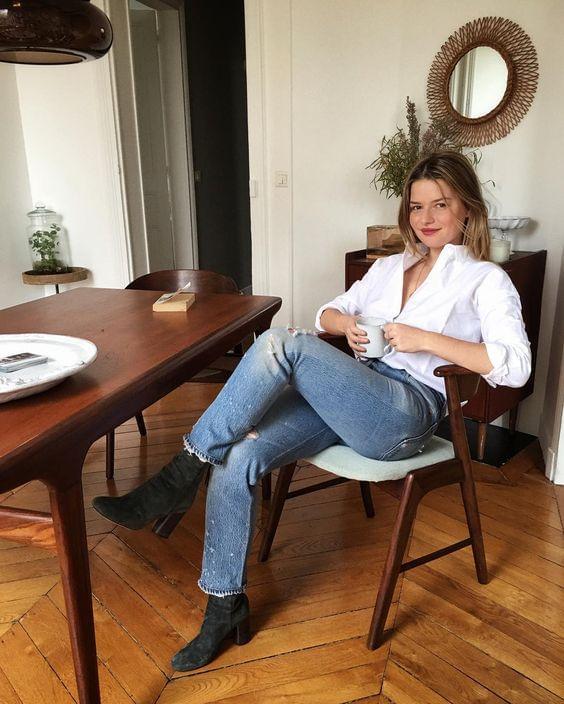 Before you jump into styling the shirt and working out how unbuttoned you want it, make sure you're choosing a shirt you feel comfortable in. When it comes to unbuttoned looks, you don't always want a tight shirt. It's often better to wear a loose or oversized garment.
What you wear underneath the shirt also needs to be considered when selecting the right piece. If you're going to wear another top for a layered look, you can opt for a very oversized shirt. But if you're going for a slinky bra look, you may want a smaller shirt for a little more coverage.
Flannel shirts are a popular choice for anyone going for the layered look. Wearing an oversized flannel shirt gives an effortlessly cool look and is perfect for any casual outfit. This can be styled with a jumper and coat for a winter look, or the shirt can replace a jacket in the summer to keep you cool. Pairing flannel shirts with denim makes for a great summer outfit, perfect for running errands or spending the day in a city.
Popular trends at the moment suggest that sheer shirts with 70s style collars are coming back this summer. These are often long-sleeved and cut like a standard shirt, but the fabric is a sleek sheer fabric – perfect for evenings or nighttime occasions.
Think About Fabrics
Choosing the right shirt style and cut is important, but make sure you think about fabrics too. This depends on each wearer's own personal style, but if the shirt is the focal point of your outfit, you may want to opt for a more interesting fabric to complement the unbuttoned style.
Great options if you're looking for a shirt that you can wear to evening events are silk, satin, lace, and any sheer fabrics. When looking for a more formal shirt, the rule of thumb is to opt for fabrics that look delicate and elegant.
If you're not looking for a feminine-styled shirt, it can still be good to take a silky piece and add some alternative edge to it through accessories. For example, a classic white silk blouse can be worn unbuttoned with black cigarette trousers and a choker. This takes the outfit from classic femme to a high fashion-alternative style.
On the other hand, if you're after a casual daytime look, the best fabrics to look for are light cotton and linens. Not only are these comfortable and breathable (perfect for summer), but they are great to pair with casual clothes. Wearing an unbuttoned and tucked-in white cotton shirt with jeans that compliment your figure can be a simple way to achieve a Parisian look. Pair this with a messy bun and some boots, and you'll be ready in no time!
Wearing Advice
Once you've picked your perfect shirt, it's time to style it. The classic unbuttoned look often includes the top four or five buttons being undone. This is a relaxed way to style it and is great for daytime wear. However, this does expose a lot of your chest. Experiment with buttons at home to see where you are comfortable with. Comfort is the key to any outfit!
Another way to style an unbuttoned shirt is to leave it completely undone. Leaving a shirt completely undone is a look that will need a bit more planning – will you wear anything underneath? You can either layer another top under or choose a statement bra or bustier to add to the outfit.
Leaving a shirt completely unbuttoned also means you have the option to tie it up. This is a perfect look for a day out in the summer, especially if you're at the beach. Wearing an on-trend bikini top with an unbuttoned, tied-up shirt is a great way to cover up in style when you're lounging in the sun.
You can also leave the shirt unbuttoned and tuck it in for a relaxed styling look. This often works well with trousers, so go for a thin shirt that you'll be able to tuck in nicely. Leave one side of the shirt out and keep one tucked for the 'effortless chic' style. Nothing is cooler than looking great without trying too hard!
What Goes Underneath?
If you want to go for the unbuttoned look, you need to plan your undergarments to match your outfit. Whether this is a pretty bra, bralette, or nothing at all, complimenting the unbuttoned shirt is essential.
While wearing no bra with an unbuttoned shirt may sound distasteful, it can actually be very elegant. Obviously, making sure you're not exposing yourself is key here, but if you get this style right, it can be very high fashion. The no-bra unbuttoned look works well with looser shirts (but not oversized), rolled-up sleeves, and dainty necklaces to accessorize.
A statement bra or bustier can be worn tastefully under a shirt too. If you unbutton a shirt by a button or two (less can be more here) and have your underwear peeking out it can be a very effective look. For example, a good quality fitted shirt unbuttoned paired with a tight skirt or tailored trousers is a classy look. Seeing a slight glimpse of a statement bralette can take the outfit from office wear to evening drinks with your friends.
When choosing what to wear your unbuttoned shirt with, always try options on at home and go for the one you feel comfortable in. While the no-bra look is trendy if you have a shirt that feels uncomfortable it can affect your confidence.
Embrace The Relaxed 70s Look
One trend that is always popular is the 70s style. It may be your thing, maybe not, but unbuttoned shirts and 70s styling go hand in hand. Loose shirts, plunge necklines, and balloon sleeves are all key things to focus on with the 70s style. Pointed collars are also common on 70s shirts, but this might not be for everyone.
If you want to embrace this trend make sure you go for an appropriate color palette for the full vibe. Oranges, burgundies, and beiges are your best friend here. They can take a simple unbuttoned shirt and turn it into a 70s fashion moment. Bonus points if your embrace patterned trousers or flares. Try tucking your unbuttoned shirt into flares for a great evening ensemble.
Unbuttoned Shirt As A Spring-Summer Essential
While many of us shop consciously now, knowing how to optimize our current garments can make it feel like you own more clothes than you do. That's why shirts and their versatility are so important, if you don't own a couple make sure you do!
Especially as we move into the warmer months of the year, shirts become more and more useful for daytime and nighttime outfits. Unbuttoning a shirt and tucking it in can be worn for casual or formal events, just make sure the styling is right!
Whether you're unbuttoning and bearing it all to brunch or just using an unbuttoned shirt to layer, hopefully, you've got some new style inspiration for the summer!
About The Author