Whenever you want to create your own style or follow one trend or another, the immediate thought is – "let's go shopping". Yet sometimes (or, to some – most of the time) we have to work with clothes we already got.
So the question is how to put together outfits with clothes you already have, how not to lose common sense, and stay stylish whatever the occasion?
So, what's the best way to achieve that?
Certainly, by adding key accessories on our go-to outfits. Accessories can make wonders.  Another option – cuffing and physically inventing new ways to wear those things.
That is the authentic beauty (and tough task) of fashion; adding a fresh touch with still keeping your quintessence in a particular outfit.
Let's see what helps us always staying fresh and make old items and wardrobe staples look new.
1) Distress those old jeans
We know you have those old jeans that probably ended being in that awkward length between full length and 7/8 length. Add a grunge touch by cutting off the hem edges in a scruffy way.
The new pair of jeans you now have will certainly add an edgy feel even to the most sophisticated outfits.
2) How to style clothes? Simply throw on a scarf
Whether you are a pro that knows and masters the 101 ways of tying it, even your grandma knows how to elegantly let it flounce with your neck.
Be creative, there is a lot of great foulard and vintage scarves to try out! TIP: it would be awesome if you tried out cool patterns instead of safe, plain ones. They make a statement, eh?
3) The mini effect
This mini bag proves to be the exact opposite of the oversized masculine coat, as that is the point. Yes, you can wear mini accessories like this bag with cute, petite outfits, but have in mind they make a hell of an impact aside from big, tomboy pieces.
Add another statement accessory, and rock the street catwalk!
4) Break the rules
Don't bother searching for those perfect, seamless, invisible socks for wearing underneath your favorite loafers. Take a leap of faith and break some fashion rules.
Keep the rest of the outfit laid-back, and enjoy the show.
5) The new way of wearing blazers
A wide, statement, heavy, big buckle belt is the way to amp up your favorite blazer. It really adds a new dimension to the whole outfit!
What's more, this brave lady added a see-through pleated skirt over the suit trousers for some additional out of the box fashion.
6) The print clash
We have a lot of key trends (like the pictured off-the-shoulder ruffle blouse) to handle, but wouldn't you keep up the freshness with a little bit of print clashing?
It would be the best way to add a spark of edginess to any outfit, just try to keep the mixed and patched prints somewhat complimentary.
7) To cuff or not to cuff?
Utility shirts (especially those in khaki) have proved to be the essential piece for the laid-back look, perfect for a weekend stroll. Pair it with a straw bag, and you're ready to go!
All in all, don't be afraid to put as many accessories as you would like in this look, as it certainly won't be too much! And don't forget to cuff the sleeves!
8) The relaxing touch
Cuffing the jeans hemline instantly adds a nonchalant vibe to any outfit you wear. Imagine a strict and structured blazer, with the oh-so-relaxed crisp white cuffed jeans (oops, no need to imagine, that's in the photo).
For many women, denim cuffing is the sign of spring starting (fashion-wise).
9) The coat draping
Draping outerwear on any outfit has become a must for most fashionistas, so if you feel like one, go for it! Not that it's only practical (those chunky knitwear elements don't leave much room for heavy coats), it is incredibly chic too!
This is probably the most efficient way to elevate your look instantly!
10) Halfway there
The meeting point of being prepped and effortless is the halfway tucked in shirt. No matter if it is worn alone or with a sweater, it is a perfect way to wear a shirt.
Speaking occasion-wise, this kind of short styling is the way to go since it perfectly balances ultimate sophistication and a laid-back attitude.
11) Casual playfulness
So, you have just thrown on your go-to weekend stroll outfit, and then you realized it is kind of boring?
Just make a simple 1-minute knot at the side and add a sprinkle of youthful girliness! P.S. No matter how old you are.
12) Embrace the quirkiness
It can be a little dull to simply wear the top trends you know about, look glam, and strut the street catwalk. Add a personal (tomboyish) touch with a cap as the ultimate accessory!
Being glam has to be toned down sometimes, and throwing an attractive accessory is one of the best ways to get that laid-back effect.
13) The classic way of wearing an essential
This is one of the classiest outfits that exist – a basic pencil skirt and the French Mariniere! It holds the breath of spring and summer in workwear.
That is workwear that can easily transcend in casual attire – perfect for picking up the kids, etc. Tuck it all the way in and you are ready for a refined look!
14) The spring fling
Evoke that catwalk vibe and skip the mundane way of doing fashion. After all, where is that rule of no socks under stilettos written? Show us!
Don't be afraid to break the rules with some glitzy glam mesh ankle socks worn with the same color, but different texture pumps.
15) Mix the colors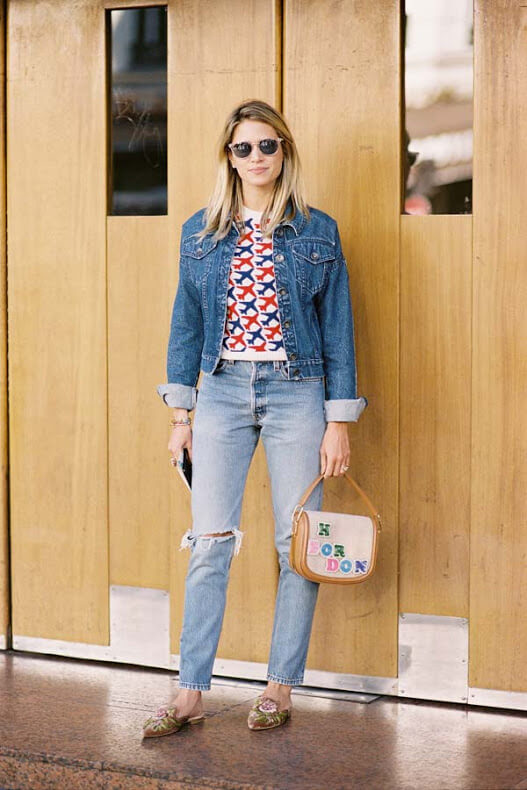 Stop thinking in a monochromatic way when it comes to denim. Let the playfulness rise from a pair of fav ripped jeans and a non-matching denim jacket with an appliqué on the back!
Stop eliminating your denim jacket when it comes to jacket choice afterward you throw on your jeans. Not only should you forget about avoiding them, but you should also pursue them for their edgy artisan beauty.
16) The new spirit of a blanket scarf
Throwing on a scarf doesn't have to be boring at all! Just take a leap of faith in your creation, and it will undoubtedly bolster some views if you put it on IG!
Not only will this technique make you warmer, but it will also make your waist look even tinier compared to classic, flat silhouettes!
17) The laid-back balance
Yes, the emphasis is on the vixen kitten-inspired trousers (with some flare oomph), but the thing that brings that Parisian je ne sais quoi to this ensemble is the way the white shirt is styled.
This trick works on any casual outfit you can think of. Tuck just the front, and leave the rest scruffy, as you do not want to look too prepped when you want to look effortless!
18) The eccentric touch
Eye-catching bottoms are the way to grab attention during hot summer months, but the pavement to fashion success is achieved with finely worn statement accessories!
The statement necklace will surely do nicely on your pretty décolleté, but the fashion-forward Oxford chic vibe is done in the best manner with the necklace below your neck grazing collar.
19) The underwear as outerwear domination
The humid weather is a force not to be reckoned with, but anyway, you have to have that in mind when choosing the appropriate top for the melting city! Embrace your inner vixen and throw on your bralette (with a slightly bigger coverage than usual though)!
If you're afraid that it would become too dressy with a skirt as a bottom, wear your 90s grunge distressed jeans instead! Also, sneakers would do great with this ensemble!
20) Making the best out of classics!
The trench is evergreen and beautiful, but it can get really monotonous as nearly every fashion-conscious lady possesses one (at least one). Rock your favorite flamboyant scarf as a belt!
Unbutton the trench and let the secured scarf freely fall! With this kind of staple reinvention, anything beneath the trench will do well, as the trench is the bearer of the outfit!
21) The flamboyant nine to five outfit
Besides the obvious (and perfectly done color block) this lady nailed it with the finely knit sweater worn effortlessly over the blazer. Bravo!
It surely adds to the cumulative warmth of the outfit (yellow is warm enough on its own) and a unique touch that surely won't be stolen easily by copycats!
22) The multi-way accessory
It is the ultimate staple of the French ladies (that are the style benchmark for women all over the globe), yet many ladies are not aware of how many ways of wearing it are waiting to be explored!
Sure, it is perfect lying on your subtle neck in many ways (by the way, did you know there are over 50 ways you could tie it?), but a stand out way to wear it is surely in your favorite handbag! Just wrap it around the handle in any way you can think of!
23) Not your bare skin strappy dress!
We all have loads of dresses craving for a breath of Spring, but sometimes even their frilliness is not enough to look fresh and edgy.
Try wearing a plain strappy deep V-neckline dress with an equally plain T-shirt underneath, as it will look urban and also somewhat more decent than that plunging neckline alone!
24) The sassy suit
Make summer night outs impeccable with a satin finish, flawlessly tailored suit! Emphasize the delicate cleavage skin you have by wearing nothing underneath the blazer.
With the décolleté left naked, there is a lot of room for accessories, so feel free to go for a chunky chainmail one or a minimalistic gold-toned pick.
25) Unleash the creativity
Shirts can be worn under casual dresses for a fresh approach obviously! Follow this girl's attempt (Successful? Yes.) to step outside the predefined fashion comfort zone.
Some pieces are created to be reinvented and destined not to look plain simple. Give a new life to the ¾ sleeve dress by wearing a long-sleeved top or shirt underneath. You sure will nail it!