White shirtdresses are to summer what hot chocolate is to winter, what jelly is to peanut butter, what honey is to bees, what milk is to cookies, what Santa is to Christmas… well, you get the drift. So, what exactly is a shirtdress and why are they currently trending? Technically, a shirtdress is just a very long shirt that works as a dress. Simple enough, right?
If you're convinced, skip the tips and check the outfits bellow, as well as another article with a Collection of Outfit Ideas Showing How To Wear A Shirt Dress.
There is something in a shirtdress that makes them so appealing for the guys. The secret is that they are revealing yet also leaving plenty of room for imagination, and this makes shirtdresses super sexy.
Want to unleash your alluring nature? Learn how to wear shirtdress properly
You can wear them fitted, or with a belt, or oversized for that effortless look. No matter which option you choose, a white shirtdress is bound to look fabulous!
White shirtdresses are an essential, a classic, and a must-have in every woman's summer closet and it's not surprising that they are a staple year after year, on the runway and otherwise.
For starters, there's no better color for summer than white (although, yes white is technically not a color). When the temperatures are soaring, a white shirtdress will come to your rescue and keep you cool (it's actual science, people!).
They're also extremely versatile when it comes to styling and can be easily worn by women of all different shapes and body types making them a crowd favorite. They're also the ultimate answer to your "I just can't be bothered today" days. Sure, they can sometimes look like you forgot to throw on pants but that's kind of the beauty of them.
When it comes to shoes, there are numerous options that look amazing with a white shirtdress. There's the white dress and white sneakers combination that is always a winner. Brogues also look pretty sweet with a white shirtdress, especially if you're going for an androgynous look.
Ballet flats are great for summer days, especially when you're running around doing errands and such. Stilettos and wedges will help transform your shirtdress into a great evening/night look. Chunky heels are very in right now and are perfect if you're going for a 70s look.
Shirtdresses and ankle boots also complement each other beautifully. Honestly, you can wear any footwear with a white shirtdress and make it work.
So, if you're looking for inspiration on how to wear the humble white shirtdress, you've come to the right place. Let's get started.
1) High-Low Shirtdress
What's better than a regular shirtdress? A trendy high-low shirtdress of course! This looks so incredibly comfortable and is perfect when styled with a chunky choker, a men's style watch, and deep red sandals.
2) High Collared White Shirtdress
If your style is edgier, then we recommend pairing your high collared white shirtdress with a pair of black ankle length boots. Don't forget a black handbag to complete the rocker chick look.
3) Long Sleeves White Shirtdress
There's just something so appealing about a crisp, well-ironed white shirt. Now, you can recreate the same preppy look with an ironed white shirtdress. Pair with a statement, oversized clutch and a pair of red clog heels.
4) Sleeveless White Shirt Dress
If you want to go for a casual yet chic look, wear your sleeveless white shirtdress with basic white sneakers. Channel the 90s by tying a denim shirt around your waist and throw on a pair of loop earrings for some added fun. The 90s are certainly back and how!
5) Stylishly Oversized Shirtdress
Believe it or not, fitted clothing is now considered out of fashion, maybe even passé. So, stay current, find out how to style an oversized shirt, and flaunt a white shirtdress that is a size (or two) too big for you. Pair it with black pumps and a dual-toned clutch to look extra classy. If you aren't quite sure of wearing it as is, you can always add a belt.
6) Shirtdress with a Blazer
There is a common misconception that a shirtdress can only be worn casually. The truth is, it all depends on how you style it. So, pair your shirtdress with a smart black blazer to make it appropriate office wear. Add a sleek pair of open toe sandals to make it extra ladylike. This is also a great evening look for summer.
7) Maxi Shirtdress
Maxi dresses are synonymous with summer. There's no denying its ease, comfort, and versatility. It's also perfect for when you simply don't want to or don't have the time to shave your legs. Just throw on your white maxi shirtdress with equally comfortable sandals and a messy sock bun, and you're ready to destroy summer!
8) Belted Shirtdress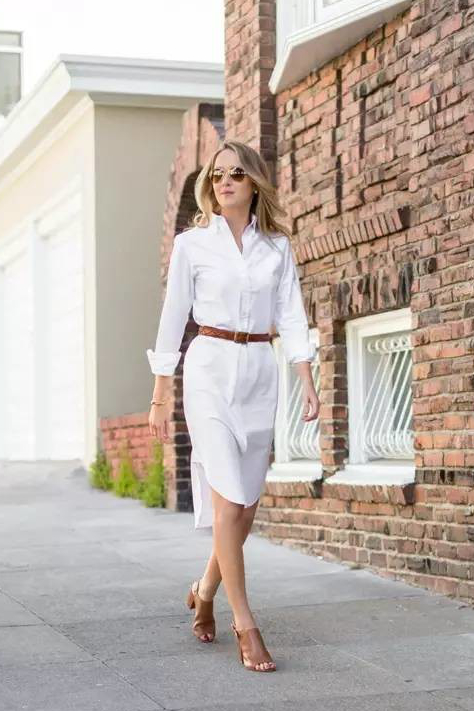 If you love shirtdresses but feel like they don't flatter your body type or look a little too plain or shapeless, just add a belt! A belt will cinch in your waist, add curves and highlight the smallest part of your body aka your waist. These days, it's all about thinner belts so leave your chunky ones in the closet. Plus, a little white dress with a tan belt is pure perfection! Complete the look with tan shoes.
9) Shirtdress with a Tie-up Belt
If you're not a fan of regular belts, just opt for a white shirtdress with a white tie up belt. It's ultra-feminine and sophisticated and has a resort wear appeal to it, making it perfect for your beach holidays. Pair it with tan wedges and a tan bag and don't forget to put on your favorite red lipstick.
10) Conservative White Shirtdress
Maybe you're not a fan of the typical shirtdress and skin show. Maybe conservative dresses are more your style. Either way, you can look fashionable in a white shirtdress with long sleeves and a high collar. Just pair it with white sneakers to keep the seriousness at bay and to add that playful factor to your look.
11) Accessorize your white shirtdress
Take your simple white shirtdress to the next level by choosing fashionable accessories. You can't go wrong with a light jacket, a fedora, and studded shoes. This look is uber casual yet super stylish and just somehow works together. The best part is that it's such an easy look to achieve!
12) A Bandana is a Cute Accessory
Sometimes it's not about extravagant accessories, statement heels, or fancy handbags. Sometimes, it's about the simple, little things like an adorable red bandana that can really make or break your look. Tie a bandana around your neck to take your white shirtdress to the next level. Finish the look with ankle length boots for an easy, breezy, summer-ready look.
13) Add a pair of Gladiator Shoes
There's something inherently sexy about a pair of gladiator shoes slowly climbing up a woman's legs. So, don't be afraid to try on a pair of gladiator heels with your shirtdress this summer, especially if you have long, lean legs. This style is probably best avoided by petite women, as it gives the illusion of your legs being shorter than they actually are.
14) Unique White Shirtdress
While white shirtdresses are amazing and fashionable, the fact is that most of them look quite similar. So, if you want to stand out from the rest and really make a statement, we'd suggest looking for a unique shirtdress like this one. While this is a shirtdress at its core, it's far from your regular kinds. It's almost a maxi but not quite, it's flowy, and it comes with a sexy slit that makes it ultra-feminine. There's only one way to wear a dress like this: with high heels!