Prom season is near, so you need to start with preparations on time. Choosing the dress, makeup, and hairstyle can be stressful and can take a lot of your time. That is why we have prepared a lot of hairstyles to help you get inspired.
From buns to braids – we have covered all modern and classic hairstyles you need to check out before your prom night. Choose your favorites or just combine a few of our favorite styles.
Prom Hairstyle Ideas
A sophisticated and elegant updo like this will make you a queen of the prom. It is a braided bun with stylish details that goes perfectly with long earrings and some eye-catching necklaces.
For some extra sparkle in your hair, opt for hair accessories and huge waves. Trust us, and you will be the most beautiful girl on prom night.
If you want to make an unexpected twist then instead of just a ponytail, opt for a pony bun! It looks beautiful, especially with these pearl accessories. Great for all elegant prom gowns.
A combination of a braided crown with oversized curls and a bun is perfect for all beautiful and special occasions. The balayage technique will highlight this style and make it even more pretty.
Braids are so trendy at the moment. If you want to complement your prom look with something modern, yet very sophisticated and posh, then a side braid is the hairstyle for you.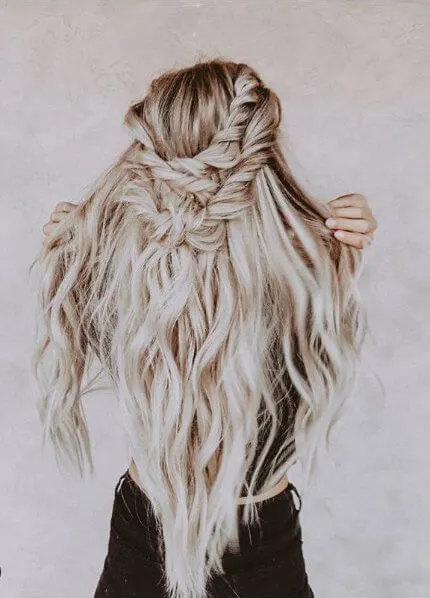 If you have incredibly long hair and you want to keep it straight, a braid is a great detail you can add. Whether you opt for a crown or for a side-to-side braid that connects at the back of your head – it doesn't matter. They both look pretty.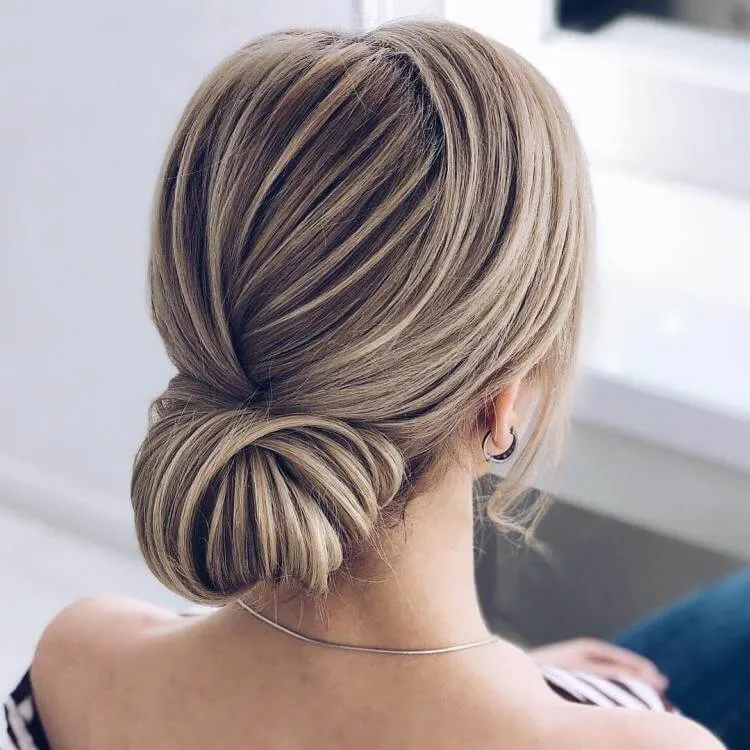 For all those girls searching for classy and elegant attires and hairstyles, a chignon updo is the right option. It is a fantastic, yet very simple bun, perfect for an all-night party and prom.
Messy and loose hairstyles are quite romantic if you ask us. This braided updo with a low bun is perfect for your prom night, long satin dress, and a long pair of earrings.
A lot of volume on your hair will make you look glamorous. A twisted hairstyle like this is great for girls with medium to long hair. Hair is slicked back but with a lot of volume and twisted in the back in a low bun.
And even though this hairstyle can be perfect for all occasions, if you add a sparkly hair accessory it became an ideal prom style. Long hair, messy waves are perfect for you to make a statement.
Girls with thick long hair can opt for this lovely braided crown for their prom nights. It looks utterly elegant and matches perfectly with any dress style. You can add some sparkly detail, sequin string, or a pin.
Twists and braids are all that you need to achieve the look. The hair is gathered in a low bun. You can decide how many twists and braids will be there – for this hairstyle there are no strict rules.
Flowers in your hair will add that hippie vibe that is quite nice. In combination with braids and messy waves, this hairstyle is great for all those girls seeking relaxing style and elegance at the same time.
Long hair with beach waves and double braids is the perfect solution for prom night. Imagine yourself in a long sparkly dress with a slit in the back. Sophisticated and classy, right?
Curls on blonde hair have a unique vibe. They are simply highlighted and beautiful. A twist around your head will make you look elegant and chic.
Ponytails can equally be elegant as buns. A combination of braided hair, curls, and messy ponytail can bring you nothing but positive comments and amazed views.
Messy ballet bun will give you that shine that you need on your prom night. Don't hesitate to add some sparkly details around the bun to make it even more eye-catching.
This is one of those hairstyles that are very classic, but with braids, they somehow get that modern vibe. Low buns are a great option for proms.
Pick a small hair strand and braid it in a classy braid. The rest of your hair should be styled in a low bun. Use the braid as a crown around the head, all the way down to the bun.
Sometimes, all that you need is a timeless hairstyle that everybody will notice. Curls like a Hollywood diva, neutral makeup, and little black dress.
Balayage hair looks much more highlighted than natural. Not a surprise there. You can always count on this classy ponytail – it works perfectly with any outfit.
Braids are the perfect way to protect your hair. Also, they look fantastic in both casual and elegant hairstyles. This one is for those girls who seek for playful elegance.
Waterfall braids look even more beautiful than the regular ones.
They seem like they are falling to your curly hair. This hairstyle will provide you with an extra dose of femininity and chicness.
For an ultimately feminine and glamorous look, all girls should try this side braid. It is a loose and very elegant hairstyle that matches all makeups and dresses. The retro vibe is excellent as well.
When it comes to prom hairstyles, always put some interesting details along with your curls, braids, and twists. This lovely pearl hair comb will match perfectly with any hairstyle.
Pink hair surely isn't something that we see every day. However, with an elegant messy top knot and strands of your hair in the front you can look beautiful, even if you are rebellious.
What is better than flowers in your hair. However, the best part is – you can make them of your hair. Yes, roses in the form of a bun – a new way to look fabulous.
The perfect way to wrap your hair at the back is in a bow. And that bow should be made of your hair.
These curls work perfectly with red lipstick, a black dress, and classy stilettos. If you seek classic, go with these locks, and you won't make a mistake.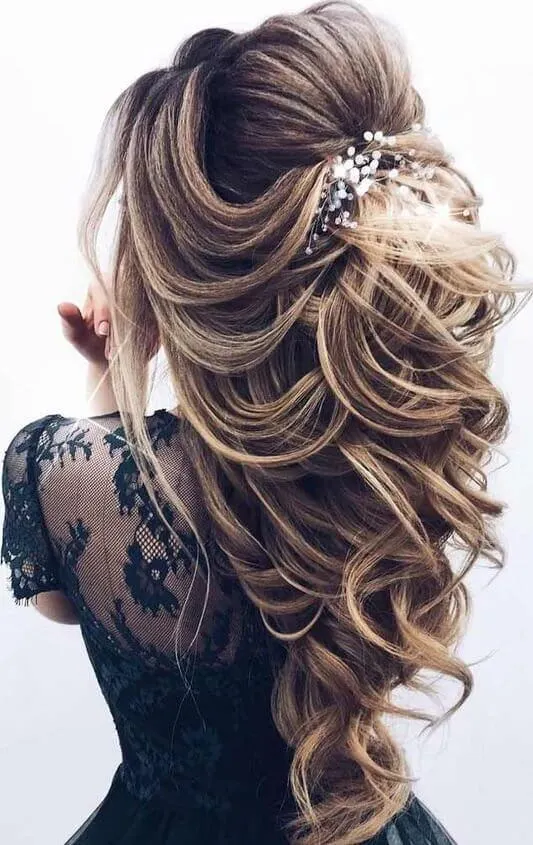 If you are one of those lucky girls with a combination of long and voluminous hair, then you should use it. Making a hairstyle like this will be the right thing for your prom night.
Romantic and chic – these two words can perfectly describe this hairstyle. Crown braid looks equally good in updos and when all your hair is up. Don't forget to add sparkly details, as they give that elegant vibe to this style.
Whether you have wavy or straight hair, there is nothing better than a waterfall braid to make your look interesting. Opt for a side one, which looks a bit asymmetric as well.
For this bun, you won't need a lot of time. Curl your hair with a curling wand, make it voluminous and wrap it in a ponytail and then in a bun.
If you were not familiar with the bubble braid, now you know. A significant Instagram trend expanded across the hair industry as well. Many girls will want this to be their prom hairstyle.
Fishtail braids look fantastic whether they are made on long or short hair. If you have long hair, and not so many layers, then you can opt for a gorgeous fishtail braid at one side.
If your dress is casual chic, then there is no better option for you than this lovely braid. Even if it looks pretty messy, it is very sophisticated and perfectly done.
Gold accessory in your hair will give you a unique vibe. Elegant and sophisticated, this accessory is great for your prom night, whatever dress you plan to wear.
When you want to make a statement, don't hesitate to make your hair into waves and buns. This combination is chic enough but won't make you look like you have overthought about what you should put on and what your hair should look like.
For those girls who seek classic and timeless style, this might be the right choice. A modern, yet very classy twist and wrap hairstyle is perfect for your prom night.
Waves and soft texture give us boho vibes. This hairstyle is ideal for some lace or crochet dresses and minimalistic makeup.
Starting from your center-parted part, make a classic French braid all to your ends. Wrap the ends into a bun and secure it with a few bobby pins.
If you are not into these elegant updos, buns, and braids then this is the right solution for you. Just leave your hair smooth and a bit wavy and add a shiny accessory.
Cute twists and braids can make short hair look fantastic. With your highlighted ends you don't have to worry how your hair will appear – we will say to you – fabulous!
If you would like to recreate a hairstyle that Princess Leia wore, there is no better occasion than prom. Make it look more elegant by re-arranging them to look like low buns, and not on the top of your head.
A beautiful combination of small and large waterfall braids is simply great for prom night. While your ends are left casual, your braids will catch all the attention.
Even without any braids, twists, and buns, your hair can look equally gorgeous and ready for prom night. You can dye your ends into a lighter shade, make waves, and voila! You are prepared to go.
Dark roots and light blonde ends will make even the most casual hairstyles interesting. Color balance is great – while your braid is dark, wavy ends are perfectly dyed in a light blonde shade.
This hairstyle is perfect to make you look like a goddess. So, there is no better opportunity to show off your romantic side than your prom night.
Long bobs are great for styling, equally as long hair. Braid at one side will give you just enough dose of elegance, while it is also urban and chic.
You won't need much of a technique to make this lovely updo. However, it will make you look like a real lady.
With grey hair like this, there are many things you can do to make it appear even more interesting. One of those things is surely to braid aside with a classy French braid and leave the rest of your hair messy and wavy.
A wavy lob is a great haircut for most occasions. However, it can look equally great and sophisticated if you opt to wear it for your prom night.
Even though this might seem like a pretty casual hairstyle, you can entirely opt for it for your prom. A braid is a perfect detail that will make you unique.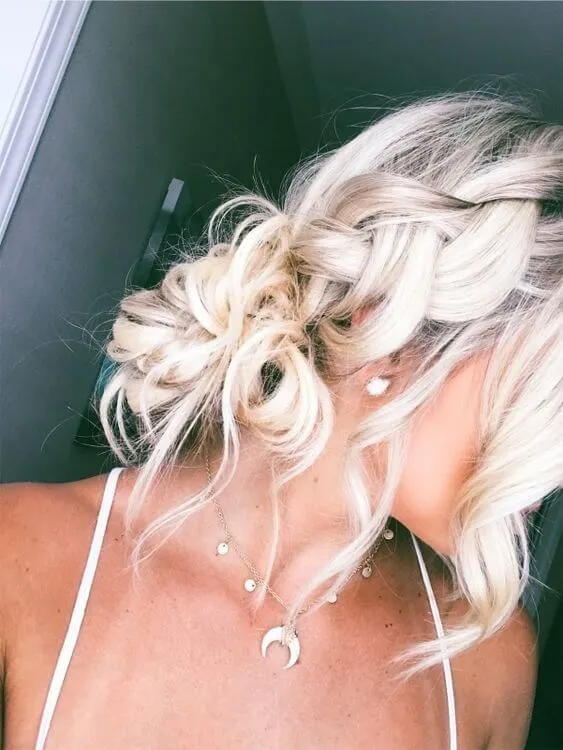 By making your braid looks messy, you will create an illusion of voluminous hair. Even though your hair is short, it is possible to make it look fabulous and very prom-appropriate.
About The Author