Prom season is near, so you need to start with preparations on time. Choosing the dress, makeup, and hairstyle can be stressful and can take a lot of your time. That is why we have prepared a lot of hairstyles to help you get inspired.
From buns to braids – we have covered all modern and classic hairstyles you need to check out before your prom night. Choose your favorites or just combine a few of our favorite styles.
Sophisticated and elegant updo like this will make you a queen of the prom. It is a braided bun with stylish details that goes perfectly with long earrings and some eye-catching necklace.
For some extra sparkle in your hair, opt for hair accessories and huge waves. Trust us, and you will be the most beautiful girl on prom night.
If you want to make an unexpected twist then instead of just a ponytail, opt for a pony bun! It looks beautiful, especially with these pearl accessories. Great for all elegant prom gowns.
Combination of a braided crown with oversized curls and a bun is perfect for all beautiful and special occasions. The balayage technique will highlight this style and make it even more pretty.
Braids are so trendy at the moment. If you want to complement your prom look with something modern, yet very sophisticated and posh, then side braid is the hairstyle for you.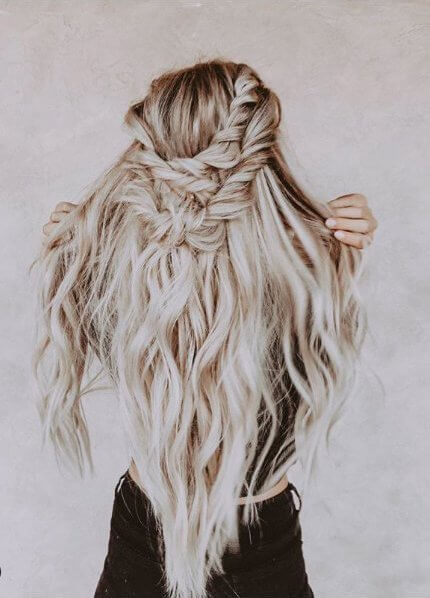 If you have incredibly long hair and you want to keep it straight, a braid is a great detail you can add. Whether you opt for a crown or for a side-to-side braid which connects at the back of your head – it doesn't matter. They both look pretty.
For all those girls searching for classy and elegant attires and hairstyles, a chignon updo is a right option. It is a fantastic, yet very simple bun, perfect for all-night party and prom.
Messy and loose hairstyles are quite romantic if you ask us. This braided updo with a low bun is perfect for your prom night, long satin dress, and a long pair of earrings.
A lot of volume on your hair will make you look glamorous. A twist hairstyle like this is great for girls with medium to long hair. Hair is slicked back but with a lot of volume and twisted in the back in a low bun.
And even though this hairstyle can be perfect for all occasions, if you add it a sparkly hair accessory it became an ideal prom style. Long hair, messy waves are perfect for you to make a statement.
All girls with thick long hair can opt for this lovely braided crown for their prom nights. It looks utterly elegant and matches perfectly with any dress style. You can add some sparkly detail, sequin string or a pin.
Twists and braids are all that you need to achieve the look. The hair is gathered in a low bun. You can decide how many twist and braids will be there – for this hairstyle there are no strict rules.
Flowers in your hair will add that hippie vibe that is quite nice. In combination with braids and messy waves, this hairstyle is great for all those girls seeking for relaxing style and elegance at the same time.
Long hair with beach waves and double braids is the perfect solution for prom night. Imagine yourself in a long sparkly dress with a slit in the back. Sophisticated and classy, right?
Curls on blonde hair have some unique vibe. They are simply highlighted and beautiful. A twisted around your head will make you look elegant and chic.
Ponytails can equally be elegant as buns. Combination of braided hair, curls, and messy ponytail can bring you nothing but positive comments and amazed views.
Messy ballet bun will give you that shine that you need on your prom night. Don't hesitate to add some sparkly details around the bun to make it even more eye-catching.
This is one of those hairstyles that are very classic, but with braids, they somehow get that modern vibe. Low buns are a great option for proms.
1: 1
2: Part 2
3: Part 3