What is a better time to spice up your current hairstyle than spring? Here we showcase 15 astonishing variants of blonde highlights that you can try. For this year, we recommend having fun and trying different blonde highlights hair colors and shades – from platinum to dirty blonde.
Blonde Highlights Hair Color Chart
Dyeing your hair blonde is not a straightforward task. You can easily end up looking like a carrot if you don't find the shade that fits your natural hair color.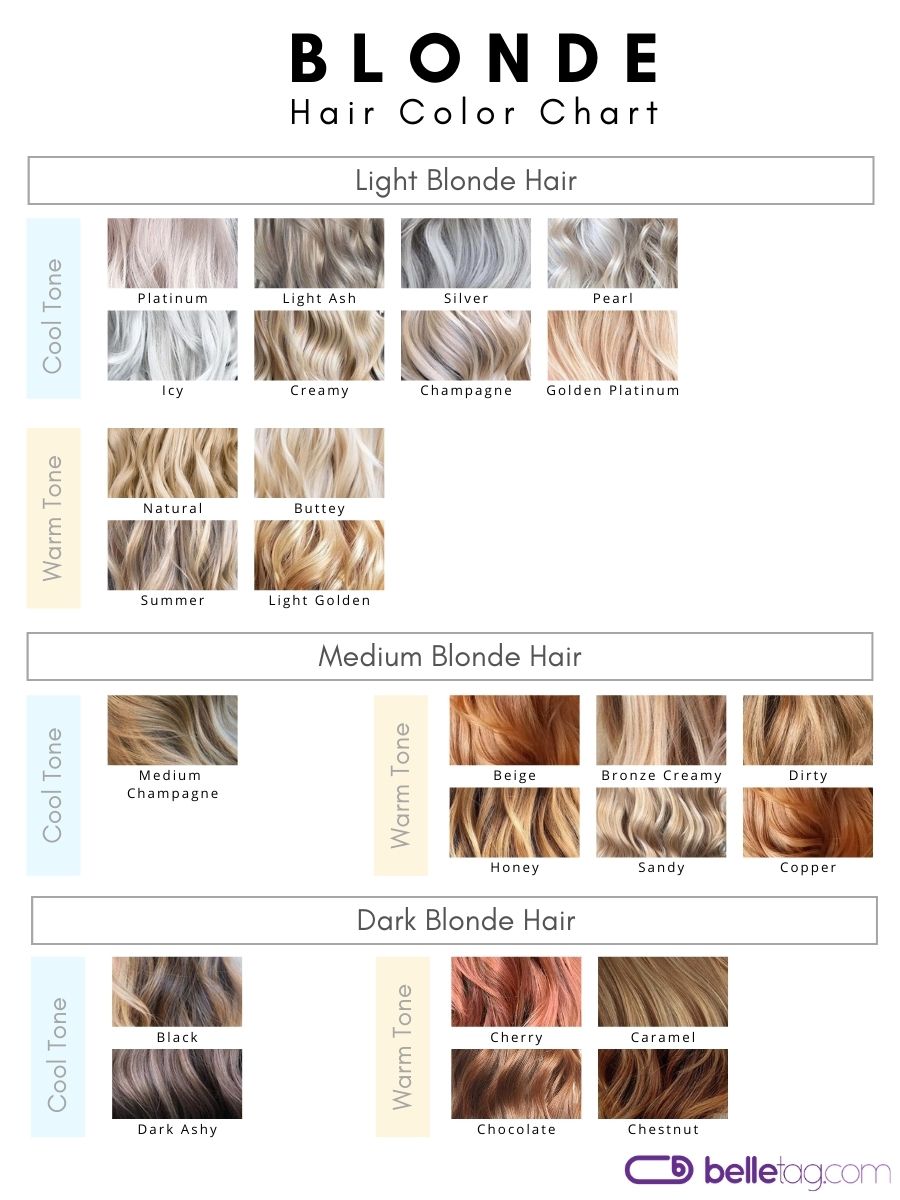 That is where the chars like the one above come in very handy.
Most of the manufacturers follow the simple rule about hair dyes. Here is the chart from Loreal. The first number you see is your hair shade, while the second number that comes after the full stop is your tone.
Base colors start at 1 for the deepest black and finish at 10 for the lightest blonde. If you are going for blonde highlights, you should start with 6 (dark blonde) or 7 (blonde).
Tone shades go from 8 for mocha to 1, which is ash. Most of the stylists choose undertones, according to these charts.
Don't be confused if you see two numbers after the full stop. The second number is simply another tone shade, sometimes mixed with the first one.
What Shade Of Blonde Highlights Should I Get?
It could be tricky to decide on a highlight color for your hair.
While there are many different hues of blonde, not all of them suit everyone. If you have dark brown hair, the best solution is to find the darkest blonde shade to start with. Then you can lighten up your hair with every other touch-up with your hairstylist.
When choosing a blonde shade, consider your skin tone, the color of your eyes, and the condition of your hair. Finding out if you are warm or cool skin-toned will help you a ton!
15 Popular Blonde Highlights Hair Colors and Shades
If you are thinking about getting your blonde highlights done, we suggest trying these styles. They are absolutely fabulous! We can't opt only for one, so good luck finding your favorite.
#1: Dark Brown Hair with Blonde Highlights
A combination of dark chocolate brown hair and honey blonde highlights is just amazing. Even though the difference between shades is huge, they are melted together for the perfect look. If you want your highlights to look even more enhanced, use a curling wand to make these waves.
#2: Brunette with Blonde Highlights
Brunette is a fantastic shade, natural or dyed. Mix it with honey blonde highlights for beautiful everyday looks. You can wear these highlights on both short and long hair, straight or wavy.
#3: Platinum Hair with Blonde Highlights
For those blonde-addicted women, platinum blonde is something that many want to achieve. You need to take care of your hair since there will be a lot of bleaching included. Melted blonde highlights provide texture and volume to both short and long hairstyles.
#4: Light Blonde with Highlights
Women with pale and warm skin tone should give this hairstyle a go. The light blonde with highlights almost in the same shade melts perfectly and looks great on long wavy hair. Roots can stay darker.
#5: Copper Hair with Blonde Highlights
Believe it or not, even redheads can have blonde highlights hair color. If you want to spice up your copper hairstyle a bit and make it more textured, try balayage with honey blonde highlights.
#6: Honey Blonde Hair with Highlights
Honey blonde hairstyles look like the sun got into your hair and melted with butter and honey. Don't you think so? Such an amazing shade to wear. Highlights should be almost visible, yet they give an amazing vibe to the whole style.
#7: Dark Hair Ash Blonde Highlights
Ash tones look great on dark roots. You can combine darker shades with ash blonde highlights. Just be careful. Blonde highlights can wash out quickly and be less and less visible if you don't use proper shampoo and conditioner.
#8: Black Hair with Blonde Highlights
For many women having dark or even black hair means they can't quickly get that platinum blonde. However, you can always have highlights. A combination of black and blonde might intimidate at first, but the results are unique and amazing.
#9: Brown Hair with Honey Blonde Highlights
If you have light brown natural hair, then it is the right time to try honey blonde highlights. They will match perfectly, creating a fantastic hairstyle for both day and night events. Those highlights will look amazing on both straight or curly hair, layered or not.
#10: Gold Blonde Hair with Highlights
The gold blonde looks like you have spent some time near the seaside under the sun. If you would like to have perfect summer hair, then opt for golden hues, blonde highlights hair color, and beach waves.
#11: Dark Brown Hair with Caramel Highlights
Many women adore these caramel macchiato hues in their hairs. Matched with honey blonde highlights, these hues get a stylish upgrade.
#12: Dark Hair with Creamy Blonde Highlights
There is no better way to add more dimension and texture to your hair than with highlights. This woman opted to upgrade her dark hair with creamy and sand blonde highlights. They look perfect, especially around the face.
#13: Mahogany Hair with Blonde Highlights
Red mahogany hair looks impressive in itself. However, if you would like to add a spice that will make it unique and even more eye-catching, opt for highlights. Blonde highlights will look delicate on dark red hair, so make sure you pick the right shade of blonde that won't turn orange.
#14: Light Brown Hair with Pearly Blonde Highlights
Light brown or dark blonde hair is melting into pearly highlights. We can all agree that it looks fabulous. This is the perfect hairstyle for fair skin toned women who would like to wake up their inner mermaids.
#15: Pink Hair with Strawberry Blonde Highlights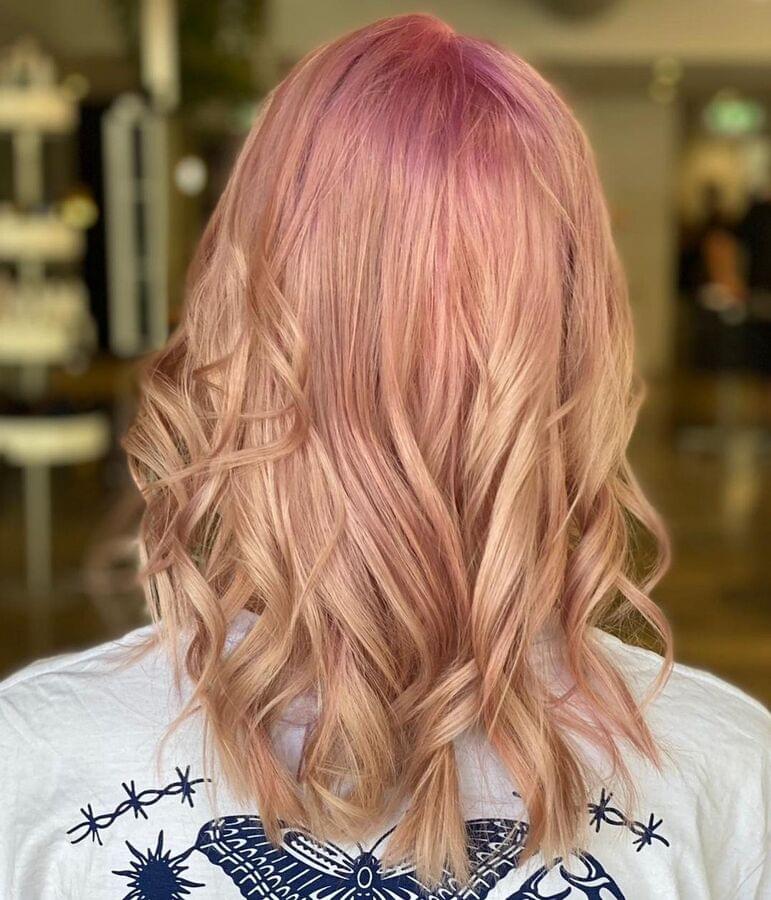 If you feel brave enough to wear pink hair, you should match it with strawberry blonde highlights. That is how your pink hair won't look washed out while also add more texture and volume. You can try this hairstyle on both short and long hair.
Q&A
Should I Get Lowlights Or Highlights?
Both lowlights and highlights are great for women aiming for a change, but not a complete transformation. While highlights will brighten your hair, lowlights will deepen your natural hair shade. They both add dimension, texture and make dull hair looks amazing.
Highlights can be applied with foils or balayage – they should be 2-3 shades lighter than the base color. Opposite from them, lowlights are 2-3 shades darker and give your hair depth. Your stylist can even opt to use both highlights and lowlights.
Do Highlights Fade After Washing?
Highlights will eventually fade after approx. 24 washes. They will be less visible with time, but if you take good care of your hair, you can stop highlights from fading too quickly. For keeping blonde highlights hair color in good condition, use purple shampoos, conditioners, and put on a mask when you can. Also, consider washing your hair less. Instead, try keeping it fresh with dry shampoo.
About The Author