Getting a short hairstyle is usually a major transformation for many women!
Short hairstyles look young, vibrant, and refreshing. They can be managed well, and they also help women look groomed all the time. Short hairstyles are considered modern, and many women are keeping their hair short irrespective of age.
Before getting tempted to give the short hair trend a go, ask yourself if it is the right hairstyle you're choosing. Take into account how this new haircut fits into your lifestyle, does it fit your face shape. And, most importantly, will you be able to manage it on your own daily?
Short Hairstyle Ideas
If you're ready, get your hair transformation off to an excellent start by finding the haircut of your dreams. Have a look at those beautiful examples – just in time for your inspiration!
#1: Half Up Half Down Short Hairstyle
Short hair doesn't necessarily mean that you can't style it. And it doesn't mean it has to be wrapped up in a bun. This half up half down hairstyle is simple and chic. You will need a colorful or printed scrunchie and just a few minutes of your time to make it right.
#2: Colorful Scarves
Are headscarves coming back to fashion? We hope so since they are perfect additions to short hair. You can also count on it as protection from sun rays while you are at the beach.
#3: Studded Headbands
Studded headbands might seem intimidating at first, but we guarantee you will love them in the end. It-girls combine this lovely hair accessory with both sporty and elegant outfit combinations.
#4: Gold on Point
If you are brave enough for this look, we can only say to go for it. It might seem a little bit over-the-line, but such short hairstyles always look fabulous. Different textures of bobby pins will make your short hair look more appealing.
#5: Pearls in Your Short Hair
Being elegant is not so hard anymore since we have pearly hair accessories. You can wear them at any time. But try this hairstyle. Pearls are used as artificial hair, and we couldn't be more amazed by how it looks!
#6: Hairstyle with Layers for Thin Hair
Among many others cute hairstyles for short hair, this one is our definite favorite. Layers are perfect for women with thin hair. Swipe your hair at one side and voila! You have a hairstyle for day to night events.
#7: Cropped Bangs on Short Hair
These cool-girl bangs will make everybody look at you. You can wear them with both long and short hairstyles and still look fantastic and unique.
#8: Chic and Timeless
Timeless bob is always in fashion. French women wear it for centuries and look exceptional and very chic without even styling it.
#9: Low Ponytail
Low ponytails look so chic and elegant. It is one of those perfect hairstyles that you can wear from 8 am to 8 pm without wondering if it is boring or inappropriate. Pick some interesting elastic or scrunchie to make this look even more fashionable.
#10: Half-Up Bun with Gold Accessory
The eye-catching yet straightforward accessory is the easiest way to decorate your hair and make it unique. Short natural hairstyles like this one are perfect for women with minimalistic style.
#11: Side Bobby Pin
Not just any bobby pin. This one makes a statement. Plastic pin with animal print on it – what else can you add? You can make waves on your short hair and wear this look for both day and night events.
#12: Dream and Wish
Your hair accessories can carry a message. These in gold that say "dream" and "wish" are perfectly matched with classic bob hairstyles.
#13: Famous Pixie Cut
Beautiful short pixie hairstyle is probably one of the best hairstyles for short hair. You will need a bit of courage to cut your hair this short, but once you do it, you won't regret it. Make it textured and style it to be messy.
#14: Messy Half Updo
If you don't know how to style short hair, buns can be a perfect choice. Buns are great even if you have really short hair. You can make a half up half down style and wrap hair at the back in a messy bun. This is a great way to style your hair for home wear or Sundays with your friends.
#15: Braided Bob
Dutch braids are great for styling your short hair. If you have dark roots and blonde hair ends, even better. Your hair will be textured, appear more voluminous, and after all, so stylish.
#16: Short and Low Ponytail
This is a very easy-to-do short messy haircut. There is nothing sweeter than a short and low ponytail on your bob hairstyle. Leave the front hair out, and make sure to make it a bit messy.
#17:Patterned Scarf
Using a scarf as a headband is a great way to upgrade your short natural hair styles. Use bright colors for summer and wear them while at the beach or the pool. Complement this look with gold jewelry.
#18: Simple Accessories
Sometimes, it is best to go for simple accessories that will enhance your short and medium hairstyles. This plastic pin is everything you will need to make a half-up style. Polished hair like this is great for elegant wear.
#19: Double Dutch Braids Style
Dutch braids might seem complicated, but they are very quick to make. If your hair is done in the balayage technique, then this style would be much more interesting. Dark roots and blonde hair make braids appear more textured.
#20: Braided Crown
Making your braid at one side and finish it on the other for a crown vibe. This addition to your short hair is great if you want to do something chic and fast.
#21: Braided Side
Not so long ago, women tend to shave one side of the hair to make their styles look even nicer. Now, it is time to braid your hair to make your short natural hairstyles look even more interesting.
#22: Twisted Short Updo
Short hair doesn't necessarily mean you need to let it fall naturally, without styling it for elegant occasions. This is one of the ways to do it.
#23: Top Bun
Buns are one of those styles that come in handy wherever you go. You can make a bun whether you have long or short hair.
#24: Short Hairstyle with Bangs
Bangs sound intimidating when you have natural hair. We agree. However, in the summertime, no one will notice your hair is not particularly styled. You can simply make a half updo with a bun and leave your bangs curly a bit.
#25: Braided Bangs
Getting your bangs out of your eyes is crucial if you train. So, this is one of those perfect hairstyles that you can even keep after the gym is over.
#26: Ombre Blunt Bob
Blunt bobs are trendy in the summer. Hair is short, and you don't have to worry about styling it too much. Ombre is a loved technique of dyeing hair, and we adore it as many other women around the world.
#27: Lavender Bob
Lavender hair is one of the newest trends in the hairstyle industry. It is shockingly beautiful and chic. You can combine shades of steel or platinum with lavender for even better results.
#28: Pink Hairstyle
This style is a head-turner. Pink fuchsia on your hair can cause nothing but a stir wherever you pass. Blend two shades and enjoy this eccentric hairstyle all day long.
#29: Elegant Short Updo
Even with a short bob like this, you can create wonderful and textured updos for special occasions. You just need a bit of imagination and time to create a look like this one.
#30: Short and Curly
Even if you don't like to wear your hair this short, we would recommend trying this kind of a hairstyle. It looks great on women with oval and long face shapes. Don't hesitate to style it with curls and make it look a bit messy.
#31: Honey Shaded Lob
Honey blonde is one of the most popular shades. It is beautiful, though, a gorgeous blend of brown and blonde hues. If dyeing your hair isn't enough, then make sure to cut your strands into a lob.
#32: Bob with Natural Highlights
A bob with natural highlights is a very chic and easy way to wear your hairstyle. This is one of those hairstyles that take just 5 minutes of your time to be made for either work or other activity.
#33: Icy Platinum Hairstyle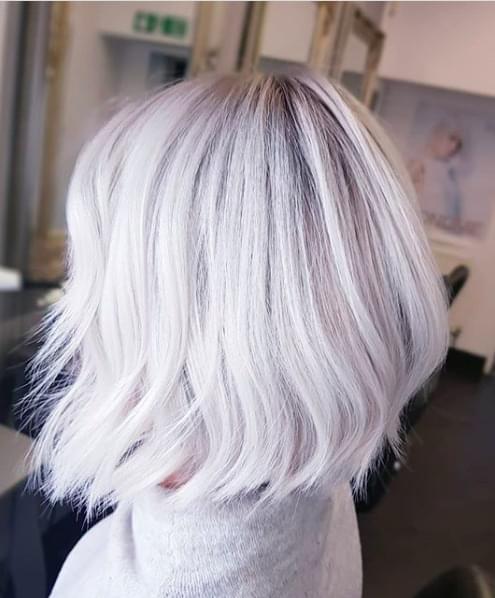 Cold as ice couldn't be more accurate than for this hairstyle. It is looking gorgeous – a combination of bob and platinum blonde shade will make your regular hairstyle into a head-turner.
#34: Hair Inspired by the '90s
Flipped out curls and space buns can only mean one thing – this look was inspired by the '90s. Many celebrities have tried and adored this kind of style. You should definitely go for it.
#35: Marilyn Monroe Wannabe
Curls, blonde hair, and short hairstyle combined can make you look like Marilyn Monroe. If that is what you want, then make this hairstyle and enjoy it.
#36: Sporty Look
If your short hair is bothering you, you can simply put on an elastic cotton headband. It will provide you with kind of a sporty look, but with the dash of chicness.
#37: Layered Auburn Bob
Asymmetric and layered bob is something we should all try sometimes. The auburn shade is perfect for women with fair skin tone and light-shaded eyes.
#38: Colorful Mohawk
Mohawk is a style that is not typical for women. However, brave ones know how to wear it and look fantastic. You can go for a colorful blend and curl the ends of your hair.
#39: Chopped Bob
Chopped and short bob like this is one of the best hairstyles for short hair. It is both practical and chic. Perfect for all the occasions – from early morning business meetings to the late-night cocktails with the girls.
#40: Elegant Crown Braid
A sleek hairstyle for short hair is perfect for weddings and parties alike. It will upgrade your daily bob look and make it sophisticated. Crown braid is an excellent choice.
#41: Top Dutch Braid
We admit – this looks fantastic. Even with super short hair, the Dutch braid on the top of your head will definitely steal all the attention.
#42: Waterfall Braid
Waterfall braids look very romantic and soft on both long and short hairstyles. If you want a minimalistic look for daily wear, go for this one.
#43: Perfect Bob
Perfectly chopped bob is everything you will need this summer. It is easy to style, especially if you like your hair to be messy. Just swipe some hair at one side, and you are ready to go.
#44: Timeless Bob
Short, polished, and perfect for all occasions – this is how we can describe this lovely hairstyle for short hair. This bob pairs perfectly with eyeliner and red lipstick.
#45: Perfectly Blended Shades
Your lob deserves a perfect blend of colors. Brown, strawberry red, and just a touch of blonde at the bare hair ends make this hairstyle look fantastic.
#46: Scarf Elastic
Elastics are fine, but sometimes they can be too harsh for your hair strands. Instead of using them, try wrapping your hair with a scarf.
#47: Velvet Bow Accessory
Velvet bows are not reserved for the dresses anymore. You can find them as a hair accessory as well. They are utterly romantic and vintage. Bows can accessorize cute hairstyles for short hair.
#48: Flowers and Braids
A wedding is an excellent occasion for a hairstyle like this. Flowers and braids, in combination with short hair and waves, bring nothing but pure happiness.
#49: Headband with Rhinestones
Curling your hair and them styling it with a unique headband is a great thing you can do for elegant occasions. This fantastic hairstyle is suitable for weddings, cocktail parties, and many other special events.
#50: Short and Curly Hairstyle
Short natural hairstyles can be quite lovely for diverse occasions. Defined curls can be even more enhanced with short hairstyles, so don't hesitate to cut your natural hair.
#51: Twisted Half Updo
Short hair is styled to look voluminous by twisting. You can make this simple yet very elegant hairstyle by twisting two parts of your front hair and gathering them at the back.
#52: Swiped Hair with Hair Pins
You can swipe some of your hair at one side and curl it. Use trendy plastic pins to style the other side of your short hair.
#53: Oversized Braid
Women with thick hair will love this hairstyle. An oversized braid is a perfect addition to your short haircut. You can wear styled hair like this for different occasions, both casual and elegant.
#54: Polished with an Accessory
This example is an ideal prom hairstyle. If you have short hair and you lack ideas for this big night, then use this as an inspo. Don't forget to accessorize your hair.
#55: Warm Orange
The straight cut lob is one of the best hairstyles for short hair. It is so popular among superstars as well. No surprise there! It is easy to style and versatile. Dye your hair in the lovely warm orange shade for a head-turner style.
#56: Natural Redhead
Lob hairstyles on redheads look even better. You can be sure people will comment on your hair. This look is natural, great for women who don't like to spend their time hairstyling.
#57: Wedding Look
A perfect wedding look doesn't necessarily require long curly hair, braids, and chignon buns. You can wear your short wavy hair with a vintage and romantic crown and look sophisticated and elegant.
#58: Tucked In
This is one of those great styles that look like it requires a lot of time when, in reality, you need only 10 minutes to get it done. Gather your hair low at the back of your head, and tuck in all hair ends.
#59: Low Buns
Unlike the space buns that are at the top, these are more sophisticated and located at the bottom of your head. Wearing them daily is more than welcome.
#60: Vintage Inspired
Black headband made of velvet instantly brings back memories of childhood. Every girl was wearing this accessory. Nowadays, it is trendy again, so don't hesitate to try it on your short hairstyle.
About The Author