Whenever you're browsing through the pictures of amazing short hairstyles, you're tempted to get one of these yourself. There are a lot of benefits to short hair – less shampoo, less hassle, and less heat in the summer. Though short hair is often considered low-maintenance, it's actually a time-consuming lifestyle shift.
Styling short hair could be tricky due to the limited number of styling options.
How to style short hair? Scroll on to get some inspiration on how to jazz up your short 'do.
Different Ways To Style Your Short Hair
Styling Your Short Hair With Hair Dryers
There are a number of ways you can style your hair just using your hairdryer, straightener, or curling iron. Find which one best suits you.
#1: Sleek & Straight
Blogger Ren wears her classic bob stick straight.
#2: Curled Coif
Use your hairdryer and rounded brush to create interest at the bottom of your bob or short haircut by curling the ends under.
#3: Chic Outward Flip
Alternatively, you could curl your ends outward using your hairdryer and brush.
#4: Funky Pompadour
Why go for length when you can have volume?
#5: Rock Those Curls
Curling irons aren't just for long hair! Break out that thin-barreled curling iron and copy Jessie of Mini Penny Blog's look.
#6: Vintage Bombshell
With practice and patience, you can emulate these vintage looks too.
#7: Slick and Straight
Blow dry straight and add gel to get this impossibly cool look.
How To Style Short Hair With Natural Curls
If you have afro-textured hair, don't be afraid to try some of these gorgeous styles.
#8: Adorable Mini Puffs
Up the cuteness factor with these short puffs.
#9: Fabulous Flat Twists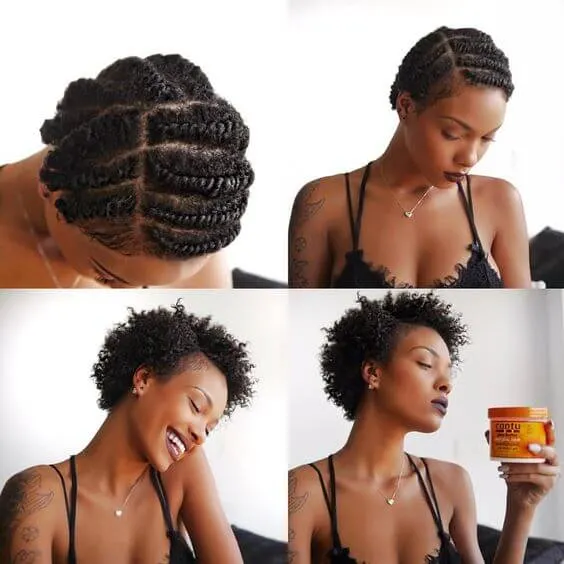 Have fun with this pretty protective style.
#10: Play Around with a Side Part
Add a little edginess to your outfit with a cool side part.
#11: Go Elaborate with a Twisted Updo
What an amazing twisted updo! This is another great protective style that is sure to please!
Beautify Short Hair with Braids
If your hair is bob length, try a few of these braided styles for a quick change-up!
#12: Elegant Pony Tail Braid
If your hair is just above shoulder length, you can recreate this braided look with a hair elastic and a bow.
#13: Mini Waterfall Braid
You can do this cute waterfall braid even if you have a short bob!
#14: Adorable Crown Braids
Using the twisted braiding technique, secure your hair stylishly away from your forehead.
#15: Stylish Side Braid
Longer bobs can get away with this simple side braid.
Accessorize, Accessorize, Accessorize!!!
Sometimes, you just don't have the time or patience for elaborate blowouts or intricate braids.
The good news is that you probably already have some clips or bandanas lying around to help spruce up your look. Otherwise, have fun shopping for some new and fun hair accessories to decorate that 'do.
#16: Bold Barrettes
Endless way to style your hair: just try searching Etsy for an astonishing amount of amazingly creative barrettes like this round clip.
#17: Get Creative with Bobby Pins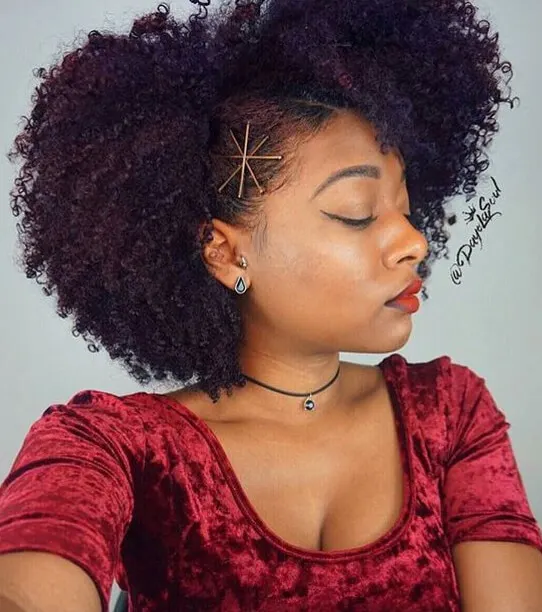 The possibilities are almost infinite using something as basic as a bobby hair pin to create cool shapes.
#18: Channel Your Inner Floral Goddess
A flower crown is never a bad idea.
#19: Slay All Day in a Headwrap
Short-haired gals can opt for a fashionable headwrap too.
#20: Purr-fect Hearing
Ok, so these ears won't give you superior feline hearing abilities, but they sure look cute.
#21: Nature's Golden Touch
You can easily pick up gold leaf headbands or clips from your local mall to top off that ethereal, glowy look.
#22: Put a Bow on It
Whether it's a fabric bow or a bow of pearls, this classic hair accessory can't go wrong!
#23: Wearable Wraps
Leave a bit of hair out of your head wrap for a fun peek-a-boo.
#24: Playful Headband
Headbands are a fun and comfortable way to accessorize short hair.
#25: Trendy Bandana
Even short pixie hairstyles can be styled with a bandana!
#26: Sophisticated Turban
Headscarves and turbans can be great on days where you want to add a pop of color to your outfit.
#27: Beaded Fascinator Throwback
A unique way to style your short hair is to look to the past for inspiration like this wardrobe stylist has done with her beaded fascinator.
Hats Off
Last but not least, the ultimate easy way to style short hair is to simply throw on a hat. Get inspired by these beauties!
#28: The Bigger, the Better
Whether to keep the sun out or up the mystery factor, big floppy hats are always a yes in our book.
#29: So Warm Yet Oh So Cool
Colder weather won't deter German blogger Sunny from matching her hat to her shoes.
#30: Show Some Sportsmanship
Baseball hats don't have to be boring! Get a fun print to go with your fun cut.
#31: Classic Headwear
Channel your inner gentleman with a classic hat like this one.
About The Author