Believe it or not, style from the '80s is back and with it came the crimped hair. It is an ultimately stylish, quite eccentric, yet very sexy hairstyle that brings all the blasts from the past.
From Kim Kardashian to Gigi Hadid – all the It girls have tried to wear crimped hair. The technique of crimping will provide you with volume and style. You can always opt for a different amount of crimps. Some girls tend to crimp their hair from roots to the ends, while others love to do it randomly and in a minimalistic way.
Check this link if you want to find out how to crimp your hair, what are different methods, and which of them are healthier.
If you want to recreate some of the styles that were popular back in the '80s, look no further. We have gathered so many examples for you to see and copy.
Crimped Hairstyles: Ideas for Immediate Inspiration
1) Lovely Lilac Crimped Hairstyle
Even though lilac hair can make you look sweet like candy, this hairstyle is really bold. Crimped hair and the lilac dye will make you stand out from the crowd wherever you are. You can try this haircut on both long and short hair.
2) Colorful Braided Crimped Hair
Colorful hair is something that surely catches all the attention of your friends. In combination with crimps and a braid, you will get a fantastic result. Eccentric hair with a vibe of elegance. Perfect for the brave ones.
3) Fiercing Red Crimped Hairstyle
Long red hair is great to wear when you need to make a statement. And like that is not enough, by adding crimps you will enhance all the beauty of twisted hairstyles. You can make your hair look even more beautiful and stylish with a braid.
4) Braided Updo with Crimped Hair
For those girls who search for a lovely and elegant braided hairstyle, here is a beautiful suggestion. Updo with a braid and crimped hair. If you love twists and braids, then you should definitely go for something like this.
5) Long Blonde Crimped Hair
If you are not interested in any updos or half up, half downs, you can simply crimp your hair and leave it relaxed and so long. This hairstyle will look even better if your roots are a bit darker than the rest of your hair.
6) Voluminous Braid Made of Crimped Hair
A voluminous braid like this one in the photo above will attract many views towards your direction. It is very stylish and not seen very often. Crimped hair in the mix with a voluminous braid is definitely something that you should try.
7) Hair Like a Candy
Pastel pink hair can easily make you look like a unicorn or a candy. However, it is still one of the most popular dyes that many girls adore. You can wear it with crimped hair if you want to make a statement or look bold, wherever you go.
8) Short Crimped Hairstyle
Short hair might be easier to style. You can crimp it with an iron that is specialized for hair crimping. For a dramatic moment, make a French braid. It will make everything look better. When your hair is highlighted, this hairstyle looks so exciting.
9) Lovely Hairsytle for Summer
Long crimped hair is excellent for summer. It looks effortless but ultimately stylish. You can add some hair accessories like a headband or a scarf. Both of these accessories are trending at the moment, so don't hesitate to add them to your everyday hair routine.
10) Long and Sleek Hairstyle
This is one of those day-to-night hairstyles. You can wear it to your office and to the after-work party with your friends. A thin braid at the front will frame your face in a romantic and pretty way.
11) Combination of Waves and Crimps
Wavy hair is one of the most popular hairstyles among girls. But, what about this unusual combination of waves and crimped hair? Beach waves are perfect for summer, so don't hesitate to mix them with crimped hair.
12) Crimped Ponytail
Instead of crimping all hair from roots to ends, leave the upper part straight. If you gather your hair into a high ponytail, this process will become much more manageable. You should crimp the hair from the elastic to the hair ends.
13) Partly Crimped Hair
If you are not so into volume and crimps all over your hair, then do them partially. You can use the iron on the random parts of your hair and wrap it into an elegant low ponytail. This hairstyle can serve you perfectly for the upcoming wedding season.
14) Crimped Hairstyle and Makeup as if Fresh From the Runway
Models on runway shows wore crimped hair, and that is how it has found the way to the hair industry. If you want to look like a supermodel, with voluminous hair and some chic detail, then copy this lovely look.
15) Dreads Combo
Dreads are popular among both men and women. If you don't want to damage your hair too much, opt for colorful ones, using the small strands of your hair to make them. They will look stunning in combination with crimped hair. Don't overdo it – just a few colorful dreads will do all the work needed.
16) Asymmetric and Textured Hairsytle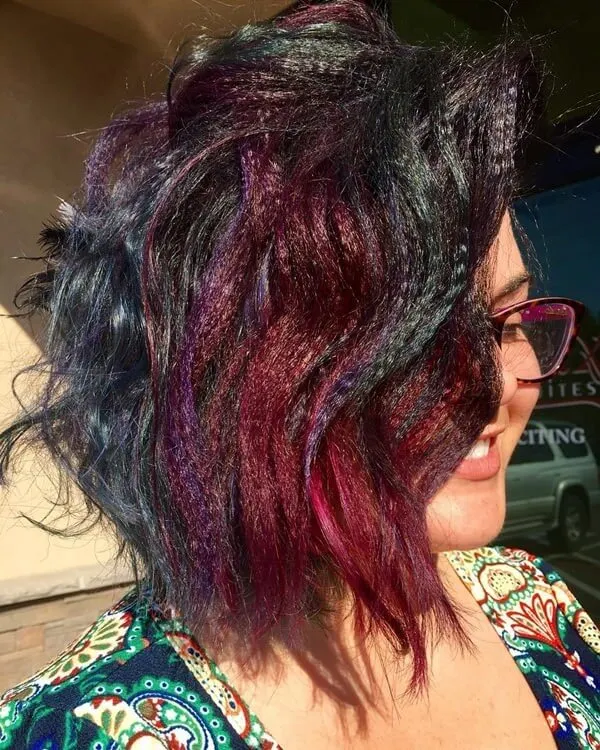 Asymmetric bob is perfect for everyday wear. However, colorful and crimped bob is even better and definitely more eye-catching! All brave girls out there, make sure to try something like this. The heads won't stop turning in your direction!
17) Long and Messy Hair
If you are into some bohemian vibes, then this is the right hairstyle for you. Long hair, braids, and crimps – this hairstyle has it all. Wear this hair for many occasions in combination with long floral dresses and crochet blouses.
18) Crimped Braid on Point
Highlighted hair looks pretty impressive itself. However, by braiding it, you will make it look even more exciting and ready for a night out. One thing is sure – all people will look at you and give you compliments.
19) Summer Ready Boho Hairstyle
A scarf around your head and crimped hair make a beautiful combination, perfect for summertime. We can already imagine ourselves in a bikini, with a cocktail in our hands, in some open beach bar. The hairstyle will definitely catch some attention.
20) Hair Like a Blue Sea
If you are interested in unique and eccentric hair colors, then you should definitely try turquoise. Making this exciting and quite unusual hairstyle is something that you can do for both casual and elegant occasions.
21) Half Up Half Down Updo
If you want to take hair off your face, there is no better way to do it than with the simple half updo. By cramping your hair randomly, you will enhance the effortless vibe. Platinum hair matches perfectly with this style.
22) Two-Toned Ombre Crimped Hair
Two-colored ombre is one of the most popular dyeing techniques among women.
It enhances the beauty of every possible hairstyle. Whether you have long, short or medium hair, the one thing is sure – with crimped hair and an ombre, you can never make a mistake.
23) Mermaid Crimped Hair
For all those girls who would like to make a statement with their hairstyle, this one is the right choice. Mermaid hair in three or more shades of blue and turquoise is the best possible way to grab all the attention, whether you are on the street or at some event.
24) Braided and Crimped Hair at Once
Blonde hair is our definite favorite. In combination with different techniques such as crimping or curling your hair, you can make it look even better. That is the case with this hairstyle as well – crimped hair makes everything look better.
25) Elegant and Sophisticated
Crimped hair can look bold and punk, but also it can look charming and sophisticated. When you crimp your hair and make a romantic updo like this, you can easily wear this at some of the most elegant events. It matches perfectly with long satin dresses and super high heels.
26) Crimped Hair for Boho Wedding
Oh, these bohemian weddings in the woods are so pretty. We adore them. The question is – what hairstyle to choose? Crimped hair is our suggestion. It is boho with a bit of elegance and a lot of romantic vibes.
27) Lovely Random Crimps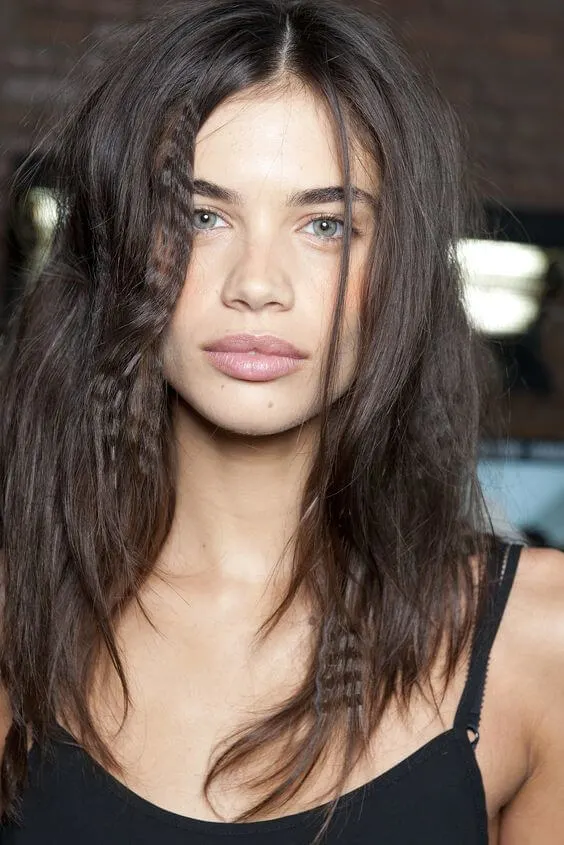 Random crips are great for those girls who like to wear their hair in a minimalistic way. When your hair is crimped all the way, that might be too much for everyday wear. However, with a medium length and random crimps like these ones, everything will be perfect.
28) Very Delicate Crimps
Blonde hair, in combination with crimps, will take everyone's breath away. However, those delicate crimps that are barely visible are the key to this hairstyle. They are not only random but not so eye-catching. This is an excellent hairstyle for both everyday and special events.
29) Retro Vibes with Crimped Hair
Crimped hair has made a comeback from the '80s. It is loved by many girls and women. You can always make it look modern, but retro vibes are unavoidable. Braid or wrap your hair into two equal parts and add some hair accessories.
30) Fresh from Backstage
Some girls like to wear their hair extreme and eccentric. If you are one of those girls, then don't hesitate to try something like this – it is fresh from backstage. Slicked down from the roots to the ears and crimped from the ears to the hair ends. Beautiful and unique, right?
31) Punk-Inspired Lightly Crimped Hairstyle
Crimped hair and punk are in love. You can always find inspiration in this eccentric movement. Punk never dies, right? For this kind of hairstyle, you need only to crimp your hair and make it look voluminous with hair spray. Layered hair will look even better.
32) Minimalistic and Stylish
Crimped hair slicked at the back – this looks very minimal and stylish. You can rock this hairstyle for many different occasions. We would suggest trying it for your best friend's wedding, with a cute and elegant white dress. The contrast will look simply fabulous.
33) Interesting Updo
What impressive strawberry blonde punk-style hair! Instead of braiding your hair normally, start from the back of your head and braid it towards your face. Before that, crimp your hair. That is how you will get that voluminous and super interesting hairstyle. This is not for everyone, though – it is only for the brave girls!
34) Short Bob with Crimped Hair
Short bob is one of the most popular hairstyles. How about you crimp your hair along with it? Trust us, we know what we are talking about. You will get a chic, voluminous hairstyle that is appropriate for both casual and elegant occasions. Such short curly bob won't leave you unnoticed!
35) Volume on Point
Long, relaxed hair is great for everyday wear. Young girls with thick and long hair can crimp it and make it look like in the photo above. You will need to take some time to make this hairstyle, but once you are done, you will adore it.
36) Crimped Braids Again
Delicate and crimped hair is not a usual combination. Mostly the crimped hair looks eye-catching and eccentric. However, this hairstyle is all about minimalism and chicness. Braids that are crimped along with the random part of your hair are adorable.
37) Such Hair Is Not Usual: Lilac Princess
You might need to have thick hair for this hairstyle, but once you achieve it, you wouldn't be able to stop looking at it. It is not only voluminous but also very authentic. The hair dye, the braid, and the crimped hair – this hairstyle has it all.
38) Crimped Hair + Bangs
Bangs are a great addition to your hairstyle. They frame your face in the best possible way and make you look youngish and fresh. Crimped hair will add the casual vibe but make your hair look fantastic and so trendy.
39) Crimped Hair Ends
If crimped hair all the way from roots to the hair ends is too much for you, then copy this look. As you can see, only the hair ends are crimped, but they look fantastic. The rest of your hair should be brushed and slicked with a hair gel.
40) Massive Crimps
If you thought crimps are only small, you were wrong. You can make massive crimps and make them look like this. If you ever wished to look like a supermodel, now it is more than possible with this great style.
About The Author