Box braids are known for a long time and loved among many women and men. There are so many styles, varieties, or even color combinations that you can try.
Everything You Need to Know About Box Braids
Even though numerous hairstyles appear daily, one thing is sure – box braids are a staple hairstyle that continues to exist throughout history. Their popularity is the same – they are not only trendy but a hairstyle with interesting origins.
Believe it or not, braids go way back – to 3500 BC. Throughout history, different kinds of braiding styles have been signs of social status, ethnicity, religion, and much more.
Braiding started in Africa, in their tribes where hair and clothes defined a person's tribe or age, status, wealth, or religion. The braiding technique was passed over from mothers to children.
When it comes to box braids, in particular, they originate from Egypt in 3100 BC. Other types of braids, like cornrows, were found even before 3500 BC in Africa, while crown braids begin with the new century in Greece.
Box Braid Colors
You can choose between many different braiding hair colors. Some of them are very popular – burgundy, brown, purple, or blue. You can match different shades of braids with natural hair.
No matter if your hair is light or dark, you will find that perfect match that will result in having a fantastic hairstyle for a few weeks.
Different Box Braid Styles And Variations
Same as colors, there are many diverse box braid styles. You can really experiment and wear them in different ways – long or short, tight or thin braided, even whole braided or half-way braided. Some women even braid their braids!
Varieties of styles are one of the main characteristics of box braids, and that is why they are so popular among all women.
Problems Related to Box Braids
Alongside all the great things coming with box braids come some specific problems. They don't occur always, but when they do, they can be very unpleasant.
If your braids are too tight, they can cause pain. And not only that – too tight braided hair leads to alopecia, hair loss, and unbearable migraines. You can solve tight braids by trying some of these methods.
Smelly box braids are not a big deal, yet it is a problem that can bother you and people around you. There are several ways to fight smelly box braids, and most of them are easy to do at home.
Box Braids Q&A
How do you do box braids for beginners?
Fortunately, many tutorials show how to do box braids, even if you are a total beginner. You will need a comb, elastics, and good-quality braiding hair to begin with. After that, you only need to learn how to attach the braids to natural hair and braid them all together.
How many box braids should I have?
You can have as many box braids as you wish. This certainly depends on how much braiding hair you have, how sectioned your hair is, and the style you want to achieve. Chunky braids are usually bigger than there are less of them. They are heavy, so make sure not to over-braid the hair.
If you are going after thinner braids, then make them as much as you can. That is how your hair will look textured and voluminous.
Do box braids ruin your hair?
Another name for all braiding styles is protective hairstyles. That said, box braids won't ruin but protect your hair while allowing it to grow.
However, if your braids weren't installed properly or you keep them too long on your hair, or if braids are painfully tight, they can absolutely damage your natural hair.
Can box braids be washed?
Yes, you can and should wash your braids to keep them in good condition. If you don't have time for a full-hair wash, use a cloth to damp and wash your box braids.
When to take box braids out?
You should take out your box braids after six to eight weeks. Don't try to keep them longer than that since it can lead to serious hair damage.
How do I know how many packs of box braids hair to buy?
For long hair, you would need to buy at least 10 to 12 packages of braiding hair. Medium hair requires about 6 packs, while short hair needs 2 to 4 packs of box braids crochet hair.
50 Perfect Box Braids To Excite And Inspire
#1 Inspired By The Rainbow
If you are feeling eccentric enough and you like to experiment with new hairstyles, then this one is definitely for you. Blonde, yellowish box braids are attached to dark hair. An unusual combination is finished off with rainbow-colored plastic hairpins.
#2 Box Braids with Scarf
Box braids can look amazing with a colorful scarf. This hairstyle can be made in diverse ways. The most simple one is just by wrapping silk and patterned scarf on the top of your head.
#3 Platinum Box Braids
Whether you like it or not, these platinum braids will surely turn many heads towards you. This girl matched her dark natural hair and platinum braids perfectly. It looks very chic yet casual and youngish.
#4 Top Knot
The best and the easiest hairstyle you can achieve with box braids is definitely half up top knot. You simply gather some braids and secure them with elastic on the top of your head. These colorful threads look amazing on dark-shaded braids.
#5 Blue Jumbo Braids
Jumbo braids don't require much time to make. Make sure to use blue braiding hair and to add gold threads and accessories for a great finish.
#6 Purple Ponytail
Ponytail made of braids is anything but usual. It is a great way, though, to gather up your box braids and make something different. Ponytails never go out of style.
#7 Blonde and Highlighted
It is a combination of warm blonde shade with honey blonde highlights that make this hairstyle look amazing. Braids will be textured, and your natural hair enhanced with this contrasting shade.
#8 Classic Brown Braids
Sometimes, you don't even have to experiment much to get an excellent hairstyle. You can always turn to classic. A braided hairstyle in a neutral shade will surely be your favorite one.
#9 Chocolate Brown Box Braids
Highlighted brown hair looks even more textured and voluminous. These bronze and honey brown hair tones will look good on any girl. Try them in summer with some extra gold accessories.
#10 Box Braids
This hairstyle is classic. Box braids braided from the very roots to the ends look great on all hair colors. Don't hesitate to add some gold or silver accessories.
#11 Ombre Braids
The combination of blonde and black might sound intimidating at the moment, but, as you can see, it looks fantastic, especially on braided hair. By adding more gold details, you will only make your hairstyle more appealing.
#12 Subtle and Chic Braids
Box braids can be chic and subtle. You can even choose them for any formal event in this form. Brown is relatively neutral, so you can always opt for this shade, whether you like it highlighted or not.
#13 Curly Box Braids
You can achieve this look by learning a unique technique of braiding. Half of your hair is braided, while the other half is curled. Hair is textured while braids are enhanced.
#14 Perfect Summer Look
Big earrings, patterned scarf on your head, and box braids – we would call this perfect summer look. Boho look is easily achieved with braids, remember that.
#15 Two-Colored Braids
The brown and blonde combo for this hairstyle is more than appropriate for the beach. By adding some accessories, you will make it even more summer-ready.
#16 Sporty Vibes
Only by adding a cap you will turn any casual outfit into a sporty one. However, if you prefer to wear this kind of look every day, make sure to pair braids with the cap and the rest of your clothes.
#17 Central Parted
If you want an equal number of braids on both sides of your head, then you need to do a central parting of your hair. It is easy – you just need to be precise and use a comb. This hairstyle looks great for both day and night events.
#18 Rainbow Box Braids
If someone would like to stand out from the crowd, then this is the hairstyle to try. Rainbow braids in beautiful rainbow shades, gathered in a ponytail, have everything you need! This is an eccentric hairstyle that is undoubtedly going to catch attention.
#19 Burgundy Braids
Burgundy is one of the most popular shades that women pick for their braids. Not a surprise since it is a lovely and stylish shade that will enhance the braids even more.
#20 Colorful Jumbo Braids
If you are tired of plain brown or black braids, then go for something fabulous like this. These colorful jumbo braids look excellent short. You can even add more accessories to intensify the look.
#21 Orange is Trendy
Orange is one of those intimidating shades at first, but you feel in love with it shortly after. Same with your orange clothes, orange hair is lovable, perfect for summers, and great for women who like eccentric hairstyles.
#22 Purple and Stylish
Purple hair always looks stylish. It is trendy, especially when braided. You can opt for both thin or jumbo braids – they will look perfect when done in this contemporary purple hair color.
#23 Tradition with a Twist
Traditional beadings are usually put on braids. Here, it is done in a more modern way, so you can say this is a traditional haircut with a twist. Fringes made of braids match with gold threads make an excellent combination.
#24 Long Lilac Ponytail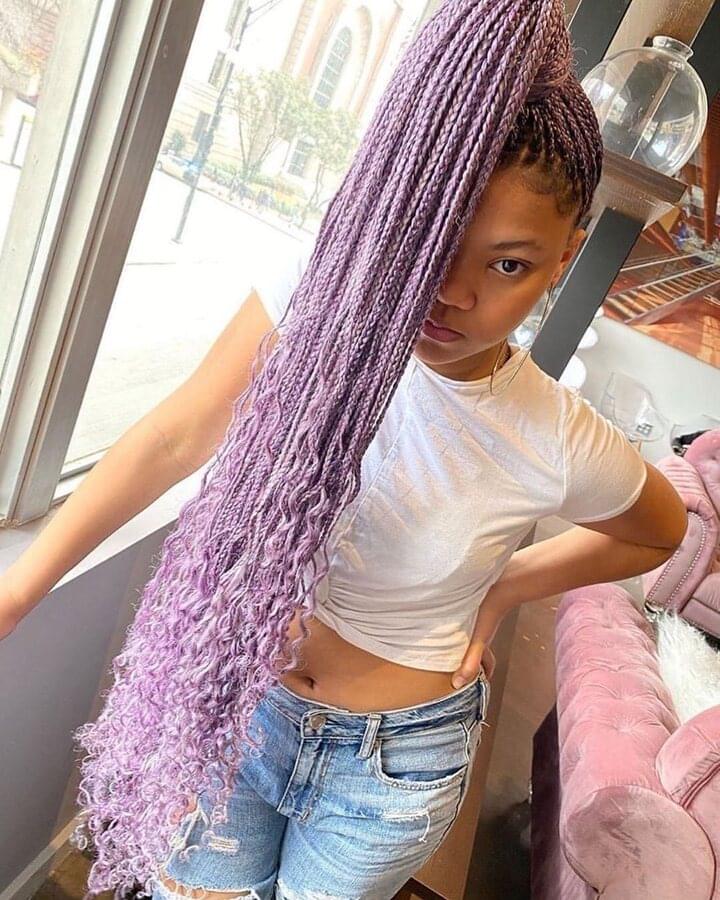 Lilac braided ponytail is great for beach parties. Your box braids should be extremely long and not braided all the way but curled.
#25 Green Beadings
Women usually put gold or silver accessories on their braids. Sometimes, it is better to opt for colorful plastic beadings. They will be eye-catching, more traditional, and, most of all, suitable to protect your braids.
#26 Top Ponytail with Scarf
Ponytail made with a scarf is definitely our favorite braided hairstyle for a day. The higher the ponytail – the better.
#27 Denim in Your Weaves
This hairstyle is unique. Have you ever tried braiding pieces of denim in your hair? Well, now you have a chance. Opt for black box braids and joint some denim stripes.
#28 Platinum Ombre
Black roots with platinum blonde ends, especially when braided, will enhance your whole look. This is an excellent hairstyle for both day and night events.
#29 Black Jumbo Braids
Jumbo braids took less time to braid than regular thinner ones. However, that doesn't make them less stylish. Add some gold jewelry for a chic upgrade.
#30 Super Long Braids
Are you ready to wear your braids this long? If you are, then don't hesitate any minute to braid them! Most of the braids should be with curly ends, so make sure not to weave them until the ends.
#31 Auburn Braids
Auburn is quite a specific shade. It is a shade of fall weather, melting together with leaves and scenery. If you would like a hairstyle that matches with the season, then pick box braids in auburn for fall.
#32 Switched a Side
Some women prefer to central part their hair, while others like to start their braids at one side of their head. This hairstyle shows us how you can switch your hair on a side by braiding it that way. It is an excellent style for formal events.
#33 Sunkissed Blonde Braids
These locs look like they are sunkissed. From black roots to very blonde hair ends, you can see the variety of honey blonde and platinum hues that these braids have. And we agree – they look absolutely wonderful!
#34 Half Up Half Down Bun
When braids are super long, women prefer to gather them when working out or want a new style. This half up half down style is great since it is easy to achieve, versatile, and great for wearing when you have braids.
#35 Side Ponytail
A low ponytail on one side will not only gather your braids but make them look chic and stylish as well. You don't even need to use elastic – simply wrap a bunch of braids instead.
#36 Medium Length Braids
While some women like to wear their braids super long, others find it impractical for doing their daily activities. This medium length is perfect – not too short, nor too long. It will also save you time – no braiding for a whole day.
#37 Lots of Chocolate Braids
A bunch of thinner braids means more texture and more volume. You should also pick a shade that is equally attractive as braids. This chocolate brown will be a hit as soon as you try it, we guarantee.
#38 Blue Threads
Match your hair accessories with your hair color. Blue threads inside your box braids will surely match dark hair. Don't overdo those accessories – it is enough to put them on one braid at both sides of your hair.
#39 Red Updo
Red braids are eye-catching, especially when decorated with gold threads. You can grab a bunch of braids and wrap them in a messy bun.
#40 High Updo with Braids
When you need something chic and elegant, you ask your hairdresser for a high updo. You can now achieve the same chicness with box braids by simply gathering them and accessorizing with gold rings.
#41 Voluminous and Highlighted
Thinner the braids – the more voluminous and textured your hair is! If you want to enhance the hair even more, then pick a few compatible blonde and brown shades of braiding hair for your box braids.
#42 Highlighted Ponytail
Highlighted braids in platinum and black are gathered in a high ponytail. No matter where you go, you will be noticed. Platinum hair and box braids will help you stand out from the crowd.
#43 Strawberry Blonde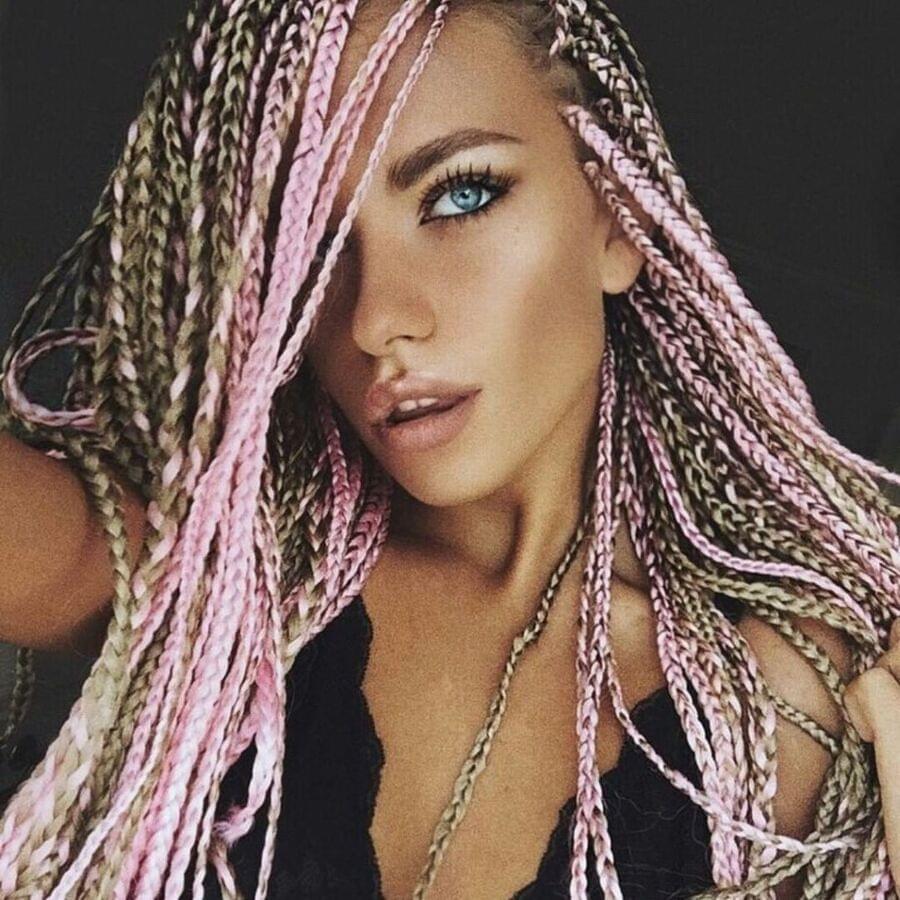 Shiny and fresh – this is how this hairstyle looks. Strawberry blonde in combination with light blonde hue will enhance any hairstyle. Try this haircut if you have a fair complexion and blue eyes.
#44 Baby Pink Braids
If you feel eccentric today and you would like to change your hairstyle, then go for pink! These baby pink braids are looking cure, like candy, and will turn your regular box braids into gorgeous ones.
#45 Emerald Green Bun
Not all women are brave enough to wear this hair color. For those who are, this is the usual hair shade like any other. Emerald green braids are unique but also very chic. Gather braids in a bun for a daily look.
#46 Braided Space Buns
Space buns are one of those timeless hairstyles. They are versatile and perfect for both women and girls to wear. You can make this look unique by braiding your hair in two shades – black and pink.
#47 Box Braids with Curls
If you would like to spice up your braids, then add some curls. You don't need to braid all your hair, but leave some strands and curl them with a wand or straightening hair iron.
#48 Messy and Oversized Braided Bun
If you get tired of your braids, all you need to do is gather them in a really high bun. It shouldn't be perfect. On the contrary, you should make it look as messy and oversized as you can.
#49 Mermaid Colors
Looking like a real mermaid was never easier than with braids. You should choose all those shades of the sea – turquoise, sea green, and blue. Incorporate them in one while braiding your hair.
#50 Burgundy Ombre Style
From dark brown roots, through the beautiful shade of dark wine red, all the way to the burgundy hair ends – this hairstyle has it all.
Related articles
Get Hair Tips to Your Inbox
We will send an email from time to time. Not too often. You will get ideas with inspirational haircuts and hairstyles, suggestions on choosing hair colors, as well as hair care tips, and advice on how to deal with hair problems.