Box braids are a popular protective style that many women adore to wear. It has so many benefits – your hair is protected, can grow naturally, braids are low maintenance, and can last long.
However, with box braids come also some things that are not so pleasant. They can start smelling bad if you are not maintaining the braids well.
No one wants smelly braids right after you have made them work. Did you ever wonder why box braids smell bad? There are many causes, but the most common are:
Chemicals used during the braiding process
Build-up due to condition use
Dirty natural hair
Scalp infections
Fortunately, all of these can be avoided if you are taking good care and follow these ways to fight your smelly braids. Even though box braids require minimum maintenance, there are some things you need to do to keep them in good condition and to keep the smell away.
7 Things You Need To Do To Avoid Box Braids Smell
Use Good Products for Your Braids
While our natural hair can take more products and more frequent washing, that is not the case with braided hair. Make sure to use only the suitable products that won't leave a build-up.
Leave-in-conditioners can easily leave your hair sticky and make a build-up that leads to smelly box braids. Instead, try using a spray conditioner and avoid putting it on your scalp.
Many women who braid or wear box braids recommend witch hazel spray. It helps with keeping your hair fresher and can be used between washes.
Be careful when using hair oils. It will indeed keep your hair and braids from drying out, but too much oil products can cause bad smells as well. Stick with oils that have natural scents – coconut or jojoba ones.
Dry Your Braids Carefully
Like many other things, when not dried properly, your braids will eventually start to smell. Are your box braids smell like mildew? Artificial hair can quickly get that moldy smell or smell sour from trapped hair oils if not dried properly, but don't worry – it happens to many women.
Take the time to properly dry your natural hair on the scalp, as well as your braids. You can choose how to dry your hair. Do it with a blow dryer or naturally in the sun – either way, make sure to take enough free time so you can dry them completely.
Be Aware of Infections
Believe it or not, many women with box braids have been faced with infections at their scalp. It usually happens when stylists braid too tightly or when the whole process of braiding is not done correctly.
There is nothing worse than infection plus that rotting smell that comes from it. You need to take good care of your scalp and make sure to check it daily, especially if it is itchy. If there are some open wounds, contact your doctor to give you suitable medications to treat them.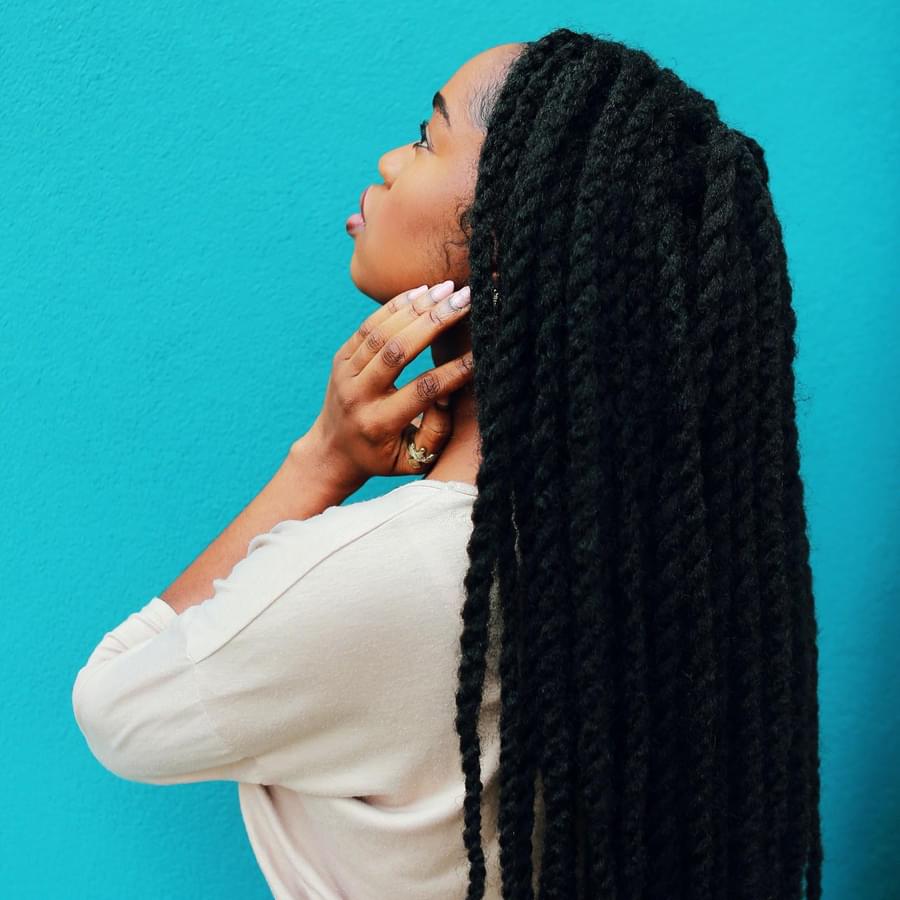 Use Good Quality Braiding Hair
Box braid smell can appear due to low quality braiding hair. It is best to use hair that is made of good quality materials – even synthetic ones.
RELATED: 5 Tutorials Showing How to Do Box Braids Like a Professional
However, even the better solution is to buy human braiding hair or mix it with a synthetic one. That is how you will be safe from bad smells. Human hair indeed won't have any odor, so combining with synthetic ones can minimize the potential bad smell.
Wash Your Braids
The proper wash of your braids once or twice a week will ensure they are fresh, clean, and, most importantly, without smells.
Before shampooing, soak your braids in the water. Then add shampoo. Make sure to cover all your scalp with shampoo. Pour some amount of shampoo into your hands and rub it with your fingers.
Make sure to rinse all shampoo residue with a lot of lukewarm water.
Don't forget to condition them. That is how you will lock and add moisture that your hair needs to continue look great. Leave a light conditioner for three to five minutes and rinse.
Finally, make sure to dry your braids after washing them. This is a crucial step to prevent them from smelling bad.
If you don't have time to thoroughly wash your hair with shampoo and conditioner, no problem. You can use dry shampoo and a wet cloth to wipe it down the braids.
Don't Style Wet Braids
Some women make a mistake by styling their almost dry braids. This can lead to smelly braids, even though it was not your intention.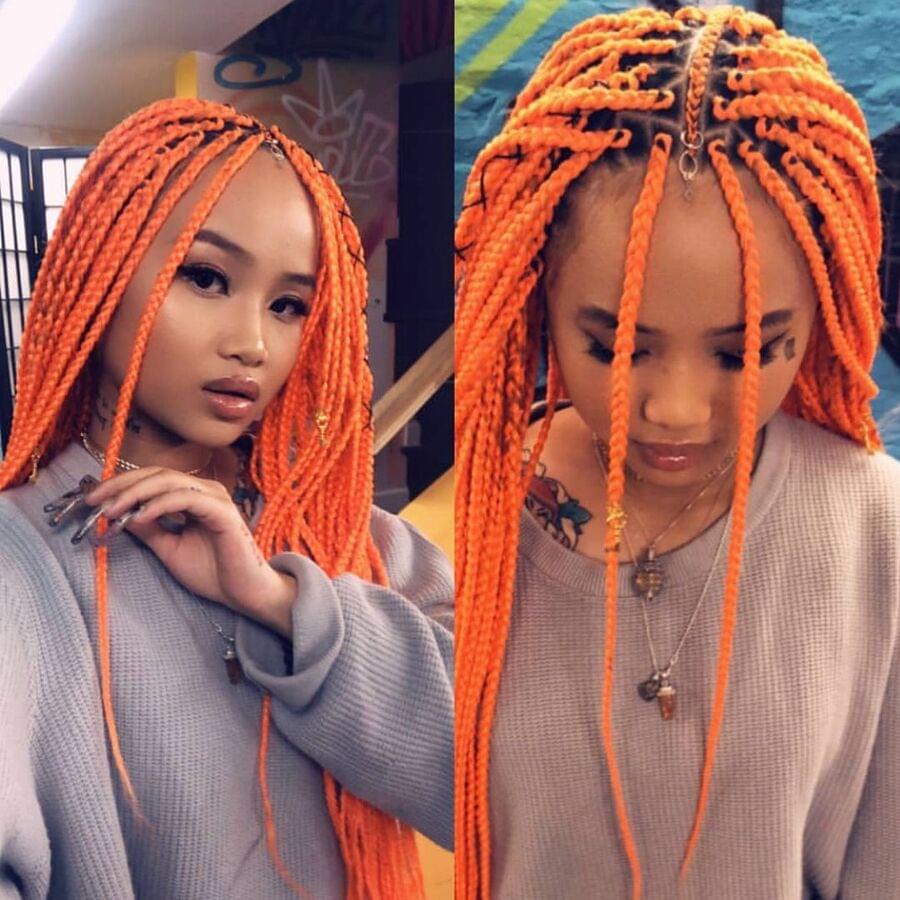 Try not to style your braids right after washing and even drying them. Let them stay down for some time to make sure they are really dry. Pulling them into a ponytail, bun, or only other style can lead to unpleasant moldy smells.
Avoid Having Braids for Too Long
This might be pretty obvious, but avoid keeping your box braids for too long. Box braids smell can come from keeping them on your hair for too long! They can have a negative effect on your natural hair, start smelling bad, and not look so presentable. Keep the braids no longer than six to eight weeks.
---
The worldwide popularity of box braids is undeniable. Many women tried it and wore it as their regular hairstyle. They change styles, but the braids stay.
Even if you have a problem and your box braids smell bad, now you know how you can fight against it. All the braids need is care and love. Wash them regularly, add conditioner, and apply good-quality products that won't leave residues.
If infection occurs, don't panic. Simply ask your doctor what you should do to treat them most efficiently. One of the most important things to keep in mind is not to keep your braids wet. Remove them on time to prevent smelly braids.
About The Author