Depending on where in the world you find yourself, the fall season can mean different things to you – either it's a daily grind of wind and rain or, if you're lucky, fall equals rust-colored leaves and the sweet scent of pumpkin spice on the breeze.
In our opinion, though, the best thing that fall brings is comfortable, cozy fashion. Wool, cashmere and fleece make up some of the most decadent scarves you can find – perfect to wrap around your neck in the most miserable of pre-winter weather.
Let's check beautiful outfit collection with His Majesty – the Scarf.
Fall Classics With Plaid & Patterned Scarves
The past summer could best be described as a sartorial ode to plaid. We saw it everywhere – from off-the-shoulder tops to flowing maxi dresses.
The checkered gingham print was literally everywhere and this fall season; it doesn't appear to be going anywhere. Thankfully, most of us probably have one or two plaid scarves already hanging in our closets from years gone by.
All it takes are a few choice styling tricks to make this traditional print fresh again.
Burberry Basics
A winter white shearling coat meets black leather pants – here's a combination made for fearless, edgy women with an eye for fashion. For an unexpected twist, drape a Burberry plaid scarf around your neck for a classic, old English effect.
Cool Blue Hues
Here is a look that could work in all seasons. Give it that layered fall effect with a long black and white plaid scarf.
Wrapped Up in Wool
A chunky woolen scarf and a plush lamb's wool sweater are all you need to warm up on a dreary fall day.
Athletic Chic
Here's proof that accessories do make the outfit. A roomy white and burgundy plaid scarf turns this day outfit into an athleisure style triumph.
Houndstooth Style
Everyone looks good in an outfit of pure black, especially with an unexpected pop of color in white sneakers. Accentuate the monochrome effect with a luxurious yet simple houndstooth scarf.
A Softer Side of Plaid
Bold, dramatic colors may be all the rage. But for a more elegant take on the trend, go for soft gray and pale pink, like in this cozy cashmere scarf.
Plaid Goes Edgy
Fall weather brings the welcome return of edgy black leather. Add some color and dimension to the urban look with a long-printed plaid scarf.
Scarf With Beanie
A cozy and warm outfit for the fall, together with brown boots, blue jeans, gray beanie and, of course, burgundy plaid scarf.
Striped in Classics
One of the biggest and most enduring trends from the past few months is undoubtedly stripes. Pair a two-toned scarf with a classic white blouse and black ripped skinny jeans for a timeless yet still trendy look.
Wearing Neutral Scarves For Autumn Elegance
There are a few colors that will flatter every skin tone, no matter what the season – and those are neutrals.
We're talking black, navy blue, beige, camel, and white. These are the classic monotone shades that can be worn from top to toe for a timeless, elegant effect.
How can you give your look a trendy fall update? Wrap a neutral-colored scarf around your neck and revel in the season's classiest style.
Model Effect
A simple beige scarf adds a pop of color to this sexy street style look. Combine your denims with basic black for the similar off-duty model style.
Keep It Simple, Sweety
When the weather is bleak and miserable, simplicity is key. Neutral shades give you that easy-going glamour, especially when a soft woolen scarf is added to the mix.
Furry Luxury
Cool fall temperatures mean you can finally take that luscious fur coat out of storage. This standout piece is an outfit in itself. All you need to go along with it are black leggings, Doc Martin boots, and a fringed beige scarf.
Olive Green for the Win
Take the guesswork out of dressing for unpredictable fall weather. How? With layers of fabrics. Take black leggings, a white T-shirt plus an olive green fringed scarf for layers of warmth and style.
Keep It Casual in Gray
The athleisure trend was designed especially for easygoing fall days. Look your comfortable best in charcoal leggings, a fitted gray sweater plus a draped gray scarf in the same color. To up the sporty effect, be sure to throw on trendy New Balance sneakers and your favorite baseball cap.
Gary on Gray for Glamour
Here we have every street style star's everyday uniform: ripped black skinny jeans, black leather booties plus beautiful dove gray basics. Give it a full spin with an oversized gray sweater and matching oversized wrap around pashmina scarf.
The Parisian Way
This look exemplifies modern French city style. Get that je ne sais quoi with the combination of simple gray tailored pants, a black sweater, and a black blazer. Top it all off with a long black scarf and trendy Adidas Stan Smith sneakers.
Skin-Baring Style
Neutral does not have to mean boring and here's the proof. Show a tiny sliver of skin and wrap the rest of your body in layers of charcoal, black and white. The finishing touch? A matching set of a woolen scarf and beanie.
A Charcoal Palette
Flaunt your figure no matter what the weather in tight-fitting jeans, knee-high boots, and a sexy leather jacket. The pièce de résistance? A brushed woolen charcoal scarf wrapped elegantly around the neck.
Edgy Meets Luxury
When the day calls for warmth plus a helping of cool street style, combine the season's edgiest trends – ripped jeans, nude stilettos and a luxurious shearling coat. Then wrap up in a decadent scarf made of soft olive-green wool.
Staying Warm & Chic In Oversized Scarves
We know – cold weather makes us want to leave the house wrapped in a blanket too. So, what's the next best thing? Oversized scarves.
Here's your perfect opportunity to get as snug as possible while looking chic and trendy at the same time. Pick out the most luxurious fabrics you can find and make this fall season your coziest one yet.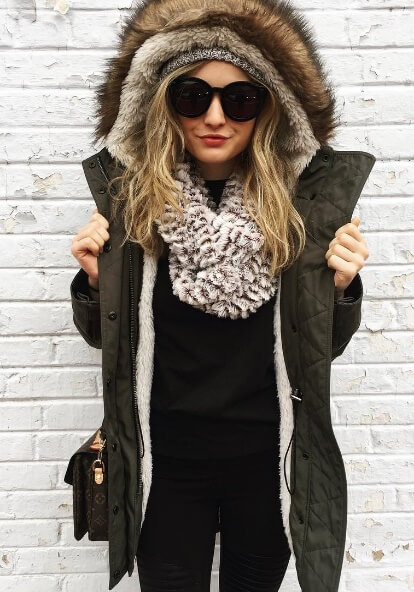 Faux Fashion
Faux fur never goes out of style, especially in chilly fall temperatures. Cover up Russian style with a fur-lined khaki parka and accessorize with an oversized black and white scarf for stellar style points.
Relaxed Relations
The oh-so comfortable sleepwear-as-outerwear trend remains very popular going into fall. But if frilly lace ponchos and satin robes aren't quite your style, simply wrap yourself in a soft wraparound scarf and enjoy the coziness.
Focal Point
Let an oversized scarf steal all the spotlight. Choose one in black and white then keep the rest of the outfit dark and moody – cool and edgy!
Streamlined Style
This look is all about sleek, elegant lines which slim and lengthen the frame. Then comes a chunky, oversized scarf to add bulk and comfort on top – simply sublime!
Fringe Benefits
Fringed edges are all the rage right now. Get in on the trend and drape your neck in a fringe-hemmed scarf to complement an outfit of leather and wool.
Dark Times
How to be chic and cozy at the same time? Go top to toe in one color like this outfit of all black items – just make sure an oversized wrap around scarf is part of the look and you're all set!
Oversized to the Max
Love your oversized scarf? No need to stop there – wear it with an oversized ankle-length woolen gilet for all-day cozy warmth.
Fall Basics
No fall wardrobe is complete without a fringed gray scarf. Look at this easy mishmash of fall staples combined into a modern street style look.
Urban Essentials
Take all of those urban style essentials and combine them into one edgy fall ensemble. What makes the outfit unique, though, is an oversized garter stitch scarf perfect for chilly fall temperatures.
Laidback Luxury
What could be chicer than an oversized woolen sweater plus a wrap around pashmina scarf?
It doesn't get any cooler than this.
The Brighter The Scarf, The Better
If this autumn could be summed up in one signature color, it would definitely be red.
Looking to the fall runways of Dolce and Gabbana, Givenchy and Oscar de la Renta, the one common thread uniting them all was look-at-me bright red.
But if this standout shade is not in your usual color palette, don't fret. There is still a whole arsenal of other brights to choose from. From rosy pinks to mustard yellows, a scarf in a bright, luminous color can instantly add life and vitality to dreary fall days.
Burgundy Brilliance
Mix and match the textures in your outfit to celebrate the season. Then add little dollops of burgundy to round off the fall effect.
The Prettiest Pinks
If feminine and flirty speaks more to your personality, how about a pale pink Burberry-style scarf? Don't forget the matching baby pink accessories for a cute, girly effect.
Color Block Chic
Keen to make a color splash this season? Look for solid blocks of bold color in red, mustard and black like in this long, belted scarf.
Shimmer 'n Shine
There's always time for a bit of sparkle and fall fashion is no different. Take your spring gold-speckled scarf and knot it casually at the ends – chic and sophisticated in an instant.
Make Like the Scots
The beauty of bold Scottish tartan is striking against dark, edgy black. And with bare legs and outfit-matching ankle booties, the effect is even more eye-catching.
Pastel Elegance
Soft, pretty pastels are every woman's secret weapon for feeling elegant and glamorous.
Make sure you've got a fringed pale pink scarf this fall for the most beautiful of style.
Purple Prowess
Grab last season's trendy bell-sleeved blouse and give it that cozy fall twist. Drape yourself in a decadent purple scarf to highlight an outfit of all blues.
Choosing A Dainty Scarf For Warmer Days
Sometimes fall weather surprises us with a few sunny days. And when the clouds clear, what's a better way to celebrate than with cheeky little neck scarves?
This season, we get to choose between edgy bandanas, chic French knots, handkerchief styles and long pencil-thin scarves.
Military Precision
Pair that must-have military jacket with black denim jeans and a simple white T-shirt. Then, for a more polished appearance, you can't go wrong with black sunglasses and a little scarf tied at the neck.
French Savoir Faire
Here's a trick that French women know – all black from top to toe equals instant elegance. Add a gray handkerchief scarf to your neck and capture that European glamour.
Gray Daze
A patterned neck scarf peeks out from underneath layers of warm fabrics here. Get the look by choosing a dainty scarf in the same color palette as your top coat.
Masculine Appeal
Another lesson in French style – choose menswear items but wear them in an ultra-feminine way. Here a button-down blouse and blue jeans get a dose of elegance with a neck scarf added to the all-blue ensemble.
Leopard Spots
A logo T-shirt plus a beige trench coat sums up chic fall style. Add a thin patterned scarf for an extra dose of pizzazz.