Back to full-time office routine? I've sifted through many online stores to seek out some tops and see what's new for this fall's fresh beginnings – when chunky jackets aren't quite there yet and the weather is unstable with both fresh and warm streams. These ten tops align with my own way of working; I'm not into full-on corporate attire.
1. Something Deep Blue
What about a classic white-blue striped classic shirt with a white collar? I've been looking for this one for a while since finding just the right combination of stripe width, deep blue hue, strong collar, cut, and fabric (cotton poplin or more structured like twills in linen-viscose) isn't so simple. I'm looking for the one that gives that upper-class menswear and lounge vibes. Wear it with a black wool pencil skirt with rope stripes and beige knee boots – the ones with odd, geometric lines.
2. Something Jacket-Like
A close-fitted top that echoes the look of a jacket, ideally in camel and beige tones, with finely-combed wool texture to add some charm. Long fitted sleeves or no sleeves – both work. I'd combine mine with a pencil skirt in a similar hue, but I would choose some glossy PVC-like texture to add contrast. I would finish it with black pointy slingbacks and a ponytail for a determined feminine look. Such a top would also work with slouchy, wide-legged, slightly washed-out black jeans and the Gucci canvas sliders in tonal brown with logo patterns all over.
3. Something Classic
I have a few black turtlenecks – all very similar but very different. One's lightweight merino in a regular fit that pairs with glossy textures, the other's heavyweight cotton with a pattern that loves classic tailored pants, and then there's the silk and wool blend that completes delicate outfits. Each tells its own story while keeping its classic, low profile.
4. Something Asymmetric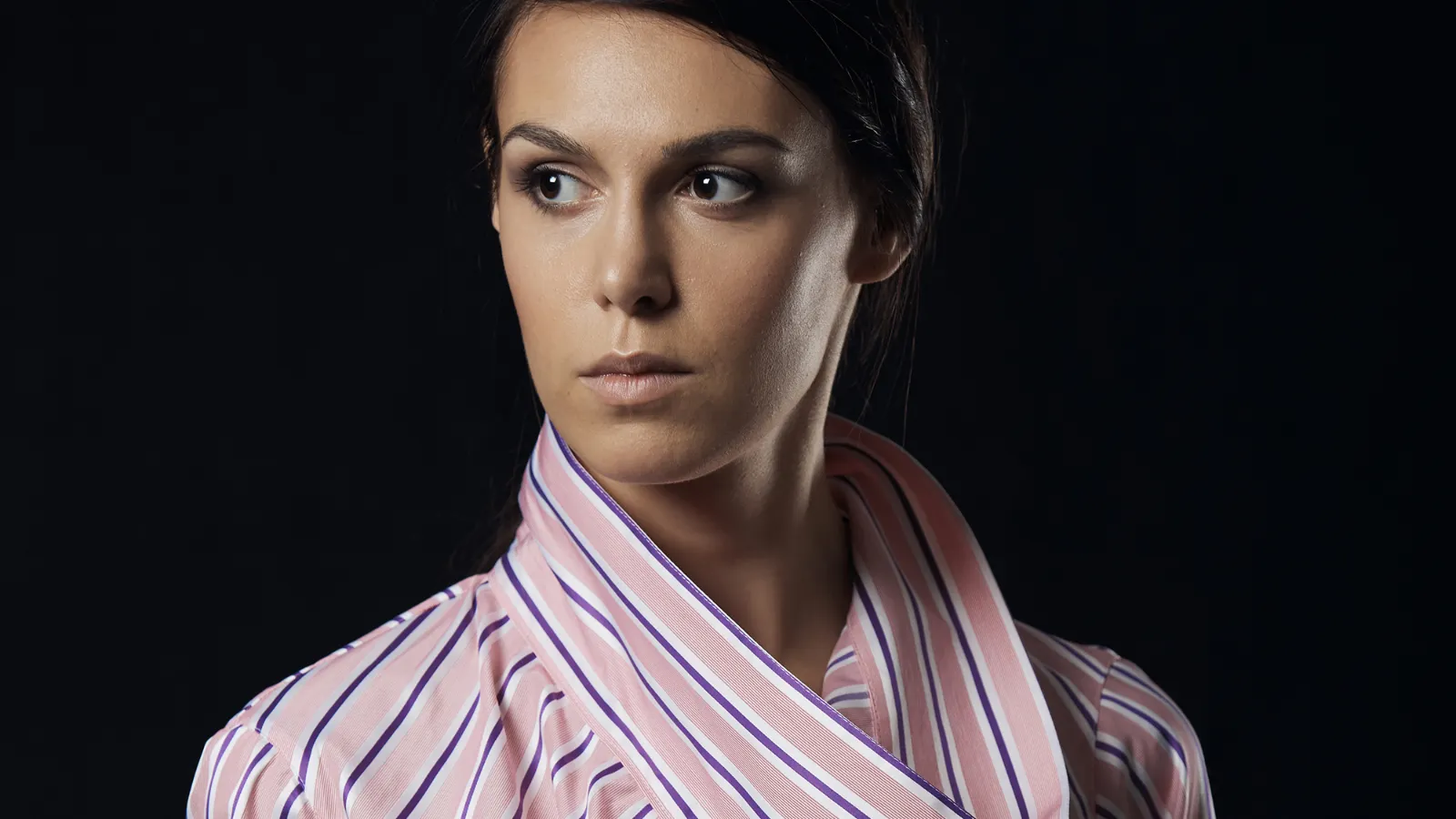 I have recently discovered a label called Gimaguas and their asymmetric tops that could be worn in multiple ways, like the Zoe or Rei, and I need them now. I also often think about a long-sleeved pinstriped draped top from COS for that fresh twist on traditional tailoring.
5. Something Crew Neck and Grayish
Whether long or short-sleeved, a basic gray cotton jersey is a versatile, basic garment fit for many occasions. It blends effortlessly into an achromatic scale – along with black jackets, black jeans, black shoes, or serves as cozy loungewear at home. Choose organic cotton of superior quality so it will keep its fresh appearance for many years to come.
6. Something Dressy
Turning your mini summer dress into a fall wardrobe is a double bingo – from aesthetic and sustainable perspectives. Acne Studios' black sleeveless dress made in wool blends features an hourglass shape, and it's a perfect match to their printed grungy-style pants. Their denim tunic dress in beige is another option and can be worn with a midi pencil skirt in creamy beige and patterned brown ankle boots.
7. Something Cropped
A cropped, structured top with abstract, floral, or logo prints pairs well with tailored high-waist trousers or wide-legged slacks and loafers. I like Lela Rose's half-long sleeve version in black with a vivid white pattern.
8. Something Rib Knit
For adding a bit of texture, I would mention Toteme's Contour midweight sleeveless top in beige, which curves in at the waist area and then flares out again. I think it would go perfectly with balloon-style, darted pants in a lighter beige hue and then some black geometric shoes as a contrast – for a carefree but chic silhouette.
9. Something Flared
An easygoing, slightly A-line fit, perhaps with flared sleeves, also is a shift for days when being embraced by soft shapes and warm fabrics is what we need. Matching it with a black skirt in a contrasting texture like satin would add some of the required alertness to your workday.
10. Something Bright
Sometimes, a pop of color is what we need. For example, a slim-fit merino turtleneck in creamy or neon yellow, or even better – some Dries Van Noten style print with blacks, yellows, and greens coexisting in odd but harmonious ways. Wear it with a black asymmetric skirt or a timeless classic one.
11. Sweater With a Twist: Off-The-Shoulder Sweater
Such a sweater is a stylish and cozy essential for fall and winter wardrobes. With its neckline gracefully exposing the shoulders, this sweater balances comfort and allure. A well-chosen sweater combines warmth with a touch of subtle glamour, making it a go-to choice for those seeking a fashionable twist on classic knitwear.
Mix and Match
Curating an optimal wardrobe is a pursuit driven by passion. It's about assembling pieces that reflect your worldview, personality, and aesthetics.
Mixing these tops with different accessories will give you a wide range of outfits for the upcoming season – and all that by evading compulsive buying in favor of thoughtful choices, with longevity and quality in mind.
Read More: 10 Practical Fashion Suggestions To Elevate Your Wardrobe
Anyone can look good by simply following the basic rules of fashion. No miracle clothes or remedies will instantly transform you into a bombshell knockout. But if you follow the basic rules, you should be able to look good anytime, anywhere.
Read More: 10 Fashion Rules That Help You Dress To Impress
They say, "There's no second chance to make a good first impression." In the beautiful world of fashion and lifestyle, pulling your best look and style will make a lasting impact. Whether you're dressing up for an interview, attending a date night, or hanging out with friends at a social gathering, your dress sense can announce your personality before you utter a word.
About The Author