It's no secret that we need to change our wardrobes depending on the season. Dressing for cold weather may seem simple, but to execute a good look, you need more than just a few scarves and a sturdy coat.
Many budding fashionistas fall into the trap of layering and throwing different coats and jumpers on top of each other. While this formula will keep you warm, it won't protect you from looking like a hot mess.
Instead, combine layering and fabrics that hold warmth well, as this produces a more streamlined look.
One of the best ways to keep warm in winter is to invest in high-quality wool pieces, specifically wool skirts. Wool is usually associated with thick jumpers, but did you know it's an ideal winter skirt fabric too? No wonder why many winter skirt outfits contain wool. This is one of the best ways to upgrade your winter wardrobe, allowing you to play with style while not freezing to death.
Woolen Skirt Style Advice
Here are some of the best combinations that work for all body types. Find your next winter look inspiration.
What to Wear With Wool Skirts for Winter?
One of the most common questions is what should you pair a woolen skirt with? The answer to this question depends on a range of factors. 
When creating a wool skirt outfit, you should take into account:
The weather
The length of your skirt
What your personal aesthetic is
Where you're going
What shoes do you want to pair the outfit with
The color palette you're using
For example, you wouldn't pair a long maxi skirt with converse on a snowy day. Instead, we'd suggest some chunky combat boots and an oversized leather jacket. There are hundreds of combinations that could work and hundreds more that won't. The success of your outfit also depends on the clothes you already own too.
Though we can't advise you on an exact outfit, we can give you some stellar examples (skip down to view cute wool skirt outfits)! Always remember to experiment with styling at home, too, as this will help you work out what wool skirt styles fit your body and aesthetic best.
What Tops to Wear With Skirts?
Another common question is about wool skirts and top pairings. As this type of skirt isn't as common as lightweight options, it can confuse what to pair it with. Here's a quick guide on how to pair your wool skirt with a top, depending on the length or style of the skirt.
Mini Skirts
If you're styling a woolen mini skirt and aren't afraid of the cold, we suggest adding a cropped long sleeve top. This gives you a 90s silhouette and also emphasizes your waist too. Try to add a choker or a pair of long socks with the outfit to get an authentic 1990s it-girl vibe.
Long Skirts
If you're pairing a long midi or maxi length skirt with a top, your best bet is to try a top with a lower neckline. Since the skirt covers more of your body, a lower neckline adds some balance to the style and stops you from looking too stuffy or awkward.
Patterned Skirts
Finally, another common type of woolen skirt is a patterned one. Patterns are usually knitted into the garment, giving them a more expensive appearance than printed designs. These skirts should be paired with neutral white, gray, or black tops to let the design do the talking.
How to Style a Woolen Skirt
The key to looking good and staying warm in a woolen is a mix of tasteful layering and picking the right fabrics. We talk about layering a lot, but that's only because it's one of the most helpful fashion tips there is.
Woolen skirts provide a warm fabric base, and from this, you can choose how heavy you want to go with the layering. Some stylists like to add a top and jacket, but if you live in a colder region, you might want to add some tights and a jumper for extra reinforcement against the cold.
At the end of the day, you should always put your warmth and comfort first. However, if you can look good while doing it, there's no harm in going the extra mile!
7 Wool Skirts Outfits
In need of some visual references? Here are our favorite wool skirt outfits. From winter warmers to on-trend combos, these skirts offer a versatile staple piece. Try some of these outfits when you next step out on a cold day.
1. Short Wool Skirt for Winter
Though winter is colder, you can still show off your legs in a wool mini skirt.
Brighten up your day with an a-line mini in a bright pop of color. We love pastel hues such as pink or purple for this trend, as they're not expected in the cooler months. If you want ultimate styling points, match your lipstick to your skirt too.
2. Neutral Beige Skirt
Wool skirts often come in brown and beige colors. This is because wool skirts were traditionally worn in plain colors as there were no dyes available that could penetrate wool. Though you can find more vibrant colors now, it's still stylish to embrace these traditional styles with other brown and neutral tones.
3. Classic Tartan Wool Skirt Outfit
Subconsciously, many of us associate woolen skirts with traditional tartan and check prints. These patterns can also be worn in a fashion context, so head out and look for a wool skirt with a cool tartan print today.
We love warmer red and brown colors, but emerald green is another excellent tartan color. Try adding a jumper with puff sleeves and a beret to finish this winter style.
4. Maxi Wool Skirt Outfit
The maxi skirt is a winter staple. This is a must-try for anyone looking for a cozy and warm alternative to pants. Pair your maxi wool skirt with heeled boots and a purse that matches for a sophisticated street style look. Whether you're facing snow or rain, a maxi wool skirt is here to protect you.
5. Wrap Wool Mini Skirt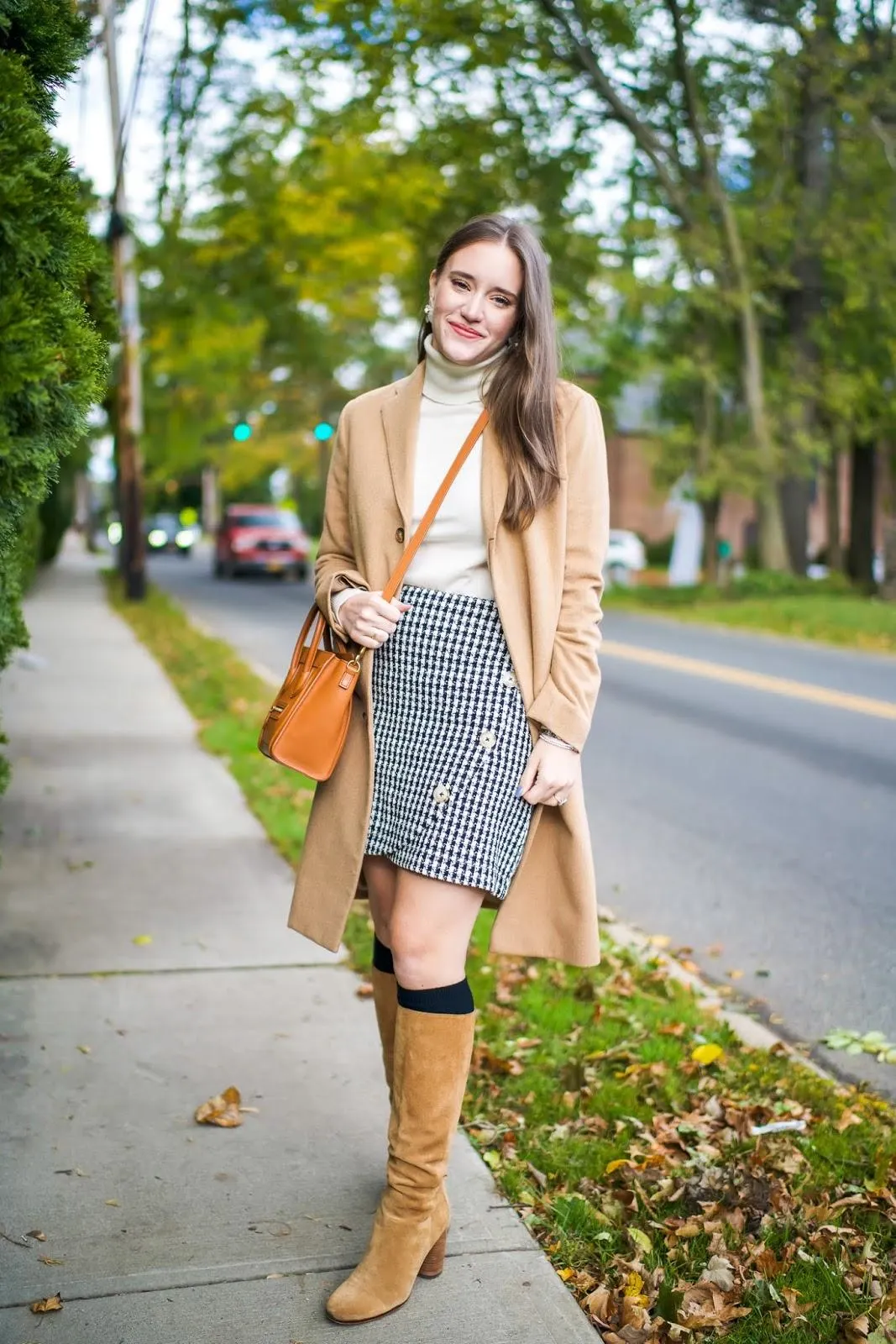 Just because a wool skirt is made from a thicker fabric doesn't mean you have to opt for "dowdy" or shapeless silhouettes!
Wrap mini skirts are a stylish way to add subtle detail to your outfit. These wrap designs have been modernized by taking them to a mini length, perfect for anyone looking to show off their legs.
6. Bold Wool Patterns
One of our favorite elements of wool skirts is the fact you can knit elaborate patterns into the design. This sets the skirts apart from other fabrics and allows you to be bold and bright in the darker months. Either color coordinates the outfit or pair the skirt with black pieces for the best effect.
7. Loose Knit Wool Skirt
A looser knit might suit your taste if you want a casual alternative to the other wool skirt options. Often, wool skirts are stiffer and can hold shape well.
This is great for photos and styling, but it's not always the most comfortable style. If you want to lounge in a skirt, try a stretchy or loose-knit one. These pair well with other chunky knits for an outfit with an interesting texture.
FAQ
In need of more information about wool skirts? Don't fret! Here are the most common questions about these versatile winter pieces.
Are Wool Skirts Warm?
Yes, wool skirts are a great warm clothing choice. As these skirts are created with genuine wool fibers, more warmth will be held in, keeping you toasty on cold days. Be warned, though, wool skirts will trap heat on warm days, too – try to avoid wearing this thick fabric in the summer.
How Do You Stay Warm in a Skirt?
Though the wool fabric will do a lot of the heavy lifting, you can take extra precautions to stay warm in a skirt. Firstly, you can add tights or leggings underneath to add a layer of extra fabric to your legs. You can take this a step further and add long socks or boots. A long coat (like a trenchcoat) will give your legs extra coverage against the elements if you want more weather protection.
Does Wool Felt?
A critical point to note is that natural wool fabrics will felt and shrink when exposed to excess water. This means you should avoid heavy rain showers and read the wash care instructions of your skirt very carefully to avoid any mishaps.
The Takeaway
Wool is a popular winter fabric, but it shouldn't just be for coats and jumpers! Skirts made from this material are great to add extra heat to your wardrobe without drowning in fabric layers.
Whether you prefer a mini or maxi look, there is a range of styles and prints for you to choose from. Make sure you enjoy winter in style for 2022.
About The Author