Popped or up-turned collars can add an extra ounce of style to your outfit. If you're after a preppy look or want to add an extra styling detail to your outfit, this is a style to try.
The 80s popped collar look has its vibe, but this style isn't for everyone. So how do you know when to add this flair to your style? Is this styling coming back into fashion? When popped collars are better avoided? This is not a straightforward style, so, obviously, questions keep popping up.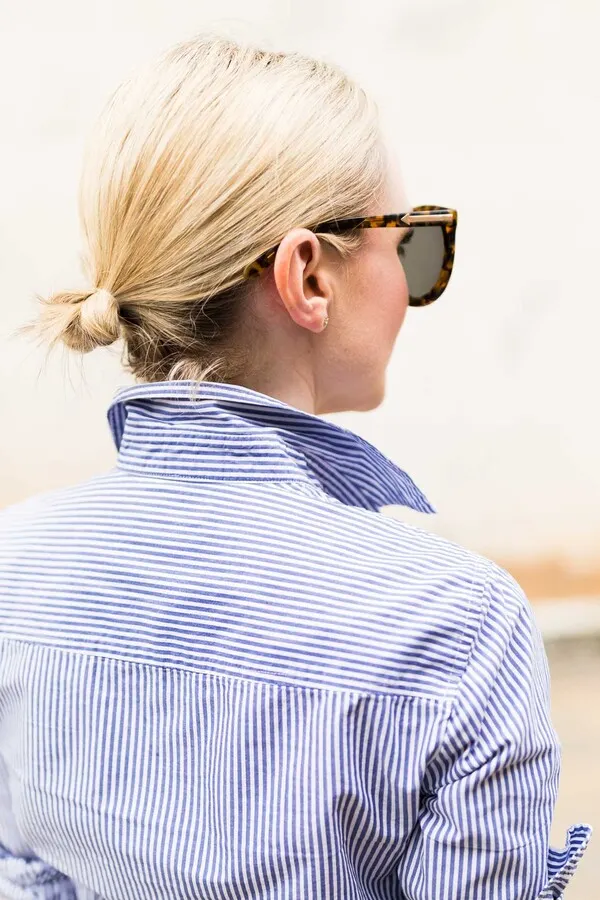 Here's all you need to know about popped collars.
Where Did The Popped Collar Come From?
Many associate the popped collar trend with the 1980s. This trend creates mental images of preppy blazers, polos, and sometimes even layered collars. Match these outfits with crimped hair, hairspray, and some bold make-up, and you have a perfect 80s night look. But this wasn't the first time popped collars were embraced.
The popped collar was popularised on the tennis court, allowing players to shade their necks while playing. Who would have thought this trend had such a practical origin? These tennis collars were popularised by Rene Lacoste, as this French tennis fan created the polo shirt. The creation of the polo shirt is a revolutionary sports design, pushing old-fashioned starched-based shirts away and embracing a softer shirt that moves with the body.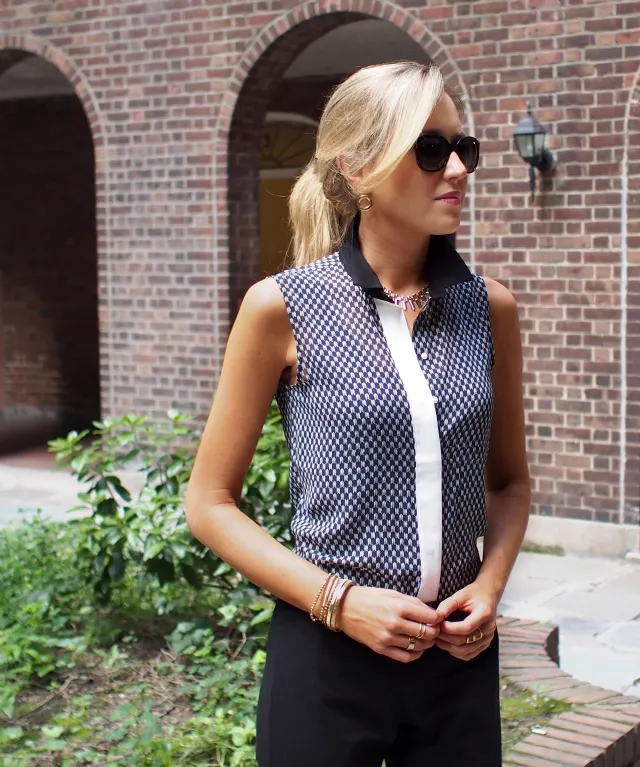 Though the upturned collar has its origins in sport, it wasn't long before it was embraced as a fashion trend.
When we look back in pop culture, this humble collar style is widespread. This collar subtly pops up everywhere, from James Dean in "Rebel Without a Cause" to Dian Keaton's "Annie Hall."
With stars like Kanye West embracing the look in the 2000s, and Prada bringing the style to the runway in the S/S 2018 collection, this collar seems to be here to stay.
Are Popped Collars In Style?
After learning the history of the popped collar, you may be intrigued if it is still fashionable.
To be honest, this trend depends on what type of shirt you wear, how you style it, and your personal style. This isn't a styling tip you'd embrace if you prefer alternative or edgy styles. However, if you like to dress preppy and classic, this can work for you!
Popped collars can be great for preppy girl styles.
From subtle upturned shirt collars to popping jacket collars and lapels, this can add an inch of class to your outfit. Just make sure the rest of your aesthetic follows suit, or you could end up looking slightly mismatched.
Styling Tips For Proper 80s Popped Collar Look
If you're ready to embrace the popped collar, here are the best styling tips for different garments and styles! Hopefully, this gives you some inspiration for your own collar outfits.
Play With Fabric And Details
When popping a collar, you can play with different fabric and garment details to make the outfit even more stylish. Some collars have contrast fabric on their underside. This seems strange as this part of the collar would usually be hidden, but when the collar is popped, this is a cute and unexpected detail you can show off.
Sometimes you can even find collars with piping or binding details. These are usually on the seam finishes or edges of the fabric. Like a contrasting underside, these details can be emphasized by popping the collar and giving them more visibility. This is a great way to elevate your day-to-day outfits with minor details.
Styling With Polo Shirts
If you want to pay homage to the origins of this style, try wearing a classic polo shirt with a popped collar. This look isn't for everyone, but if you are a fan of casual, classic summer outfits, make sure you try this.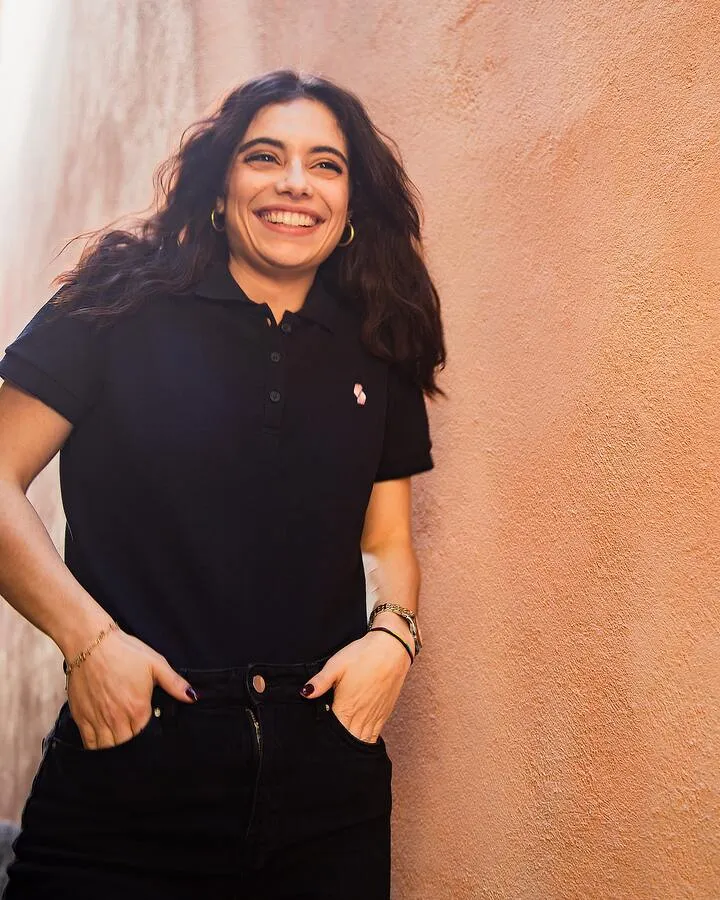 With polo shirts, you can often find them in very bright colors. These are great, but we recommend trying monochrome polo shirt outfits too! Try pairing a white or black polo shirt with a black outfit. The absence of color will emphasize the popped collar style and look sleek for any event.
Popping The Collar Of Jackets Or Coats
Popped collars aren't just for polos and shirts! Taking this trend and adding it to jackets or coats can be a great way to embrace classic styles.
This style works exceptionally well with coats and trench coats (or even cape coats) that feature larger lapels. A trench coat that ties around your waist in a feminine way can be taken to the next level with a cute collar pop. Not only that, but this is very 70s and a great way to embrace subtle vintage styles.
If you want to try popping the collar on a jacket, a denim jacket is a good place to start. You can add some interest to a standard denim jacket outfit simply by lifting the collar.
When styled with a chic shirt underneath, a classic blue denim jacket can look less casual. This is a great way to incorporate denim into evening events that have a stricter dress code.
Classic Shirts And Popped Collars
It can be easy to forget how versatile classic shirts are. You can tie them up, tuck them in, roll up the sleeves – the combinations of styles are boundless. Another way to wear a classic shirt is with an upturned collar.
This is a great styling trend for anyone that wants to add an inch of classic drama into their shirt look.
This is especially effective on plain white shirts or shirts with subtle stripes as the popped collar silhouette is crisper. When you wear a bright shirt with a bold print, a popped collar can sometimes look a little "too much." To avoid this, try to keep collar popping to shirts with subtle colors and no prints.
Layering Collars
Another way to use shirts, or polos, with popped collars is to layer them.
This is best done with sweaters in cooler months. Try taking a classic knitted jumper and wear it over your shirt. Pop the collar, so it sits more obviously and gives the outfit an extra level of drama.
This is a great way to take a casual everyday fall outfit and add a different styling dynamic. Again, we think this looks best with neutral colors and fewer prints but play around with different colors and styles. See what suits you best!
When Should Popped Collars Be Avoided?
Though there are numerous ways to style a popped collar and look good, this trend still has slightly negative connotations.
When popped collars were popular in the 1980s, they were often associated with country club aesthetics and, well, arrogance. Some wearers were known for wanting attention and being not-so-nice. Though styles shouldn't create stereotypes, the popped collar did end up being associated with arrogance or vanity.
To avoid this, we would recommend staying away from over-the-top preppy styles with polo shirts and opt for subtle colors with classic elegance. Base your style on the vintage glamour of the 70s popped collar jacket rather than the hedonist styles of the 1980s, and you'll be okay!
Embrace The Collar!
Playing around with collar styles is a great way to change your outfits and wear a new silhouette. Even though popping a collar is a subtle trend, it can change the vibe of an outfit.
Experiment with layering, fabric types, and shirts and jackets to see which styling point works best for your wardrobe.
Related articles
Get Style Advice to Your Inbox
We will send an email from time to time. Not too often. You will get style advice and outfit examples handpicked from bloggers, icons, and style influencers. All for your outfit inspiration.