If there's one style staple that seems to make a comeback year in and year out, it has to be leather. Regardless of the season, we see this edgy fabric make its way into our wardrobes every year, injecting some urban, modern flavor along the way.
Instead of the usual choice of black leather though, we'd like to suggest an alternative; one that is both avant-garde and fashion forward, as well as versatile and ready to incorporate into your current closet. We're talking about brown leather, and in particular, the myriad of brown leather jacket outfits you're able to create by the simple addition of this one eclectic piece.
Pair it with simple skinny jeans for a softer take on the rock chick look, or drape it casually over a white lace dress for a traditional country feel. Whatever your style preference, a brown leather jacket makes a nice change from the harsher effect of edgy black leather.
We've rounded up the best of all outfits with brown leather jackets to get you inspired to face this fashion trend head on.
Brown Jackets In Outfits With A Touch Of White
1) Whimsical White
If your style is more soft and feminine, you may have thought the leather trend isn't for you. Well, think again. This ensemble proves that even the girliest of girls can rock an edgy leather look. This lace-trimmed sheer white dress is delicate and feminine, but when paired with a touch of leather, it transforms into a cool and effortless brown leather jacket outfit. The overall effect is bohemian and hip with a feminine edge – perfect!
2) Leather and Lace
Sweet and simple meets edgy and hip in this layered street ensemble. Layers of crocheted lace are making a stellar comeback and, together with brown leather, have become one of the hottest trends of the year. When paired with a luxurious matte brown leather jacket, the overall effect is edgy and cool yet still romantic and feminine. Bonus points if you've got a deep golden tan to show off bright white and soft brown leather.
3) Adding some funky
A Shade Apart
4) Leather Luxe
This ensemble is part vintage and demure, part edgy and rock 'n roll.
5) Earthy Elegance
Showing us just how eclectic and versatile leather can be, here we see a brown leather jacket adding spunk and pizzazz to an arty, bohemian look. Breton black-and-white stripes are matched simply with black boyfriend jeans while an olive green wide-brimmed hat adds some color. What really pulls the look together though is a brown leather jacket made of Napa sheepskin with an edgy wide lapel and crossbody zip detailing.
6) Jackets are for cowgirls
Brown jacket matched with a hat creates a stunning cowgirl look.
7) R
ock 'n roll chic
Brown boots, cuffed blue jeans, brown leather jacket, stylish scarf and impressive sunglasses – this what makes this look a pure rock 'n roll chic.
8) Cinnamon Couture
This standout look combines vintage patterns with modern fabrics and edgy black details. Skinny-fit pants in a taupe spotted fabric are slim-fitting on the bottom half while the top half sees a loose-fitting white cotton tee matched with a light cinnamon-colored moto leather jacket. Keeping things feminine are black strappy stiletto sandals and subtle colorful accessories.
9) Coral Craze
The coral color craze refuses to die down, and with good reason. This soft peachy shade is delicate, feminine and flattering to just about every skin tone. This pair of skinny denim jeans in dusty coral is the perfect accompaniment to a draped beige top worn simply underneath a sleek light brown leather jacket. A slim darker brown leather belt adds fit and structure to the outfit, nicely tying in the natural earthy colors together.
The Skinny on Denim
10) City Stripes
Simple, stylish and chic – you can't go wrong with the basic city uniform of dark blue skinny jeans worn with a striped Breton-inspired tank top. Adding unexpected sass to the look is a pair of nude pointy stiletto heels plus a cropped moto leather jacket in a silken light brown shade. Fine gold jewelry and a black leather sling bag complete the elegant street ensemble.
11) Draped Drama
Soft, draped fabrics like this fine silk waterfall-style top are a lovely way to add feminine charm to an outfit. The effect is dainty and demure when paired together with skintight dark blue skinny jeans. Nude strappy stiletto sandals and a brown leather jacket add the finishing touches to this classy look.
12) Royal Blue Rules
Comfort is key in this effortless, laidback street look. Dark blue skinny jeans are worn with a royal blue cotton top and black leather boots. To add a little something extra, a stylish brown leather jacket keeps things funky and on trend, topped off nicely with a matching sling bag in a similar shade of sleek brown leather.
13) Peep-Toe Poise
Peep-toe shoes with a chunky block heel are all the rage this season, and when styled in svelte brown suede leather, the effect is even more chic. Here we see them paired with slim blue skinny jeans and a longer-length white button-down shirt. Adding continuity to the leather theme, a wide lapel brown leather jacket plus a large brown leather handbag complete the stunning fall ensemble.
14) Street Style Savoir-Faire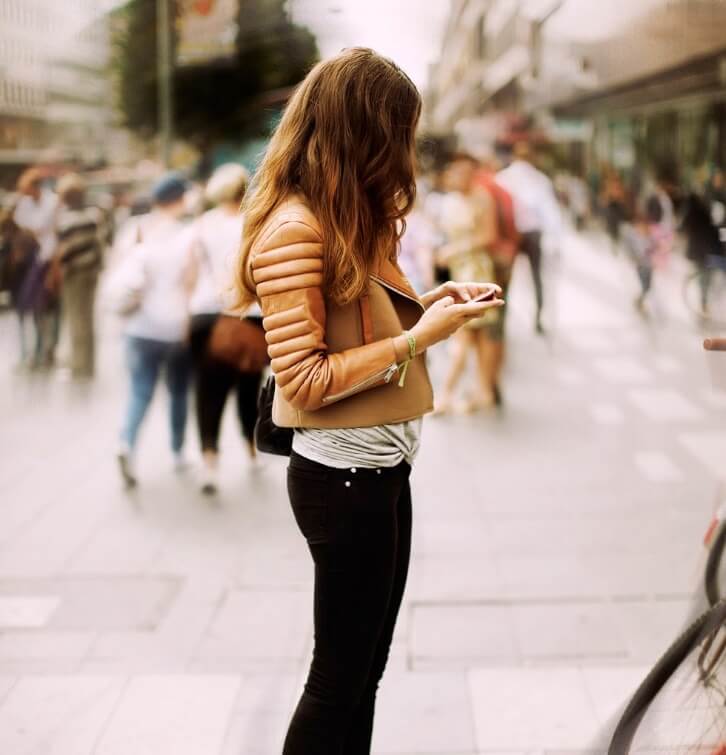 All it takes is one standout item to transform an ordinary look into a head-turning wonder. Case in point: this puffy-sleeved brown leather jacket. Cropped at the waist, its bottom edge falls right above the hips, creating a sexy feminine shape. The only accompaniments needed are black skinny jeans and a loose gray T-shirt knotted casually at the waist.
15) Ripped but Refined
Ripped denim and edgy brown leather – a stunning combination that works every time. This time, though, some subtle tweaks are added to soften the look – a soft draped top in pastel pink keeps things dainty and feminine as do a pair of nude Valentino Rockstud heels. Picking up on the edgy appeal of the light brown leather jacket is a clutch purse in cheeky leopard print.
Black Wardrobe With Brown Leather
16) Vixen in Vans
This look is young and playful with just the right amount of edge. An easy black fit-and-flare dress gets the sporty treatment when worn with classic black-and-white Vans. Throw on a textured brown leather jacket and the effect is instantly cool and modern. An extra touch of leather in a carry-all handbag only adds to the cool-girl charm of this slick inner-city look.
17) Sleek and Structured
Leather needn't be all urban and grungy, and this outfit is proof. Wear leather the right way and you can create an outfit that's timeless, sophisticated and chic. This stylish ensemble shows us how to wear all-leather in the classiest of ways by combining slim-fitting black leather pants with a fitted brown leather blazer. A black blouse is worn underneath, which elongates the figure and streamlines the curves. Beautiful!
18) Knee-High Know-How
For something a little more glamorous that still retains that edgy twist, you can't go wrong with a sexy LBD worn with black knee-high stockings. Then inject some grunge with classic black Doc Martin boots and a suede jacket in unexpected caramel brown. This combination draws attention to the legs while adding some feminine curves at the hips – perfect for a night of clubbing on the town.
Leather Jackets To Emphasize A Feminine Look
19) Expressing yourself
Tiny jacket with light and tight skirt – this is definitely not for everyone. But if your body shape allows an outfit like this – go and rock it.
20) Model Magic
This outfit is not boring by any means; it's truly elegant and chic.
21) Leggy in Leather
Here we see a throwback look on actress Olivia Culpo that combines the best of the 80s with a current modern twist. Her high-waisted button-up denim shorts are elegantly set against a loose-fitting patterned blouse tucked in at the waist.
The pièce de resistance of the entire look though is a caramel brown leather jacket draped casually over the shoulders. Altogether she creates a feminine silhouette with a dose of attitude that is sexy yet chic.
22) Suede Serenade
A leather jacket, like this moto style in brown suede, is the ideal wardrobe essential item to transform other basics into a stylish ensemble. Here we see a button-down mini skirt in dark blue denim worn simply with a black T-shirt. Add a light brown leather jacket however and it becomes a chic look to rival the fashion trendsetters.
23) Wrap Star
For a look that matches the edgy, urban feel of leather, go for clothing items that capture this rebel spirit. Here we see an unusual gray dress playfully wrapped around the legs, leading into daring over-the-knee pointy boots in grungy dark gray. To keep chilly weather at bay, a light gray scarf warms the neck while a sling bag in black and white snakeskin coolly completes the look.
24) Dressy and Demure
If your personal style is more classy and conservative than edgy and urban, you can still incorporate leather into your wardrobe with a few subtle tweaks. This outfit, for example, is based on a structured navy blue shift dress. When paired with a brown leather jacket, however, the overall effect is suddenly modern and hip. Polish it off with suede gray mules and a bright orange handbag to complement the outfit's earthy tones.
25) Safari Sass
Even if you're nowhere near an African safari, you can still glamorously look the part. This look is all about outdoor basics paired together into one polished ensemble. A fitted brown leather jacket is the star of the show, with the same shade carried through into a leather belt tied at the waist. A simple gray tank top and beige utility shorts complete the look with a stylish white handbag, also with brown leather detailing, making for the perfect accompaniment.
About The Author