Goddess braids are a kind of bigger version of traditional cornrows involving hair braided close to the scalp. Braids can be made with entirely natural hair or with the use of extensions. This is a protective hairstyle, keeping hair in shape and protecting it from all outside factors.
Why Are Goddess Braids So Popular?
Goddess braids are indeed one of the popular braid hairstyles. That is mainly because of their protective properties, as well as their pleasing appearance. They are thick and raised high, which creates the goddess-style effect. Since they are not so hard to make, many women opt to wear them daily. They are easy to do even if you are a beginner.
From traditional to very modern goddess braids – find all of them in this article.
RELATED: 55 Creative Ideas with Goddess Faux Locs
40 Goddess Braids Ideas
1. Stunning Bun
Instead of having a simple casual braid, this girl opted for goddess braids gathered into a low bun. Stunning, right?
You can look this good with thick braids and long hair. This is excellent hair for summertime and the seaside.
2. Like a Real Goddess
As the name says, goddess braids were popular among goddesses themselves. You can recreate the look of a Greek goddess with this braid that goes around your head. Keep it low-key and a bit messy. This haircut is perfect for summertime.
3. Asymmetric Braids
Instead of making your braids parallel make them asymmetric like this – as you can see in the photo above this girl opted for thick goddess braids that merge into one big bun.
4. Gold Wire and Braids
If you were wondering how to do goddess braids so that they look even more exciting than they already are, the answer is – gold wire. Wrap your twists or swirls with gold wire and make them secure as well as so stylish!
5. A Bunch of Braids
Long hair can become boring and dull for girls who like to change their style. Goddess braids are a great addition to your personal style. Even though they are typical for people of color, these beautiful braids are famous worldwide.
6. Various Paths
The key to having the perfect braids is to make them look appealing. You can do that by making them in multiple paths. Part your hair in different ways, braid it, and make these braids work in different ways. You will be noticed, that is for sure.
7. Long Purple Braids
Braided swirls this long can be great attention-catchers. You will look bold, trendy, and most of all so unique. Wrapping these swirls with gold wire will only make these braids look more exciting and kinda sophisticated.
8. Red Hair – Don't Care
Red hair is statement enough. When you add goddess braids to this equation, you get a fantastic look that is perfect for all bold and brave girls. Gather your braids into a high ponytail or a bun.
9. Red Shades of Braids
Even though your black hair can be enough statement, adding red strands here and there will make the braids burn. Combine both braid thickness – one thick and one thin goddess braid will make your style unforgettable.
10. Long Hair at One Side
Goddess braids are usually combined with your natural hair. If you wish to have extremely long hair, but you didn't have time or the opportunity for that, now you can do it with braids. Mix these weaves with your hair and braid them!
11. Interesting Updo
If you start thinking about goddess braids and you would like to know how to style them, check this out. Space buns made of braided hair, as well as the rest of your twists, left casually down – there is not better haircut than this one.
12. Elegant Braided Hairstyle
We have to admit – we thought goddess braids are a more urban kind of a haircut. However, this braided hairstyle proved us wrong. You can style your braids into a lovely low bun and make them look interesting but very elegant.
13. Multiple Braids
This is one of those playful styles when you can be as creative as you want. Leave your braids casually down, gather them into one big twist or in a bun. It is on you to choose the best possible way.
14. Goddess Braids and Waves
A combination of waves and goddess braids is not typical, but it is definitely achievable. It is perfect when you want to make a statement, stay unique but elegant as well. Wavy hair is great and easy to make with a curling iron or a wand.
15. Interesting Partings
Your hairstyles will look better if you section your hair in the way you are not used to. For instance, using a combination of small braids and big ones create more texture and style. Also, make sure the sectioning is zig-zag.
16. Appropriate for Summer
If you are looking for a new summer hairstyle, then you should definitely consider something like this. Topknot all made of goddess locks looks absolutely stunning! You can copy this girl's style smoothly – just leave a few hair strands in the front and curl them.
17. Sparkly Accessories
You can always make your goddess braids eye-catching by adding some of these sparkly hair accessories. They are great for both secure and making your braids pretty. You can always opt for classic rings and add gold or copper wires.
18. Gold Toned
Adding a splash of colors to your hair can be only a good idea. For instance, this girl opted for a lovely gold shade that makes her braids pop out! You can put more or less – you simply can't be wrong with colors and goddess braids.
19. Undone Braids
Braids that are gathered in a ponytail look fantastic. However, the thing that makes them look even better is definitely the undone part. Half of the braids are done, while the middle is released and curled. Beautiful, right?
20. Another Colorful Goddess Braids Example
Some women prefer doing their goddess braids in color. We can say this style is perfect for summer and days at the beach. The ends are curly, and the braids are full of gold accessories.
21. Knot Space Buns
Space buns aka the favorite Star Wars hairstyle, are trendy among young girls and any other women who would like to make a statement, wherever they go. In combination with goddess braids, these lovely space buns look even better than traditional ones.
22. Red and Glamorous
Making your goddess braid look glamorous and elegant is not a simple task. However, you should apply the rule the less is more. Only one twist will make you look stunning. Red hair color will blow everybody away.
23. Braids for Long Thick Hair
This long thick braid looks can look fabulous on your hair. It is quite elegant as well so you can wear it to special events, birthdays, or pool parties in the summertime. Make sure to secure it well with an elastic.
24. Two Braids
For those girls who think one goddess braid is not enough, you can always braid two. Let them fall each at one side of your body and rock this hairstyle for everyday wear. This looks appropriate for teenage girls as well.
25. Wavy Braided Hair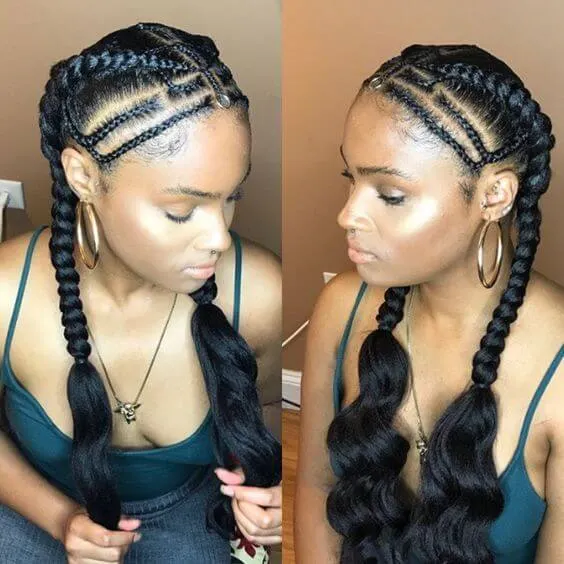 Wavy hair is attractive itself, but when you add braids to this combo, you get a fantastic look for both everyday and special occasions. Make a mix of small thin and bigger thick braids for a real Goddess look.
26. Red Braided Updo
An updo like this one, in the photo above, is a perfect solution for elegant occasions. It is fancy, yet very urban and chic. This combination of styles will get you many comments and positive reactions, you can be sure.
27. Purple and Blue Braids
A splash of colors in your hair is something that you should definitely allow yourself to try. These purple and blue shades will accentuate your style, giving it a super urban and cool vibe. You should definitely consider this as your upcoming summer hairstyle.
28. Long and Classy
Goddess braids can also look classy like this. Long and sleek – these braids are not only stylish but very hair-protective. They will protect it from the sun, dirt, and polluted air.
29. Oversized Bun
Oversized red bun made of goddess braids is something that girls adore. You can consider this as the second variation of a casual hairstyle. You can wear it relaxed or wrap the bunch or your braids into a medium bun.
30. Colorful Braids
We have to admit that these colorful braids look amazing. A bit of blonde, brown, and dark roots will make your braids pop out.
31. Perfect For Sporty Types
Goddess braids are great for all those girls who do sports. Not only do they keep your hair away from your face, but they also protect it from all outside factors that can hurt it. You can do various braiding techniques and yet never make a mistake.
32. Stylish Yet Protective
Yes, you can have both stylish and protective hairstyles in one. This one, for instance, is a great representative of that style. Long hair with braids is protected yet it doesn't look dull or boring. It is classy, chic, and perfect for everyday wear.
33. Patterned Braid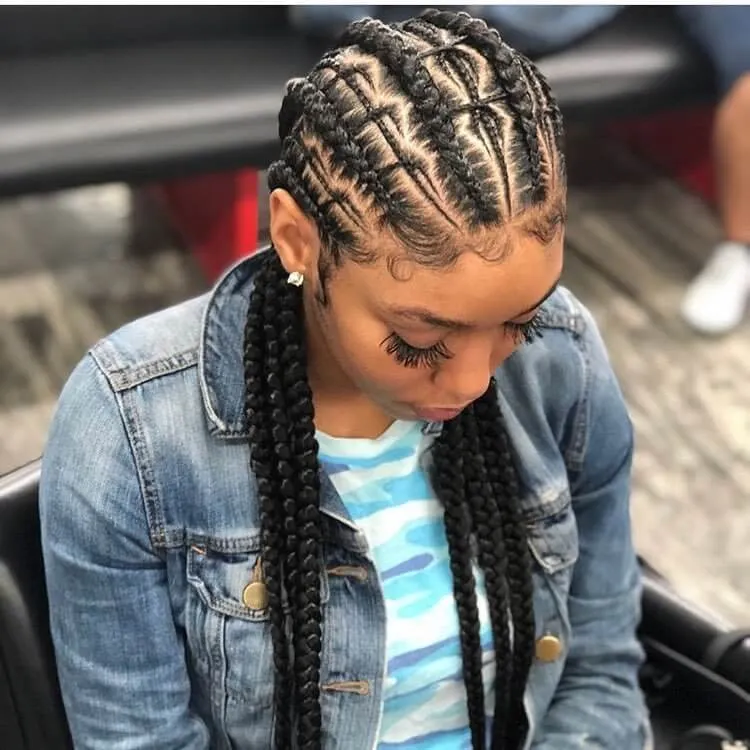 Make a pattern of your goddess braids – it's beautiful! A combination of small braids at the top of your head and bigger ones, each at both sides of your body will make this hairstyle a head-turner. You can always count on this hairstyle – for everyday wear as well as for special occasions.
34. One Goddess Braid
Here, the extensions are added for a drama moment. This hairstyle, even though it looks casual, is actually very beautiful and unusual. Add some gold wires for glamorous vibes and rock this hair for many possible occasions.
35. Boho Vibes on Point
Medium hair is one of those perfect lengths for styling. You can make different updos, braid it or leave it straight as it is. However, for this summer, opt for goddess braids that bring boho vibes with them. You can always add more accessories – rings, wires, and other pendants.
36. Long Honey Blonde Goddess Braids
Goddess braids are typical because of their fabulous and thick appearance. The ends of those braids are usually left unbraided and curled. This is typical for the goddess braids, as well as the jewelry that you can use as a decoration.
37. Chic and Practical
You can combine your goddess braids by selecting those tiny ones to be at the top of your head, and gather them into a big one. Now, you should take the big braid and wrap it around your head, to invoke the real Greek Goddess inside of you.
38. High Bun and Braids
A high bun is always a welcome updo. You can wear it for many occasions – from your home to your best friend's wedding. In combination with goddess braids, bun gets a whole new meaning. It becomes one of the coolest hairstyles ever!
39. Braided Medium Hair
Goddess braids are not reserved for long hair only. You can wear it even if you have short and medium length. It will look amazing, no worries. Style your hair up at the ends with some stylish rose gold accessories for an extra shiny look.
40. Low Buns
Two low buns made of braids are simply stunning. They are perfect for all those girls who want to rock low-key hairstyles, yet to look extraordinary. When you are bothered with your long hair, simply wrap it into two low buns.
FAQ About Goddess Braids
Who Invented Goddess Braids?
The history of braids is quite fascinating. Even though you can't even keep up with new trends coming up every day on Instagram and YouTube, braids are timeless and never dull.
Believe it or not, the history of braids goes back to 3500 BC. We can actually say that this hairstyle has gone through the history of many different epochs.
Goddess braids are just one type of braid. They are also very popular because of their look. Their history dates back to Ancient Africa, and the history of cornrows and goddess braids are quite similar.
Goddess braids are seen not only as a hairstyle but as a piece of art. Most of the time, goddess braids are decorated with accessories. According to some historical artifacts, different goddess braid accessories were used in different tribes.
How Long Do Goddess Braids Last?
Generally, you should take it down after 2-6 weeks. You can prolong the lifespan of the braids by wrapping them at night in a silk scarf and trying not to get them wet.
How Do You Sleep With Goddess Braids?
The best and most comfortable way of sleeping with your goddess braids is to wrap them in a silk scarf or bonnet at night. These materials will protect your braids from friction when you turn around in your sleep. Silk is also perfect for locking in moisture, so your braids can look nice even after 2 weeks.
Depending on the braid length, there are many ways to wrap the scarf around. Make sure not to wrap too tightly and clean those bonnets or scarves regularly.
About The Author