Every season, we see new styles and fads come and go as the weather changes. One trend that never goes out of style though is edgy fashion. We're talking black leather, metallic zippers, ripped jeans and distressed fabrics. If it's grungy, hip and urban, you can be sure to see it on every street style blogger and celebrity in the know.
Edgy fashion is cool and modern but best of all, it works equally well when worn with most other items already in your closet. Whether your style is vintage, glamorous, tomboy or minimalist, an edgy piece here and there works every time.
Quick Navigation
Just look at today's most recognized edgy style icons – Rihanna knows how to work ripped denim, black leather and stiletto heels like a pro; Gwen Stefani, on the other hand, is chic and poised, infusing edgy rock chic with a glamorous touch. Then there's Kate Moss who, even when dressed down in skinny jeans and black pumps, is always edgy and fashion forward.
We've compiled some of the best edgy outfits to get you looking like the ultimate rocker chick this fall.
Fall Outfits To Make A Statement
Zipped and Ready
Edgy fashion is designed for those who love to stand out from the crowd… and in this outfit, you'll be guaranteed to turn more than a few heads. Slim-fitting black leather pants adds sass and attitude with a few zips placed strategically along the legs.
Stars and Stripes
When looking to make a serious style statement, you can't go wrong with an eye-catching pair of graphic heels.
These black and white stiletto heels feature an unusual chevron cut-out design, further accentuating the edgy appeal of skinny-fit leather pants. Paired beautifully with a vertically striped button-down blouse, the overall effect is glamorous and striking – the perfect outfit for a power business meeting or a sexy date night.
Rebel in Red
For a sexy night on the town, look no further than your favorite pair of skinny jeans. This ankle-length style on actress Nikki Reed has edgy black paneling along the side seam, not only providing an edgy twist but also slimming the hips and thighs in the process.
The color is then carried through into a fitted black leather moto jacket and matching tote handbag. Rounding off the look is a simple striped black and white T-shirt as well as sky-high pointy stiletto heels in siren red.
Leather with a Touch of Pink
Keep it sexy and sweet with the unexpected combination of black leather and candy pink.
The true star of this look is undoubtedly a pair of pointy pink stiletto heels. Combined with head-to-toe black leather, the effect is edgy, playful and fun. Skintight black leather pants fall just above the ankle for a modern fit while a black leather moto jacket sits right on the waistline, creating a somewhat peplum shape to a simple black T-shirt.
The look is completed by a black leather bag from Gucci draped casually around the body.
Distressed in Black
For an understated look that's edgy yet super comfortable, you can't go wrong with distressed black skinny jeans.
The ultimate item in rock and roll cool, it's little surprise that this style staple has become the go-to choice for edgy icons like Kate Moss and Cara Delevingne. Take a cue from them and pair yours with an easy-fit black tee and strappy statement suede sandals.
Polish it all off with large dark sunglasses and your favorite designer handbag for a casual street style like no other.
Autumn Style Ideas With Converse
Tomboy Appeal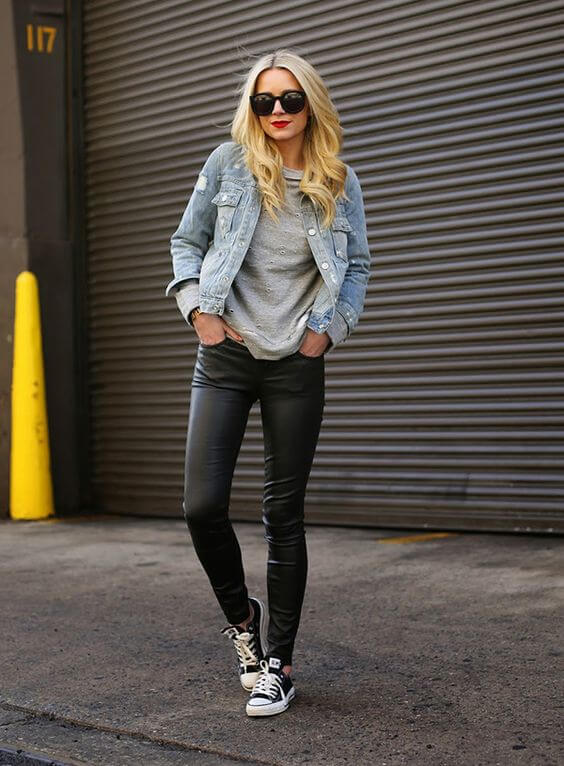 Nothing screams inner-city cool quite like a pair of classic Chuck Taylors. Comfortable and casual with a streetwise edge, Converse All Stars are a wardrobe must-have for easygoing, laidback style.
This look proves their versatility – skintight black leather pants worn with a loose-fit light gray T-shirt and stonewashed denim jacket, all pulled together seamlessly with a pair of black Chucks. Striking red lips and square black sunglasses round it all off stylishly.
Peek-a-boo Gray
If you needed any more reason to invest in a pair of classic black and white Converse sneakers, this outfit may just be it.
A combination of simple items in monochrome colors, the overall effect is comfortable and casual with just a hint of edge. Distressed black skinny jeans are sleek and skintight worn with a loose-fitting dark gray cotton T-shirt. But it's a boxy black leather jacket and All Star sneakers that take this ensemble up a style notch.
Finish it all off with your favorite silver accessories, like this necklace with a cross pendant and a silver wristwatch.
Baby in Blue Jeans
Cheeky, young, and street smart – here is a quirky mix of clothing pieces that combine to form a modern look that is right on-trend.
Paying homage to the hipsters of the 90s, this layered ensemble is ideal for casual days spent simply taking it easy. A pair of blue boyfriend jeans is ripped dramatically all along the knees and paired with a black long-sleeved sweater cropped cheekily at the midriff. Easy, laid-off hipster outfit, isn't it?
Polish off the look with white All Star sneakers, a plaid shirt tied around the waist, and vintage round sunglasses for a trendy nod to the past.
Edgy with a French Twist
What's the one thing that all French women seem to have in common?
A natural flair for pulling together simple, stylish outfits, of course. Take this classy street style look, for example.
While a pair of black leather pants adds the edge, a striped Breton shirt and dark navy blue coat bring the classiness. The look is rounded off with sassy black Converse All Star sneakers, a black scarf and carry-all black square handbag.
Show Some Leg
Corduroy Chic
The must-have item of the fall season so far has no doubt been the corduroy A-line skirt.
Equally pretty and edgy at the same time, it forms the cornerstone of this stylish street ensemble. Worn here with a simple black fitted cotton T-shirt and black leather ankle boots, it's a fitted moto leather jacket that pulls everything together.
Accessories are kept to a minimum except for a slim black leather satchel.
Stocking Style
Sweet and ladylike are the words that come to mind when you think of a skirt and stockings combo.
Throw in some leather touches, though, and the look is immediately transformed into a style that's edgy, urban and fun. Here, a short pleated skirt is given a funky edge when worn with a loose woolen sweater and fitted black leather jacket.
Further revving up the cool factor are cute leather ankle booties plus a fur-trimmed clutch purse.
Patterned in Gray
Creating an edgy outfit all comes down to the way in which you combine the items already in your closet.
The usually elegant little black dress, as seen here, for example, takes on a whole new persona when styled with a large wraparound pashmina scarf. Swap out your usual stiletto heels for knee-length gray pointy-toed boots for a look that's classy with an edgy twist.
This ensemble is great for in-between weather that calls for a little extra coverage in the most stylish of ways.
Form-fitting Style
Here is another look that comes jam-packed with attitude in the edgiest of all colors: classic black.
A slim-fitting black dress falls just below the knee leading the eye downwards to peep-toe black leather boots. A black denim jacket completes the look with black aviator Ray Ban sunglasses and edgy black lipstick polishing the rock chick persona.
As in this example, be sure to wear your hair in a flowing, feminine style to soften the otherwise harsh effect.
Prep School Edge
This look could be straight off the set of Gossip Girl when Blair Waldorf ruled the New York fashion scene. Take your favorite ladylike staples and combine them into one city look steeped with an edge.
A navy blue mini skirt is worn here with a gray cotton T-shirt and black opaque tights. Cover up with a dark double-breasted coat and stiletto leather boots. Stylish and edgy!
Black Chiffon and Leather
When it comes to edgy fashion, the starker the contrast between the individual clothing items, the better.
Take this floaty chiffon slip dress, for example. On its own, it's dainty and feminine. When paired with a leather-trimmed wrap cardigan, however, it suddenly becomes sexy and sultry.
To really amplify the femme fatale appeal, go for a pair of slouchy ankle boots.
Luxurious Leather For The Autumn Weather
Casual Cool
The best thing about edgy fashion is that by wearing one simple color in varying layers and fabrics, you can create a one-of-a-kind ensemble unique to you.
This look is polished and poised, while still retaining that undeniable sex appeal that only black leather can bring. Coupled with luxurious crocheted wool, the combination is sleek and sophisticated with a sexy, rock twist.
Top-to-Toe Leather
Imagine yourself as the femme fatale Bond girl in this sexy street style look from model Irina Shayk.
The ensemble dazzles in top-to-toe black leather – skintight leather pants lead into stiletto heels while a leather-trimmed black jacket is fitted snugly onto the body creating sleek feminine curves. Aviator Ray Ban sunglasses are the perfect accessory to round off this sexy look.
Black Leather and Beige
Whatever your true personality may be, throw in a touch of black leather and you're guaranteed some rock star edge.
These skinny black leather pants are slim and sexy, while the looser fabrics on top create a more chic, sophisticated effect. The varying layers create a stunning, feminine silhouette, drawing attention down to slim, toned legs. A masculine, longer-length blazer perfectly plays up the soft, sheer fabric of the wrap blouse underneath.
The finishing touches are added by peep-toe black shoes and a sparkly black clutch purse.
Bombshell in Black Leather
This look consists nearly entirely of black leather – fitted black pants, a moto black jacket and tasseled black ankle boots. Add a loose, flowing patterned top however and the effect is softened into a more stylish, sophisticated persona. The effect is still cool and grungy but quirky and unique to the individual. A large wrap-style black pashmina scarf further adds to the mystique of this modern ensemble.
Khaki with an Edge
This look maintains an effortless yet still grungy vibe without trying too hard – the key to edgy dressing. Simple, individual items are combined here into one casual look. Fitted black leggings are worn under a longer-length fitted gray vest and military-inspired khaki jacket. Edgy black leather pulls it all together in knee-high black boots and a large black carry-all tote bag.
Gray Matters in Fall
Leather Meets Comfort
This outfit is street smart and edgy while retaining an air of comfort and ease. The very versatile leather pants with zip detail can truly be transformed into any look using your choice of accessories.
Here, a soft layered white T-shirt and roomy woolen jersey are all that's needed to create a cozy outfit with enough edge to keep you bang on trend. Colored Ray Ban aviator sunglasses add some color and fun to this easy street style.
Layers of Black and Gray
In varying shades of black and gray, this outfit highlights how seamlessly these two colors work together.
Here we see black skinny jeans worn with a loosely draped gray vest casually tucked into the front. It's all about simple style tweaks to create a relaxed, easy vibe. A lacy black bra peaks out sexily underneath adding a risqué element, staying true to the devil-may-care rock chick persona.
Rounding it all off is the mandatory black leather jacket adding shape and form to the ensemble.
Boxy Silhouette
Here is a look that shows us how to be edgy yet still maintain high fashion ideals.
A boxy navy blue fitted blazer creates a structured, more masculine shape. A pair of light gray pants, on the other hand, is fitted and feminine, with slight paneling along the stomach area for a slimming silhouette. The heels are kept dainty while a fur-trimmed clutch purse makes a strong style statement.
Polishing off the grungy persona, navy blue lipstick is bold and daring.
Black, White and Gray Palette
The edgy dressing is all about following your own set of rules. Who said cozy, comfortable fabrics can't be avant-garde, anyway?
Here we have a look that combines grungy leather with soft, breathable cotton and wool. This look is great for women with long legs, or those looking to conceal some extra weight around the stomach and hip area. Loose, comfortable layers hide a multitude of figure flaws, while looking relaxed and edgy.
Black, white and gray is the perfect combination for comfortable yet trendy edgy fashion.
Jumpsuit Chic
A cropped leather jacket is the one item that can transform any outfit into a modern, edgy style ensemble. On its own, this gray jumpsuit is sleek and elegant. Throw on a moto leather jacket though and your look is transformed into an edgy urban triumph. The comfortable wool is soft and easy to carry you through the entire day or night, while the stiletto heels can easily be swapped for comfortable sneakers when some comfort is needed.
Gray Daze
In cooler weather, there's nothing as snug and luxurious as layering different fabrics and textures. The trick to wearing so many items at once is proportion – ensuring that you pay attention to showing off the slimmest part of your body.
In this case, simple black leggings draw attention to the legs, creating a sleek feminine silhouette. The bulk of the layers is on the top half of the body with a black leather jacket and black leather boots providing the edgy factor to the ensemble.