Twists and Braids
Not only this is a fantastic blend of shades, but also a perfect hairstyle for everyday wear. Twists and braids in a combination can be only good, for all styles and hair lengths.
Honey Highlights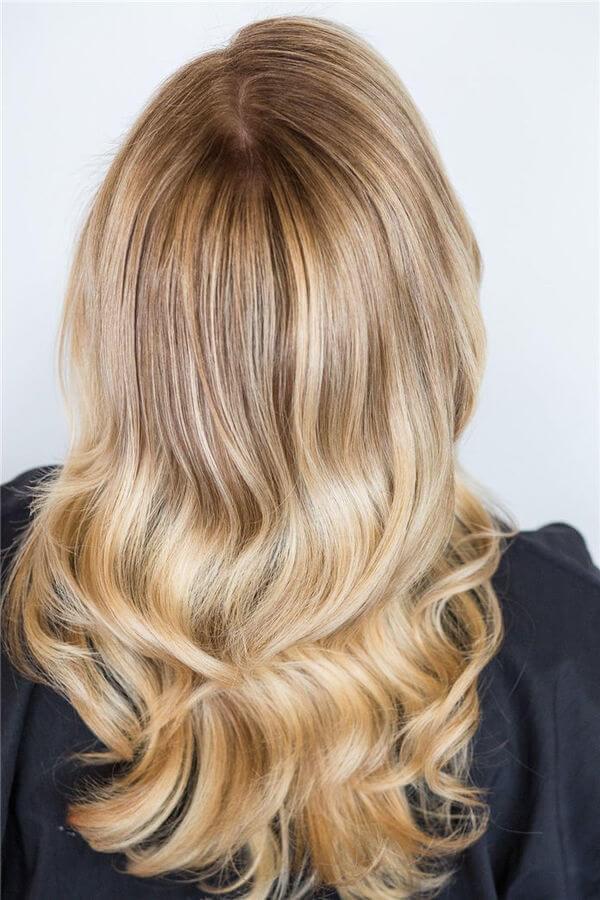 To achieve this lovely look, you would have to have healthy hair and hair ends. Only like that, you can expect the results to be perfect, and your honey highlights shiny and eye-catching.
Dark Highlights
An inverted blend of dyes is perfect. Instead of letting your highlights to be light, you should dye them in light brown. And as you already know, a combination of light brown and honey blonde hair is stunning.
Twisted Highlighted Chignon
The twisted low chignon is perfect for the wedding day, parties, and other kinds of celebrations. You can always go with highlighted hair. It will add more texture and volume to your hairstyles.
Light Middle Highlights
Lighter hair in the middle of your head will add more texture and definition to your daily attires as well as your hair. You can dye your roots in dark blonde, then light your middle hair and finish everything off with choppy ends.
Half Up Half Down Hairstyle
Every half up half down hairstyle will look good with highlighted hair. For example, this one, with a casual top knot will show off your dark roots and highlighted hair.
Low Highlighted Ponytail
The ponytail is one of those timeless hairstyles that you can wear for any occasion. Whether it is a casual or elegant event, and it will surely make you stand out from the crowd. Check for best ponytail examples from Instagram for some inspiration!
Balayage Bun
Balayage is a popular technique in hair industry which is great for highlights. You can mix different shades of blonde hair and be amazed by the results. This bun will look gorgeous.
Beachy Highlights
If you like highlighted hair strands, you will adore them even more in summer. In combination with beach waves and sun, your hair will be even lighter than it already is.
Swoop Hair
Braided swoops are beautiful and so festival-ready. If you are planning to go to Coachella, it's time for you to pick the right hairstyle.
Messy French Braid with Highlights
Messy hair is more than appropriate for the festival season. A relaxed French braid would be a perfect solution. Highlights will provide you with volume and texture.
A Highlighted Mohawk
Mohawk might be bold, but it is also very trendy for summer time. The rest of your hair could be curly or crimped and with lovely blonde highlights.
Messy Lob
White highlights on honey blonde wavy lob look extraordinary. If you are a fan of messy lobs, you can make it work with just a minute of your time every morning.
Waves and Buns
Wavy hair works perfectly in combination with buns. When you style wavy hair in a bun, it gets that lovely messy look that is great for both everyday and elegant wear.
Braided Ponytail
While your braid is dark blonde because of balayage, the ponytail is in lovely light blonde shade. Only highlights can provide you with a hairstyle like this.
Two Braids and A Ponytail
Two French braids will look gorgeous at the top of your head. But, the question is what to do with the rest of your blonde hair? Wrap it into a ponytail and make it look gorgeous.
Low Bun with A Braid
Lovely low bun with a braid will look amazing wherever you decide to wear it. Platinum white highlights with darker ashy roots will appear amazing on any other haircut as well.
Straight Lob
Straight hair might be one of the easiest one to style. It doesn't require much time, while highlights look extraordinary on it. You can even let your highlights be lighter around your face.
Side Swept Bob
Side swept hairstyle are one of our favorites. They are utterly sexy and stylish. You can wear them wherever you go.
Ashy Shades
Ashy shades of blonde hair look amazing on any skin tone. You can combine this lovely blonde shade with light highlights for a fantastic layered hair like this.