What shoes to wear with dresses in winter? What to wear when it's cold? What shoes are appropriate for winter?
A woman and her love for shoes is a tale as old as time itself. Is there any woman on this planet who doesn't get excited at the sight of cute shoes? We think not. Sure, we may all have different preferences when it comes to shoe styles and heel heights, but the fact of the matter is that we all love shoes…whether you're Cinderella, Carrie Bradshaw, or just a girl next door.
When it comes to winter shoes, of course, the first and safest choice that comes to mind is boots. Tall boots, ankle boots, thigh-high boots, flat boots, heeled boots…the list goes on.
But believe it or not, those aren't the only winter options you have. There are shearling-lined sneakers, velvet sneakers, felt slip-on shoes, high-top loafers, and so many other options to choose from! Are you ready to check out what cute shoes you can wear with your winter outfits? Let's go!
1) Knee Highs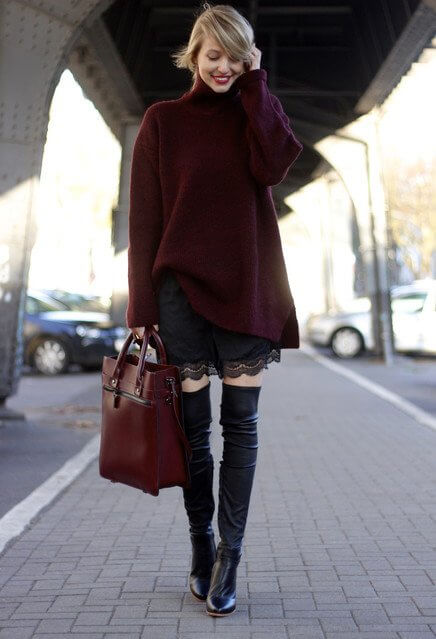 Nothing says winter like the perfect pair of knee-high boots. Of course, they keep your legs warm but they are also innately sexy, don't you think. Pair your knee-high boots with an oversized sweater and short skirt for a sweet and sassy look.
2) Fluffy Boots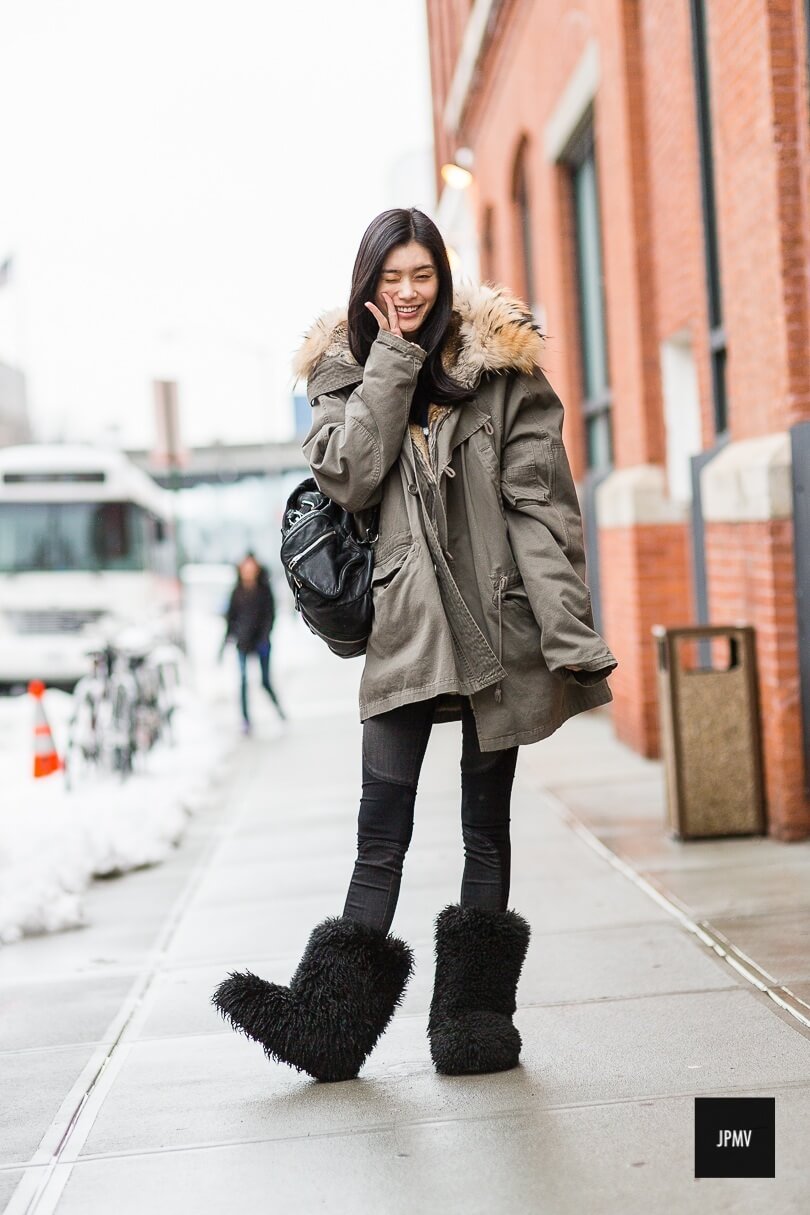 Statement shoes aren't just for the summer anymore. Throw on a pair of incredibly fluffy boots that will really make you stand out no matter where you go this winter. The best part is how toasty your feet are going to be in there. Perfect!
3) Platform Shoes
These edgy Stella McCartney platform shoes are unique and fabulous! They are versatile, 100 percent comfortable, and will add a few extra inches to your height so you can rule the world in style. Wear it with blue jeans, a classic striped tee, and a long coat for added drama.
4) Comfortably Warm With Uggs
Love them or hate them, they're here to stay forever. There's a reason why Uggs will never go out of style, even if they aren't the most attractive of shoes. For starters, they will always keep you warm and secondly, they will make you feel like you're walking on clouds. Who wouldn't want that?!
5) Say yes to Booties
Booties are perhaps the most versatile of all the winter shoes out there. There are a hundred different ways to style yours but we love this girly look with a striped skirt, an oversized turtle-neck, and black leggings. So chic!
6) Thigh High Boots
Say hello the to the sexier big brother of the knee-high boots…the thigh highs. They are mysterious and sexy and perfect for the edgy girl! Besides they offer the perfect excuse to throw on a short dress even when it's cold.
7) Ankle Length Boots
Ankle length boots are always a great option during winter. Wear your favorite pair with skinny jeans tucked in and an oversized statement jacket that will make you look like the style maven you are.
8) Slip them on
Okay, you can't really wear slip-on shoes in sub-zero weather but they're great for milder temperatures, especially when you're sick of boots. Throw on a funky pair whilst keeping the rest of your outfit relatively safe for that fun surprise element!
9) Think Heels
Be it summer or winter, heels are always sexy.
10) Sneakers are fun
What woman doesn't love sneakers? They're cute and comfortable and isn't that what winter fashion is all about? Pair your white sneakers with a basic black top and rolled up boyfriend jeans, and don't forget to wear a pair of socks to keep your feet warm.
11) Dr Martens
There are regular boots and then there are Dr. Martens. Their beauty lies in their versatility. These boots look just as good with a pair of jeans as they do with a pretty dress. They're great for day, for the night, and for every occasion you can think of. Check here to see how to style and what to wear with Dr. Martens.
12) Fun Sneakers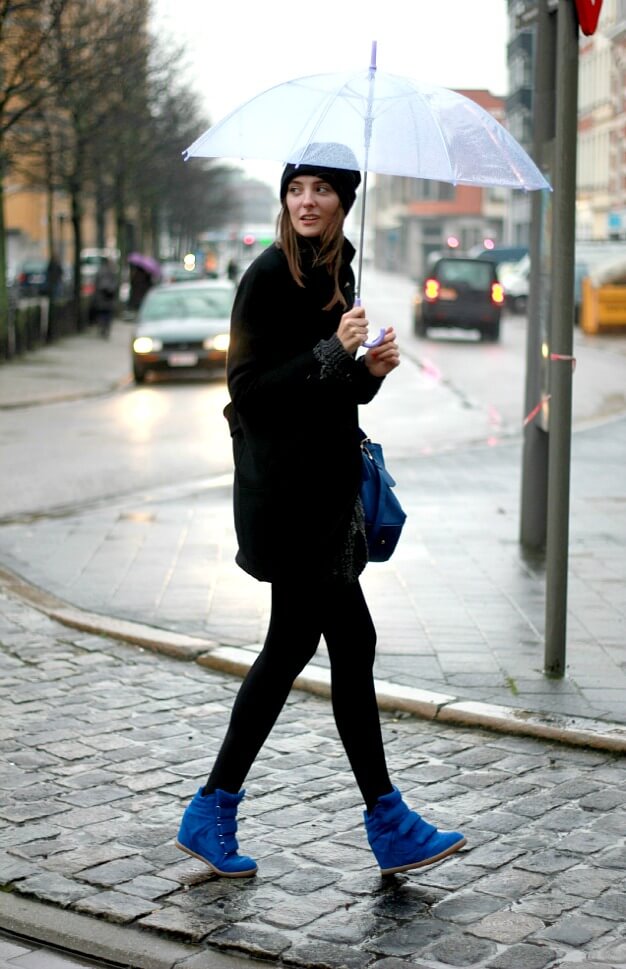 The best part about these Isabel Marant sneakers are that they don't look like your traditional pair of sneakers. We love the chic wedge and the fact that they come in a plethora of colors. And of course, you can dress them up or down, depending on your mood. They didn't attain cult status for nothing.
13) Going to town in brown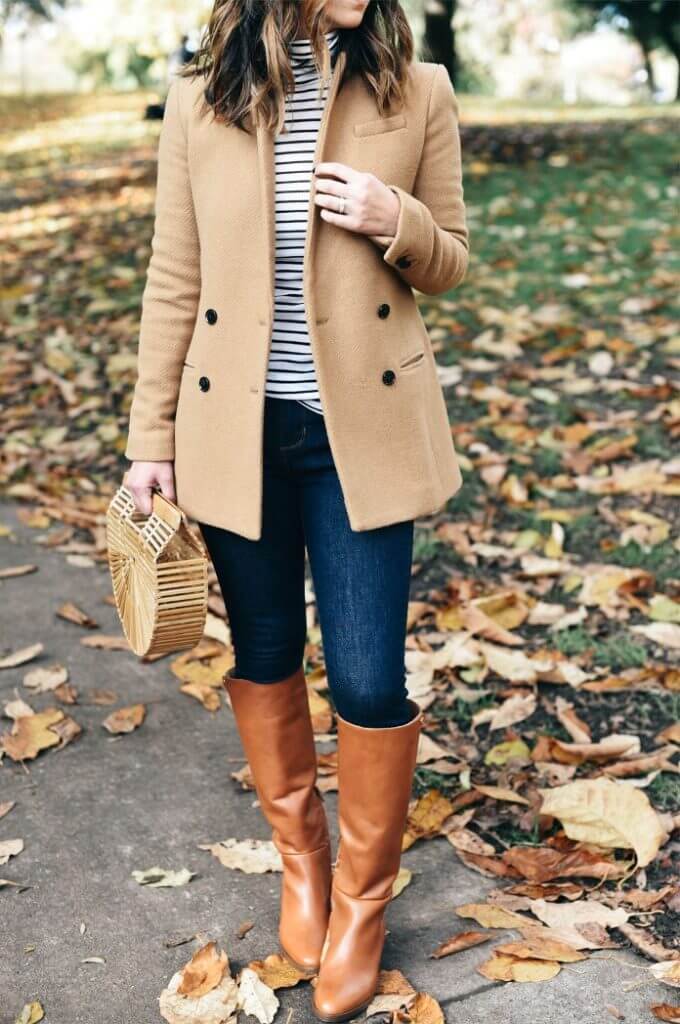 Brown boots are a classic winter must-have. Like their black counterpart, they complement most outfits beautifully. We love this blue and brown look that screams casual chic. When in doubt, always pick brown boots.
14) Lady in Red
While red boots aren't everyone's cup of tea, we do think they add a fun touch to any fashionista's look, especially when the rest of the look is all black. Very Bond girl- fashion edition, don't you think?
15) Animal Print Shoes
There's always something about a pair of statement shoes that makes you say "Oh yes!", especially when it's a fierce pair of boots like this one. Animal prints are still very much in, so don't be afraid to incorporate it in your winter look.
16) Peek-a-boo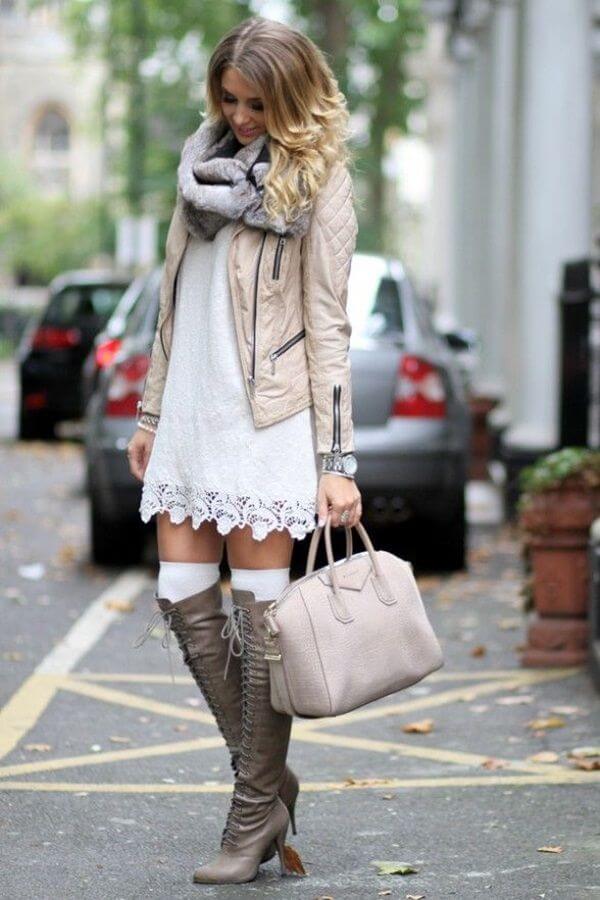 Socks, of course, are a vital winter outfit element, so instead of hiding it like we usually do, why not let it peek through your boots. Knee high socks are after all incredibly sexy!
17) Wellies
Wellies are not only adorable but an absolute must-have for wet winter days. Pair yours with some faux leather jeans, leggings or leather pants and a coat or jacket.
18) Shoes To Wear With Dresses In Winter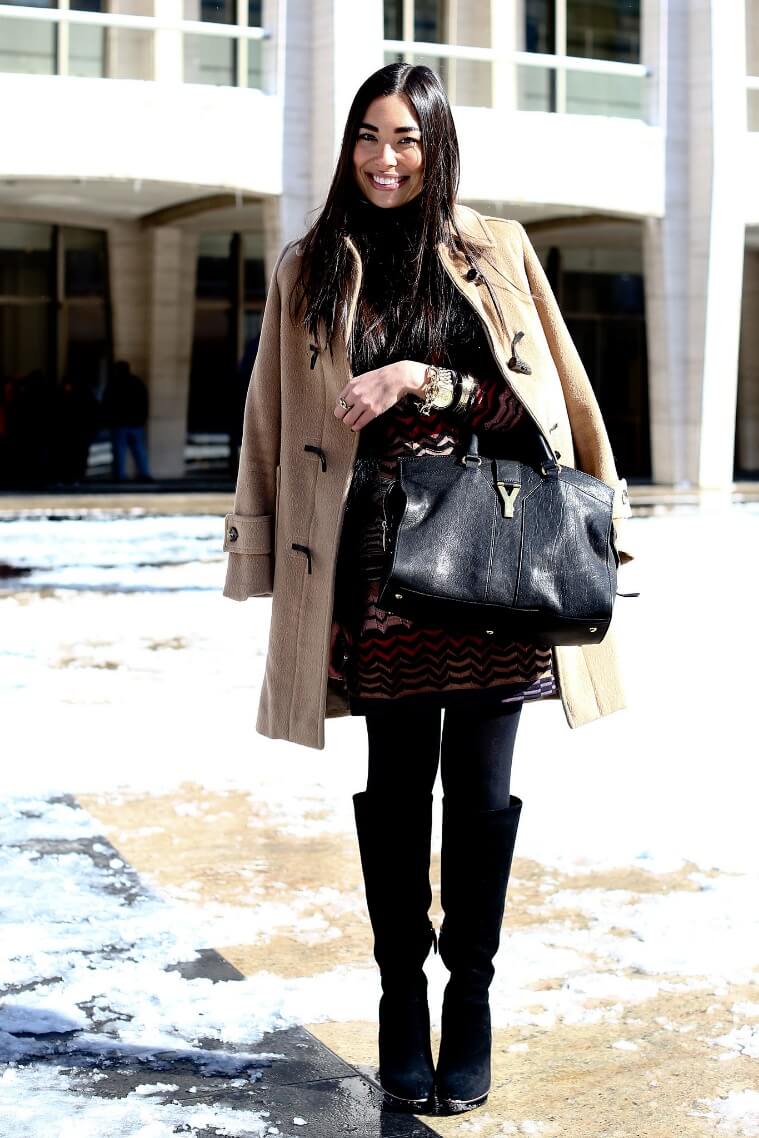 Black boots are to winter shoes what a pen is to paper. It just makes sense! Of course, it doesn't hurt that you can wear them a hundred different ways and still make it work every single time. We love this simple combination of dress and tights with knee-high black boots. This is as classic as it gets!
19) Suede is the way to go
Suede is just the perfect material to keep your feet warm when it's cold. This quirky mish-mashed look is a perfect reminder that it doesn't hurt to be different once in a while by breaking fashion "rules".
20) Winter Greys
Grey is a gorgeous color, especially when worn with a beautiful patterned coat like this one. It's feminine and sassy and such a departure from safe winter looks. Love!
About The Author