We all have heard about basic staples that make that capsule wardrobe we wear daily. Maxi skirt is one of those items that every woman needs in her closet. The skirt is very versatile, which makes summer outfits easier to make.
Women sometimes don't know how to style a maxi skirt so that it looks dazzling and gorgeous. Unless you are slim and tall, this skirt might represent a piece that is hard to incorporate into your daily looks.
However, thanks to bloggers and street style fashion influencers, the skirt has been at the peak of its popularity for some time now. Let's see the options of how to style and wear maxi skirts.
How to Style a Maxi Skirt To Unleash Its Full Potential
Wear it with a Sweater
Every girl knows the power of a good monochrome look. It is easy to make and even better to wear on those days when inspiration is not coming to you at all.
Maxi skirt is an item that is perfect for building looks with sweaters in any shade. We suggest going with black or try white for fresher looks.
The black maxi skirt is a great staple that shows as a versatile one in this outfit combination.
You can style it with a sequined turtleneck knit for a snuggle look in the winter. Finish this look off with an unexpected detail – metallic slouchy over the knee boots.
There is nothing better than making yourself feel comfortable in the clothes you are wearing.
This outfit is perfect for that, and for making your appearance elegant and glamorous. What a great combination! You will need a maxi skirt and a simple blue sweater. Add a clutch or mini bag, and you are ready to go.
Wearing Maxi Skirt with Crop Tops
If there is any piece that goes hand in hand with all maxi skirt styles, then that is a crop top. Whether you are feeling like showing off some of the skin around the belly, or your maxi skirt has a high waist, you should consider this lovely combo.
You can pair tops that are less eye-catching than the skirt if you are wearing floral or any other print. However, plunging, V-neck or turtleneck patterned tops should be considered with plain skirt styles.
Ruffles are great to wear in summer. They instantly remind us of the beach, warm weather, and salty water.
If you were wondering how to style a maxi skirt with a knot top, here is an easy and straightforward way to do it. Add accessories like a golden pendant and straw bag.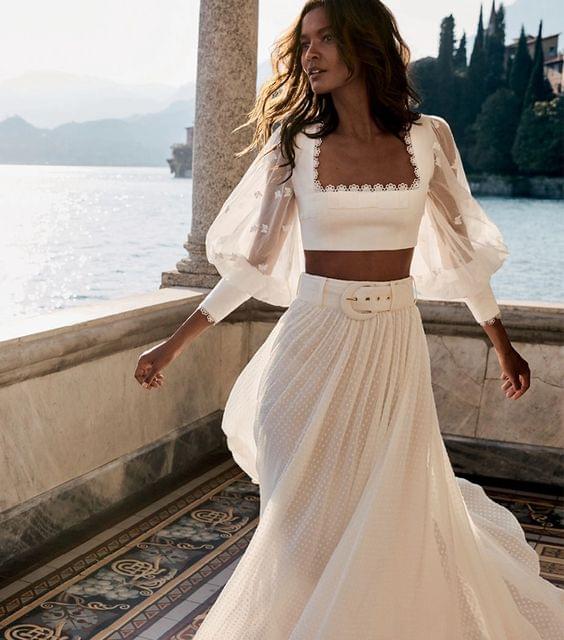 Clear white looks amazing on the sun-kissed skin. While you hide your legs with a maxi skirt, make sure the crop top shows how tanned you are. This style is very elegant, so you can wear it for special occasions.
Maxi Skirt Styled with Leather Jacket
Maxi skirt is long, so it should be balanced with something short in a bodice. A leather jacket is a perfect item for that!
You should already have even one in your closet. Black leather matches with any other materials, so you can mix and match prints, or go bold with denim and studded jacket details.
Denim maxi skirt can look pretty edgy if you want to. Pair it with a black leather jacket for a casual yet chic look for both day and night events.
Mix the prints, don't hesitate to try stripes with florals. A leather jacket will provide that bold vibe that any outfit needs to have. This style is excellent for daily wear – office, walk or lunch with friends and family.
Maxi Skirt Together with Sneakers
You might think of a maxi skirt as an elegant staple. However, that is not entirely true.
Maxi skirts are perfect for styling with sneakers. Many bloggers have tried and adored this combination. It is simple, yet you will feel comfortable and look amazing!
This sporty combination is perfect for those lazy weekend days. A black maxi skirt is ideal for styling – versatile and easy to mix with both elegant and casual staples.
You can style it with sneakers and a grey sweatshirt for a sporty-casual look.
You thought Converse and tulle maxi skirts don't go along? Think twice!
You can style your elegant maxi skirt with black Converse and look unique, bit eccentric, and stylish. A simple striped blouse will be enough to finish off the look.
Styling Maxi Skirts With Belts
Maxi skirts might not seem like an item that needs an accessory. However, you can always consider putting on a belt. It makes your waist look slimmer, but most of all, it turns your casual combinations into super stylish ones.
This is how you can style for both casual and elegant wear.
This skirt gives us some serious '90s vibes. Side pockets and button-down style are great for daily wear.
Style it with a sweatshirt, sweater, or camisole. The belt is a fantastic detail that makes this combination unique and so stylish. Always pick leather belts that match with your bag or shoes.
Styling leopard print maxi skirts might sound like something that you can't do easily.
However, you can do that in a straightforward yet stylish way. Lay down a sweater over the skirt, but add a belt to your waist. The belt can be in the neutral, beige shade, or the same as a sweater.
About The Author