Braided buns for black hair have an enticing feature – they can be styled in so many ways!
Depending on the occasion, you can wear it with or without accessories, in different positions, and with different twists.
You can be sure a braided bun will quickly become one of your favorite hairstyles. Braided buns are easy to make. They can survive even through workouts and training. Both buns and your braids will be highlighted and eye-catching. Let's go.
20 Inspiring Braided Buns for Black Hair
1. The Top Knot Braided Bun
A bun at the top of your head is always a great idea. This is one of those hairstyles that is great for both day and night events.
RELATED: 10 Impressive Braided Bun Styles for Black Hair from Instagram
You can keep part of your hair out of the bun and make it look like a half up half down style. A twisted braided bun will always get attention.
2. Braided Hairstyle for Work
This style is perfect to match your work outfits.
The bun itself is work-appropriate, but let's make it interesting. Braided buns for black hair always look extra special, especially with different braids and twists.
For a bohemian and casual appearance, pick a braided updo with side braids.
This hairstyle will look even better with accessories. Try putting gold or silver hair cuffs. This high bun will undoubtedly make you look great.
4. Elegant Braided Bun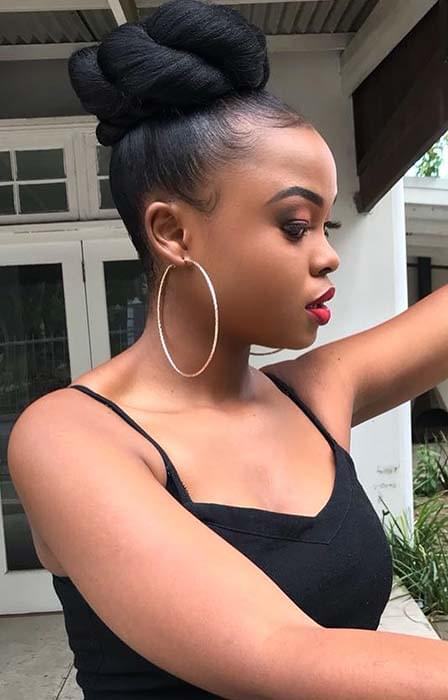 Elegant occasions require sophisticated hairstyles. This is definitely one of them.
A braided bun with a weave will match with your glamorous attire, dress, or even jumpsuit. You can add eye-catching earrings or a necklace.
5. Colorful and Interesting Hairstyle
If you want to spice up your daily hairstyle, think about adding colorful rubber bands.
You can twist or braid your front hair, accessorize it with colorful elastics while the rest of your hair is twisted in a bun.
6. A Pinch of Pink On Your Hair
Having pink highlights in your hair might be for the brave ones.
These highlights look perfect in a bun, alongside cornrows and smaller braids on your head.
You can use rings and cuffs to accessorize your hairstyle.
7. Yellow Braided Bun for Black Hair
If you have ever wondered what a yellow bun looks like, here is the answer. Go for it if you want to achieve an eccentric, stylish, and unique hairstyle.
8. Truly Stylish Hairstyle With Golden Threads
Golden threads represent a perfect accessory for braided buns for black hair. It makes a perfect contrast, highlighting your braids and a bun.
Check out how this model put threads on her braided bun hairstyle.
9. Braided Bun with Silver Highlights
If you are in a style rut and don't know what to do with your hair, then we have a suggestion.
Make it interesting by dyeing a part of it in grey and wrap it in a high bun. Make sure the dyed part is visible and leave one braid to fall at the side.
10. Sleek and Elegant Hairstyle with Black Braided Bun
Sleek and sophisticated braided buns for black hair look exactly like this.
If you have cornrows or your hair is braided, and you need something to keep you elegant, try this hairstyle. It would be best to make your front side fringes sleek while the rest of the hair is wrapped up in a bun.
11. Messy Top Knot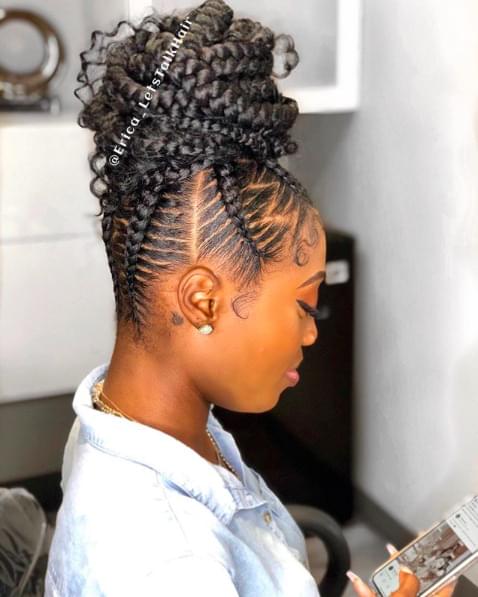 A messy top knot is perfect for daily wear.
You can surely see how casual it looks, and it is even easier to make. Make sure to leave out curled hair ends for that messy chic finish.
12. Multi-Toned Bun
You can spice up a casual braided hairstyle with a great color update. Golden highlights will not only add texture and volume but also make your hairstyle unique.
Make sure your braids are smaller so you can make the appearance multi-toned.
13. Voluminous Braided Bun
If your hair is long and braided, you can expect to have a massive bun like this.
Make sure to wrap it and secure it, so it doesn't fall over. Add accessories or colorful elastics.
14. Cornrows and Bun
Classic braids are great, but making your cornrows in zigzag or other geometric patterns will be even more eye-catching. Wrap a bun at the top of your head.
15. Space Buns
Space buns are youthful, attractive, and so easy to make.
Golden threads will make you look like a princess Leia. Cornrows, in combination with two identical space buns, are perfect for both day events and special ones.
16. Bronze Hair Bun
Bronze hair – no way. Yes, why not. And believe it or not, it looks terrific.
A giant braided bun is perfect for women who like their hair to be enhanced yet very casual – simply wrapped and styled for every day.
17. Reverse Braid and a Bun
Braid one huge braid at the center of your head and wrap the rest of it in a bun. Sounds easy, right?
Reverse braid is excellent for making your regular hairstyle more attractive. Your braided bun will surely stand out from the crowd.
18. Short Hair Updo
Even if you have super short hair, you will still be able to put it in a bun. Flat twists that run towards the crown end in a slightly cute bun.
This is a great protective style that you will adore.
19. Cute Side Braid
This might look like a non-typical braided bun for black hair. However, you will be thanking us later for this style.
It is super cute, with a vibe of elegance, perfect for the office wear.
20. Huge Braids and a Top Knot
The top knot is an excellent solution for those days spent at home or with your friends.
Leave a big twist at the front to fall naturally, while the rest of your hair is wrapped up in a bun.
Related articles
Get Hair Tips to Your Inbox
We will send an email from time to time. Not too often. You will get ideas with inspirational haircuts and hairstyles, suggestions on choosing hair colors, as well as hair care tips, and advice on how to deal with hair problems.