Winter is the season the temperatures go down and the coats come out of a closet. And while it gives more room to be chic and stylish, it is also a lot easier to completely mess up your look trying to combine all the layers you need go out there in the cold.
What colors to combine? What textures go well together? Are turtle necks still a thing? Keep scrolling to find out. We compiled a whole bunch of information about winter fashion and style.
The trends might change every year, but the basics most likely stay the same: we'll still need thick layers and warm shoes and hardly ever your bright neon skirt will ever go well with your animal patterned furry coat.
Quick Navigation
1. Winter Colors
Colors play an important psychological effect on people's mood and even behavior – they help project who we are – or the image of who we want to be – to the outside world. They can give us a sense of warmth and comfort or coolness and rigidity.
And for that reason, colors also have an important role in fashion and how fashion is developed every season.
Winter, for example, calls for warmer colors. Winter colors have to give the sensation of warmth and coziness to fight the cold weather. Maroon, burgundy, shades of deep red, purple, green, brown, caramels and dusky pinks are all colors that work well in cold season. Black is also an ever-present color in the winter, as it gives a feeling of protection and enclosure. And although white is the color of freezing snow, it is also a symbol of purity and therefore a welcome color in a weather you need to feel protected and safe.
Following are some common emotions associated with colors (read more in a book called "Elements of Fashion and Apparel Design" by G. J. Sumathi. 2007, ISBN 8122413714, 9788122413717) :
Red: passionate and attractive. It draws attention and is said to speed the metabolism. Perfect for winter as it is associated with fire. Its darker and mixed shades, like burgundy and maroon remind of wine, which is a perfect drink for winter days (and nights!).
Yellow: lively and cheerful. It is a color better suited for spring once it is associated with sunshine and flowers. It might be quite a tiring color if worn in winter. However, caramel shades of yellow give away the feeling of warm and sweetness desired in cold days.
Green: peaceful and pastoral. Light green is commonly associated with good health and more suited for spring and summer. Dark shades of green, however, add sophistication to winter looks.
Blue: the color of the sky and the oceans, blue is easily associated with infinity which evokes a feeling of freedom. While light blue is a good sporty color for summer, dark and deep blue and royal blue allude to wealth and class.
Purple: sophisticated and mystic, purple has long been associated with both royalty and wizardry – therefore, a color for the brave. And we do need the courage to go out there in the cold!
Brown: prosperous and fertile. Brown reminds of the autumn leaves and rich soil and because of this association with renewal, it can be quite romantic for a winter date. And let's not forget it's the color of chocolate… hot chocolate, the epitome of coziness!
Black: the color of night and elegance. Historically, black has been associated with death and evil, but, as society evolved, it became a color that is always chic. Because it looks heavy and protective, it's a good choice for winter.
White: safe and simple. As we mentioned before, although white can refer to the cold snow, as it is also associated with innocence and purity, it is a perfect color to give you a feeling of peace – calming down the cold stormy days.
The palette below shows the common colors explored for the winter season.
Although colors are one of the most important elements in fashion, they cannot work miracles alone. Textiles are the ones that will be carrying the colors and their materials and textures can either save or destroy a garment.
2. Textures And Textiles Suitable For Winter
Winter season calls for trickier and heavier fabrics: wool, velvet, thick cotton, tweed, flannel, leather… The real trick is how to combine all of them. But we're here to help!
1) Shearling
Easily associated with the jackets of old war pilots, we can pull out chic and cozy styles with this plushy texture.
Faux shearling is softer than many other artificial furs. More commonly used as linings, they go well with suede and leather outsides. Soft, warm and thick, it's an easy choice against windy days.
2) Fuzzy Knits
Simply looking at them might make you go all itchy in the summer, but when the winter comes, fuzzy knits are the closest you have for going out wrapped in your blanket.
Although you can wear them tight, their fluffy construction looks better as baggy sweaters. While they are not enough to stop the wind, put them on under any wind breaker jacket and you'll be warm anywhere.
3) Wool
Wool is probably the first material that comes to everyone's mind when the topic is winter fashion. Although not every winter season it's going to be the main character, wool is simply… necessary for cold days.
Nowadays, it's very common to see 100% acrylic wool everywhere, but remember acrylic does not let your skin breath, so if you buy a beautiful acrylic wool pullover it will make you sweat instead of warm you.
Thus, invest in a real wool piece and not only it will last forever, you'll be wanting to wear it all the time.
4) Velvet
It's been long since velvet was only a choice for fancy night dresses… or tacky grandpa jackets. Velvet can be made from many different fibers, the most expensive being silk.
The most traditional ones found in the markets today are a mix of silk and rayon (a regenerated cellulose fiber). Now brands apply velvet to virtually everything, from dresses to trousers, tops, shoes, bags…
5) Cotton
No, not your loose cotton tank top. That will only freeze you to death. But being a natural fiber, cotton can be amazing for winter if woven into a thick fabric.
As it is not shinny, furry or woolly, it is more often seen in sportswear. But there are many ways you can wear a sweatshirt or hoodie and still pull out a stylish look. For those who love fun and comfort above all!
6) Tweed
Tweed! For centuries considered a men's fabric, fashion took hold of it and now women can enjoy this amazing textile, too.
Created in Scotland, tweed was originally a hand-woven fabric. Thick, rough and felted, tweed was used to produce clothes for the working men. However, with the acquisition of many Scottish states by the English, the fabric soon became a popular item in England – first by the nobleman and later by the working class who adopted it for their leisure garments.
Tweed comes in a vast variety: some are named after the breed of sheep the wool comes from, some after the region where they are produced, some are part of traditional brand names, some are named after their function… Visit the Gentleman's Gazette if you want to know more about Tweed history and types.
Nevertheless, what is important is that today, tweed is used for both men's and women's clothes and can make a sartorial statement between classic and contemporary.
7) Flannel
Originally made from carded wool, flannel is a soft woven fabric.
Nowadays, it can also be made of cotton, vegetable fibers (like pine or bamboo) or synthetic fibers. Flannel fabrics often have a nap – raised fuzzy surface – on one or both of their sides.
But I bet when you hear the word flannel you think of flannel shirts – the plaid ones – straight away, right? It is true that is one of flannel's most common use in fashion, but the fabric can be used for other pieces, too, such as coats and trousers (and baby clothes and towels, if we want to be compiling).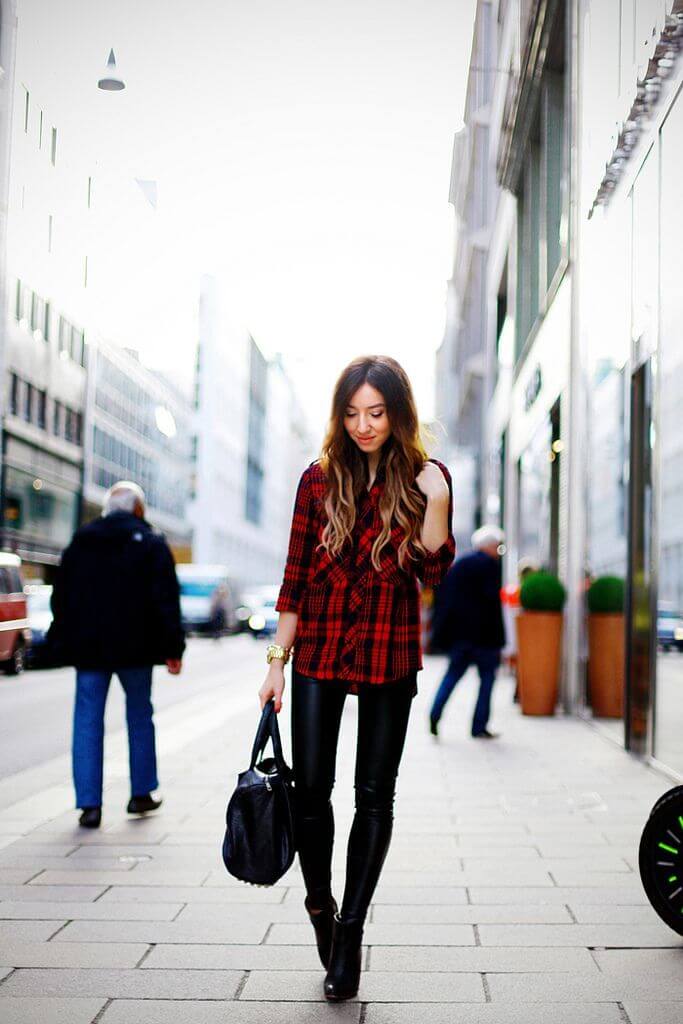 8) Fur (real and faux)
Fur has been worn by humans since pre-history for both protection and ostentation.
Now, the discussion about whether or not using real fur is bad is sort of endless. And while the decision should be made based on your own beliefs and values, I'm going to talk about faux fur only.
With the advent of synthetic fibers, making faux fur became possible. Back in the 90s, faux fur had the reputation of looking cheap and feeling awful (Itchy!), but every year that passes we have more and more tech fibers being created and the faux fur we see on the catwalks nowadays can really pass as real to those who are not professionals on the field . You can read more about high tech faux fur if you're interested.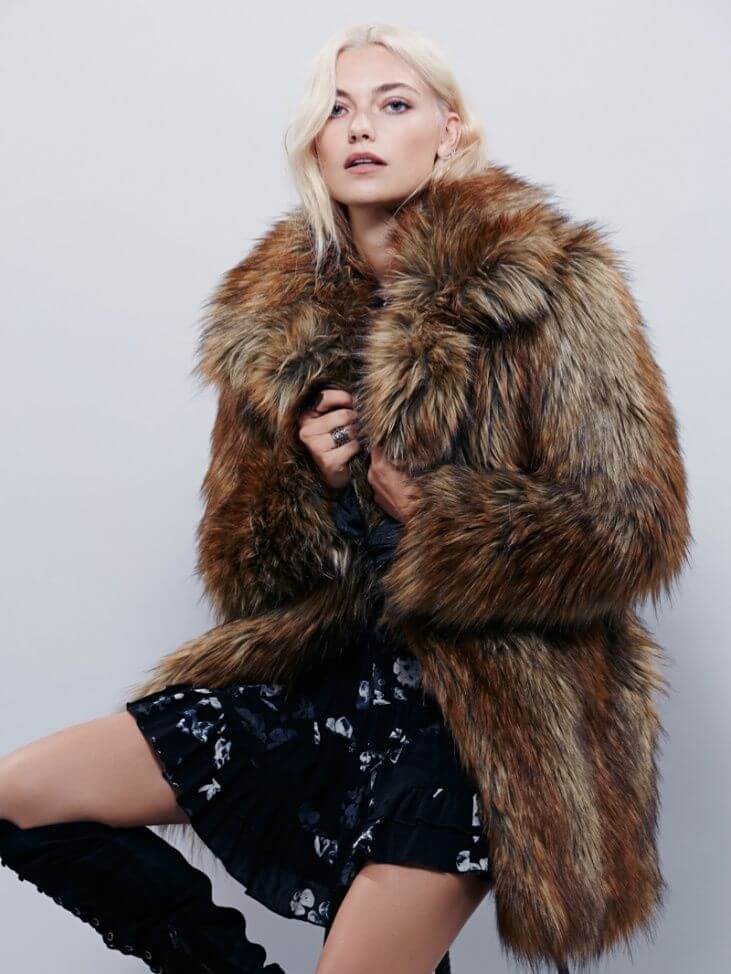 9) Cashmere
Cashmere is a fiber obtained mainly from Cashmere goats. Lighter and softer than traditional sheep's wool, cashmere is finer in texture while still remaining strong – it is a perfect insulator.
Cashmere has been produced in Nepal, Mongolia and Kashmiri (Cof, cof… where does the name come from again?) for thousands of years. In the 18th century, cashmere shawls imported to Europe from Kashmiri and India were highly trendy among upper class, wealthy women.
Today, however, China has become the largest producer, with a production of about 10,000 metric tons per year! An even finer version of cashmere wool is pashmina – the name comes from Persian, meaning "made from wool" and translates to "soft gold" in Kashmiri. Pashmina is more often used for scarves and light cardigans.
10) Suede
Keep it away from water! Or mud… Or any wet thing, for that matter. That is, by far, the best rule to keep your suede items in nice shape and looking good.
Suede is a type of leather made of the inner layer of natural hide of animals like cow and pig – although goatskin and sheepskin are also commonly used. The outer layer is basically the regular leather we all know, while suede is the inside split.
The name dates back to 1860 when, in France, people would refer a type of very soft gloves coming from Sweden as "grants de Suède", meaning "gloves from Sweden". As time passed, suede became the common name for any kind of soft and smooth leather with nap finish.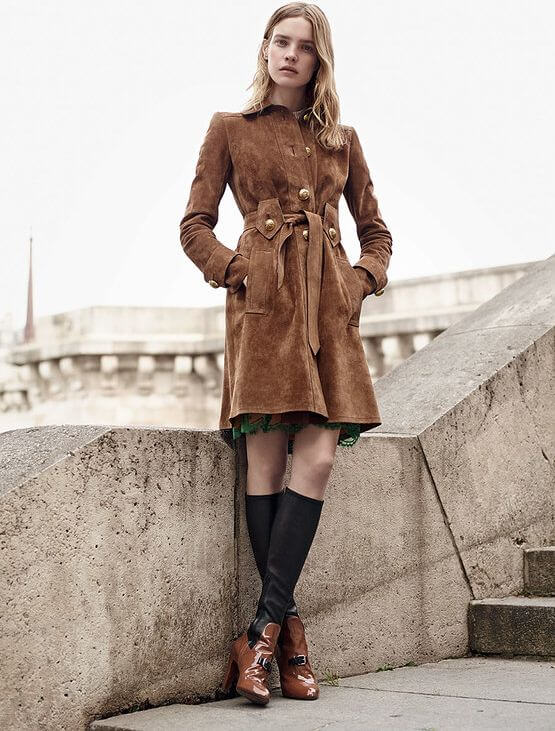 Just as full-grain leather, it can be a perfect layer for winter as it keeps you warm and blocks the cold from reaching your skin and bones. And although depending on the cuts and color you can pull out almost any decade with a suede item, it's also perfect – or we could say "a must" – if what you want is a cowgirl look: fringed suede screams Far West!
As suede does not have the tough outer layer of the animal skin, its pores and soft nap are more susceptible to absorbing water. The best way to keep it clean is to brush it with a soft sponge or brush… which is easily said than done when we're talking about, for example, a coat – a piece that will need to be cleaned inside once in a while, too. In that case, the best you can do is sent your precious item to the dry cleaners; they have better tools than our simple multipurpose house washing machines.
11) Leather
Leather is an all-time favorite. Almost everyone will have at least one leather (or faux leather) jacket in their wardrobe. Leather is created by tanning animal hide – a chemical process to treat hide in order to stop it from decomposing.
Due to advances in technology, different finishing processes allow leather to have a variety of surfaces. Cow hide can be made to look like snake or crocodile skin, for example. And if you take good care of your leather goods they can last a long, long time – they might actually last longer than you will .
We'd suggest reading the book by K. Marion, R. Thomson called Conservation of Leather and Related Materials (Routledge, 2006. ISNB: 0750648813, 9780750648813) if you want to know more about conservation of leather.
However, be careful not to be deceived: PU synthetic can look and feel a lot like real leather, but won't last as long or keep you as warm. On the other hand, if winter is not that nasty where you live and you don't want to spend a big amount of money on an item that might go out fashion too soon, PU items might be a good choice – they will stay with you for around 5 years and by that time you won't even remember you have them.
Here are some tips on how to wear and care for both real and faux leather.