Sometimes it can seem like fashion is shifting away from denim, and in the blink of an eye, jeans are everywhere again.
Denim is a classic workwear staple that will never leave the catwalks or our wardrobes. This fabric is versatile and hard-wearing, perfect for dressing up or down to suit any outfit.
But what denim is on-trend right now? Picking the right jeans styles for this season is essential, so don't worry because we've rounded up the most popular jeans for 2023 and how to style them!
Finding The Right Jeans Fit
It's always been said that shopping for jeans is the hardest garment to shop for, but this doesn't have to be true!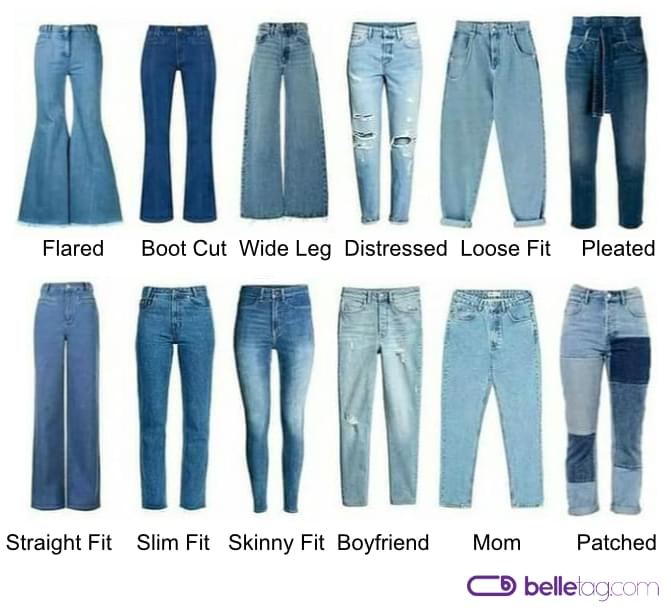 While there is a range of cuts and jean styles available, it doesn't need to be as confusing as it seems. Often you just need to find the name of the cut you want, and also chose the best jeans for your body type. There are so many out there, but many just know skinny, boot cut, and mom styles.
Infographics are a great way of determining what fit you want. After that, it's time to start searching for the perfect pair!
Styles from across the decades are now available, so knowing your fashion history has never been so important! Flares are coming back with a vengeance, from popular cotton or stretch styles to classic denim, it's good to know how to tell these apart from a pair of 60s bell bottoms or 90s boot cut styles. The key to a fabulous denim outfit is in the details!
Another popular style that's making its way back into mainstream fashion is the 80s ripped jeans. However, the modern alternative has some different traits. Ripped jeans with rips across the bottom area aren't for the faint of heart! These styles have been popular with Instagram influencers for a while, but we aren't sure if they will catch on soon.
It's also good to get clean on what' rise' you want. The rise of a pair of trousers basically determines how high the waistband sits. Jean styles fluctuate from high rise, regular rise, low rise, and occasionally super low rise. While the super low rise is rare, it was very popular in the 2000s, and some trend forecasters predict it coming back into style – opinion is divided on this look!
What Denim Color Do You Want?
Another component to finding the right denim style is color! These days any color is available, but what is the best one to choose?
Well, raw denim is trendy again. Raw denim is basically the fabric in its purest form. No washes or treatments are applied to the material, so the raw indigo color is visible. Indigo dye is always linked to denim, hence why blue jeans have always been so popular. The best raw denim will be 100% and quite rigid, allowing the denim to be worn and transformed over time. The better quality raw denim garments will be made with selvage denim and will be higher quality and more expensive – but these will last for years!
However, for a more elegant touch, opt for shades of washed black and deep grey. These are perfect for looks that want a darker color palette (e.g. perfect, if you're looking for denim for fall) or need sleek trousers.
If you're after a more muted color palette, you can also find off-white (ecru) or tan-colored denim that offers a different aesthetic to traditional blue denim. These beige-toned jeans are very on-trend and offer a more minimalist vibe than bright pops of color. This can make them easier to style and mix with other garments.
Jeans Styles Trends
Keeping up with trends can be exhausting, so here's a rundown of what is popular right now. Luckily, unlike other garments, jean styles don't tend to change as quickly. These are the top picks from trend bloggers and fashion magazines.
Also, check out this video for extra denim inspiration.
1. Flares
Flares have made a comeback recently. All shapes, sizes, and patterns have flooded social media. This trend can be pushed to the full-on 70s aesthetic, or it can be kept minimal with a mix of modern fashion.
While some of the most popular flared trousers are in the form of leggings and cotton, denim is an effective fabric too. This is a perfect jean style for anyone who wants to highlight their figure, as flares are very flattering to all. Also, some may want to opt for extreme flares for more of an extreme look. These jeans have excess fabric in the calves for a dramatic flare.
If this isn't for you, there are simpler versions of the cut called kick flares, which involve a scaled-down version of the classic shape. Mix flares with wide sun hats or boho floral prints for a perfect summer outfit.
Related: 21 Outfits With Bootcut Jeans (With Style Advice for 2023)
2. Straight Fit Jeans
Straight-leg styles are an example of how jeans can be misunderstood. Many confuse these for skinny jeans – but there's a difference!
This particular cut of jeans was popularised in the 90s. Its simple cut cements it as a timeless staple of our wardrobes. These are often high-waisted, the perfect rise to flatter anyone. Also, if you're looking for a comfortable option, this is the one for you. Straight fit offers flexibility when worn without giving a completely baggy shape.
This jean style has essentially taken the place of the once-loved skinny jean, though loved skinnies have been ditched for a looser pair. These are the perfect pair for everyday styles, giving you a laid-back yet on-trend edge.
3. Classic Blue Jeans
Though we spoke about alternatives to blue denim, this hue isn't going anywhere. Owning at least one pair of classic blue jeans is a must. Blue jeans can literally be paired with anything, no matter what cut or style they are.
Raw denim and indigo dyes are on the rise. The most popular now is the classic washed blue color. Opt for a light blue or washed-out pair to meet this season's trend list. Blue jeans are the epitome of laid-back chic. These are the most timeless option to own.
The best part about this trend is the fact it will never go out of style. Yes, blue denim is more popular than ever this year – but it won't ever be out of fashion's eye. This style goes down catwalks every fashion week, sometimes with leather, sometimes with print. The options for styling blue denim are infinite.
4. Wide Leg Jeans Styles
Not to be confused with flares, the wide-leg jean is also one to watch for. Unlike flares and bell bottoms, wide-leg jeans don't hug your thighs. This cut flares out from the hip, allowing movement and a streamlined silhouette. This cut is also usually high-rise too, giving the illusion that you're taller than you are – perfect for anyone shorter!
Wide-leg jeans are great for creating silhouettes. From tucking oversized sweaters into them or wearing a small bralette, their styling power is unmatched. A popular mix is wide-leg jeans (with a high waist, of course), a bra/bralette, and an oversized blazer. Mix with heeled boots or trainers, and voila – you have a perfect outfit for any occasion. For an exaggerated silhouette, experiment with oversized tees or jumpers with wide-leg jeans. Clothes don't always need to be skin-tight!
This year has seen these shoot onto catwalks and into high-street stores at a rapid pace. There are even ripped versions of the wide-leg style available. This is a great choice for anyone who wants a more alternative denim look. We love the cropped version that stops just above your ankles, perfect for a relaxed summer style.
5. Boiler Suits
Denim and jean styles have their roots in workwear since the fabric is so durable. This doesn't sound fashionable, but it can be. Boiler suits may scream "on the job", but designers and brands transform these all-in-ones into outfits for the fashion-forward.
Though you can find these in other materials, the denim versions of boiler suits are undoubtedly the best. These are a great way to jump on the utilitarian trend that is dominating catwalks worldwide, so make sure to invest in a denim boiler suit soon.
All-in-ones are a great way to cut down on styling time. There's no need to match fabrics with these! All you need to do is accessorize. Pairing a boiler suit with some heels is a great way to stand out at an event. This can show your fashion forward-thinking while looking relaxed. You can also use them to layer turtlenecks in winter, making a great all-year-round piece to own.
Jeans For All Occasions
Hopefully, this has helped inspire you to find your denim picks. Now you only have to make sure to take good care of your jeans, and you're streetwear ready for the summer.
Have you tried any of these styles? We'd love to know what you think! Remember, blue denim will never leave our hearts – or our wardrobes!
About The Author