Have you noticed an alarming amount of flared trousers popping up on your social media feeds? Well, you're not going mad. Flares are well and truly back for 2021.
Dubbed "comfortable but trendy," these trousers have been seen on catwalks and in streetwear tenfold this year. From Celine to JW Anderson, designers are loving this style, and so should you. The flared trouser can range from a timid kick-flare to large bell bottoms. There's a style for every occasion and every body type.
So, if you're curious about this new trend and want to try it out, we've researched all you need to know to rock these trousers!
The Origins Of Flares
Flares might evoke hippy styles of the 70s and not high fashion, but these two styles have started to collide.
While flares were a 1970s staple, their beginnings were still fashion-forward. In the 70s, flared trousers were seen alongside bell sleeves and platform boots (two other trends making a comeback), so if your fashion icon is Farrah Fawcett make sure you invest in a pair.
Interestingly, bell-bottom trousers were initially embraced by American Sailors in the 19th century. This was for practical reasons rather than fashion, so the style didn't take off straight away.
Flares started to appear as fashion pieces in the 1960s and 1970s, popularized by pop culture icons like Cher, Twiggy, and Abba. Many think the music scene of the 70s was what really pushed these trousers into the mainstream. Even though flared trousers are associated with another decade, wearing them can look modern and fresh. Even if you go all out and wear boho patterns and beaded jewelry, everything can have a modern twist to keep you looking chic and less dowdy.
Popular Types Of Flares
Flared Jeans
Among all the different jeans styles, flared jeans had always had a special place.
Denim is and will always be a popular fabric. A pair of jeans can last for life. The cloth is so versatile and hard-wearing, making both designers and consumers love it. Buying a pair of flared jeans can revamp your wardrobe and give you great outfit options for spring and summer.
If you aren't ready to embrace the trend, kick-flare jeans are a great starting point. These can be high or low-waisted and offer a small flare towards the back of your leg. This is an excellent option for anyone who loves a minimal look or wants everyday jeans.
Bell-bottoms and extremely flared jeans are great for anyone who wants to have a statement look. Popular jean designs have patchwork or floral embroideries on the flared leg. This can set your style aside from the rest and help you to stand out. Also, blue denim is a great pick for this trend. This keeps the outfit classic and lets the cut of the jeans do all the talking.
Flared Leggings
An increasingly popular style in high-street stores and online retailers is the flared legging. While denim and more tailored shapes have been popular flared trouser styles in the past, stretch fabrics are taking place.
Designers are giving the look a modern twist by using comfortable stretch fabrics, allowing you to lounge while looking groovy. Some journalists have dubbed these stretch alternatives as "anti-skinny jeans" or "alternative to leggings," proving our love of comfort is revolutionizing fashion.
Mesh fabrics are also popular when it comes to stretch flares. From printed meshes to completely sheer trousers, this look is for daring. These can be great for evening events and summer weather, but always make sure to wear appropriate underwear if you're baring it all!
If the idea of comfort and fashion is for you, check out Asos as they have over 400 flared trousers on offer at the moment. This trend is booming, so make sure you don't miss out!
How To Style Flares
Flared trousers are great, but they can't be worn alone! If you're looking to buy some, always make a mental note of what you can pair them with. Here are some great ways to style flared trousers.
Go Monochrome
Sometimes keeping to one single color can do wonders for an outfit. This is especially true when your clothes are more interesting. One color will let the cut of the trousers do all the talking for you.
Pair With A Shirt
Flares are laidback trousers, so why not keep this energy going with a relaxed shirt? Whether you prefer oversized cotton shirts or want to opt for a silky blouse, pairing a shirt with flares is an easy way to complete the look.
Tuck Knitwear In
Graphic knitwear and oversized knits are also popular for 2021, so instead of wearing them separately, bring them together! Knits look chic when simply tucked into a pair of high-rise flared trousers.
Keep The Denim Blue
If jeans are your thing, make sure to go for blue denim flares. This keeps the look classic and relaxed – perfect for a streetwear outfit.
How To Get The 70s Look
If fashion history is your thing, or you want a more unique and retro look, try going full 1970s. This may sound daunting, but if you look to the catwalks, so many 70s trends are back – even clogs! Adopting an entire 70s wardrobe isn't for everyone, but if you like the bohemian style and don't want to look like everyone else, it's a good option.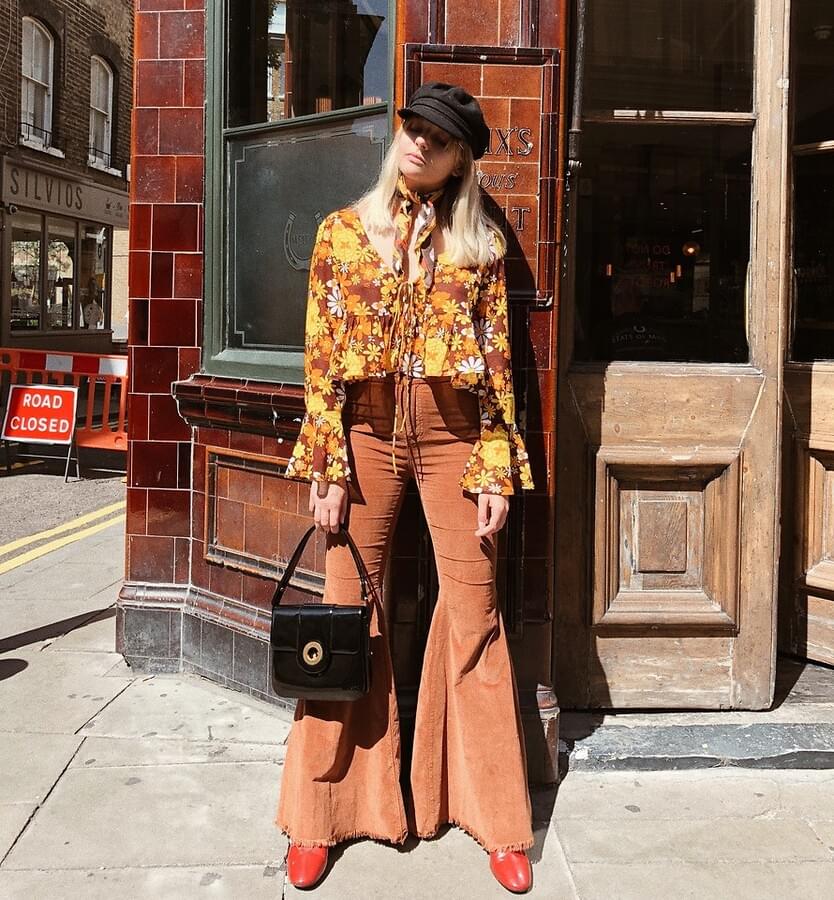 For a complete 70s outfit, pair the flared trousers with a bell sleeve top. The full sleeves will compliment the trousers and will give you a unique, flowy silhouette. Bonus points if the top has paisley or dainty florals. These are two key prints to buy!
For shoes, opt for anything with a platform. Whether this is a chic pair of white boots, or a platform pair of sandals, boosting your height looks very 70s. Any beaded jewelry in the form of bangles, necklaces, and earrings compliment the 70s style. Hairbands and headscarves are also great, especially in floral prints. Try to match colors, but print clashes are welcomed for this look.
FAQ
These are the most common questions about flared trousers and their return to our wardrobes!
Are Flares Really Back For 2021 Style?
Believe it or not, this 70s staple is returning! Whether you want to embrace the boho look or opt for the more modern versions, these trousers are here to stay.
The most popular form of flared trousers in 2021 is the classic jean or the stretch legging version. Flares are being transformed into a trouser that fits our modern needs.
What Are The Best Tops To Pair With Flared Trousers?
For daywear, the best tops are either relaxed, oversized shirts or knitwear. Shirts bring casual energy to a flared trouser outfit, and knits can create a texture contrast. Both are great for spring/summer 2021.
If you're looking for an evening wear top, bodysuits with tailored jackets are the hottest trend. From a plunge v neck to an off the shoulders look, bodysuits won't take away from the extremely flared silhouette. Pairing this look with a tailored jacket will dress the outfit up and keep you looking high fashion.
How To Find Flares That Flatter You?
One of the best parts about this trend coming back for 2021 is the fact that flares generally flatter all figures.
Most flared trousers are cut so that the fabric fans out from the knee. This technique slims your thigh area and can accentuate your bum area, making you look slim and curvy at the same time!
What Shoes Do You Wear With Flared Trousers?
For the daring, platform shoes in any shape or form are the way to go. These could be boots, sandals or even trainers. But, if you're not into the idea of adding more height to your look, canvas trainers like Converse are a great way to style flares for a casual look.
Related articles
Get Style Advice to Your Inbox
We will send an email from time to time. Not too often. You will get style advice and outfit examples handpicked from bloggers, icons, and style influencers. All for your outfit inspiration.